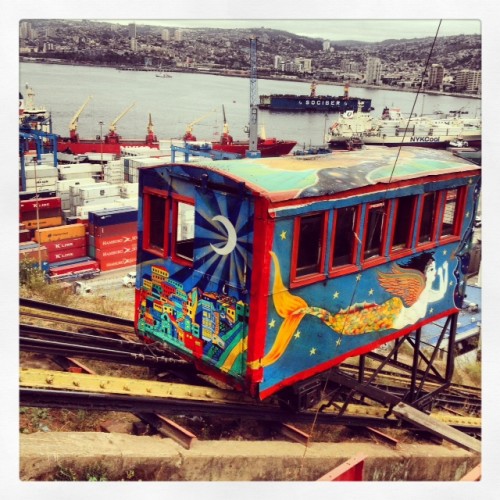 Organized full day tours to Valparaiso and Vina del Mar are available with most tour companies. To get a taste of Valparaiso, a day tour is not enough. If you are looking to find out more on what life on the hills is all about in this faded city about 90 minutes from Santiago, you have to have at least an overnight stay in one of the apartments, hostels or hotels on the hills.

The city with 43 cerros (hills) is one of the most unique cities in the world. It was voted as one of the best places to visit in 2013 by National Geographic and was named a UNESCO Heritage Site in 2003.

Eight things to do in Valparaiso:

Harbor Boat cruise with the locals
For 2,000 Chilean pesos per person catch a local fisherman's boat from Muelle Prat, across the street from Plaza Sotomayor. Get a great view of Valparaiso's hills from the Bahia de Valparaiso (the sea), have a close encounter with sea lions, pass by naval warships (we saw five), passenger cruise ship (Princess Star) and vessel ships around the port. The cruise lasts about 35 minutes.
Cerro Conception and Cerro Alegre are popular tourist areas with coffee shops like El Desayunador that serves breakfast all day. They have free Wi-Fi and good coffee. Walk up and down cobbled streets of the two hills with colorful wall paintings, served by two funiculars (ascensor), the Ascensor Concepcion is the oldest in the city, built in 1883. The ride is 300 Chilean pesos. You pay at the top of the ascensor.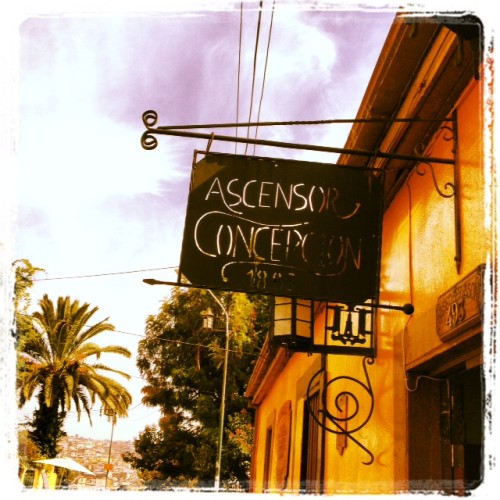 Palacio Baburizza in Paseo Yugoslavo houses the museo de Bellas Artes (Fine Arts Museum). I can't tell you about the museum because we did not visit the museum. A wealthy Yugoslavian immigrant and businessman donated the building.

Pablo Neruda's house, La Sebastiana
Take a self-guided one-hour tour of Chile's renowned poet, Pablo Neruda. This is one of the many houses owned by the poet. It was also one of his favorites. La Sebastiana consists of five floors that consisted of many of the poet's collections from around the world.

The poet had many collections, artwork from around the world and portraits of his favorite people. Among them were Lord Cochrane and American poet Walt Whitman. One of my favorites of his collections was a wooden carousel horse displayed at the edge of a half circle living room, making it look like it was on a carousel. (You are not allowed to take photos on items in display but you can take the view seen from the many pictureque windows in the house).

La Sebastiana has great views of Valparaiso's hills, harbor and surrounding areas. Is that why he had great inspiration to write?

The funiculars (ascensors or elevators)
The oldest funicular in Valparaiso is the Ascensor Concepcion in Cerro Conception. Ascensor Artilleria in Cerro Artilleria will take you to the Maritime Museum, a great view of the Valparaiso harbor, the famous blue house and souvenir shopping in the city.
This is one of our favorite ascensors in the city. Half way between the funicular station and the blue house is Vinizio Wine Shop located in the basement of one of the old homes. We like the look of the store.

Walk the stairs
You will see colorful steep stairs up the hill in Valparaiso. Take one of them and find out why the city is called "city with the most beautiful legs" (according to our tour guide).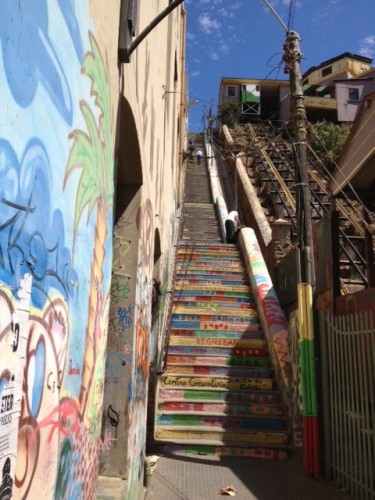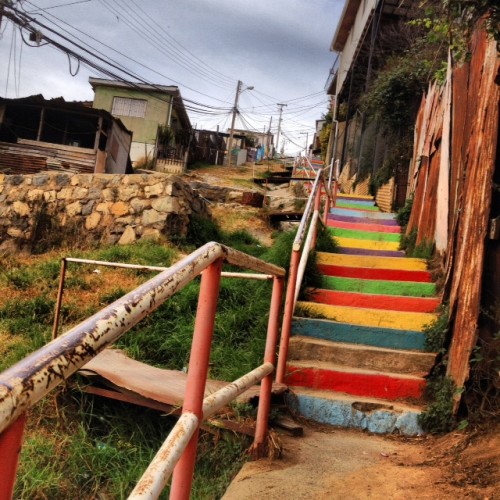 J Cruz Restaurant
Chorrillana is served on every table in this restaurant. This is where this popular Chilean dish was invented. The line was long on this particular Sunday when we had our lunch there.

We ordered two lunch plates, one served two and the other served three for 19,000 Chilean pesos. Chorrillana French fries topped with pieces of meat, onions and fried eggs.

Sunday Flea Market at O'Higgins Square
The locals bring their wares and antique finds every Sunday to O'Higgins to sell. You can find old typewriters to handmade bags, books and doorknobs. You may be able to get a bargain and unique find from this old city. During our visit, we saw old records, figurines from England, century old chinaware and silverware. Observe men playing chess and Chilean card games in the park.

People watching at Melbourne Café
This Chilean café owner lived in Melbourne, Australia and came back to his hometown to start a café at Plaza Sotomayor, directly across the street from Monumento a Los Heroes de Iquique.

Guests could sit outside or upstairs with a huge open window for a perfect view of Plaza Sotomayor and a chance to take photos of the plaza. Melbourne Café serves good Frappuccino for less than 5000 Chilean pesos.

Caution when visiting Valparaiso: Be aware of pickpockets around the city.