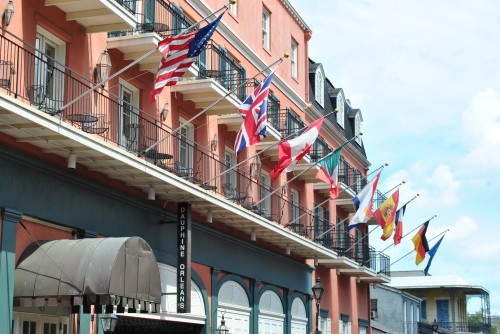 Homogeneity may sound like predictable and boring to some and it could be stability and comfort for another. Other than the usual price, safety, cleanliness and location, what do you look for when you choose an accommodation?
Dauphine Orleans is a boutique hotel in New Orleans, located in the heart of French Quarter. According to Boutiquehotelsandresorts.com, a boutique hotel could be hip or historic, elegantly contemporary or uniquely themed, from country retreats to castles to sheer luxury to celebrated designer hotels, Boutique's hotels and resorts are all unique, in architectural style, sophisticated interior design or decorative theme.
Historical records show several of the hotel structures dates back to 1775 and links to historical figures like John James Audubon. Opened as a hotel in 1969, this 111-room property offers guests a glimpse of the past while enjoying the modern 21st-century conveniences.
Our room came with complimentary in-room bottled water, cable TV, hair dryer, bathrobes, irons and ironing board and coffee maker. Valet parking is available at $32 per night with in and out privileges.Part of the hotel rooms are located in the 18th century Carriage House with the Carriage House Courtyard, part of the French Quarter townhouse.At the center of the courtyard of this boutique hotel in New Orleans is a saltwater pool.
Sitting near the front desk, in the reception area, imagining the days gone by...Dauphine Orleans presents a piece of New Orleans history, survived the many disasters including Hurricane Katrina. Merchants, singers, writers and many more may have sat in that small room, once home to New Orleans merchant Samuel Hermann.
May Baily's Place, the room where we had our complimentary drinks, was once a bordello. A red light still flickers in the courtyard, showing part of the history of the building. If you can't sleep at night, there are books you could help yourself with at May Baily's Place.
The Dauphine Orleans is just one block from Bourbon Street and eight blocks from Jackson Square. On this spring night as we walked back to the hotel we saw carriage horses filled with tourists passing by the narrow streets, jazz musicians playing in the distance, locals outnumbered by tourists and homeless men and women wandering around. We were tourists passing by calling  Dauphine Orleans 'home' for a night.
Dauphine Orleans Hotel, 415 Dauphine Street, New Orleans, LA70112. 800-521-7111.