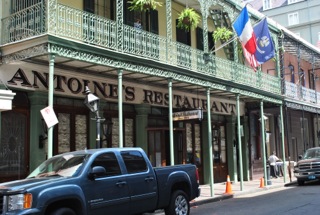 Food lovers love New Orleans. We can debate which restaurant in New Orleans is the finest, best, authentic Cajun and Creole, but Antoine's New Orleans beats all for being the culinary grandpapa of New Orleans' dining rooms.
Antoine Alciatore came to New Orleans in 1840 from Marseilles, France when he was 16. He had been an apprentice in Marseilles since he was 8 years old to French Chef, Collinet at the Hotel de Noailles. Before arriving in New Orleans, Antoine was already a notable chef. He had served kings and royalty.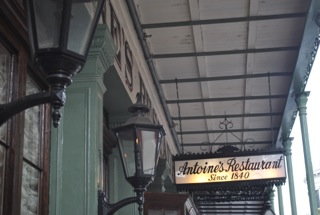 He introduced fine dining and culinary treasures to New Orleans over 170 years ago. Prior to Antoine's, Crayfish Etouffee, Shrimp Remoulade, Chateaubriand Colbert, Pompano en Papillote were non-existent. Through the years his descendants had added more signature dishes to the menu.
Many restaurants came and were gone and new waves of chefs and eateries have been established in the last 170 years. Antoine's is still an establishment that visitors should experience when in New Orleans.
Hidden down a narrow street called Rue St. Louis, we finally found Antoine's. It was 2:15pm. We dashed in through this narrow door and were told by Austin, the waiter, that they were closed.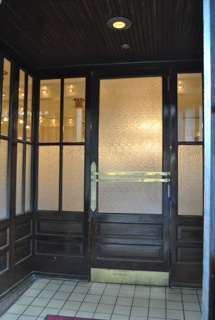 There was no way we were going to take 'no' for an answer after all the walking, lost in the alleyways and streets with names like rue and calle.
After explaining the situation, Austin a waiter for over 35 years in Antoine's let us in, getting disapproving looks from the cashier and other servers. The Executive Chef gave him the green light, that was all that mattered. He was the one cooking and instructing in the kitchen.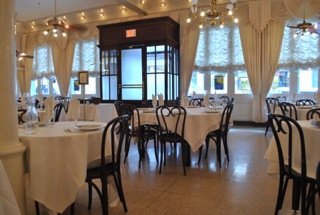 We were thankful and rushed through our orders of special prix fix meals from the menu.  A prix fix lunch special is $20.12 per person with a choice of Appetizer, Entrée and Dessert. This special includes unlimited 25 cents martini.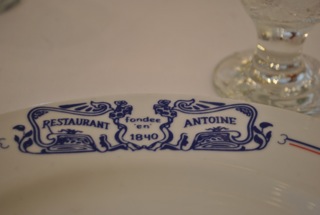 The chef sent us a complimentary Gumbo...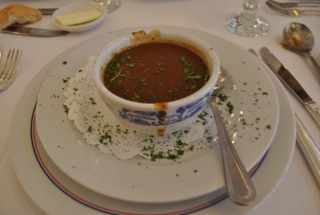 After lunch, we went to the kitchen to thank the Executive Chef, Michael Regua Sr., who started as an apprentice in the 70s at Antoine's. Chef Michael is of French and Filipino descent. Here is a photo taken with the chef.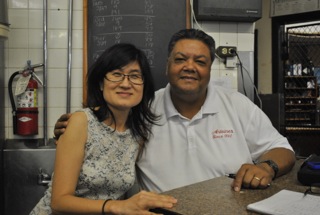 The kitchen is kept extremely clean. This was how it looked when we visited after lunch was served and ready for the next meal.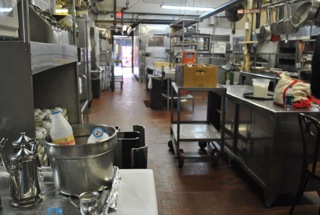 Free tours of Antoine's 14 rooms are available for dining guests. Rooms with names like Rex Room, Mystery Room, Japanese Room and Large Annex room with pictures and memorabilia from guests like Pope John Paul 11, Roosevelt, Bush and many more. You will never guess the immense size of Antoine's from the outside.
Every dining room has a story. The restaurant inspired writer Frances Parkinson Keyes to write a mystery novel, "Dinner at Antoine's". This novel could be a guide as you explore Antoine's and New Orleans.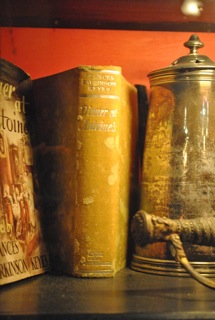 Operated by the same family without interruption is quite a draw for us. Walking through each room, learning and discovering the living history of New Orleans and the legacy that Antoine left to the generations after him...(Black and White Photo below taken from Antoine's website)
The Escargot room...it housed the Escargot club meeting for escargot enthusiasts...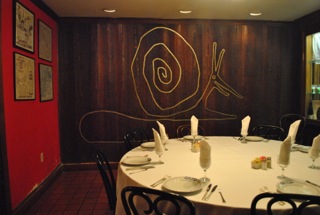 The wine cellar of 165 feet long and 7 feet wide can hold up to 25,000 bottles of wine.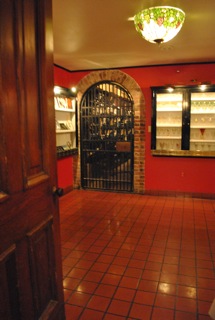 Last but not least, we got a glimpse of what it's like to be on a balcony in New Orleans, looking down as all parade passes by. Only this time, it was late March and the streets were quite empty on a late afternoon at 713 Rue St.Louis, New Orleans.
Have you dined in a restaurant run by the same family for over 150 years? Let us know. Leave your comment below.