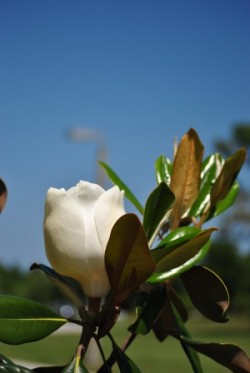 Waiting in the van at the high school, I noticed these beautiful white flowers on the trees. I had to take a picture. Fragrance fills the air and the beauty is unmatched…white as snow in the hot Florida spring sun. I was told it is a southern plant and the official flower of Mississippi.
There is a history even in plants and trees in every country. Andrew Jackson, our seventh President planted a magnolia sprout in memory of his beloved wife Rachel. That grew into a tree that became a favorite place at the White House for Harry Truman, Jackie Kennedy and visitors for many years. You can read all about this special magnolia tree on the Appalachian History site.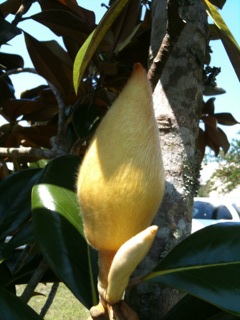 The next day, I decided to follow one of the buds. This is the fuzzy flower bud, very tight and healthy without blemish. It stands beautifully by itself while the rest of the flowers that bloomed earlier withered.
It reminded me… when one is starting out with a new venture, showing a bud and looking uniquely different from the rest of the buds yet the same. Each of these buds on the same magnolia tree have different blooming times. This bud has to survive to become a flower. It has to withstand it's enemies like humans who might pluck it off, wind and rain. Do you face these enemies too?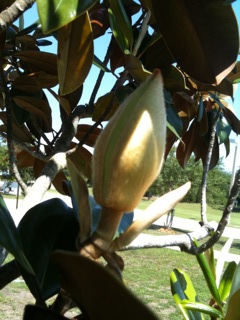 On the second day the same bud had a split. It shows the smooth insides of the petals and signs of flowering. The bud needs sun, water and to remain attached to the branch and tree to keep growing. If this bud falls off from the magnolia tree…life is gone…it will not survived to be a beautiful flower.
Life in a new venture is the same. In the beginning… it is neither flower or a perfect bud…growth process continues. Our venture may not bear fruit… it might be filled with pain and discomfort yet we continue to focus on the growth path and draw strength from the Source of Life. Be persistent in the work and increase relevant skills and prepare. Darrell Royal said: Luck is what happens when preparation meets opportunity. Are we the lucky ones?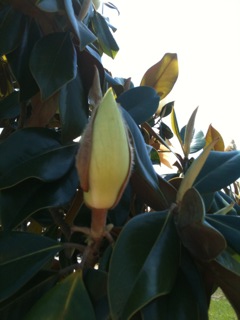 This was taken on the fifth day… there was not much difference between the second to fourth day. Now the fuzzy outer layer is almost disappearing. We are seeing more of the petals. This bud still needs to be attached to the tree for growth. Growth is happening inside the petals that we can't see through the lens.
Just when you think you are not progressing in your venture…you are.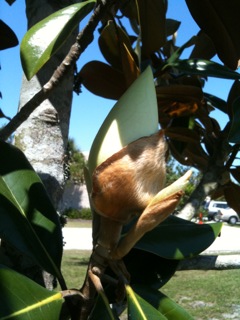 Day six…the outer fuzzy layer is almost gone. Can it withstand till the next day? Unfortunately, I would not be around to take pictures for the next three days. I went out of town…
Seems like when you are out of focus and have to do something else, you are unable to stay on course…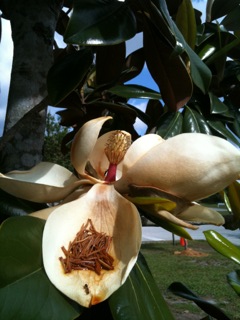 I came back three days later. There was a heavy downpour the night before. I couldn't wait to see how my flower bud was doing. I was sure it bloomed while I was gone.
It did bloom but look at what the rain did to this beautiful flower…
So I did not get a chance to look through the lens when the flower bloomed beautifully. Or maybe this flower was never beautiful because the heavy downpour destroyed it. I was not there to find out!
Likewise, I am thinking about my venture…through Tony Robbins words: one reason so few of us achieve what we truly want is that we never direct our focus; we never concentrate our power. Most people dabble their way through life, never deciding to master anything in particular….so don't lose focus, stay on course, master a skill and always make sure the lens are ready and available to enjoy the next growth.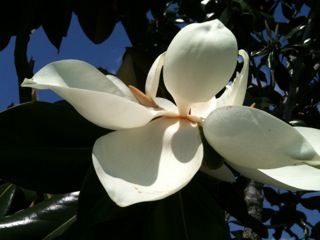 This flower is from the same magnolia tree but from a different bud. This could have been the flower I was recording. However, it was not…
I don't want to live a life of regret. Do you?
I did not get to see it through the lens… I have a sense of regret…but I learned a lesson about consistent actions and focus. Of staying on course… just like the magnolia flower…it's life span is short, so are ours compared to eternity.
How can we impact each other today? How can we make a difference?