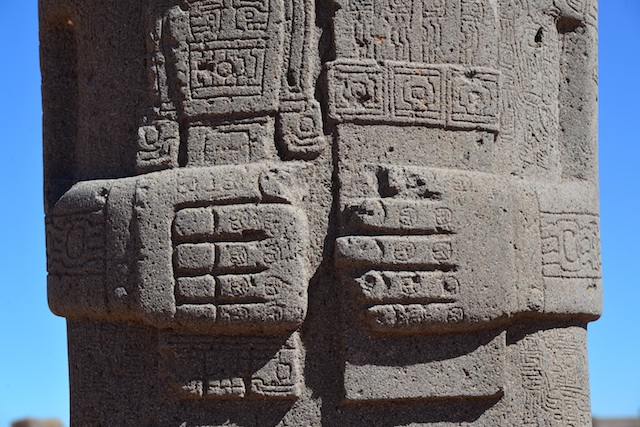 Close to Lake Titicaca in Bolivia, sitting at an altitude of 3,850 meters (about 12,600 feet) and 45 miles west of La Paz is the ancient ruins of Tiwanaku Bolivia. Many things about this pre-Inca culture remains a mystery because the Tiwanaku people did not have a written language. Archaeologists and historians believed the Tiwanaku Empire started almost 1,000 years before Christ.
According to UNESCO, this pre-Hispanic empire dominated a large area of the southern Andes and beyond and reached its political, economical and cultural heights between 500-900 AD. Most of the ancient city has been overlaid by towns and villages. Only the monumental stone buildings of the ceremonial center remains and is now protected as archaeological zones.
UNESCO declared Tiwanaku as a World Heritage Site and there is a detailed description and history about the ruins of Tiwanaku which you can read on their website.
We had a short visit to Tiwanaku from La Paz on our way to Puno Peru. The entrance fee was 80 Bolivianos and it included entrance to the reconstructed and remains of the Tiwanaku Ceremonial areas called Sitio Arqueologico de Kalasasaya, Museo Litico, Museo Ceramico and Sitio Arqueologico de Pumapunku.
Visitors like me were able to envision what it was like thousands of years ago by looking at the Pyramid of Akapana, Temple of Kalasasaya, the sun gate and semi-underground temple. Our guide said it was important to understand the pre-Inca history before going to Cusco and Machu Picchu.
The semi-underground temple:
You have to take some stairs down to this area with hundreds of human heads made thousands of years ago.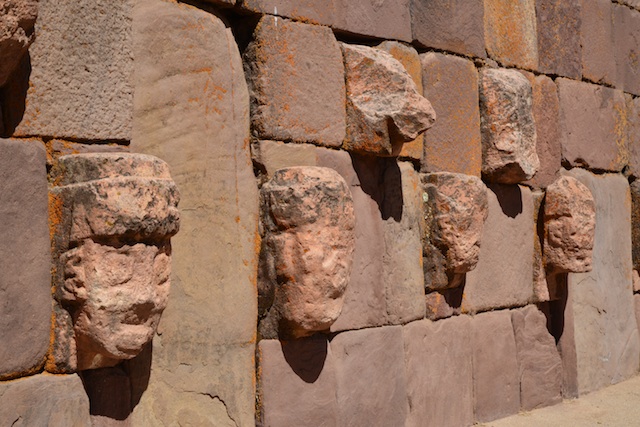 Akapana (the pyramid):
This is the largest monument in Tiwanaku.
While we were visiting, they were reconstructing the ruins, particularly the pyramid. Local men and women were laying bricks and digging slowly adding more rocks and bricks. Archaeologists found a black basalt monolith called Chacha-Puma (Man-Puma) here and the monolith is in the Stone Museum. Potteries, guinea pig, birds and llama bones for offerings were found next to human skeletons in this pyramid.
Men and women were working on rebuilding this area of the Tiwanaku ruins.
Temple of Kalasasaya:
The temple of Kalasasaya is a rectangular enclosure with 14 rooms equally distributed in the northern and southern walls. In Kalasasaya stood the famous monolith named Ponce Monolith. Lots of details can be found on Ponce - the hands, head, arms and legs. He had long braided hair, a crown on his head and a pierced lower lip with a ring. His left hand holds a keru and his right hand holds a piece of wood (probably for sniffing purposes).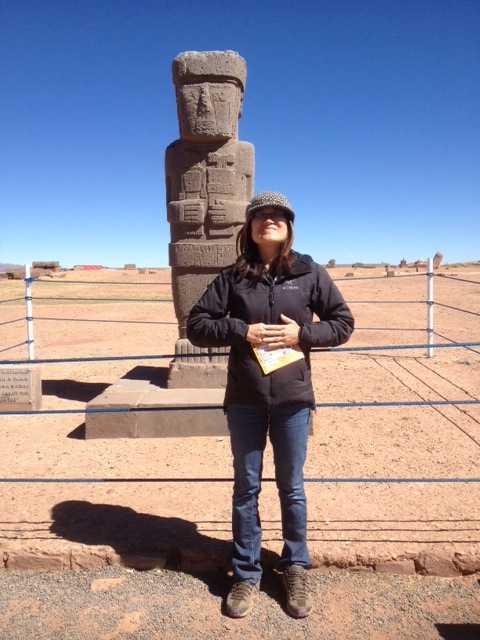 Then there is this famous guy called Monolito Fraile where a group of local students were crowding around. Monolito Fraile was a monk with braided hair, crown and pierced lower lip.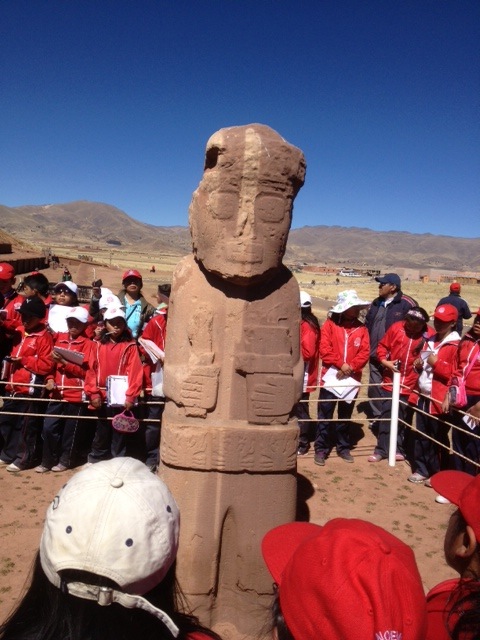 I left Tiwanaku knowing a little about the culture and history of the Tiwanaku empire. It helped me to appreciate and compare this pre-Inca civilization with the rich Inca culture in Cusco, Peru. It is worth a visit if you are in La Paz or Puno and if you like history and culture.
If you don't like both you can always take a picture of the alpacas and llamas in the area: