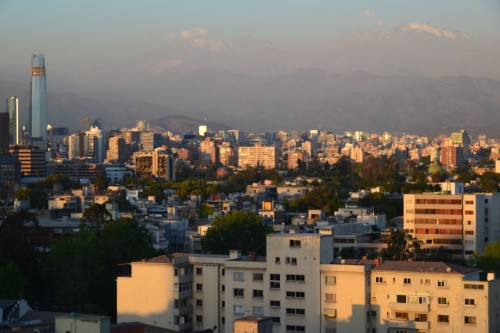 For a moment I thought we were in another city in America until I looked up and saw Spanish road and store signs. Santiago, Chile is modern, safe and has comparable infrastructure like any modern city in the world.

It was 90 degrees Fahrenheit on the day we arrived. The weather is just like summer in Florida minus the humidity. To get to know the city, we walked to centro, the oldest part of the city after checking into our apartment. Our first stop was at St. Lucia station in a simple empanada shop. Here are photos of the store and Chilean famous empanada de pino filled with half a hard-boiled egg, olives, beef and onions.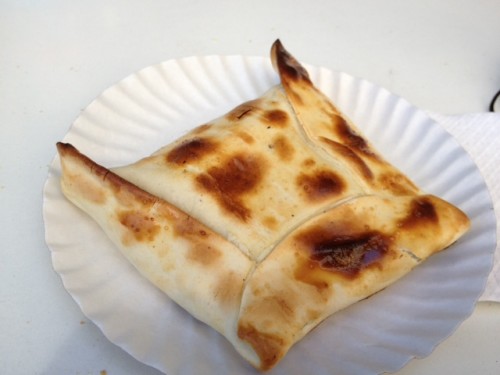 Each empanada costs 900 pesos (about US$2).

Renting an apartment in the heart of town has its advantages. We cook and eat most of our breakfasts and dinners in the apartment. The local supermarkets are only one block away. Coming from the United States with huge supermarkets and a variety of fruits and vegetables, we were quite surprised with the limited selection of fruits and vegetables in Santiago.

Since we will be staying here for a week, we visited the local supermarket to get some essentials like water, cereal, fresh meat, vegetables and fruits for the day. Food prices are not any cheaper than the United States. I think it is the same price as what I would I have paid in Florida. We spent 15618 Chilean pesos (about US$34) for the following:

0.5 kg bananas
0.8 kg chicken breast
Two 5-liter water
0.3 kg of Chorrillana (prepared food)
Honey (about 500 g)
Small butter
4 Rolls of toilet paper
500 g instant oatmeal
2 bags of frozen green beans (about one pound each)
500 g fresh bread
2 Bartlett pears

These are views from our rooms and living room. One of the greatest things about this apartment is the view. We get views of Cerro San Cristobal, Andes Mountains and the city: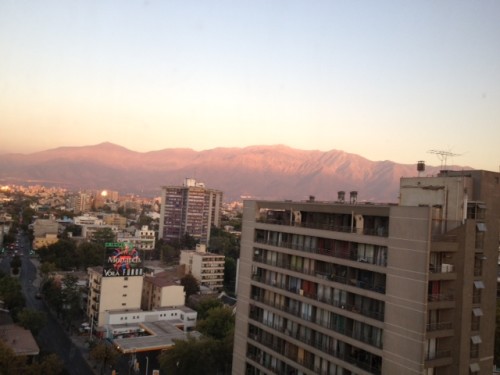 We did our own walking tour of the city on the second day. It took us 15-minutes to walk to the famous Cerro San Cristobal. Unfortunately the funicular was out of order. The city provides free transportation to the mountain for visitors. For those who are fit, it takes about 45 minutes to one hour (six kilometers) to reach the mountaintop.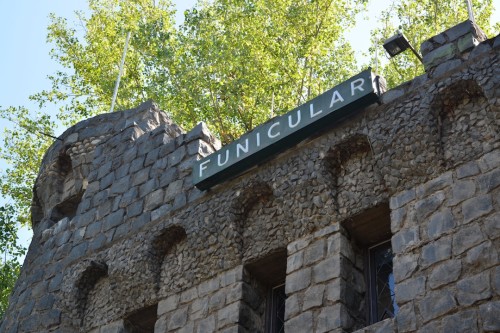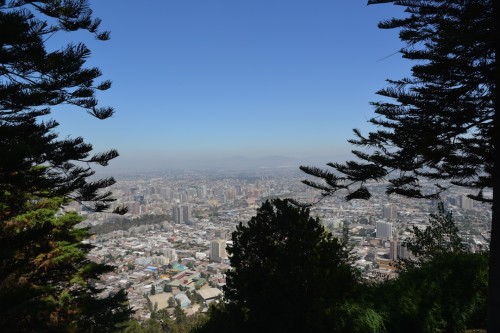 A white 14m high statue of the Virgen de la Inmaculada Conception stands on the top of the mountain. We could see her from our balcony too. Right below the statue are open-air seats for live concerts.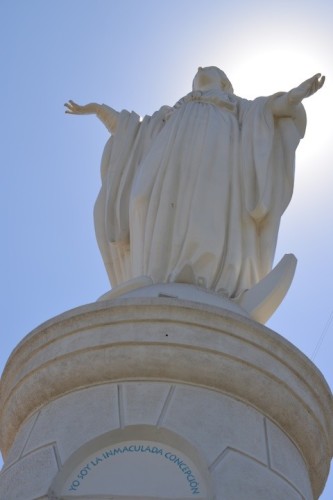 At the base of the mountain is the Zoologico Nacional and vendors selling stuffed animals made in China.

A short walk from Cerro San Cristobal is Plaza Bellavista, a center filled with live music, entertainment, shopping and restaurants. Seeing a local couple eating delicious appetizers as we were passing along one of the restaurants, we ordered the same thing and soon discovered it was called Tabla Chilombiana. Served at La Casa en el Aire in Plaza Bellavista: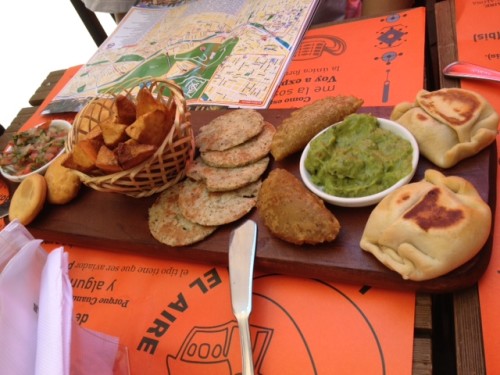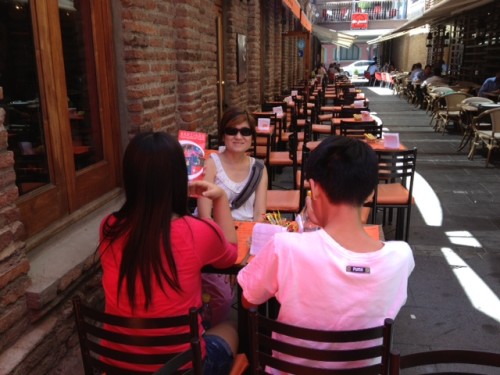 Our next stop was a 30 minute walk from Cerro San Cristobal to Mercado Central. Mercado Central reminded us of Victoria Market in Melbourne, Australia. About half a block away from Mercado Central...we smelled something fishy. Piles and piles of fresh fish and shellfish greeted us as we entered the market. Friendly men in red t-shirts came introducing their menu of the day as we arrived. We were told to find a restaurant at the peripheral where the locals eat. What great advice. This is one of the most delicious seafood stews I have ever tasted. Price 6,500 pesos (about US$14). We got ours at El Rey de la Paila Marina.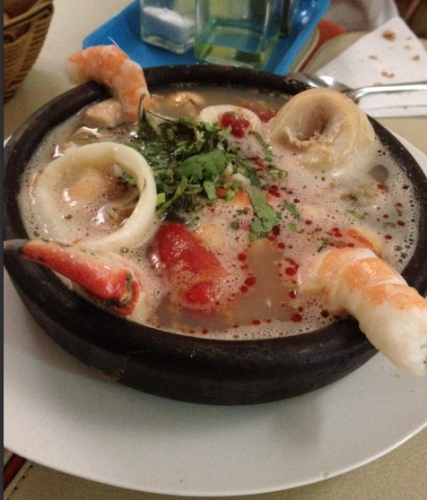 For dinner we bought a Chilean reineta fish for 5,000 pesos (about US$11). They cleaned and filleted the fish too.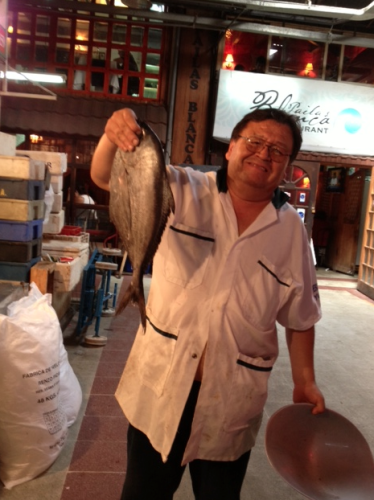 It is easy to walk around Santiago. Within 24 hours we have discovered quite a lot about our first destination in our 18 months around the world trip. Check out my next blog post on our first home away from home for the first week.

Please let me know what you would like to read about Chile. We will be here for a month before going to Argentina. Would love to hear from you. Drop us a comment below.