Hong Kong is the culinary capital of Asia and I couldn't find a place to eat!
It was 6 pm and I was starving while walking the busy streets in Wanchai Hong Kong. I'd just arrived by train from Guangzhou to Hong Kong after spending almost three months in China. By sunset, as the streetlights and neon lights began to appear, the girls in Hong Kong were ready for business. Wanchai is the hotspot for clubs and bars. I was told the world of Suzy Wong is still real after 50 years.
The dai pai dong – also known as street food stalls lined the side streets serving hot pots filled with fish balls, meatballs, tofu and noodles. This was the typical street food in Wanchai. Cash was the name of the game with these vendors. With a few Hong Kong dollars in hand, we had a few sticks of fish balls to keep our stomachs from growling.
I told my husband the wandering had to stop because we needed to eat. So we found ourselves eating in a mediocre Vietnamese restaurant. Our dinner was $60 for an appetizer, a bowl of rice and two phos with hardly any beef inside (Vietnamese beef noodles soup) – not a low-cost meal for a mediocre place. The first meal in Hong Kong was a negative food experience, thus the minus one.
Let's take a look at the nine Hong Kong foods to die for:
Tong Sui (Cantonese sweet soup dessert)
Tong Sui is either served hot or cold. It is a sweet soup with beans or custard. You can find a variety from Michelin star restaurants to the dai pai dong (street food stalls) of Hong Kong. I think tong sui is an acquired taste. My teens are not particularly keen on any of the variety of tong sui served in Guangzhou or Hong Kong.
Wing Wah Restaurant on Hennessy Road, Wanchai had a variety of tong sui. Above photo shows a bowl of lotus seed (lin jee) tong sui.
Fried Chicken and burgers
If almost all your meals consisted of rice or noodles, you would want a break from it all. What do you do when you crave for a burger or fried chicken? Do you head to KFC or McDonalds when you are traveling overseas?
We found a corner store selling burgers and fried chicken on Catchick Street in Kennedy Town.
Dai pai dong's fried fish balls
There is something about fried fish balls. The chewy easy to eat fast food found all over Hong Kong's dai pai dong (street food stalls) seemed to be the best seller for street food vendors. We had these twice in Hong Kong during our five nights stay. The only problem was one of the vendors added a little too much MSG into the fried fish balls.
Hong Kong Clay Pot Rice with Chinese sausage
Hong Kong clay pot rice is rice topped with Chinese sausages, pork and vegetables cooked in clay pot. It is like the Korean bimbimbap except Hong Kong clay pot rice is usually served steaming hot straight from the gas burners.
You can find a few of these eateries in Times Square Hong Kong. I'm sure you can find a better clay pot rice than the one we had. I recommend clay pot rice but not at the restaurant we had it at.
Egg Tart and Chinese Pastries at Tim Lok Bakery
Every morning Tim Lok Bakery was filled with locals dropping by to grab breakfast and coffee before heading to work and school. The bakeries in Hong Kong including Tim Lok have the same system as the Chinese bakeries in Chinatowns in the United States.
You grab a tong and a tray and pick the pastries you want and head over to the cashier with your choices.
A few pastries to try: egg tart, chicken pie, roast pork bun and nori wrapped roll.
Wonton noodle soup
Every Chinese take-out place in the world has at least one variation of wonton in their menu. But no one makes wonton noodle soup like in Hong Kong. The wonton in Hong Kong is made mainly of shrimp and part minced pork wrapped in very thin wonton skin.
The bowl of clear soup has thin egg noodles topped with scallion and six to 10 wontons.
Hong Kong Dim Sum
Hong Kong knows the art of yam cha – having tea with dim sum. Dim sum dishes are small servings of steamed, deep fried, stir fried and slow-cooked dishes. In almost every corner of Hong Kong you will find locals gathering with friends or family, and sometimes alone having a pot of tea with a few dishes of dim sum.
We shared a big table with an older couple at Foo Lum Restaurant on Lockhart Road. The man was reading the newspaper while the sweet lady sipped her tea. I noticed on another table an older gentleman had a pot of tea and one dim sum dish. He walked in without saying a word and knew exactly where to sit as the server came with a pot of tea.
It doesn't matter if you order one or 20 dishes at a dim sum place in Hong Kong. Dim sum restaurants are gathering places for locals to meet friends or read the newspaper while they have breakfast together.
Roast meats
Roast goose, roast duck, and roast pork are very popular in Hong Kong. If you have been to Chinatown you would be familiar with these hanging meats at the entrance of most restaurants in Hong Kong.
Roast meats are served on rice with black sauce and a few pieces of vegetables. It's considered a type of fast food in Hong Kong. You can usually have your orders within two to five minutes. If you are in a hurry and don't know what to eat in Hong Kong (and if you are not a vegetarian), roast meats on rice would be the best type of meal to have. You can order a plate for yourself or several types of roast meats to share.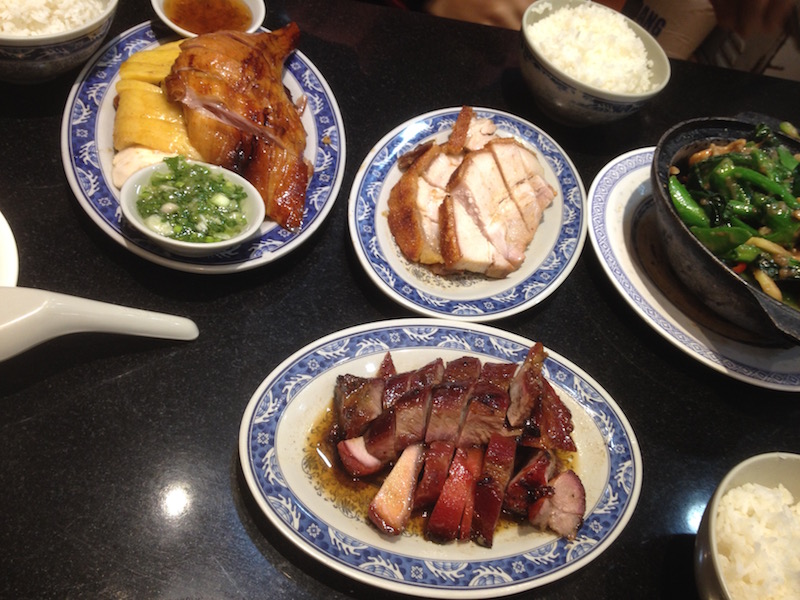 They are usually affordable and found in almost every street corner.
Afternoon tea
Hong Kong was under the British rule until 1997. The English afternoon tea is still popular in the city's hotels. My daughter was a guest at the Mandarin Oriental and Island Shangri-La in Hong Kong for afternoon tea.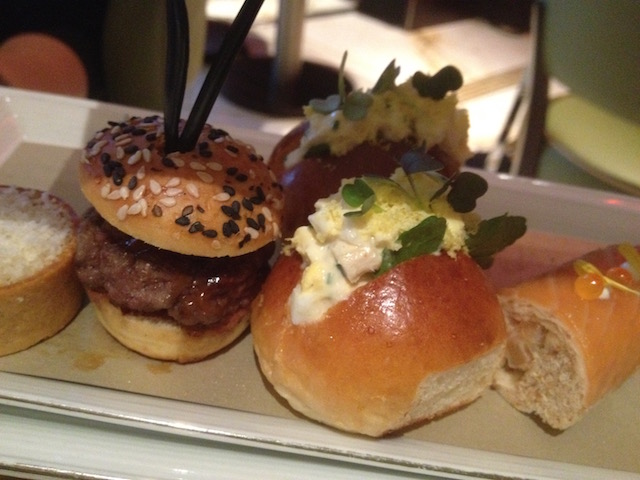 I was at the Island Shangri-La to observe the environment. The afternoon tea atmosphere was well presented with live music, comfortable chairs, world-class service and a view of the century-old banyan tree. I accompanied my daughter to Island Shangri-La, Four Seasons Hong Kong and The Landmark Mandarin Oriental. I would recommend Island Shangri-La. Not convinced? Take a look...