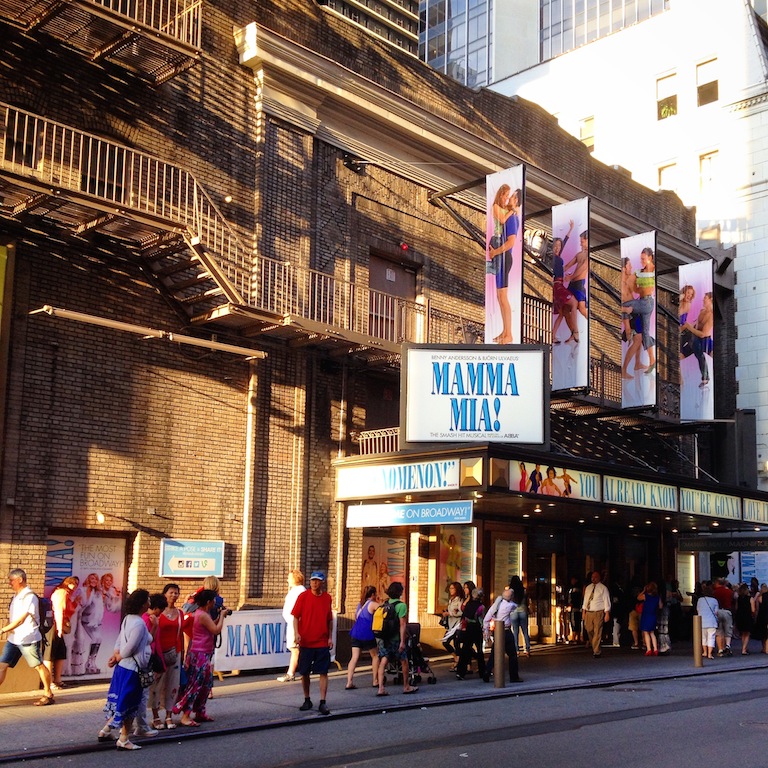 Mamma Mia's audience is mainly middle-aged women! My friend Eliane and I fall into that category. No need to feel embarrassed about it. Captivated by the songs, recalling the events of our past, our ears and eyes were fixed on the scenes.
Meanwhile the teen next to Eliane was dozing off going further and further into dreamland. No context or reference point- nothing to reminiscence for the poor kid. His parents or whoever that brought him had just burned over $140 for the ticket unless they had a coupon code for the musical.
Getting a good seat at the Broadhurst Theatre is easy. Our seats on the Mezzanine Row C, seat number 107 and 108 were right in the middle. No obstructions and we could see the facial expressions of the performers including their talents and the lack of enthusiasm in the act in some performers.
I had waited for this moment to go for Mamma Mia musical. My teens and my husband were not interested and had never enjoyed any of Abba's music. My friend Eliane had a coupon code from her school with almost 50% off for the tickets. The regular price was $150 per person. We paid $85 per person.
How to get cheaper Mamma Mia's tickets?
1.    New York Pass holders save 30% on Orchestra/Front Mezzanine Seats. Use the promo code in the complimentary guidebook for pass holders. Check restrictions and blackout dates. Click here to find out more about New York Pass.
2.    New York Show Tickets offer discount tickets. Here is the website for your discount tickets.
3.    Go early to one of the three ticket booths in New York City for same day tickets (sometimes they sell one day advance tickets). The TKTS booths are located on Times Square at Father Duffy Square, South Street Seaport and Brooklyn TKTS. Tickets are up to 50% off. The problem is you may not get the shows you want.
4.    Be a member of TDF (Theatre Development Fund). Check if you qualify. Tickets are as low as $45 for Mamma Mia on selected dates and times.
How to find the best seats in Broadhurst Theatre?
Broadhurst Theatre is the venue for Mamma Mia on Broadway. I found a site that is most useful when it comes to looking for the best seats on Broadway. Entertainment Link shows 40 venues in New York City including Broadhurst Theatre.
According to the Entertainment Link, Broadhurst Theatre has 1156 seats. Avoid first row (AA), rows above P, seats with double digits above 16 and Mezzanine Rows K.
From experience, Mezzanine center rows A to F offer great views.
The story
The story starts with a 20-year-old young lady telling her friends about her quest to find her birth father. It happened on the eve of her wedding. The story unfolds on a Greek island with lots of singing and dancing. You need to get there to find out more.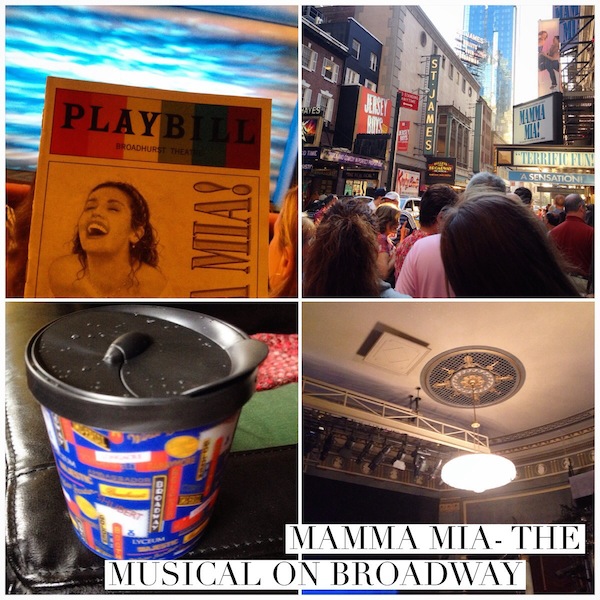 Drinks
Soft drinks and alcohol are available for purchase on the first and second floor. It is open before and during the 15-minute intermission. My chardonnay was served in a disposable cup (great for a souvenir) at $14 plus tips.
What to wear?
We prefer a dress or dress pants and blouse when going for a show. There is no dress code at the Broadhurst Theatre. People came in all types of attire – jeans, shorts and t-shirts, dresses and everything in between.