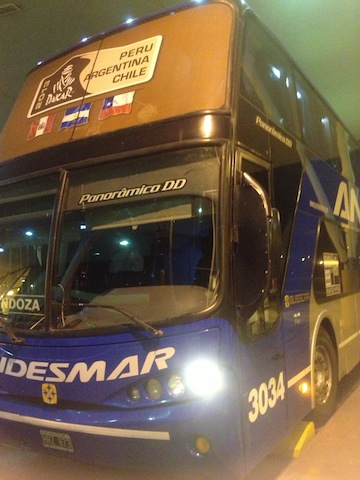 While planning our trip from Bariloche to Mendoza, I had done a fair amount of research on bus transportation. When it came time to make a reservation, I went for Andesmar Bus. First, I went online to their website to check the time, availability and prices. Andesmar has two departures per day. The first leaves at 1 p.m. and takes about 19 hours 30 minutes. The second leaves at 3:30 p.m. with a shorter travel time, 16 hours 55 minutes.
Obviously, we chose the second because of shorter travel time.
Types of seats
You get two classes of service. One is called Cama Ejecutivo (Semi-reclined seats) and the other is Suite 1 Clase (first class, reclined seats). By the time we reserved, there were only Cama Ejecutivo left. First class is 815 Argentinian pesos (US$163) and Cama Ejecutivo is 725 Argentinian pesos (US$145). If there is availability, I would suggest first class since it is only about $18 difference if you use the official exchange rate of US$1 to 5 Argentinian pesos.
We purchased the tickets at the bus terminal a few days before departure. It was quite a hassle to purchase the bus tickets online.
On the bus
The bus left at 3:30 p.m. sharp. Our luggage was checked in. Each luggage was given a tag for identification. First class is on the first level and Cama Ejecutivo is at the second level. Once the bus left the terminal, it was entertainment galore. First came the English language movie accompanied by an afternoon snack of coffee or tea with cookies and cakes.
Then came bingo time. According to Santiago, our attendant, it is Andesmar's tradition to play a game of bingo. The winner received a bottle of Chardonnay. Here is my ticket, which was not a winning ticket...I missed it by two numbers!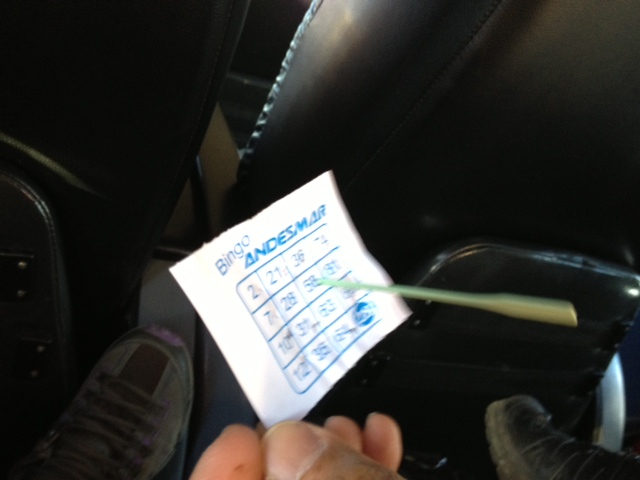 Santiago, the attendant was always smiling. He swept the floor every hour, walked up and down the stairs to check on passengers.
Dinner
For dinner, we were served an airplane style meal - a serving of hot food with a glass of wine. Also cheese, ham, salami, bread, and dessert.
Toilet
For our convenience, the toilet is located just below the stairs. This is not a scenic road between Bariloche to Mendoza. Take a look at the view we had before sunset.
The scenery from Bariloche to Mendoza
This is not a scenic road trip. Take a look at the view we had before sunset.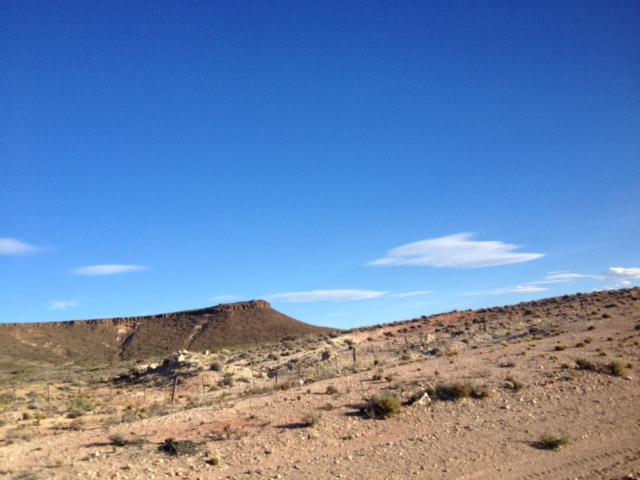 Breakfast
A box filled with cookies and cakes was served with coffee or tea for breakfast right before our arrival in Mendoza.
Arrival at Mendoza bus station
We arrived in Mendoza on schedule to a rainy morning. I have no regrets taking the bus from Bariloche to Mendoza and especially enjoyed the service given by Santiago, the attendant.
Mendoza bus terminal was not a safe place while we were there. Take extra precaution. For more information about Andesmar Bus from Bariloche to Mendoza, please visit their website.