Beijing is the birthplace of Peking duck. Besides that, Beijing doesn't have the reputation of producing the finest food in China. Many of the restaurants serve foods originated from Inner Mongolia, Sichuan, Xinjiang and regional dishes from other parts of China.
Hot pots and barbecue restaurants seemed to be Beijing's culinary constants. I had a chance to experience Peking duck in Quanjude Restaurant, roasted leg of lamb, fusion Chinese food and Muslim food (Uighur food).
Roasted leg of lamb
Roasted leg of lamb is popular in Beijing. Each table at a restaurant we visited had a barbecue pit in the middle and a hood range directly on top of the pit. The leg of lamb was sold by weight. You could order your drinks, usually beer and side dishes when you placed your order for the leg of lamb.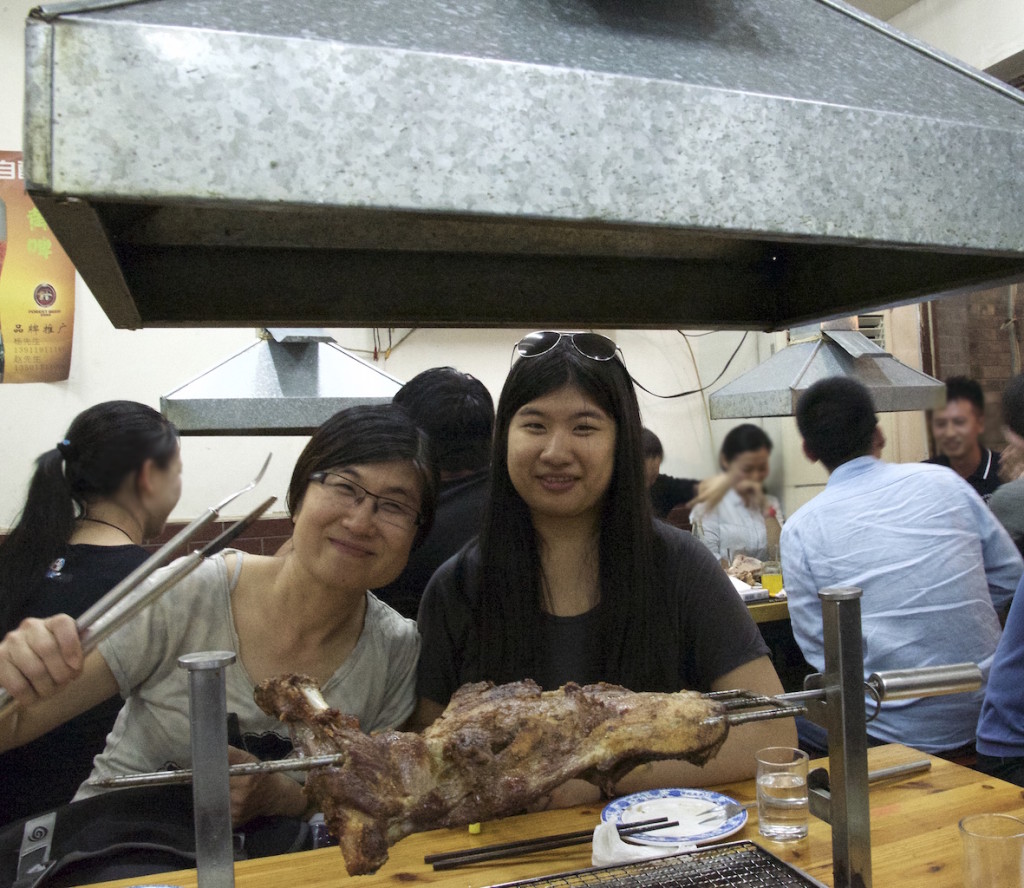 The server placed a bed of charcoal in the barbecue pit. We were given a few sets of long knives, tongs and forks to cook the leg of lamb. We helped ourselves with the cooking, turning and carving the meat. We had the side dishes and beer to enjoy while waiting for the meat to cook. Be prepared to sweat and smell like barbecue meat.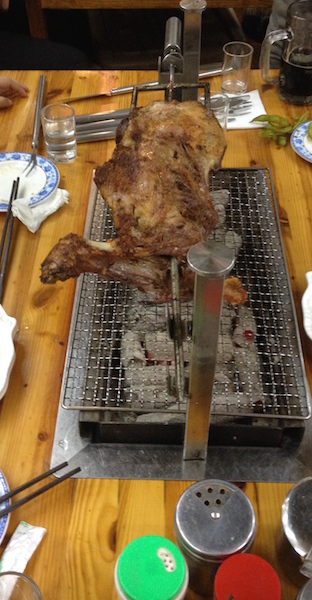 Breakfast at a Xinjiang Restaurant
Tofu (dofu hua) in black sauce, baozi (steamed mutton buns) and flat fried breads were some of the foods we had at a local Xinjiang Restaurant called Crescent Moon Muslim Restaurant. Located a few feet from Botai Hotel, we found this place through the recommendation of our local tour guide and hotel front desk.
Fusion Chinese food
The fusion dishes served at Taste of Old Town Restaurant in Nanluoguxiang were a cross between Cantonese and Sichuan cooking. The black jelly (yaorou) or head cheese was a typical Northern Chinese food made from pig trotters with pieces of meat inside.
The Beijing-style Zhajiangmian (black bean noodles) was served with flat pancakes. This is a popular Sichuan dish.
None of these dishes were served with rice. In Beijing, steamed buns, dumplings, noodles and pancakes made from flour are more popular compared to rice.