More than just the biggest city in southern China, Guangzhou, located in Guangdong province is the birthplace of the famous overseas Chinese food in Chinatowns around the world. Emigrants from Guangdong province left in waves during the 19th century from the port of Guangzhou (formerly known as Canton) to work in gold mines throughout the world and to seek out better pasturelands.
These days the scene has changed in Chinatowns with the influx of Mandarin speaking Chinese, but Guangzhou is still the entry port to many overseas born Chinese seeking to find their roots in China.
Guangzhou is the third largest city in China with over 12 million people. The city's soon to be completed CTF Financial Centre will have the fastest elevator in the world at 45 mph.
Beneath all the high-rise buildings and modernization like the magnificent Four Seasons Guangzhou's atrium lie the many old alleys and the Xiguan old neighborhood's houses.
The Xiguan houses were made of grey bricks and the most significant feature of these homes were the horizontal wooden bar gates known as Tanglong. These Tanglongs consist of 13 or 15 round polls made of hardwood like redwood. Its main functions were for security. Another reason was the openness of the gate allowed better ventilation for the homes compared to a closed wooden gate.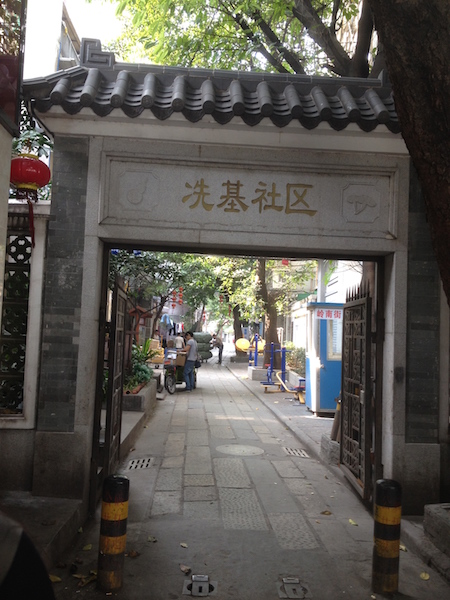 Here is a story from a sign next to the statue found in Shanghxiajiu, near the Xiguan houses:
Tanglong is a set of theft-proof paling installed in front of the ancient Xiguan house, which can be open and closed by its rack at the bottom. Naughty kids are so fond of climbing Tanglong that their heads might be easily trapped between the bars. This kind of game is harmful indeed.
Shangxiajiu is Guangzhou's pedestrian street filled with colonial buildings, Guangzhou's iconic restaurants, bakeries, shops and Qingping Market.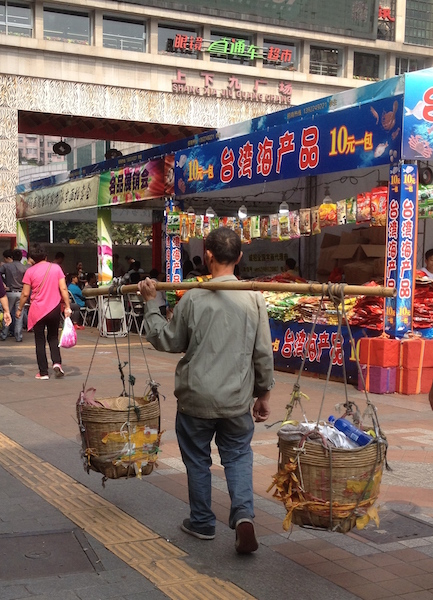 Shamian Island showcases a piece of Guangzhou's European past. Shamian Island is located by the sandbank of the Pearl River. The island is connected to other parts of Guangzhou by a series of bridges. It used to be the center where western merchants and their families resided and conducted their businesses from early 18th century to mid 19th century.
The island is still filled with these colonial homes, church, gardens, old trees, fountains and monuments.
Guangzhou is booming in all sectors including manufacturing and international trade. Its proximity to Hong Kong and Macau gives it a slight edge compared to Beijing and Shanghai. It takes about two hours to travel by train from Guangzhou city center to Hong Kong.
While I was there I stayed at the Frasers Suite on Tianhe Road. On a clear day, the Canton Tower was visible, however, most days Guangzhou was hazy, making most of the iconic buildings hidden in the thick smog. That was quite unfortunate.