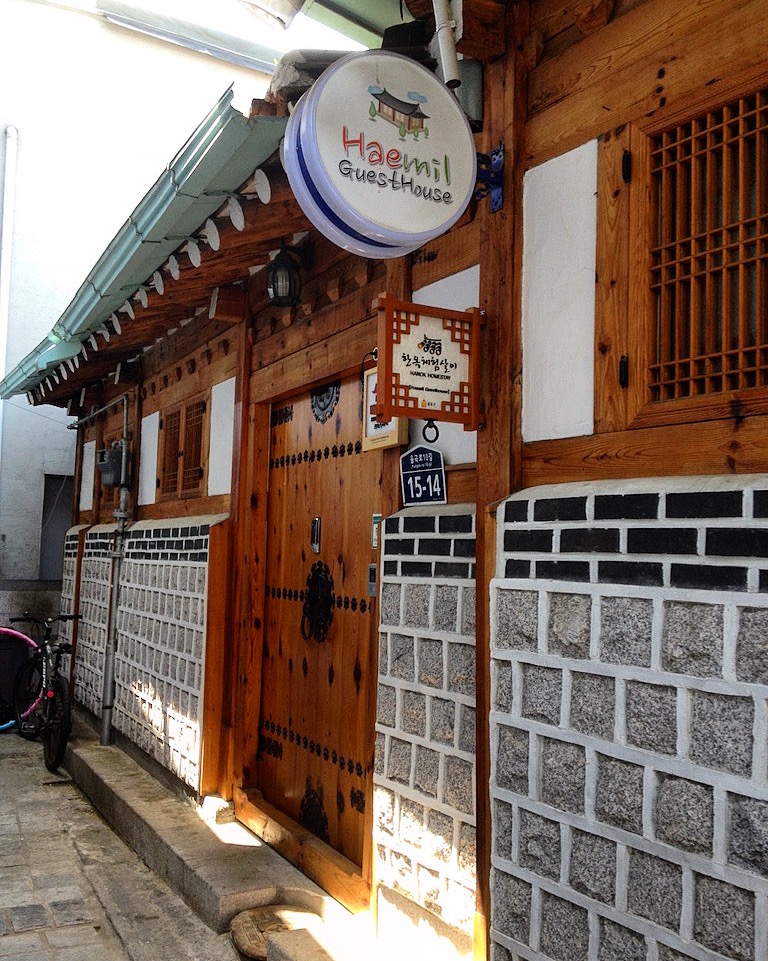 Count it a privilege if you get to stay in a hanok when visiting Seoul. These tile-roofed single story traditional Korean homes with a square courtyard in the middle are not the typical homes of modern Korean families. Most Seoulites live in western-style apartments. Many of the traditional houses were demolished for high-rise buildings and other modern amenities.
Owning a hanok is not cheap. Koreans in Seoul either paid top prices or inherited the hanok from their parents. A majority of these homes were renovated into modern private dwellings or hotels.
In historic Jongno-gu or Bell district, clusters of Korean traditional houses (hanok) are hidden in narrow alleys where there are no street signs. Most are unreachable by taxi because these narrow alleys are not meant for cars. Outhouses are now uncommon, but some families that stay in a hanok still have the choice of gathering together making kimchi in their cement-floored courtyards.
I stayed for three nights at the Haemil Hanok Guesthouse in Jongno-gu, located just a five minute walk from Changdeokgung Palace and the Secret Garden, a 10 minute walk from Dongdaemun Market and 10 minutes from Anguk subway station (Line 3 exit 3). There are four rooms, a courtyard and a kitchen/dining room in Haemil Hanok Guesthouse.
Haemil Hanok Guesthouse is by no means luxurious. My triple room consisted of traditional Korean furniture and thin mattresses with pink and yellow comforters. Inside every room was a small bathroom. Each guest receives a 16x30 inch 'bath towel' - the size of a hand towel. To sleep, we laid the mattresses on the raised wood floor.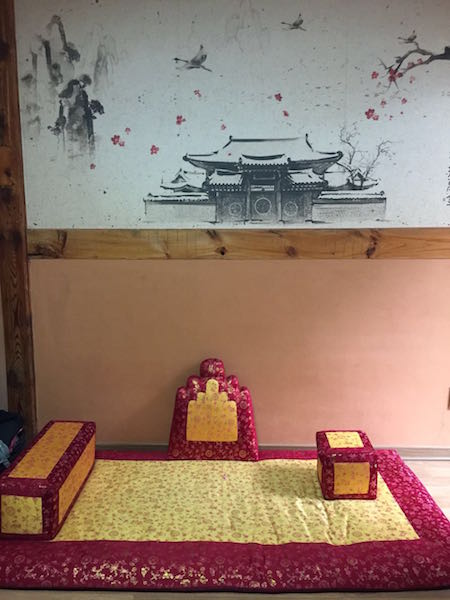 The courtyard is the center of the hanok. Haemil Hanok has an outdoor wooden table and benches in their courtyard.
Korean breakfast dishes like bibimbap and gimbap were included during my stay. On the third morning, we asked for sandwiches to go. Breakfast was served in a traditional style, on a low table surrounded by cushions on the wood floor.
Why stay in a hanok?
experience Korean culture like sleeping on a thin mattress laid on the wood floor.
dine on the floor at a low table in a homely environment.
enjoy a freshly prepared Korean breakfast.
see how the locals live since most hanok are located in a traditional neighborhood.
try out the hanbok, the Korean traditional outfit.
The pros and cons of staying at  Haemil Hanok Guesthouse-
Pros-
located close to Bukchon Hanok Village, Changdeokgung Palace, museums, Insa-dong district and many cultural centers
walking distance to restaurants and cafes
friendly host
private bathroom
tasty breakfast and fresh coffee
less than 10 minute walk to Airport Bus bus stop to Incheon Airport
safe
fast Wi-Fi
affordable at $385 per triple room for three nights (not including taxes)
You can find out more at Booking.com.
Cons-
difficult to find (can be easily solved if you make prior arrangements with the host to meet up)
too cluttered for me
Have you stayed in a hanok in Korea? Check out Haemil Hanok Guesthouse.