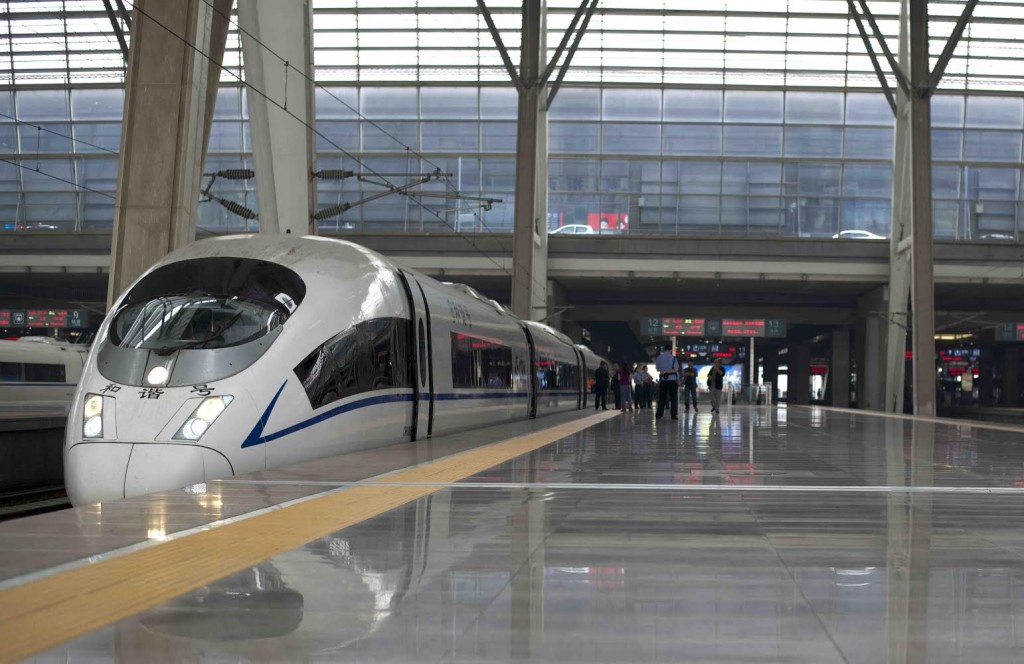 Considering it took us days to get from Moscow to Irkutsk, Irkutsk to Ulaan Bataar Mongolia and Ulaan Bataar to Beijing, it was a breeze to travel from Beijing to Shanghai for five hours 30 minutes.
The High Speed Train (G Train) from Beijing to Shanghai with a stopover in Nanjing left Beijing South Station at 9 am. We arrived in the ultra modern Hongqiao Railway Station in Shanghai at 2:30 p.m.
Beijing South Railway Station was clean and had many fast food restaurants and coffee shops that served good coffee. The railway station was set up almost like an airport. Shanghai Hongqiao Railway Station was even better than Beijing South. It had bigger waiting areas and more restaurants and cafés.
With a speed of 186 miles per hour you really can't focus on anything outside or take any photos of the places you pass by from Beijing to Shanghai. There are three classes of service on the high speed train, second, first and business class. We were on the first class car where complimentary water and snacks were placed on our seats when we arrived. Hot water was available throughout the journey inside the car beside the two toilets.
The seats reclined about 160 degrees with four seats to a row, two on each side. The two first class cars were located just behind the business class car. Second class cars were located behind the first class.
Luggage racks were available at the back of the car. The dining car offered set lunches. Each of the set lunches came in a plastic compartmentalized container with five small portions of vegetables, meat and a big serving of white rice. Each meal cost 65 Yuan.
Cost per first class ticket was 933 Yuan and second class was 553 Yuan.
We chose to take a high speed train instead of flying because of convenience. There is not much difference in price, but the train took us from Beijing South which was easily accessible by subway. And we arrived at Hongqiao Station right at the heart of Shanghai, easily accessible to anywhere in Shanghai using the metro as well.
My brother in law purchased our train tickets through a local travel agency in Shanghai. You can purchase tickets online or through a travel agent. Some of the online agencies include ctrip.com and travelchinaguide.com.
Note: I am not affiliated with them and have not used them in my travels in China.
For more information and a guide to traveling in Shanghai, please check out my Shanghai eBook at Amazon for $2.99.