The lady with an orange cap and orange apron in Lotte Mart handed me a toothpick to try the seasoned dried shredded squid. I tried it and it tasted just like the ones I bought from HMart in New York. Then, she took my toothpick and proceeded to a pile of dried anchovies and handed me a tiny anchovy. I was a little shocked... did I see it right? Did she just use the same toothpick I placed in my mouth and picked up the anchovy with it?
Lotte Mart, a huge Korean chain store has the largest variations of Korean side dishes I've ever seen. There were rows upon rows of mostly red pickled food including kimchi. Anyone can try them. You can potentially have a meal at Lotte Mart trying all the side dishes and cooked food. They are sold by weight and the lady with the orange cap and orange apron was there to help. Most Korean housewives in Seoul don't make their kimchi or side dishes. They buy them ready-made from places like Lotte Mart.
Side dishes are one of the things that sets Korean cuisine apart from many Asian cuisines. Ever wondered why so many small plates of vegetables, pickled cucumber, bean sprout, tofu and dried anchovies arrive at your dinner table when all you ordered was a bulgogi or Korean barbecue?
Side dishes are complimentary when you dine in Korean restaurants. You don't have to pay extra for them and you can ask for a refill if you need to. They are part of Korean food culture. A typical Korean dinner table includes side dishes, rice, soup and the main course. Side dishes are called banchan in Korean. Every family and Korean restaurant have kimchi (fermented spicy napa cabbage) as one of the side dishes. Two more important items to take note of are the flat stainless steel chopsticks and stainless steel spoons. They  are placed on the right-hand side of the bowl.
Korean food uses lots of garlic, gochujang (red chili paste), soy sauce, doenjang (soybean paste), sesame oil and scallions. Besides the many street food stalls, I shared in my previous post, here are 17 ways to learn Korean food culture in restaurants throughout Seoul.
1.Banchan (Korean side dishes)
Banchan can be elaborate or simple depending on the type of restaurant you dine in. It is mainly determined by the cost per meal. A simple hole in the wall eatery will only serve up to three or four side dishes while the barbecue restaurants I went to had up to eight. My favorite banchan was at Sejong Tuna Restaurant in Myeong-dong with 12 side dishes.
Banchan are meant to be shared which means everyone will help themselves to the same dish with their chopsticks. That may explain why the lady with the orange cap gave me the dried anchovy with the same toothpick and didn't think twice about it.
2. Bibimbap
Bibimbap or mixed rice is a bowl of steamed white rice topped with a variety of vegetables, seaweed, minced beef and a raw egg. It's served in a hot stone bowl. Before eating, we mixed the raw egg, vegetables, meat and added sesame oil and chili paste using the chopsticks. Also, known as b-bop, you can find many variations of bibimbap in Seoul.
3. Korean traditional meal
We included a dinner experience in a Korean barbecue restaurant offering a private room with a raised platform, low table and cushion seats on the wood floor. Taking your shoes off before sitting down is a must in this type of restaurant.
4. Korean Barbecue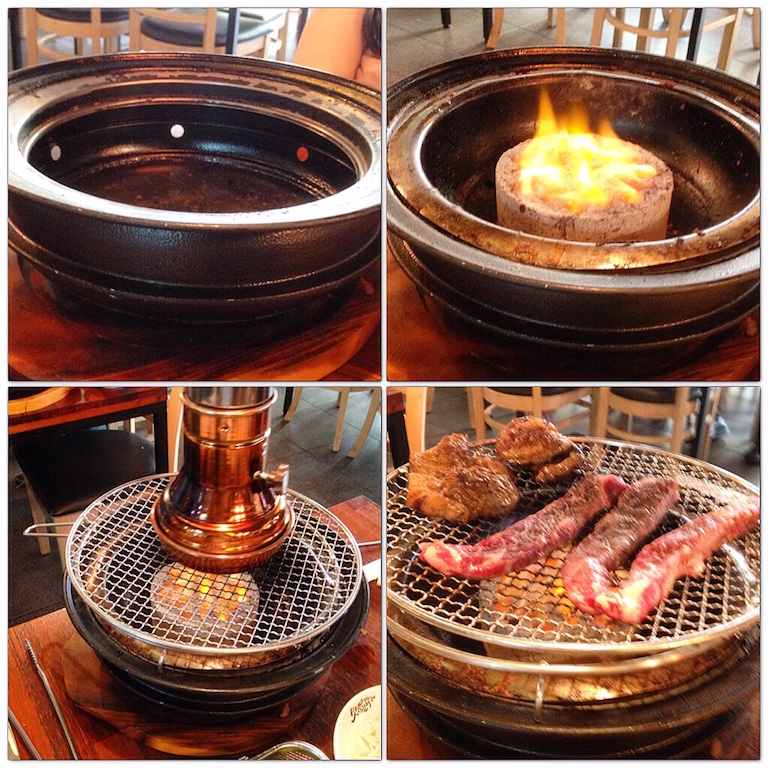 There are plenty of barbecue joints in Seoul. These barbecue restaurants have either a portable barbecue pan or a built-in barbecue pit on the table. We experienced both. Some restaurants have ventilation hoods on each table.
To order, you can ask for bulgogi (barbecued beef), galbi (beef ribs) and or samyeopsal (grilled pork belly).
5. Korean beer and soju
Hite is Korea's number one beer. Beer is a popular drink in Korea. Our hanok hostess said we must drink beer when eating fried chicken. Soju is the other popular alcoholic drink in Korea. It is a cheap rice liquor. Soju is a clear rice liquor. The other rice liquor, which is cloudy is called makgeolli.
6. Korean pancakes
A Korean savory pancake I tried had squid, pepper and scallion and the another was with shrimp and scallion. Both were worth trying.
7. Korean fried chicken
I was told to try Korean fried chicken and Korean style barbecue chicken with beer when in Seoul. Known as chimaek - chicken with maekju, Korean for beer to the locals.
8. Ginseng chicken soup
Chicken in clear ginseng soup served with scallions. It's supposed to be nutritious and definitely not my favorite.
9. Spicy soup
Everywhere in Seoul, there are restaurants selling kimchi-based and soybean paste soup dishes. We had our share and I managed to photograph two of the above.
10. Dakgalbe
Dakgalbe is a spicy stir-fried dish with chicken, potatoes, rice cakes and a variety of vegetables. The server cooked this dish on our table using a cast iron pan and gas tabletop stove. When we finished eating half of the dish, boiled white rice with pieces of seaweed were added and stir-fried with the remaining sauce, chicken and vegetables.
11. Japchae
Japchae is stir-fried glass noodles, vegetables and meat. This is another of my favorite Korean foods.
12. Juk
Juk or rice porridge is a breakfast food. They are similar to the rice porridge or congee in Hong Kong and Guangzhou except the Korean rice porridge is served with seaweed. The above seafood juk cost $16 per bowl.
13. Jajangmyeon
Jajangmyeon is a Korean-Chinese dish. Not my favorite dish because of the black soy paste sauce.
14. Korean set lunch
I got this Korean set lunch at Delacourt, a food court in Gangnam COEX Convention and Exhibition Center. This spicy kimchi-based soup with tofu was extra spicy. It came with a bowl of rice and three side dishes. All Korean set lunches come with side dishes at the food court.
14. Korean pickles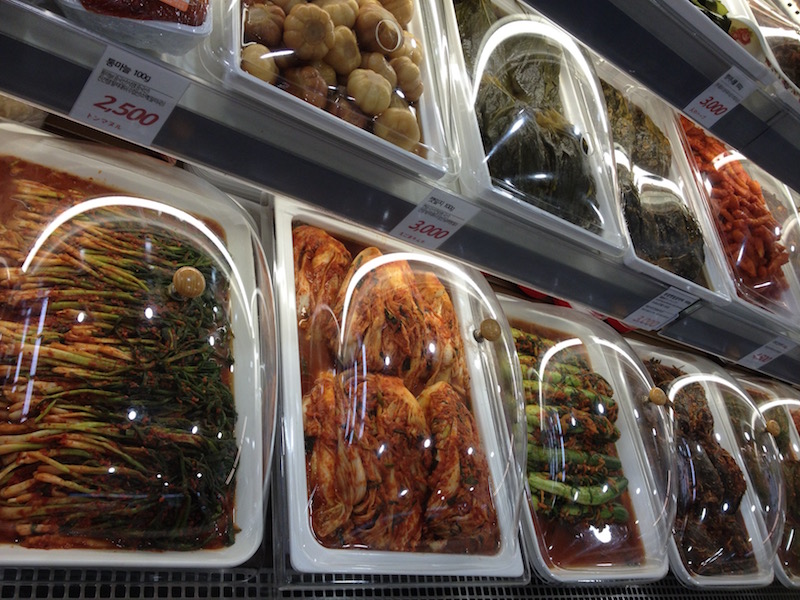 Besides kimchi, Korea's Lotte Mart offers pickled garlic, seaweed, cucumber, ginger and more.
15. Street food
Read more about our 15 Tasty Street Food in Seoul.
16. Coffee
You will have plenty of cafes to hang out in Seoul. We went to several and you can read about it on Coffeesphere.com.
17. Korean stainless steel chopsticks
The Korean chopsticks are different from other Asian communities that use chopsticks. Koreans use flat stainless steel chopsticks with stainless steel spoons for meals. Traditionally, chopsticks were made of iron. Some say iron was used to make chopsticks since Korea has an abundance of iron compared to wood.
Did you know that kimchi is registered on the UNESCO World Heritage list? A typical family has three to four side dishes for every meal and kimchi is included as one of the side dishes. The number of side dishes on the table will determine how important you are as a guest, I supposed. What do you think?