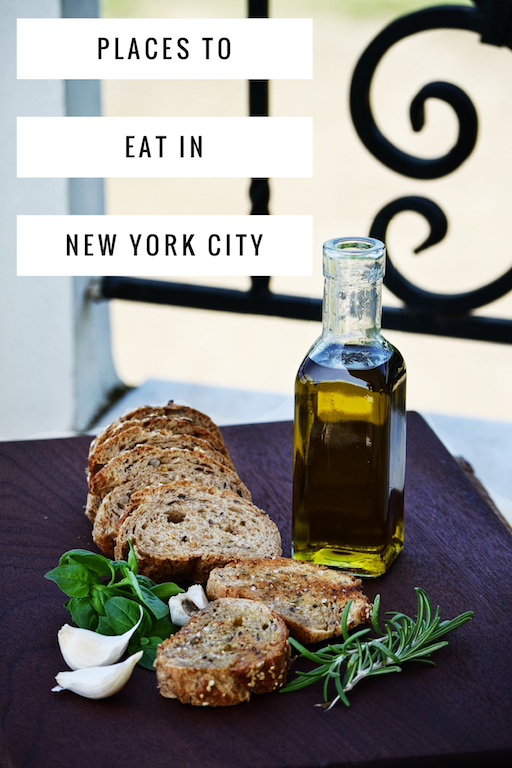 In New York City, there's always something different to do and eat in every street corner. With over 170 languages spoken by over eight million people, New York City's diversity gives choices when dining out in the city's 24,600 restaurants. Not only will you find ethnic variety, but you'll also get a different range of prices, good eats at $5, $50 or even $500 per meal.
How do you choose the best places to eat when visiting New York City?
With the five boroughs that make up the city, Manhattan, Queens, Bronx, Brooklyn and Staten Island, it is not easy to find the best and the "diamonds in the rough."
To help you out, here is my list (it is growing every month) of 27 53 places to eat in Manhattan and Queens, New York. I'll update this post and add more every couple of months.
MANHATTAN
1. Boulud Sud Mediterranee NYC
Award-winning Chef Daniel Boulud runs several restaurants in New York City including a three Michelin star restaurant, Daniel, which is ranked eighth among Restaurant Magazine's "World's 50 Best Restaurants." While searching for a restaurant near Lincoln Center for lunch, we found his other restaurant, Boulud Sud. Boulud Sud is a great restaurant for pre or post-show meals.
Location: 20 West 64th Street (Between Broadway & Central Park West) New York, NY 10023
2. Artichoke Basille Pizza
Artichoke Basille's Pizza's specialty artichoke pizza with artichoke hearts, spinach, cream sauce, mozzarella, and Pecorino Romano Cheese was listed as a must try pizza on the menu. The crust was thick and not like the usual New York-style thin crust pizza. A lunch pie was $18 (good value).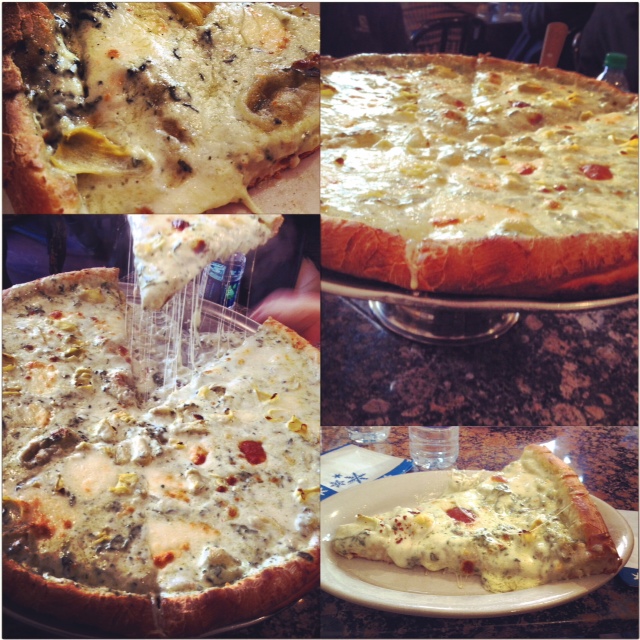 Location: 328 E. 14th Street, New York, NY between 1st and 2nd Avenue.
3. Le Pain Quotidien
Go for coffee, wine, quiche and or tartines at Le Pain Quotidien. Tartines are Belgian open-faced sandwiches served on Le Pain Quotidien's organic wheat levain bread. Read more: Join us at our table - Le Pain Quotidien.
Here is the smoked salmon with avocado, scallions, and dill tartine.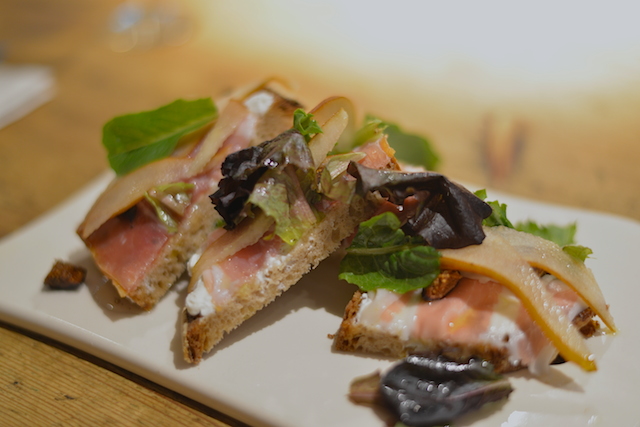 Location: 68th Street and First Avenue, NYC.
4. Katz's Delicatessen
Katz's Deli has been serving pastrami sandwiches in New York City since 1888. For a classic NYC pastrami, go to Katz's and get one of their hot pastrami sandwiches with steak fries. It costs about $26 not including drinks. Read more about Katz's Deli.
Location: Katz's Delicatessen, 205 East Houston Street, New York, NY 10002.

5. Grand Central Terminal Dining Concourse
When in midtown Manhattan you must visit Grand Central Terminal. If you are hungry, go for Shake Shack burgers, or if you need somewhere to just have a cup of coffee and a cupcake, head over to the Grand Central Terminal's Lower Level Dining Concourse. There are over 35 dining options including Shake Shack, Magnolia Bakery, and Irving Farm Coffee.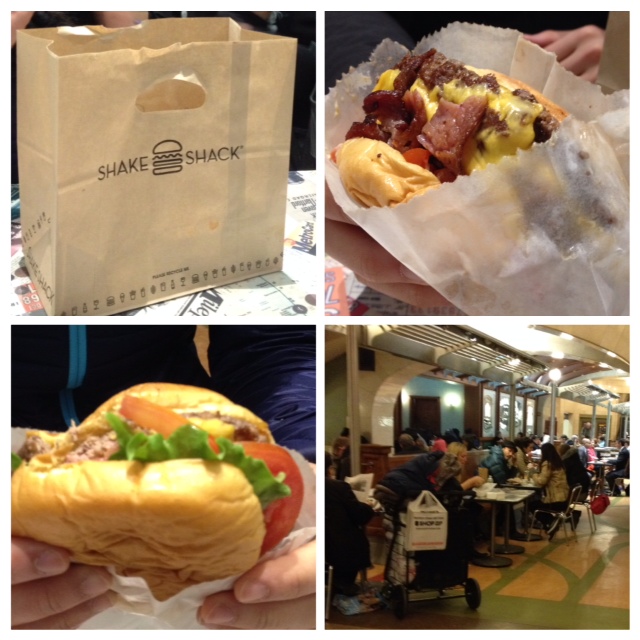 6. Terakawa Ramen
Looking for authentic and economical Japanese ramen? Terakawa Ramen may fit the bill. Ramen noodles are quick-cooking noodles typically served in soup with vegetables and meat. Prices start at $9. Be ready with cash and small denomination bills if you want to dine at Terakawa Ramen. You'll see signs reading "Cash Only" and "no bills greater than $20" posted on their walls. Every person seated has to order at least $5 worth of food from the menu. Read more here.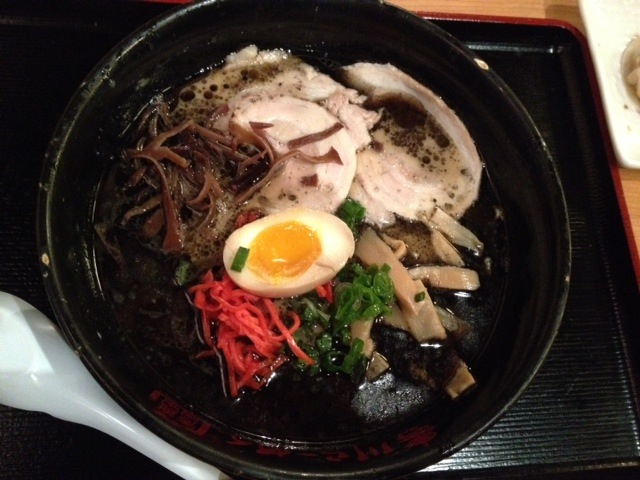 Location: 18 Lexington Avenue, New York, NY 10010 (between 22nd and 23rd Streets).
7. Nom Wah Restaurant for Dim Sum
Nom Wah Tea Parlor on Doyers Street in Chinatown was the first dim sum tea parlor in New York City. Started in 1920 as a bakery and tea room, today this old restaurant still serves their original egg rolls ($7) and almond cookies ($1.50).
Location: 13 Doyers Street, New York.
8. Gaby Restaurant at Sofitel New York
Named one of the best French restaurants in New York City serving food like Sautéed escargot with vegetable brunoise and red wine, and skinless seared duck breast with sauce à l'orange, Gaby is conveniently located in the Theater District. Think elegant dining with an expert sommelier on hand.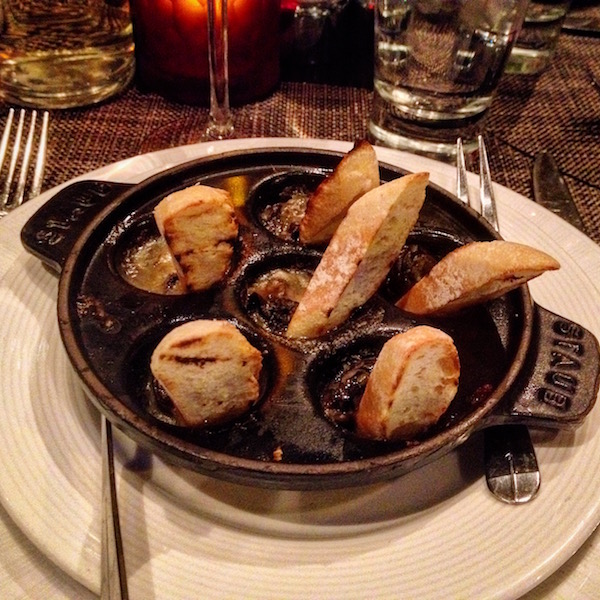 Location: 44 West 45th Street, New York, NY 10036
9. Big Wong Chinatown
For quick and authentic Cantonese meals in Chinatown, we recommend Big Wong. Big Wong serves wonton noodle soup, salted chicken on rice, roast pork, and fried rice. Prices start at $7. Big Wong has been serving tourists and locals for over 30 years at the same location.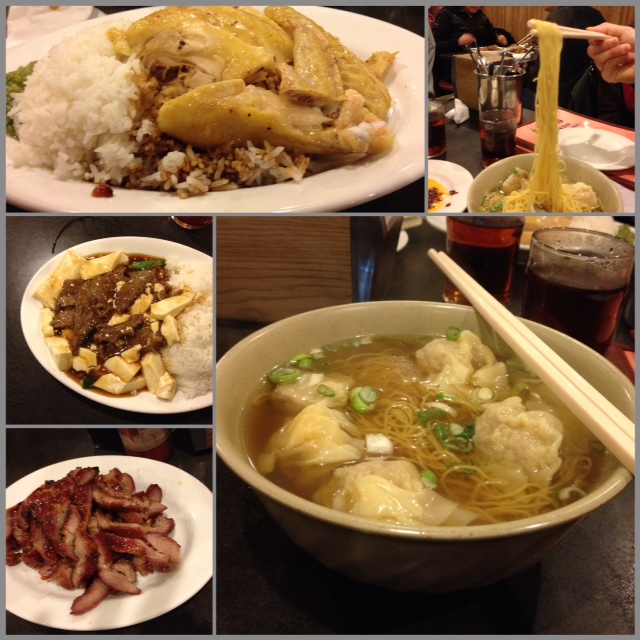 Location: 67 Mott Street, New York, New York 10013
10. Trattoria Pesce Pasta
For an inexpensive Italian restaurant near New York City's Museum Mile, get a cab to Trattoria Pesce Pasta on Columbus Avenue. This non-touristy restaurant has both outdoor and indoor dining areas. Each dinner entrée (with meat) costs between $20-$26. Take a look at the seafood risotto and veal parmigiana: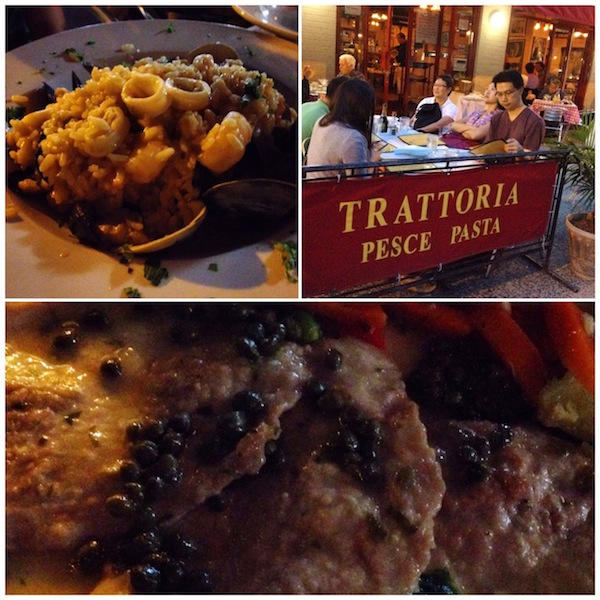 Location: 625 Columbus Ave., New York City
11. Kopi Kopi
Kopi Kopi, located in the middle of Greenwich Village and near Washington Square Park serves the best Indonesian nasi goreng (fried rice) and es alpukat (iced coffee with avocado). Though coffee, beer, and cocktails are their specialty, I would go for their Indonesian dishes like mie goreng and nasi goreng.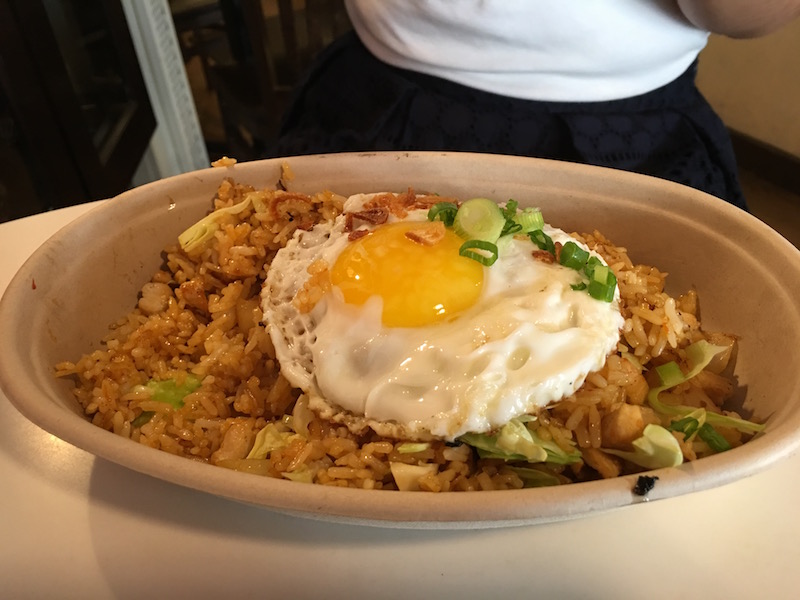 Location: 68th West 3rd Street, between Thomson Street and La Guardia Place.
12. Eataly
I like La Piazza in Eataly that serves antipasti and wine. Eataly is a food plaza with everything Italian including fresh produce, grocery, baked goods, and restaurants. La Piazza serves wine and antipasti and is modeled after an Italian city square. Another restaurant in Eataly is La Pizza & La Pasta which serves single-serve pizza and pasta. Both restaurants have reasonably good prices and gourmet Italian food.
Location: 200 Fifth Avenue, at the Flatiron area.
13. Iroha Japanese Restaurant
If you are visiting Rockefeller Center and looking for a Japanese bento box for lunch or dinner, go to the casual Iroha Japanese Restaurant. The service is fast, and the price is right.
Location:152 West 49th Street.
14. Ellen Stardust Diner
Ellen Stardust Diner's waitstaff both serves and sings well. The restaurant is known as the Home of the Singing Waitstaff. Located in the Times Square area about a 2-minute walk from Gershwin Theater (Wicked), Ellen Stardust Diner is inexpensive and serves all types of burgers including a 'healthy' Ahi Tuna burger. You have a variety of sandwiches to choose from, and most importantly you must leave room for dessert. Try the Tin Roof, an old-fashioned ice cream sundae with hot fudge.
Location: 1650 Broadway and 51st Street.
15. Ippudo Westside
This popular Japanese Restaurant serves house-made ramen in large bowls, suitable for anyone looking for hot soup on a cold or rainy day. It's definitely a place to go for ramen lovers.
16. The Garden Restaurant at Four Seasons Hotel New York
Located off the lobby at Four Seasons New York, this forest-like restaurant suits anyone who is counting calories or has a gluten-free diet. You get to dine in an exceptional environment too.

Location: Inside Four Seasons Hotel New York off the main lobby, facing 57th Street.
17. Chobani Soho Yogurt Bar
Head over to the Soho area and stop by Chobani Soho Yogurt Bar if you've never been to a yogurt bar. Try the sweet and savory yogurt creations like pistachio and chocolate yogurt and Zucchini Pesto and Tomato creations. Read more here. Prices for the yogurt creations start at $5.50.

Location: 152 Prince St, New York NY 10012
18. Halal Food Carts
Halal food carts are increasing in number in New York City. The most popular Halal carts in the city are the Halal Guys, located on 53rd and 6th Avenue, in front of the Museum of Modern Art (MOMA). Halal Guys (workers wear yellow T-shirts) serves chicken or beef on rice and gyros. Price starts at $6. The halal food carts are changing the street food scene in New York City because there are less hot dog stands and more Halal food carts now.
19. Hot Dog Carts
Hot dog and pretzel carts are a part of New York City's attractions. It originated from German immigrants selling frankfurters on buns in the late 1800s on Bowery Street. In 1871, a German butcher named Charles Feltman opened the first hot dog stand in Coney Island. You can read more about it in New York Eater.
Remember to include a meal at a hot dog stand in New York City when you visit. You can find them steps away from museums like the MET Museum, Guggenheim, and the American Natural History Museum. The photo below shows two stands just outside Starbucks in front of Union Square. Price starts at $2.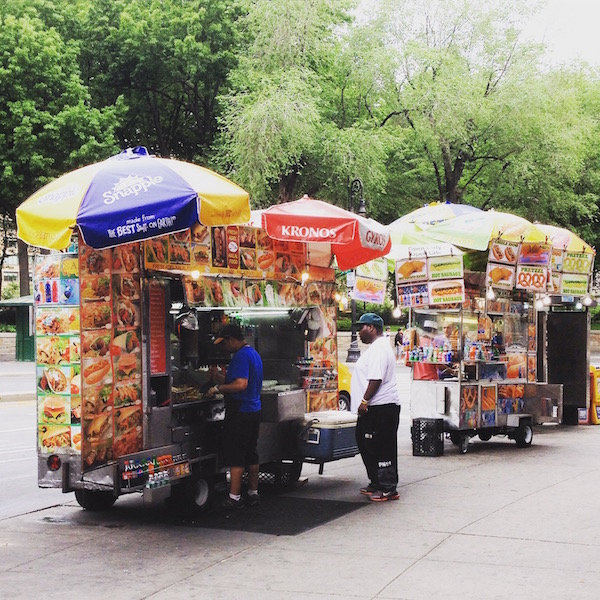 20. Gray's Papaya
Looking for the 'cheapest' eats in NYC? Or curious about tiny eateries in NYC? Gray's Papaya serves frankfurters cooked on a griddle since 1973. On the menu is the Recession Special - where you get two hot dogs and a fruit drink of your choice for $5.95. Help yourself with free onions and sauerkraut. It is open 24/7 and has standing room for about 10 people inside.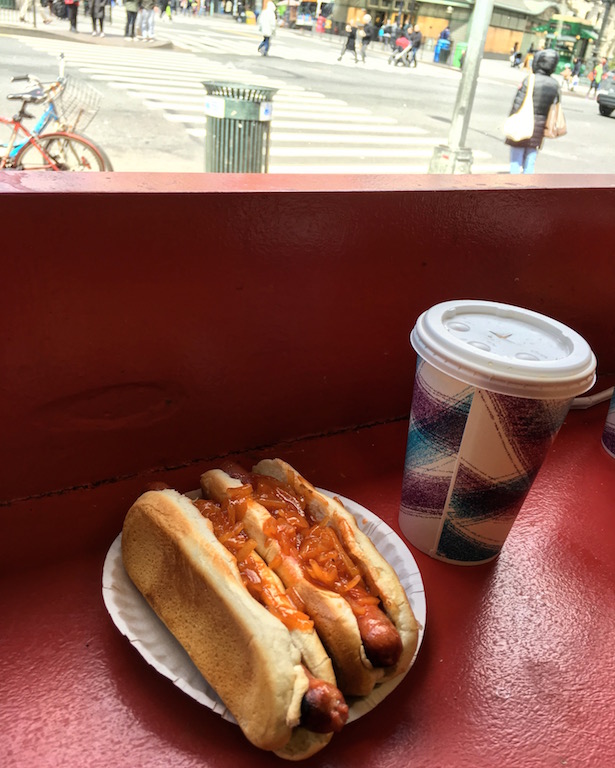 Location: 2090 Broadway (Upper West Side)
21. Sombrero Mexican Restaurant
Want guacamole when you are visiting the Theatre District and Times Square area? Sombrero Mexican Restaurant serves guacamole, tacos, quesadillas, fajitas, chimichangas, and more. A chicken fajita served with tortillas, guacamole, sour cream, rice, and beans costs $22. The servings are huge, and you can order three entrees and share among four people. A traditional guacamole is $13.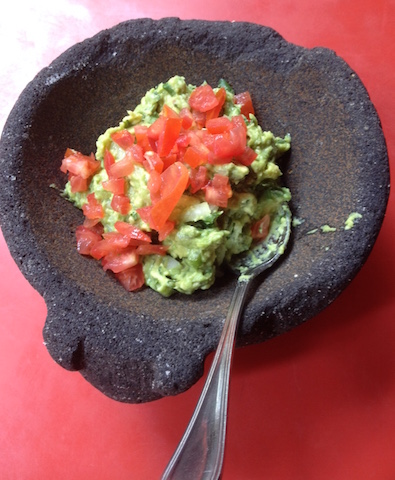 Location: 303 West 48th Street.
22. Ipanema Brazilian Restaurant
In Little Brazil, there are a few Brazilian restaurants. Ipanema Restaurant has been around since 1979. All entrees come with separate bowls of rice and beans. Meat dishes called churrasco starts at $23.95. For authentic Brazilian food, try the feijoada, black beans stewed with sausages, dried meat, and pork. For drinks order Brazil's national cocktail - Caipirinha.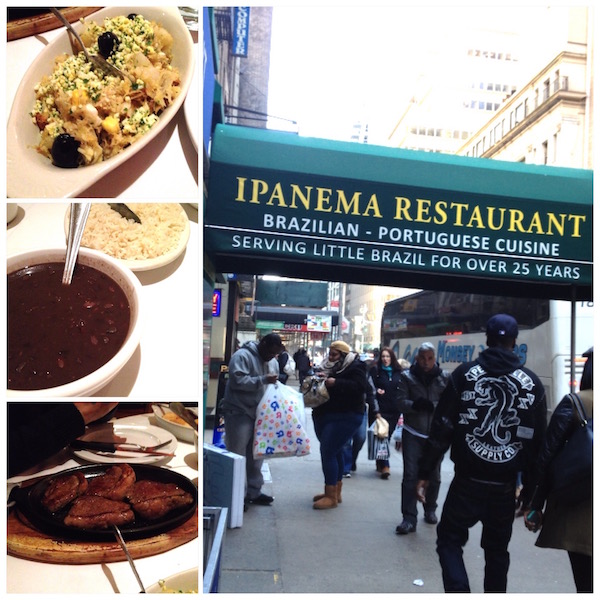 Location: 43 West 46th Street.
23. Chelsea Market
Ideally situated in a historical National Biscuit Company building, Chelsea Market is a three-in-one place - a large food court, shopping and TV production studio. You can still find some vintage memorabilia of the factory and an original mural, but most people visit Chelsea Market for the food. Find specialty foods like lobster rolls, raw oysters, lobsters, sushi, pulled pork sandwiches, Italian pasta, pad thai, and fusion tacos.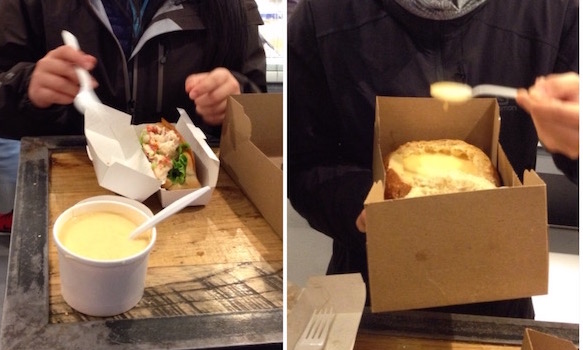 Location: 75 Ninth Avenue.
24. Ess-a-Bagel
Some bakeries make round bread rolls with holes in the middle and call them bagels. Bagels should not be puffy and soft like bread, but unfortunately, many stores sell exactly that. If you haven't tried a real bagel yet, you must try at one of the good bagel stores in New York City. You'll get dense and chewy bagels with different toppings and flavors. One that gives you a choice of flavored cream cheeses is Ess-a-Bagel.
The original Ess-a-Bagel on First Avenue is closed, but you can go to their store on Third Avenue. Each bagel is $1.25, and the cream cheeses vary in price.
Location: 831 Third Avenue (between 50th and 51st Streets)
25. Sacco Pizza
For an authentic and cheap New York City slice, go to Sacco Pizza. A slice is $2.50, and a Sicilian is $2.75. An 18-inch pie is $17, and each topping is an additional $3.
Location: 819 Ninth Avenue
26. Goodfellas Pizza in Lower East Side
For wood fired brick oven pizza, head over to Goodfellas Pizza. Opened since 1992 in Staten Island, today this award-winning pizzeria has four locations in New York City. Try their signature vodka pie - alla vodka. And the hot buffalo wings.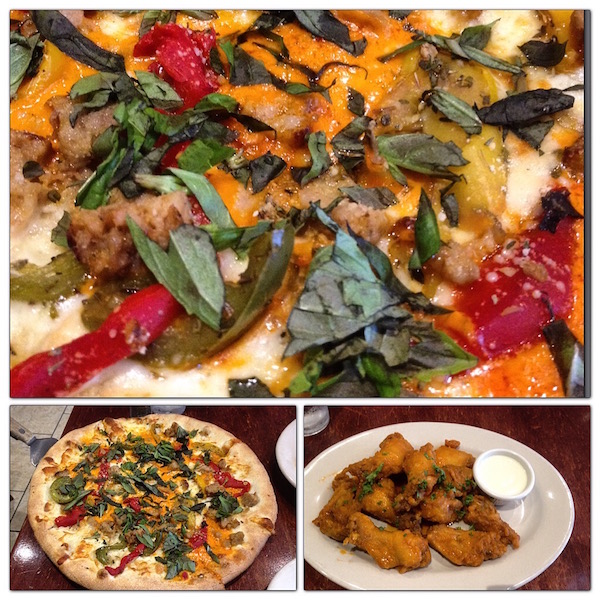 Location: 144 Orchard Street between Stanton and Rivington Sts.
27. Aroy Dee Thai
For a quick lunch that cost below $10 per person in the Financial District, we suggest Aroy Dee Thai. It is a small shop with limited seats. Aroy Dee Thai serves Thai and simple Asian cuisine.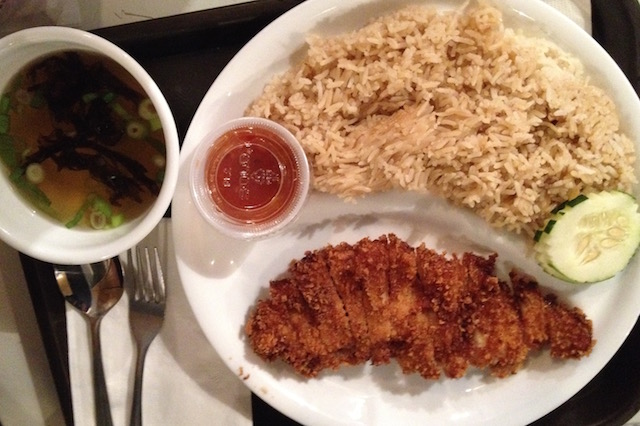 Location: 20 John Street (between Broadway and Nassau)
28. Sarabeth's
There are five Sarabeth's restaurants in New York City. Sarabeth's is known for their weekend brunch. The restaurant offers plenty of options including meals for those on a paleo diet.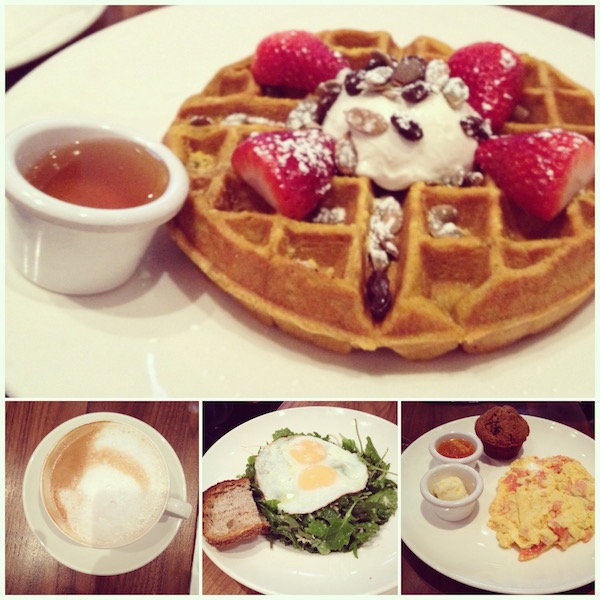 Location: 381 Park Avenue South, 27th Street.
29. The Hummus and Pita Co.
The Hummus and Pita Co. has four locations in New York City. They offer Mediterranean cuisine, and their flatbread is baked on-site. You can expect fresh homemade-style hummus, falafel, and gyros.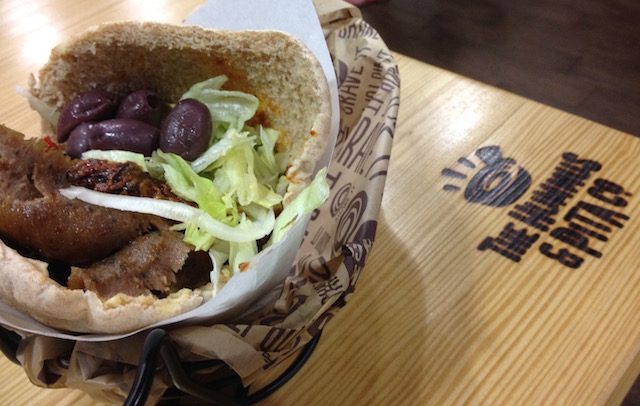 Location: 815 Broadway (Union Square)
30. Woorijip Korean
Woorijip is the one stop place for all types of Korean foods like japchae, kimchi, gimbap, and bean sprouts. They sell food by the pound. You can either grab and go or eat-in at this busy lunch venue usually packed with office workers and students.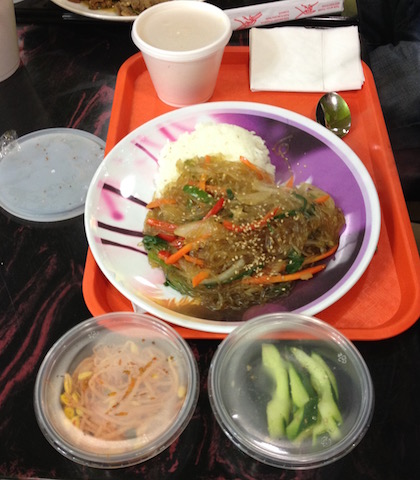 Location: 12 W 32nd Street (between Broadway and 5th Avenue) in Koreatown
31. The Kunjip
The Kunjip is our new favorite Korean restaurant for quick lunches in Koreatown. Here is their bibimbap, a Korean mixed rice dish with meat, one raw egg and a variety of vegetables, served in a hot stone bowl. Before eating, add chili paste (gochujang) and sesame oil, mix the raw egg, meat, veggies, and rice with your chopsticks or fork.
Location: 32W 32nd Street, Koreatown.
32. Soba Totto
Soba Totto is the only place I know in Manhattan that offers $10 'lunch time special' from Monday to Friday. The Bara Chirashi Set (meat, hot or cold soba, small appetizer and a salad) is only limited to the first 20 people per day. So go early. It opens at 11:45 a.m. and closes at 2:30 p.m. This eatery in midtown is known for their homemade Kyoto-style soba.
Location: 211E 43rd Street (between 2nd and 3rd Ave)
33. Maison Kayser
Besides coffee and pastries, Maison Kayser serves classic French bistro dishes like French onion soup.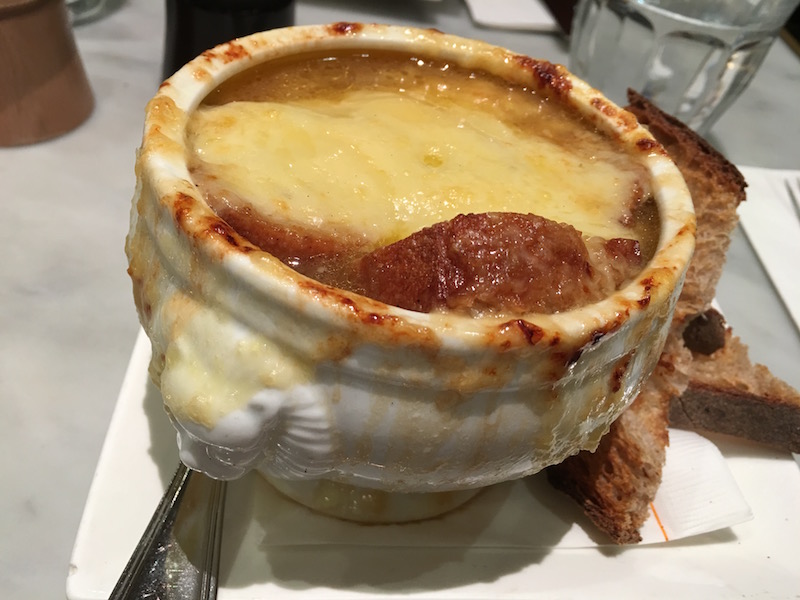 Location: Several in Manhattan and one in Brooklyn. I was at the Upper East Side 74th Street and Third Avenue location.
QUEENS
34. Italian at Cara Mia in Queens Village
To be perfectly honest, this is one of the best southern Italian restaurants in NYC. However, Cara Mia is located quite far from Manhattan. To get there, you'll need to drive or take the F or E train to the last stop (Jamaica-179th Street station), then take a Queens #40 bus and stop in front of the McDonald's on Hillside Avenue.
Cara Mia makes their ravioli and meatballs. Nonna's meatball dish is a must, followed by some pasta. The portions are big, and the price is unbeatable.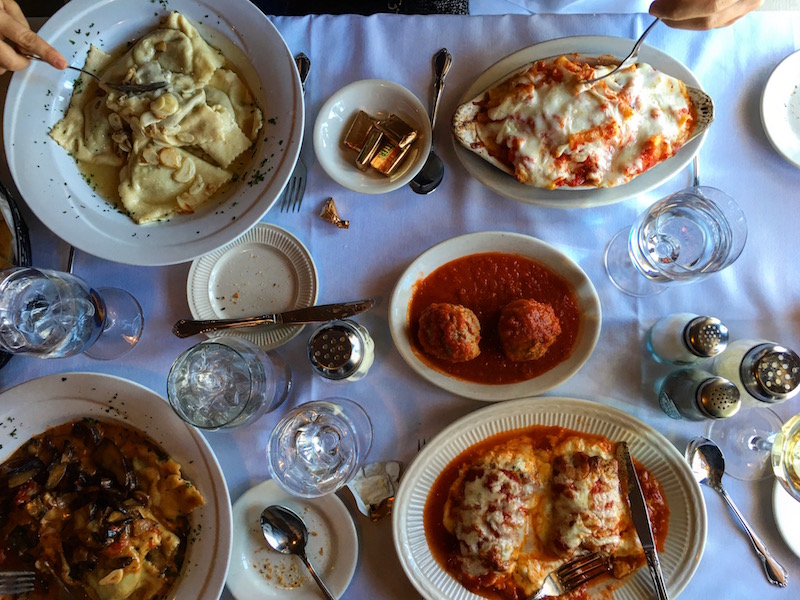 Location: 220-20 Hillside Avenue, Queens Village, NY
35. Colombian food at Latin Bakery Restaurant in Flushing
I was surprised to find a good Colombian restaurant in the midst of a busy street filled with Asian restaurants, shops, and markets. Latin Bakery Restaurant was open over 20 years ago when I visited Flushing. They are still serving delicious Colombian baked goods and home-cooked foods. The oxtail soup (photo below) is only available on Sundays.
Location: 4141 Main St, Flushing, NY 11355
36. Thai food at Sripraphai Thai Restaurant in Woodside
Those who crave Thai food will find Sripraphai to be not quite authentic. If you like fusion Thai, you'll love this restaurant. I happen to fall into the fusion category. I was there for lunch and ordered the Thai crispy watercress salad and tom yum soup. Be prepared and bring lots of cash as this restaurant does not take credit cards.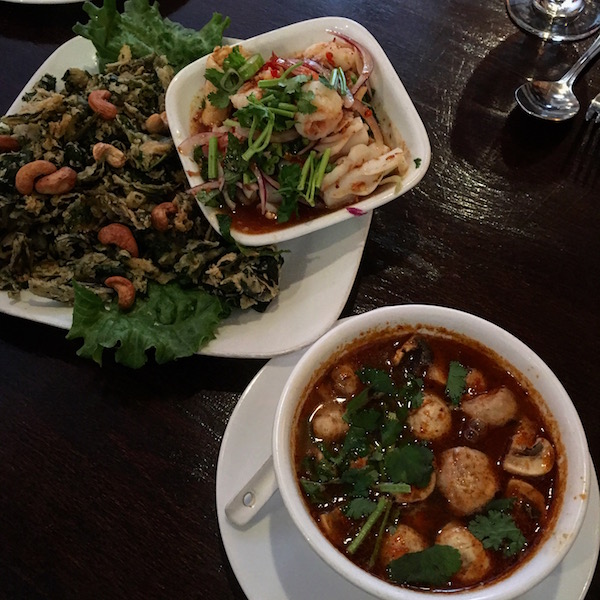 Location: 64-13 39th Ave, Woodside, NY
How to get there: 7 train to 69th Street station, or M or R train to 65th Street station.
37. Pastrami sandwiches at Ben's Best in Rego Park
The original Ben's Best Gourmet Deli opens seven days a week from 9 a.m. to 9 p.m. Started by Ben Parker in the Bronx and moved to the current location in Rego Park in 1945, Ben's Best is one of the best Jewish delis in New York City. When we were there we ordered the hot pastrami, prime cut roast beef and the ultimate pastrami sandwich called the Ben's very best super spectacular. This huge sandwich has corned beef, pastrami, roast beef, turkey and salami on club, garnished with lettuce, tomato, and hot peppers. Cost: $29.50.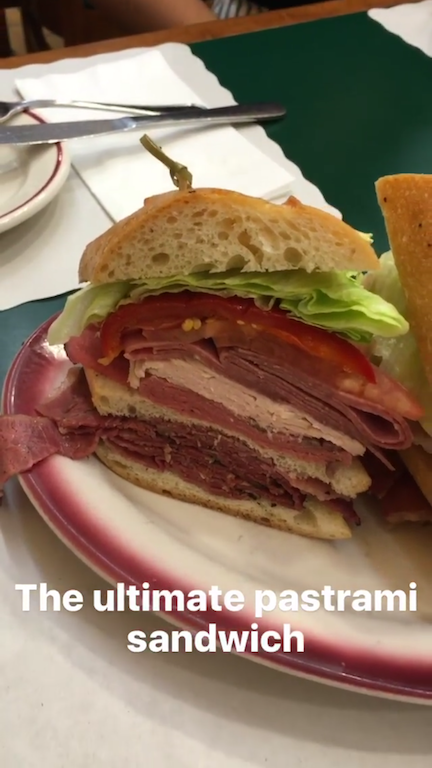 Location: 96-40 Queens Blvd, Rego Park, NY.
How to get there: Take R or M train to 63rd Dr/Rego Park station.
38. Ecuadorian food at Ecuadorian Restaurant Food Company in Astoria
I've been to Cuenca Ecuador twice. The first time I stayed for two months, and the second time it was just for a week. Both times the must eat food on my list was trucha frita (fried trout). Recently, I discovered an authentic Ecuadorian restaurant in Astoria Queens, and I ordered trucha frita. It came with white rice, fried plantain, salad and a few pieces of avocado. The only difference between this and the ones in Cuenca was the freshness of the trout. Cuenca's trout is fresher.
Location: 4120 34th Ave, Astoria, NY
How to get there: Take N or Q train to Broadway station, or M or R train to Steinway St station.
39. Lebanese food at Souk El Shater in Sunnyside
While we were staying at a short-term rental apartment in Sunnyside, our host recommended Souk El Shater. She said that must be the first place we went to when we arrived at her apartment. She was right. There are only counter seating with just four stools in the small eatery. Most customers order take-out, while we ate in so we could learn more about Lebanese food. The rice we ordered with a choice of meat was $6. There's a selection of freshly made eggplant on basmati rice, potatoes with chicken on rice and more. Or get a gyro, creamy babganoush or falafel.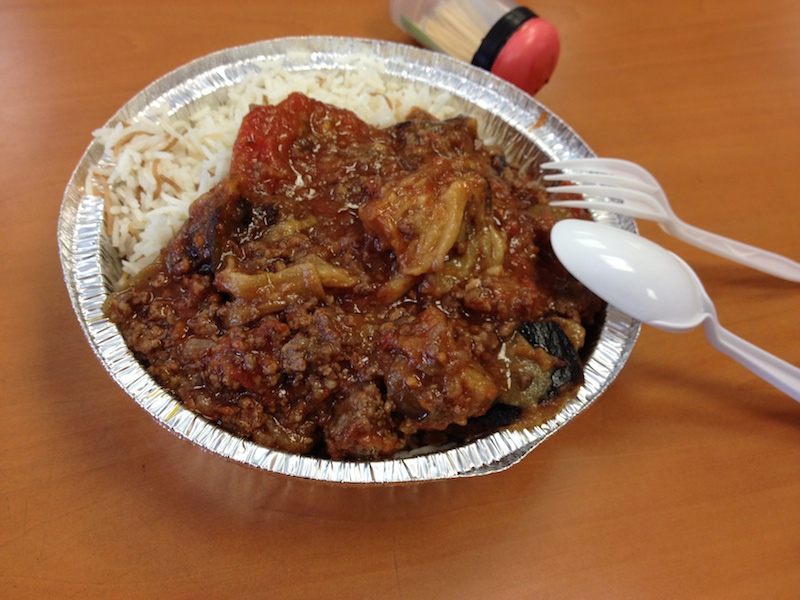 Location: 43-03 Queens Blvd, Sunnyside, NY
How to get there: Take 7 train to 40th Street station.
40. Romanian food at Romanian Garden in Sunnyside
Yes, you can get authentic Romanian food in Sunnyside Queens. Located on 43rd Street, just a 10-minute walk from the 40th Street subway station, this was my first Romanian restaurant experience. I did like their stuffed cabbage with polenta.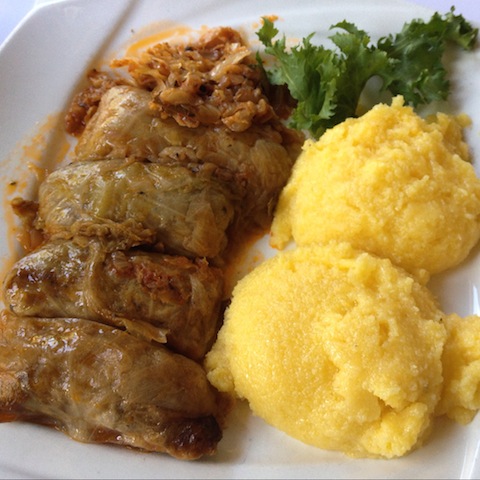 Location: 4306 43rd Ave, Sunnyside 11104
41. Paraguayan food at I Love Paraguay in Sunnyside
I've been to Paraguay, so when I walked past I Love Paraguay Restaurant in Sunnyside, I went in immediately and ordered a soup and empanada to go.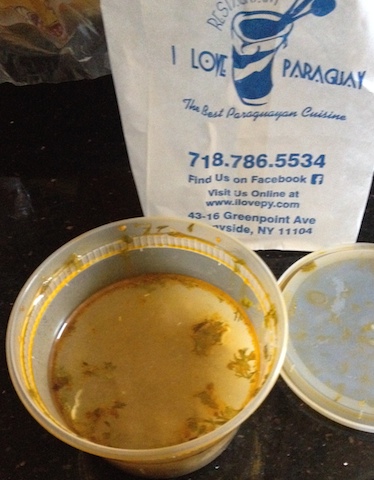 Location: 43-16 Greenpoint Ave, Sunnyside
42. Pizza at Sunnyside Pizza
There are plenty of pizza shops in Queens. But there is only one which is the best in Queens (so far). So I'm sharing the best with you - Sunnyside Pizza. Owner Mike is friendly, and his staff looks enthusiastic and happy. We like his buffalo chicken pizza ($28 per pie).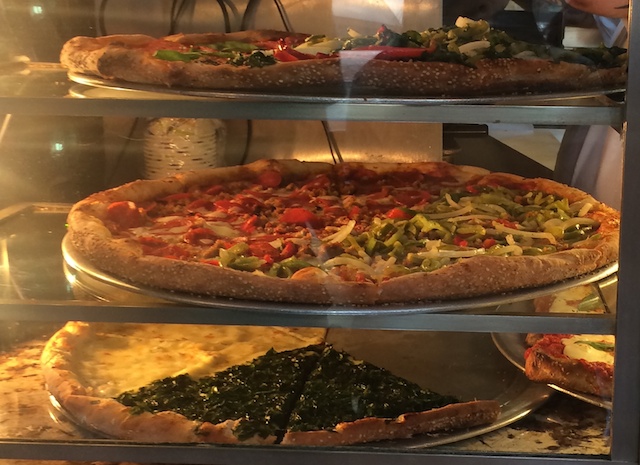 Location: 40-01 Queens Blvd, Sunnyside, NY
How to get there: 7 train to 40th Street station.
43. Korean food at San Soo Kap San Korean Restaurant in Flushing
The side dishes (shown below) including Kim chi and fish were incredible at San Soo Kap San Korean Restaurant. They offered an array of complimentary side dishes when we ordered the Korean barbecue meal for three. Korean food is notoriously spicy if you order the wrong thing. The BBQ won't let you down in San Soo Kap San.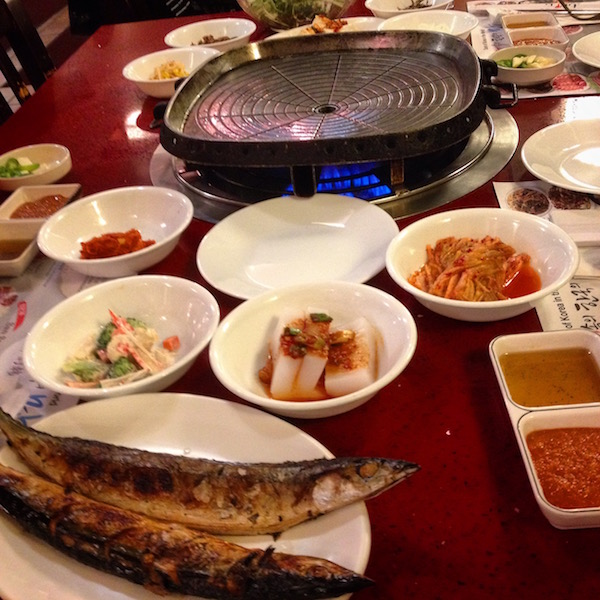 Location: 38-31 Union Street, Flushing
44. Xian food at Xian Famous Foods in Flushing
You can experience the underground world of eating in Queens NYC at Xian Famous Foods. Out of curiosity I walked into the basement of Golden Shopping Mall on 41st Road in Flushing and discovered the first Xian Famous Foods eatery, a place visited by Andrew Zimmern and Anthony Bourdain. Here you must try the spicy noodles with lamb, bits of vegetables and plenty of spices including cumin. This tiny food court style eatery has only ten seats. It's open daily from 10 a.m.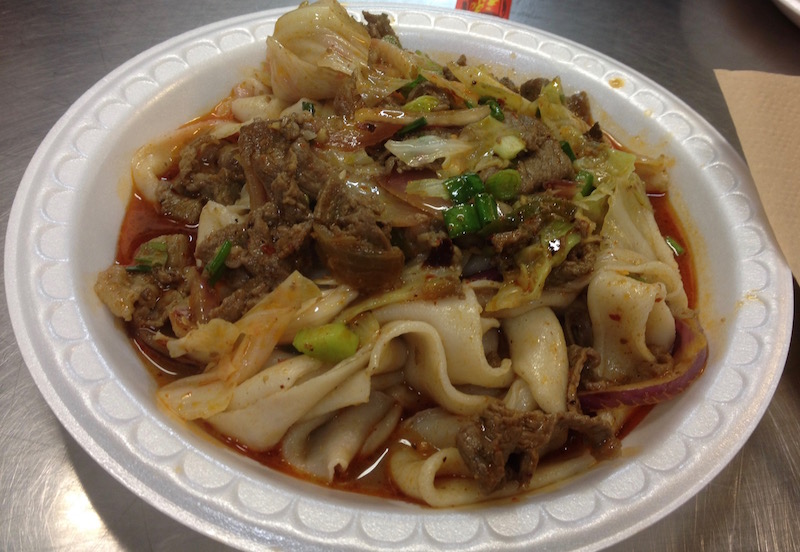 Location: 41-28 Main Street, Flushing, NY.
How to get there: Take 7 train to Main Street Flushing.
45. Mediterranean food in Maria's Mediterranean Seafood and Grill in Bayside
Maria's is the place to hang out with family for a Saturday lunch over a glass of chilled white wine and a huge platter of seafood sampler. The sampler has fried and grilled calamari, fried and grilled shrimp and grilled octopus. Unlike many restaurants in NYC, Maria's is spacious.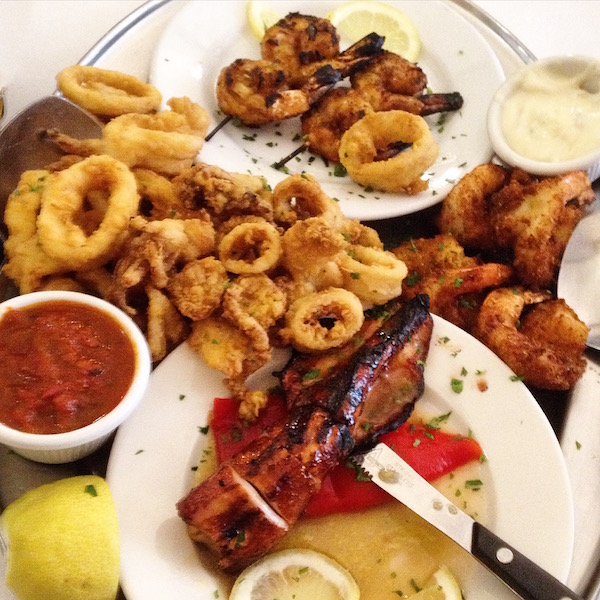 Location: 38-11 Bell Blvd, Bayside NY.
How to get there: Take the Long Island Rail Road (LIRR) Port Washington line and stop at Bayside. Or drive to the location.
46. Greek food at Stamatis Restaurant in Astoria
Greek food lovers will love Astoria Queens. There are several Greek Restaurants, but for family-style dining, I like Stamatis Restaurant. Try appetizers like the grilled octopus and Dolmades or stuffed grape leaves - inside is rice and minced lamb. They accept only cash (no credit cards).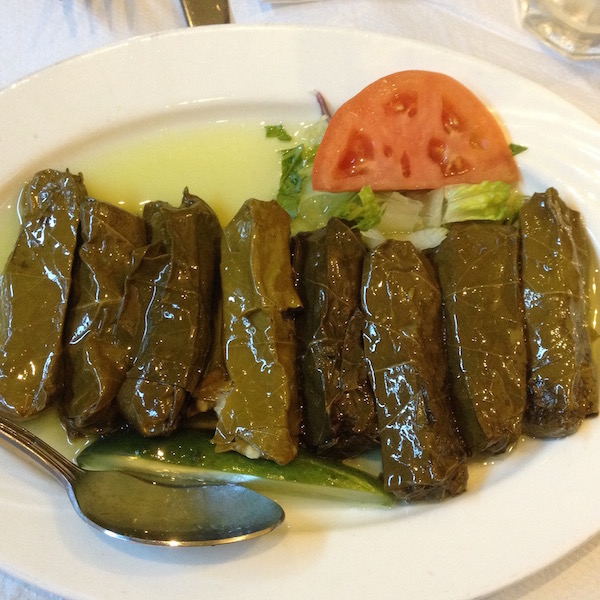 Location: 29-09 23rd Ave, Astoria, NY 11105
47. Italian Food at Tuscan Hills in Forest Hills
I chose Tuscan Hills for a family brunch on a Sunday because they are one of the few Italian restaurants that serve a family menu. Here we had fried calamari and bruschetta for appetizers and pasta with clams for the main dish. This might not be a stunning place, but it offers family-friendly, ample space and plenty of food for everyone and some leftovers.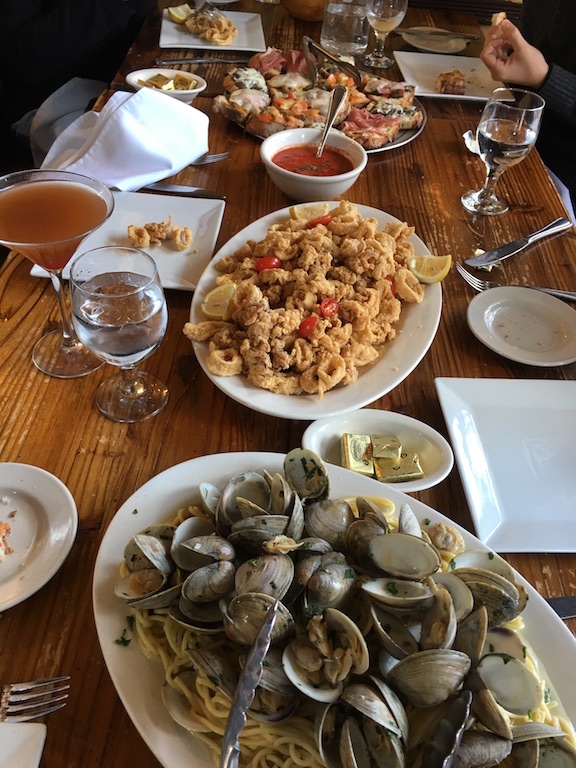 Location: 115-20 Queens Blvd, Forest Hills, NY 11375
48. Greek food at Taverna Kyclades in Astoria
Known as one of the best Greek restaurants in New York City, Taverna Kyclades serves traditional Greek-style seafood. Don't miss the grilled octopus with lots of seasoning and olive oil and one of their fish dishes. Expect a crowded dining scene in Taverna Kyclades during peak dining hours.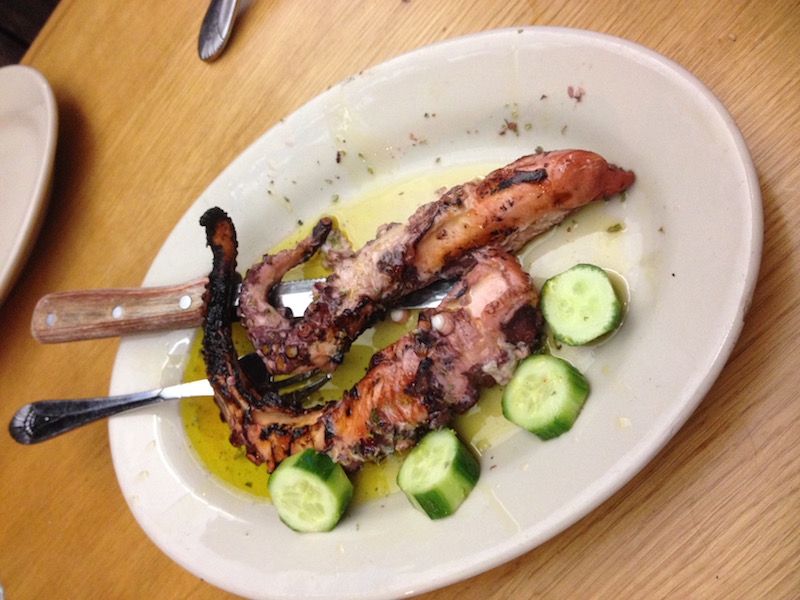 Location: 33-07 Ditmars Blvd, Astoria, NY 11105
49. Dim Sum at Jade Asian Restaurant in Flushing
I prefer Jade Asian Restaurant for dim sum because the restaurant is more spacious compared to many dim sum places in Chinatown and Flushing that seat diners till there are no elbow spaces. You don't have to worry about reading the menu. You can point to whatever you see and the lady with the pushcart will place them on your table and filled out the secret codes on the piece of paper on the table. After your meal, just give the server the paper, and he or she will tally the amount and give you a check.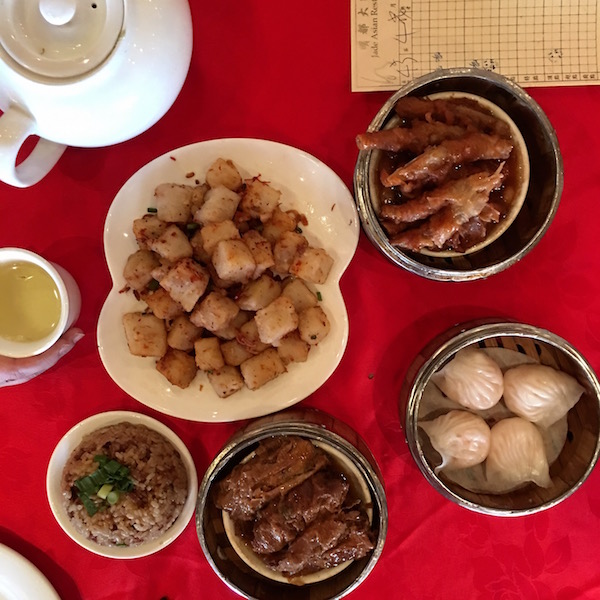 Location: 136-28 39th Ave, Flushing, NY 11354
50. Irish breakfast at Alpha Donut in Sunnyside
Family-owned Alpha Donuts has the same cook for over 20 years. Stuck in the 70s décor and friendliness, in a right way, Alpha Donuts, a classic New York greasy spoon serves Irish breakfast and coffee 24 hours a day. This place exudes the glory days of mom and pop shops in Main Street America. I highly recommend this place before it disappears like the rest of the authentic shops.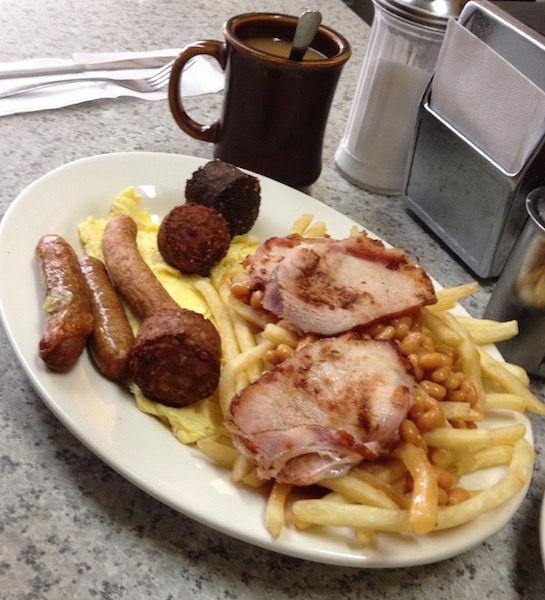 Location: 45-46 Queens Blvd, Sunnyside, NY 11104
51. Malaysian food at Malay Restaurant in Flushing
Malay Restaurant serves authentic Malaysian dishes like satay (shown below) with peanut sauce. Few restaurants have the same quality and authenticity in making their satay like Malay Restaurant.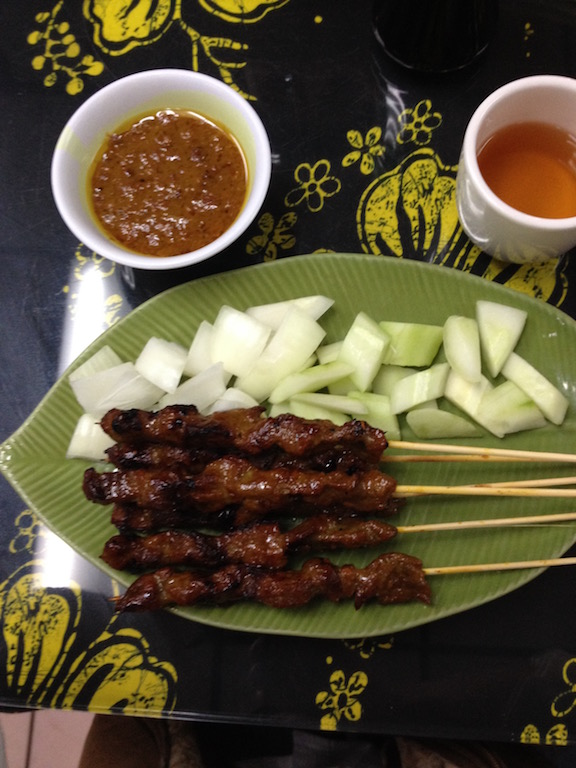 Location: 135-17 40th Rd, Flushing 11354
52. Italian food at Pronto Pizzeria and Restaurant in Astoria
Who can resist these garlic knots? Pronto serves complimentary garlic knots which pair well with white wine or sparkling water. This neighborhood corner pizzeria in Astoria serves sandwiches, pizza, pasta, and salad. I'll go for the garlic knots.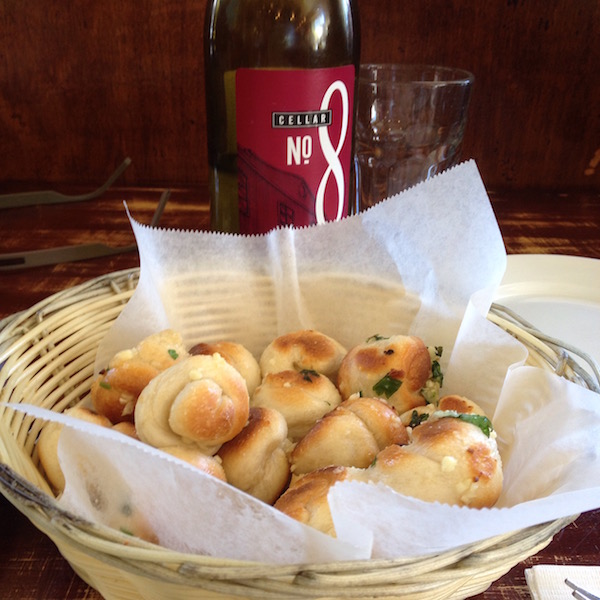 Location: 45-19 28th Ave, Astoria, NY 11103
53. K-Town Food Court in HMart Bayside
For economical and authentic Korean food, I like K-Town Food Court in HMart Supermarket, Bayside. For $9 I had a spicy squid dish (ojingeo deupbap) with steamed rice and a bowl of clear soup. It came with banchan too. Banchan are complimentary side dishes served in all Korean eateries. Included in the banchan were kimchi, pickled cucumbers, and radish.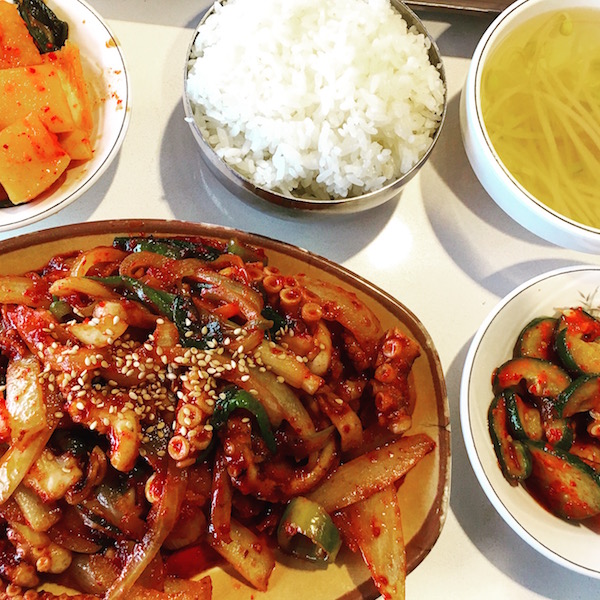 Location: 46-40 Francis Lewis Blvd, Bayside, NY 11361