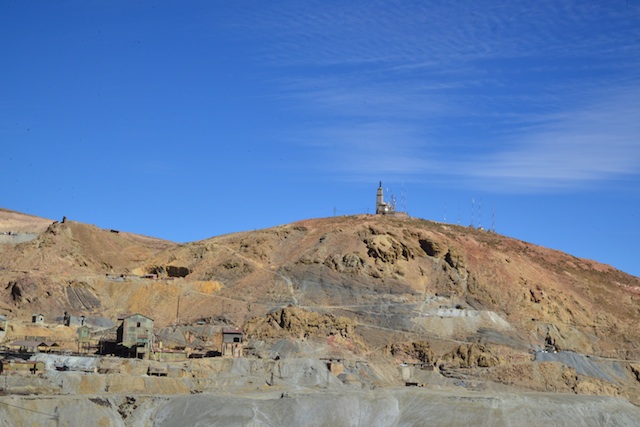 Smelly toxic fumes from old imported mini vans and mini buses filled the streets of Potosi. At 4,070 meters (13,500 feet) above sea level, walking up and down this hilly city is intense for the lungs. It became worse when we had to breathe in the intoxicating fumes.
It is hard to believe Potosi was once the most important city in Bolivia because of silver and other minerals. The Spaniards came in 1545 and established Potosi as the silver mining and commercial capital. Cerro Rico was the center of everything for the Spaniards…it was their golden cow. This 'golden cow' was abandoned when silver was depleted in the beginning of the 1900s.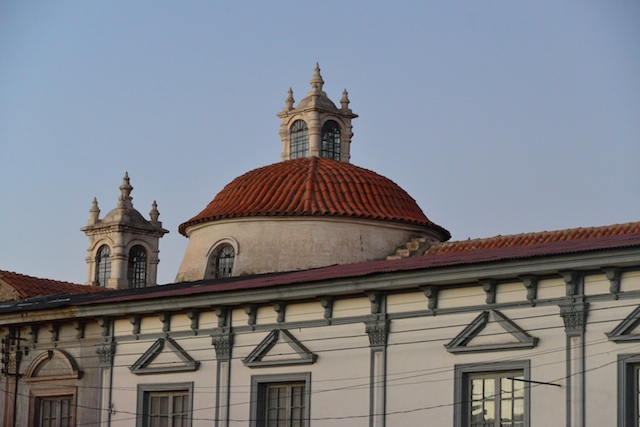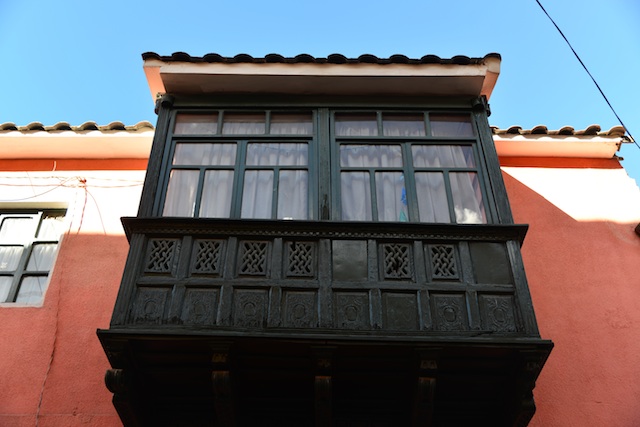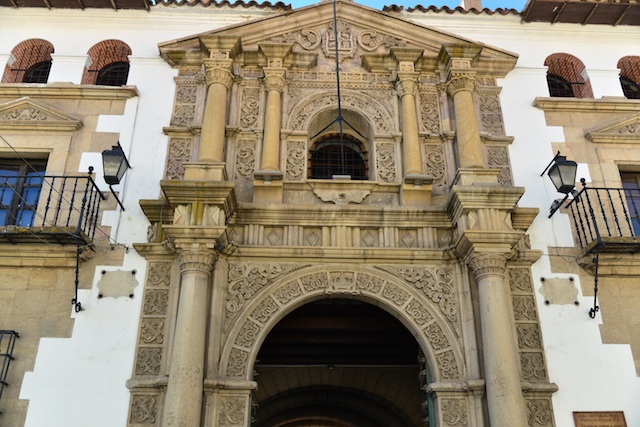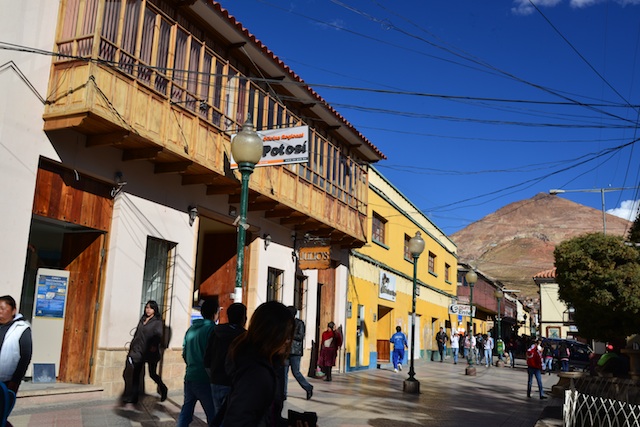 What remained were the many churches, colonial buildings, domes, arches, squares, Spanish-Moorish balconies and Cerro Rico. Potosi was declared a UNESCO World Cultural Heritage Site. One of the main attractions in this highest city in the world of its size (110,000 people) is the silver mine. Although asbestos and lead are potential hazards for visitors, many were not deterred by it. Some shun away because of medical reasons or other personal matters. I was the only one out of 13 people in our group who did the tour.
Before visiting the mine I was picked up by the driver to a location to get fitted with dirty rubber boots, headlights, hardhats and ripped yellow outfits in a room that could hardly fit six people. The room had just two chairs and I was thinking how am I going to fit into that rubber boots standing up?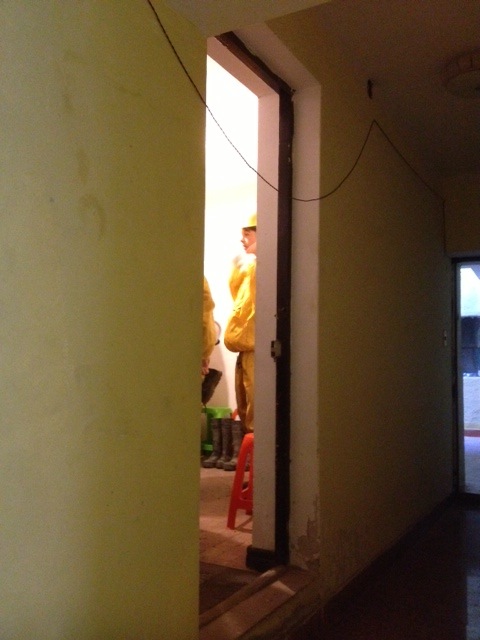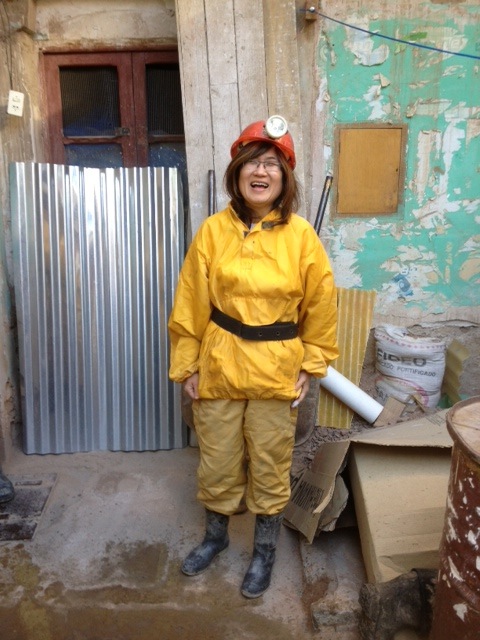 To the guide, it was just another day of work. For me, it was like what am I getting myself into…going to breathe in asbestos and lead and into an uncomfortable environment. The whole idea of taking this tour was to see what were the processes for a tourist before entering the mine in Cerro Rico.
The next step was a stop by a local store to pick up gifts for the miners. Soda and coca leaves were the recommended products. The shops had already pre-packed the coca leaves and placed them in a white plastic bag with the soda. We each paid 10 bolivianos for the gift.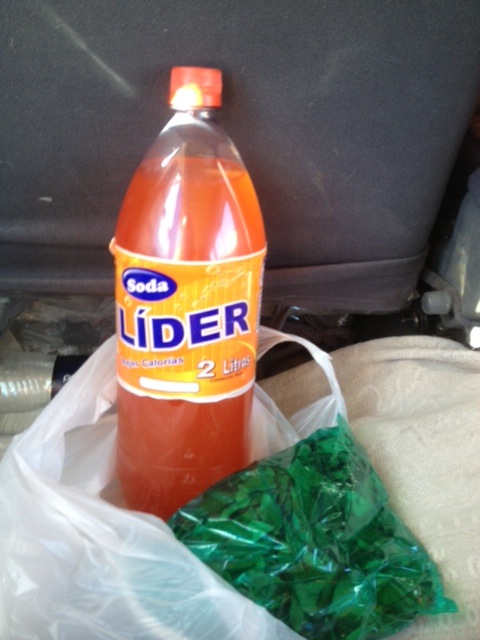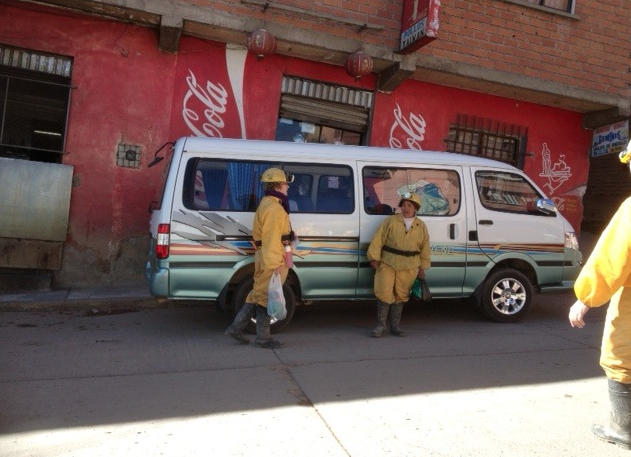 The guide showed us the ritual that the miners do each morning before going into the mine. They drink an alcohol called "ceibo" and chant some words to ask for blessings from mother earth.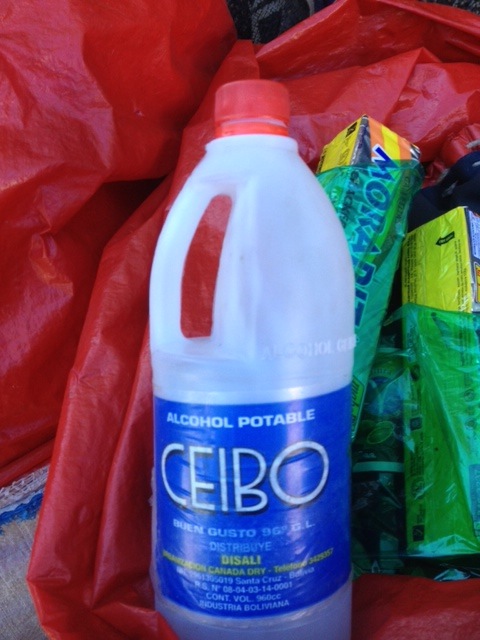 To protect ourselves we bought a mask for two bolivianos. She showed us dynamites used to open new areas for mining and rituals with coca leaves.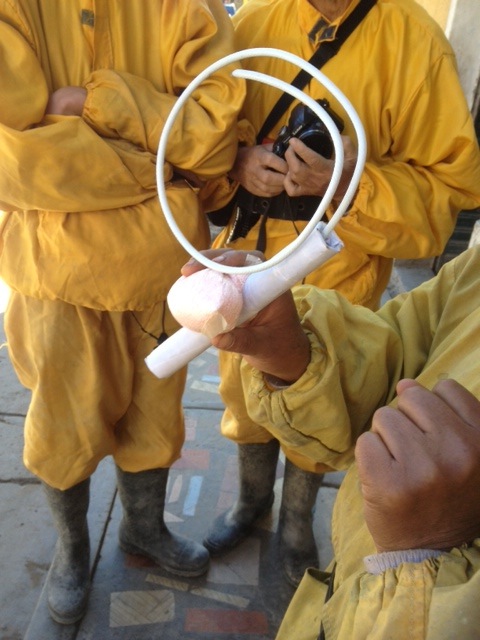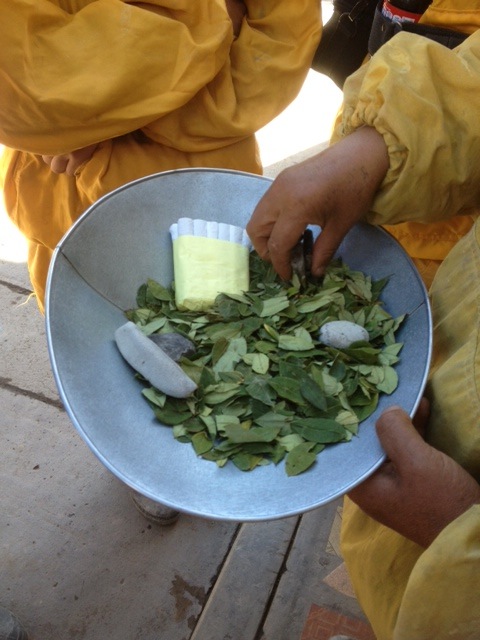 Next was the drive to the top of Cerro Rico to the centuries old mine. Most parts of the roads were unpaved. After the minivan parked at a slope we walked up to two rows of small and low mud huts. This was the area where workers have a change of clothes and keep their belongings before and after work. It was just like a dark hole without furniture, windows or electricity.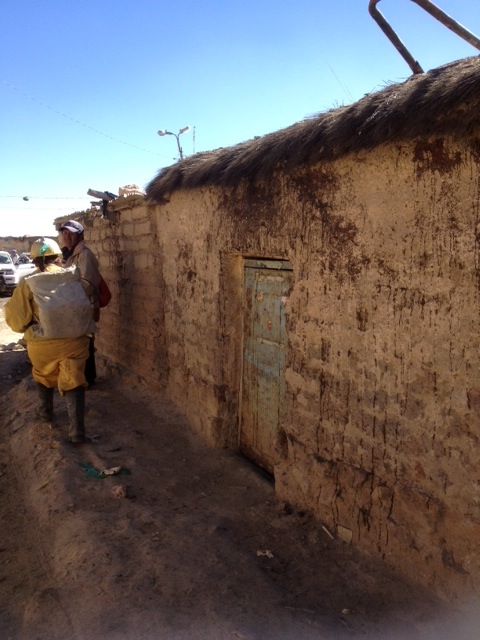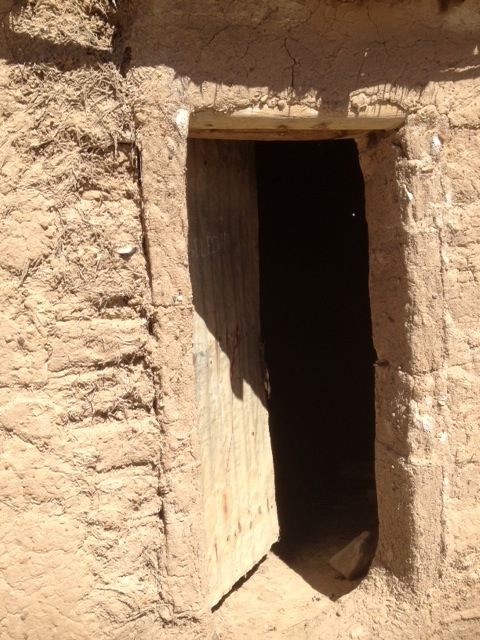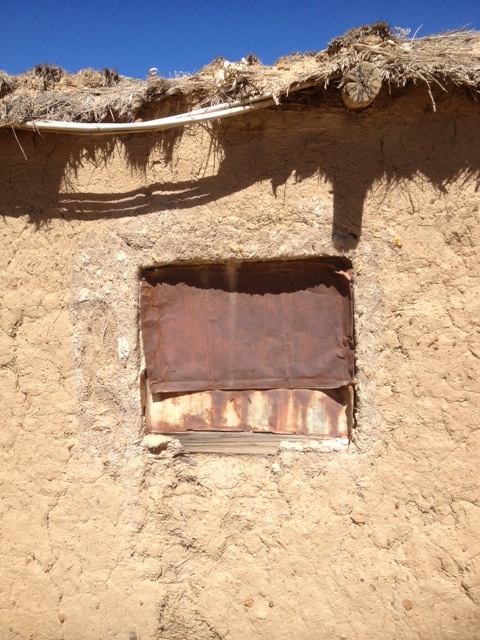 Down below was garbage thrown everywhere, three black pigs were digging through dirt and rubbish and stray dogs were wandering around aimlessly in the hot sun.
The entrance to the mine was wet and covered with grey water. At one corner, men were shoveling mineral rocks onto three parked trucks. Some were carrying bags of minerals on their shoulder out from the mine. Bags of minerals lined around the area. There was no beautiful office, paved roads or clean eating area for miners. Nothing there showed comfort.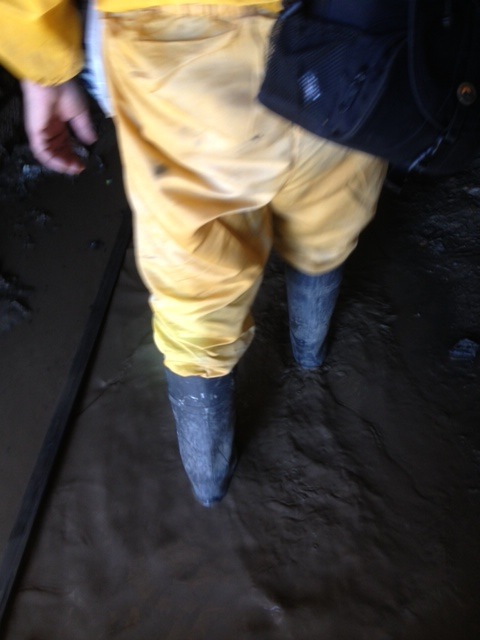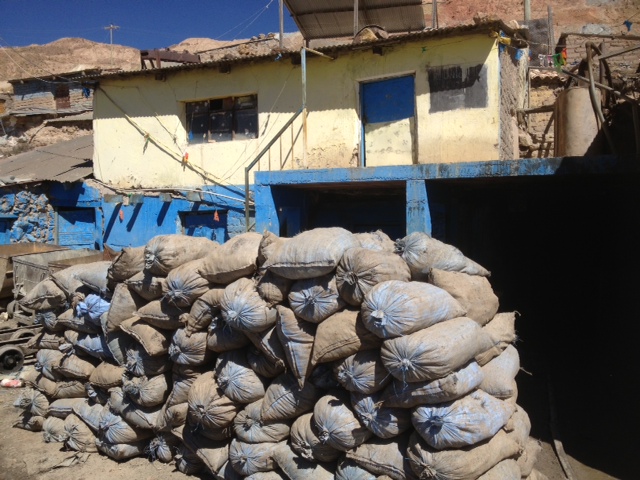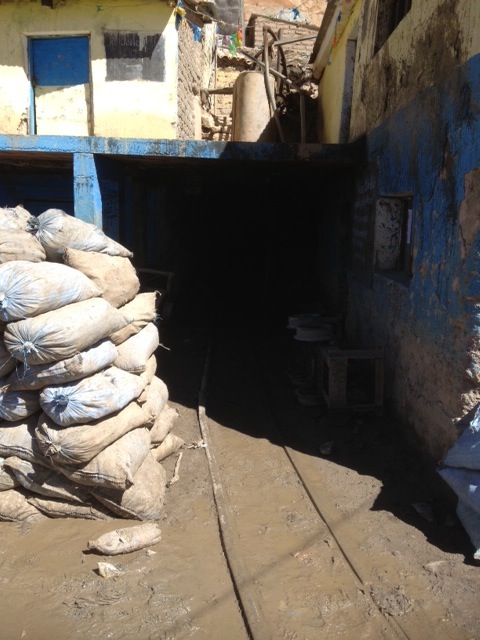 The guide instructed us to drop the sodas into a bag she was carrying and to tie the bag of coca leaves onto our belt for easy access while walking. These were gifts to be distributed to miners.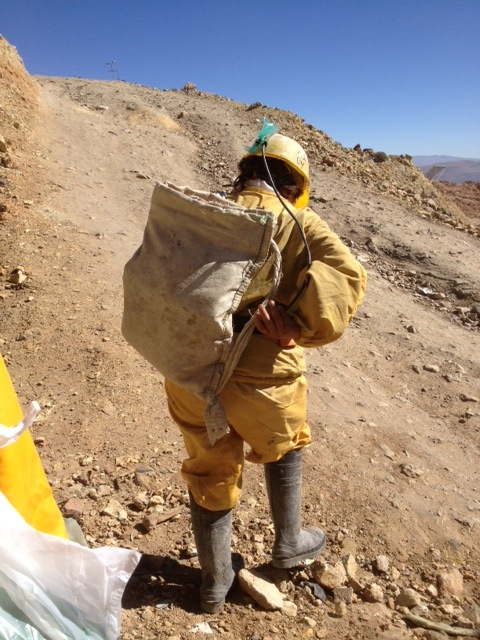 We began walking into the wet 'dungeon'…it became darker and darker as we walked further in. Being claustrophobic I told the guide of my intention to leave the mine after the first phase of the tour.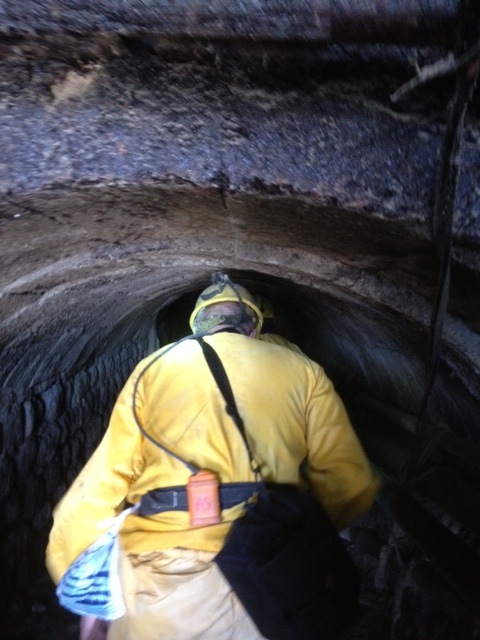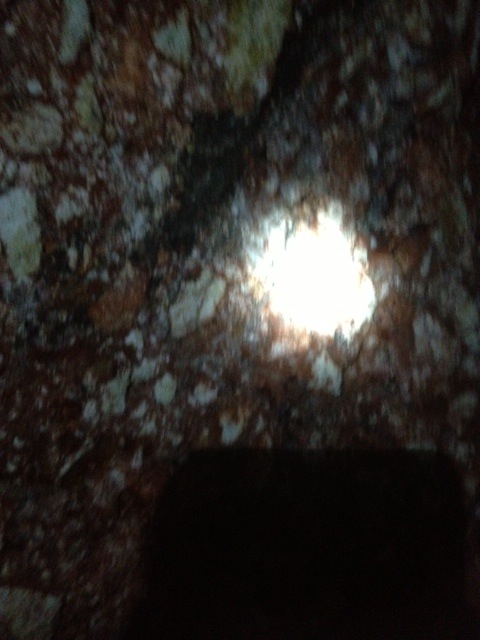 A little after entering the mine two young miners were walking out. Staring at the guide ,they demanded coca leaves and soda. It was as if they knew visitors were coming with gifts. I find it odd that they rudely demanded it from the tour guide. Since I was going to be the first person out, I untied the coca leaves and gave it to them along with a bottle of soda from the guide's bag.
The environment inside was truly not a tourists' paradise and it was becoming a torture to get any further as I looked at the entrance barely three feet tall. That's where I called it quits. That's the farthest I wanted to experience from the start.
I cannot imagine how miners are still working in appalling conditions using the four centuries old method of mining when we are so advanced with technology in the world today. The guide said miners worked in 24-hour shifts and survived on coca leaves without lunch break or any kind of breaks.
Most miners only live about 25-30 years after being a miner. A miner who started at 14 will eventually die of some kind of lung or respiratory diseases when he is about 44 years old.
Nowadays the mine is run by a cooperative and each miner's income will depend on the quality of minerals he brought to the surface.
As I sat outside on a rock waiting for the rest of my tour group I saw miners coming out of the mine, change their clothes and walk down Cerro Rico with a backpack and everyday clothes. You could never tell they were miners in the streets of Potosi. To us, the tourists, the environment they work in is less than desirable. But to them that is life. They may not even know their treacherous work environment.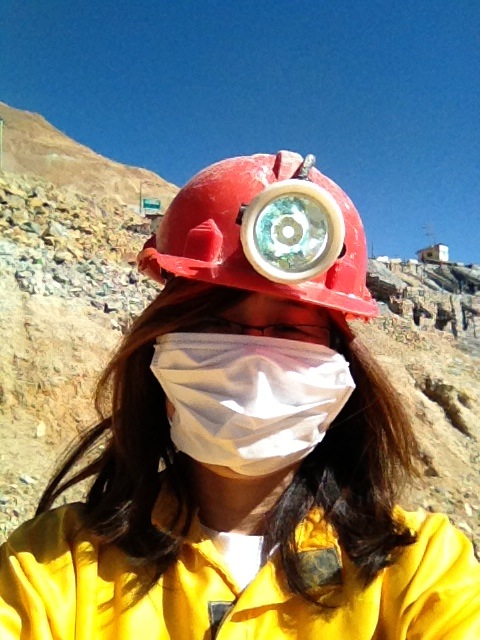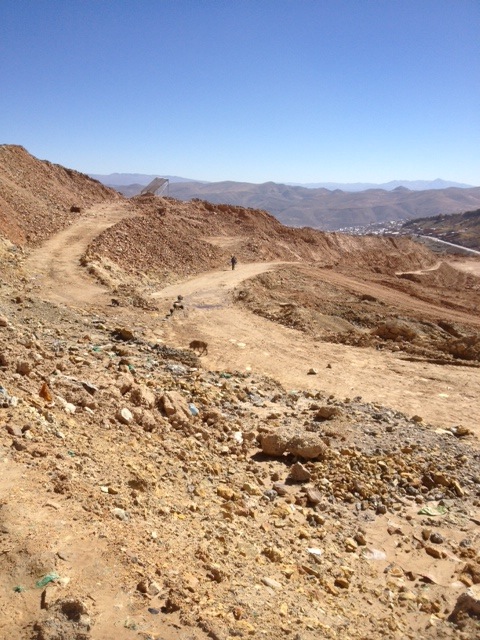 That goes to show that unless we are exposed to the outside world, we will be stuck forever thinking our abnormal is normal…not knowing there is more to life than this!
I walked away exhausted just looking at the environment. I went for an experience and I received a few life lessons along with lessons on the effects of colonization.
Potosi is left with many beautiful colonial buildings, rich cultural and historical heritage and a minority group still digging in the mines like their forefathers 400 years ago, only this time it is not silver.
As for the rest of the people in Potosi it is business as usual. Every evening at the square women in bowler hats and traditional clothing bring out their grills and start the fire. It is time to generate some income grilling 'corazon' (cow's heart) with potatoes. Each little plate costs five bolivianos. While young men took their skateboards and were having fun around the square. Families eating happily together sitting on benches with their soda and a plate of grilled hearts. This by far is my favorite part of Potosi, seeing women happily serving their clients in a simple manner.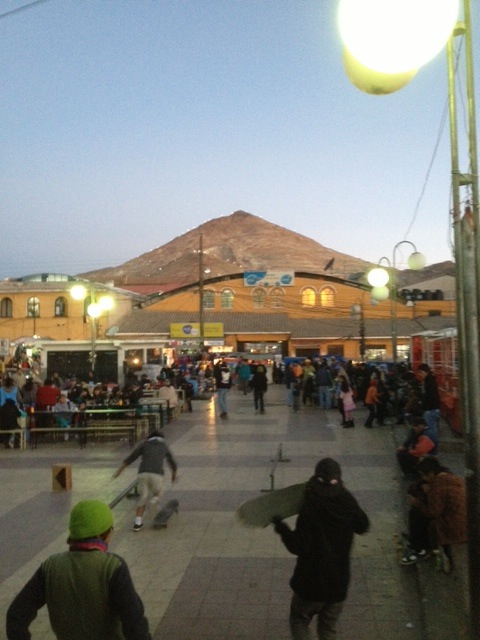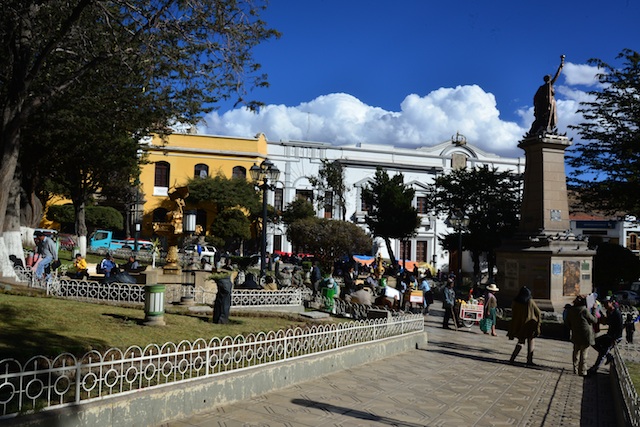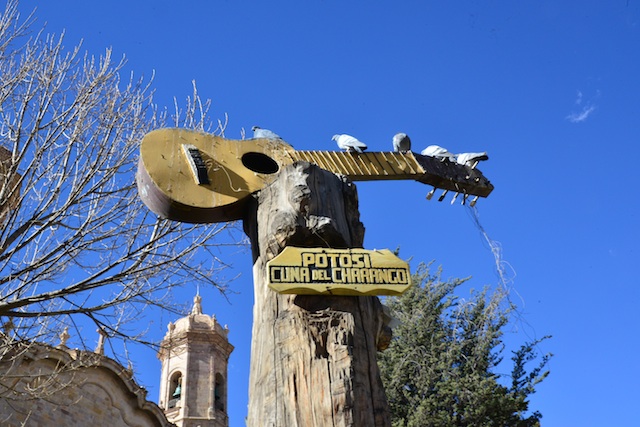 My three-hour tour cost 100 bolivianos.
Potosi is indeed a unique destination. You need time to get adjusted to the high altitude of Potosi. Visiting the silver mine will change the way you think about your priorities in life.