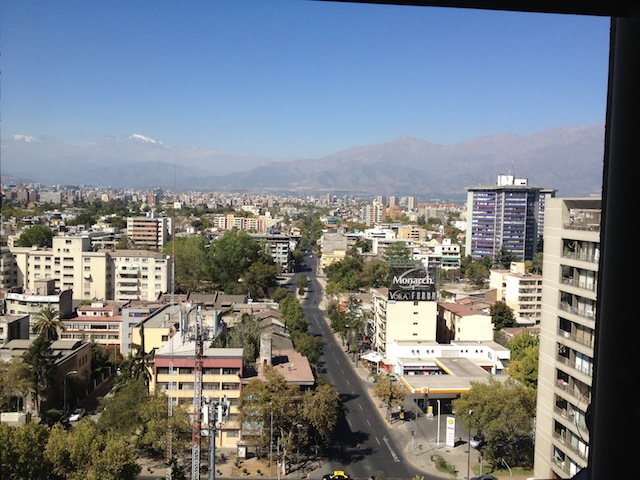 It was a late summer and all the windows and doors were opened in the two-bedroom apartment in Santiago Chile. I sat on our balcony with my laptop plugged into a Chilean outlet unlike an American one that I was used to. It pays to do my homework, studied the electrical outlets of the world and bought the right converter.
On the floor was a glass of water with a drop of peppermint essential oil. Right in front of me was the view of Cerro San Cristobal and the 14m high statue of the Virgen de la Inmaculada Conception. She was indeed small when viewed from our apartment. When I turned to my left I saw the Andes Mountain ranges and below were vehicles of all sizes and green lawns, tennis courts, a swimming pool and colorful rooftops.
The view was better than I had imagined, so I took a bunch of grapes I plucked out of the vine at Concho y Toro Winery earlier and took a photo with my iPhone with the view as my background. My office for that first day on my arrival was on that balcony in a fully furnished apartment. Nothing was left behind; I started work from where I left off at the airport in Miami.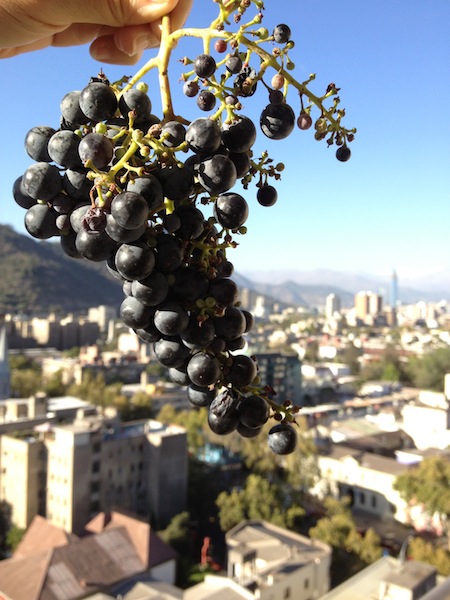 Such is a writer's life…the beginning of a lifestyle that was once a dream.
"You can live anywhere you want with a writing career!" I read an email that came with a link to a website. I remember saying "$49 for all these and 12 online magazines?"
I've since started that journey of a barefoot writer's life that travels the world with a laptop, converter, smartphone and a Kindle loaded with books and magazines including The Barefoot Writer's monthly online newsletters – all stored inside my Timbuktu's Command Laptop TSA-friendly Messenger Bag.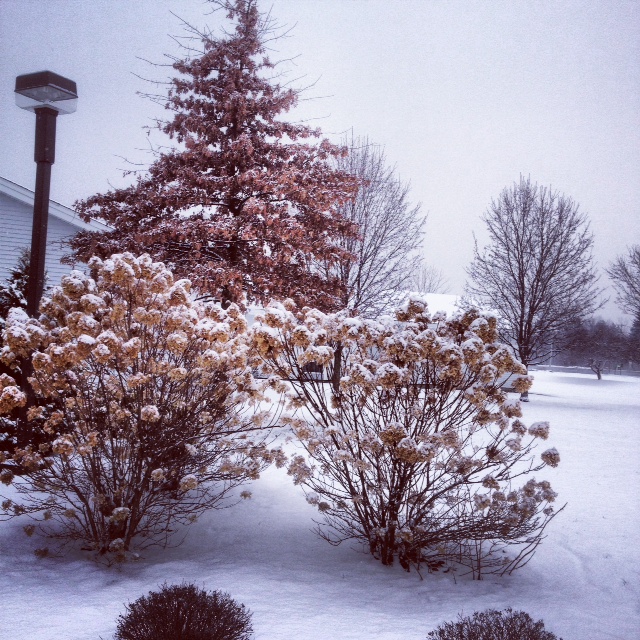 These days I do the same thing- when I find my little warm corner in the icy cold of Central New York, I'll take out my laptop and look for a suitable electrical outlet and off I go to work- sometimes in my pajamas, mostly barefoot.
Let me introduced you to my offices in South America from February to October of 2013:
View of Valparaiso Chile from the apartment. This by far was the place I made the most money in a short five days stay. I guess Pablo Neruda had a few houses here for a reason: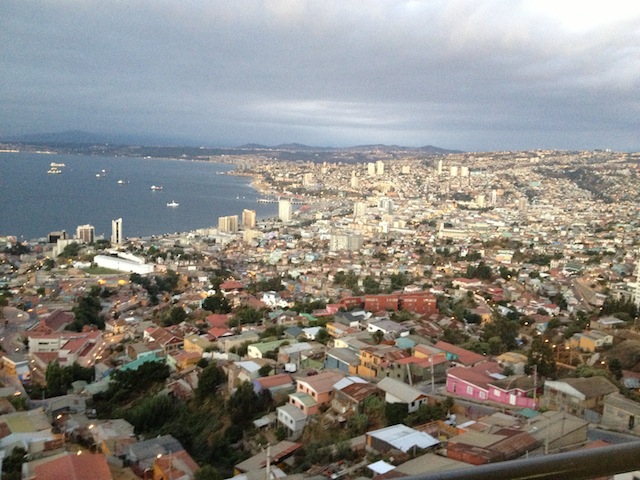 View from Weskar Patagonia Lodge's dining room (my office during the day):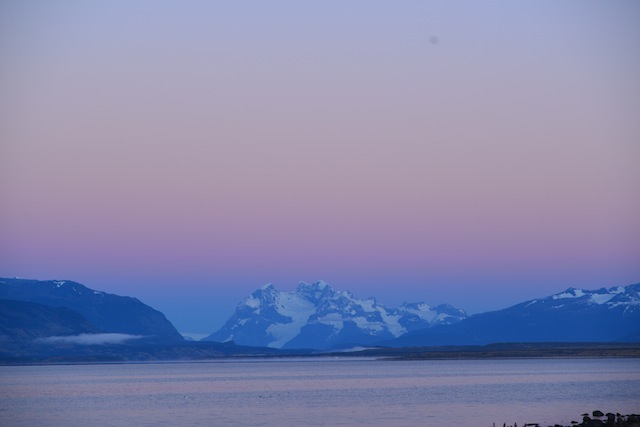 Apartment in Bariloche, Argentina: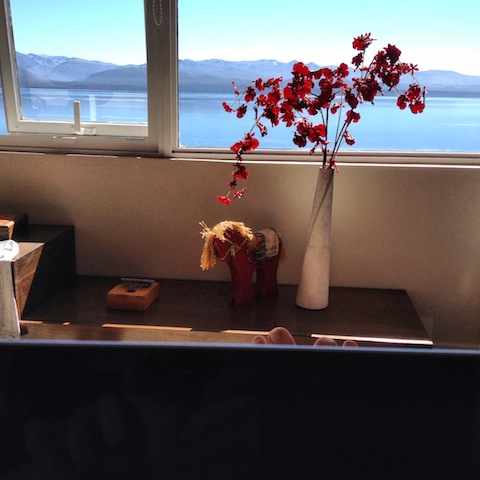 Balcony in Pocitos Montevideo, Uruguay: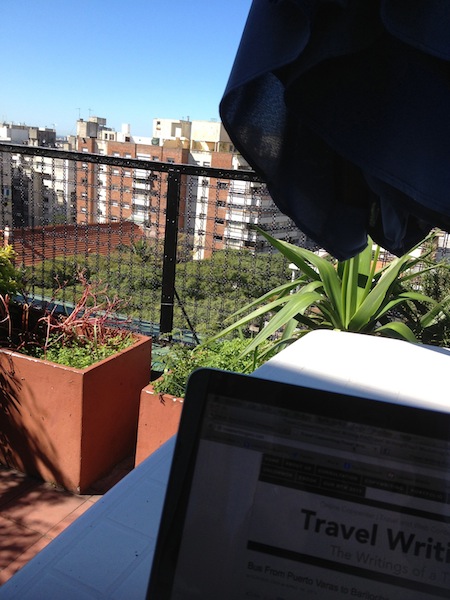 Outlet in Florianopolis Brazil: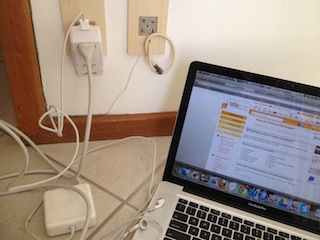 At a cafe in Ollantaytambo Peru waiting for our train to Machu Picchu: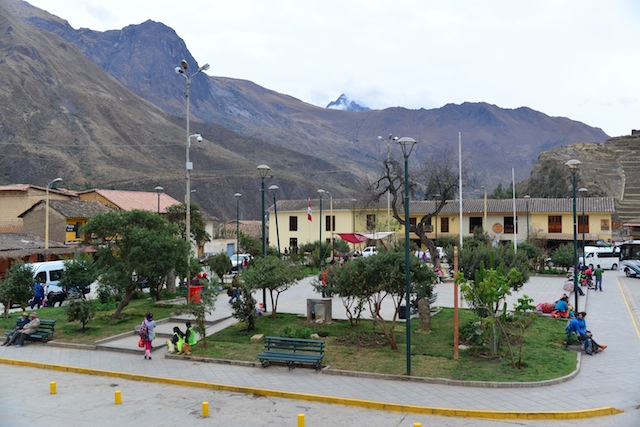 I must admit I will not live a portable lifestyle for the rest of my life. Currently that's the way I am choosing to live while showing the world to my teens, spending quality time together before they leave the "nest" and educating them as we go from place to place.
The freelance writer's lifestyle is not easy but it is worth it. You must believe in your goals and your abilities, increase your skills, have clear goals, focus and action plans to move forward. You get to travel the world and work wherever and whenever you want. Today it may be the beach and tomorrow the cozy corner cafe.
Have you discovered this "secret corner" of the writer's world?
One of my go to resources is "The Barefoot Writer's monthly online newsletters". It could be your inexpensive first step to creating the life changing career move that may allow you to travel and live the portable lifestyle.
As a Barefoot Writer's Club member you are entitled to
12 issues of The Barefoot Writer's Club Letter …
Plus
5 free "Barefoot Writing Opportunity" reports:
•    "Copywriting 101: Secrets for Launching Your Million Dollar Writing Career"
•    "The Secret of the 1-Hour Work Week"
•    "The $500 Email Secret"
•    "Get Paid to Surf the Web"
•    "The Lazy Writer's Path to a Six-Figure Income"
•    "Get Paid to Eat, Travel and Stay at Luxury Resorts"
Plus,
"Barefoot Members Only" website, Notes From the Beach, updates, new opportunities…and more!
If you are looking for an outlet, this may be it…after all "The Barefoot Writer's Club Letter" comes with money back guarantee. When I read that, I immediately jumped on and got my copy. I've got nothing to lose but so much to gain.
Simone de Beauvoir said
"Change your life today. Don't gamble on the future, act now, without delay."
Photo credit: The Barefoot Writer's cover: Awai Online