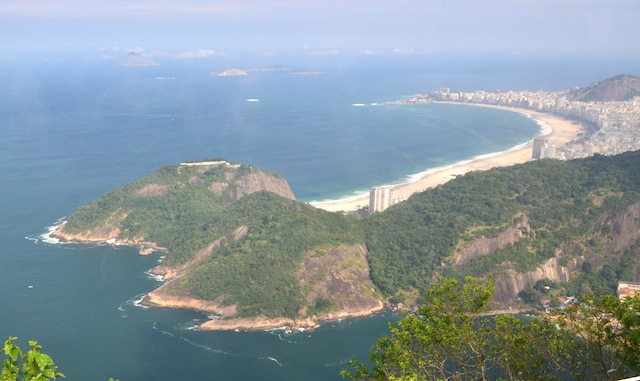 If you have never been to Brazil, what comes to your mind when someone mentions the country of Brazil? For some it might be the soccer players and their accomplishments in soccer or the bikini clad girls at the famous Copacabana or Ipanema beaches. In my mind and travel bucket list were Christ the Redeemer on top of Corcovado and the Sugar Loaf.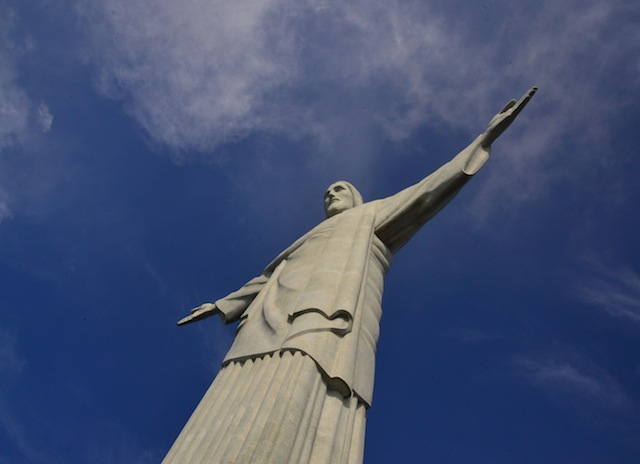 Christ the Redeemer stands tall above everything else in this beautiful city filled with beaches, mountains, colorful favelas (slums) on the hills, cathedrals, apartments, historical sites and more. Christo Redentor, Christ the Redeemer, in Portuguese is one of the Seven Wonders of the Modern World, standing at 30 meters (130 feet) high on a 8 meter pedestal. A very small chapel is located in the pedestal that honors Lady of Aparecida the patron Saint of Brazil. They call it the most famous art deco sculpture in the world. The planning of this statue started in 1921, planned by Brazilian engineer, Heitor da Silva Costa, designed by Carlos Oswald and taken to France to be sculpted by French-Polish sculptor Paul Landowki.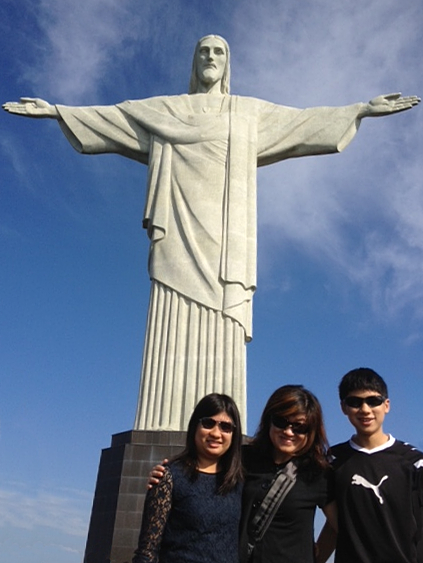 The foundation stone of the statue was laid on April 4, 1922 and completed in 1931. We were welcomed with open arms by Christ the Redeemer. Arriving early and catching the 9 a.m. train gave us time to enjoy the place without a huge crowd. Crowds began to fill up the place in less than 20 minutes later. Visitors speaking in Cantonese, Spanish, Portuguese, English, Dutch and German were there. Some laid down to take photos for their friends and family who had their hands stretched out just like Christ the Redeemer. As for me, I think there must be a better way to do it...why not touch his fingers....after all, didn't I tried to push the Leaning Tower of Pisa in Italy?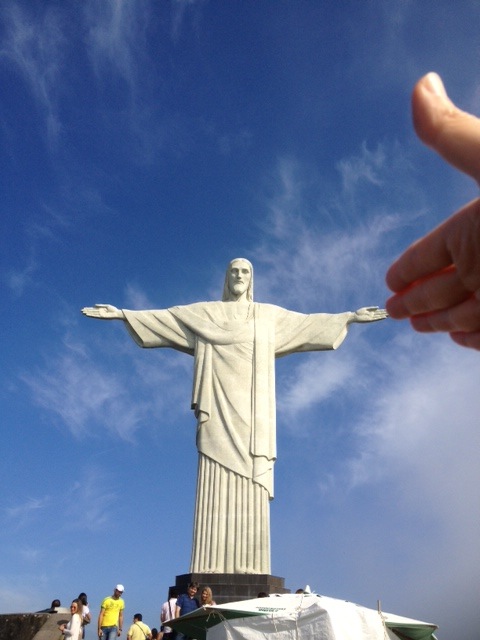 Mist covered most of the beautiful sceneries when we visited but the crowd kept coming.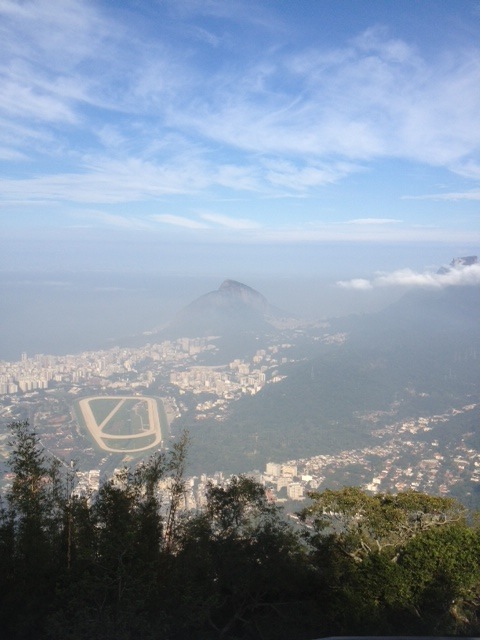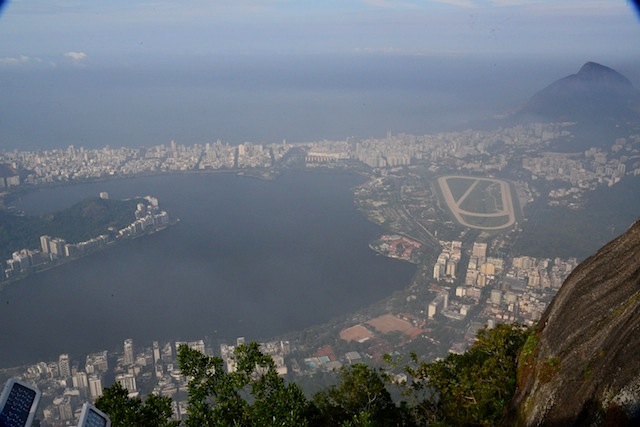 To get to Christ the Redeemer, you have three options.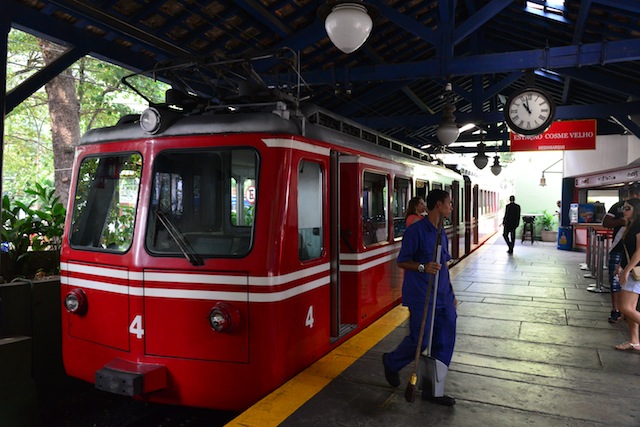 1. Take the funicular (train)- You can purchase tickets at the ticket booth. We tried purchasing online but after several attempts we gave up. Price R$46 per adult and children 6-12 R$21 and children under 6 were free. Seniors 60 years and above, students with IDs and special needs guests get 50% off.
2. By car- Take Ladeira dos Guararapes, then take Rua Conselheiro Lampreia to the intersection 'Corcovado-Mirante' and turn left. Once you are on Estrada das Paineiras look for a sign "Paineiras-Corcovado". Cars can only go as far as Paineiras parking lot. Visitors will need to take an authorized van to the monument.
3. By bus- Downtown #422, South zone #583 and 584, North zone #497 and #498.
4. By van- This is a new service. Authorized vans depart from Largo do Machado. Tickets can be purchased directly from the drivers for R$27.36. Find out more by visiting www.ingressocerto.com.
We took the 30 minutes train ride to the top. It was a fun ride passing through local scrubs, trees, animals and as we approached the top, the view of the lagoons, beaches, houses and city emerged slowly until the very top for the most breathtaking view of all...the statue of Christ the Redeemer.
I took this 6 seconds video in the funicular on our way up:
What we admired in books, postcards and travel websites suddenly became a reality to me. From the top you could see Copacabana, Ipanema and other beaches and the Sugar Loaf.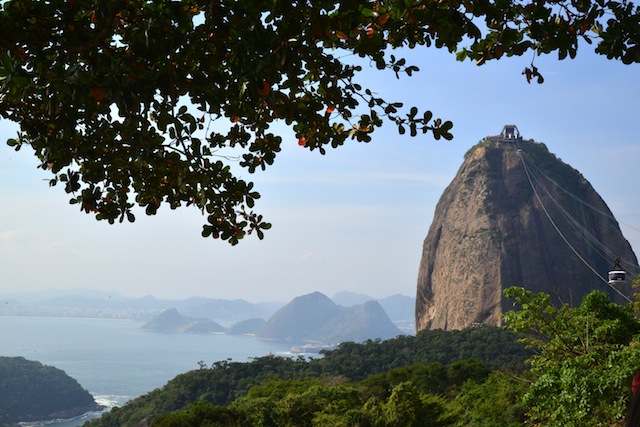 I thought the view from Corcovado and Christ the Redeemer statue was beautiful but when I got to Sugar Loaf, the Magnificent City, Rio de Janeiro's natural beauty was a sight to behold from almost every corner of both Urca Hill (Morro da Urca) and Sugar Loaf ( Pao de Acucar). The Sugar Loaf is a natural landmark of Rio de Janeiro. Read more on the history of Sugar Loaf here.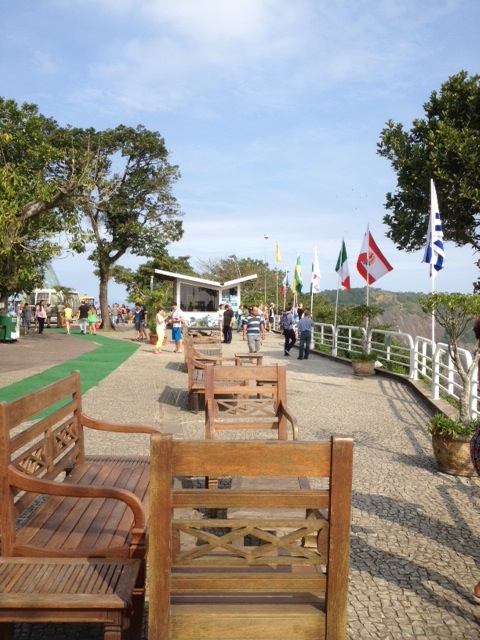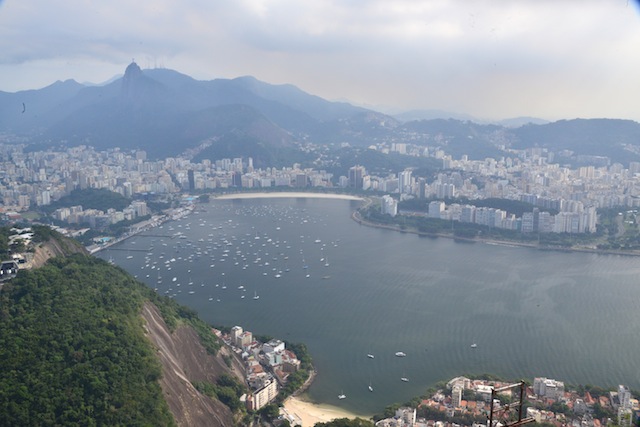 A 6 second video of the breathtaking view from Sugar Loaf:
To get to Sugar Loaf, first take the cable car to Morro da Urca with views of Botafogo and Guanabara Bay. The most beautiful view came about at Sugar Loaf. The first cable car was designed by a German company J. Pohlig and started operations in 1912 in Sugar Loaf. It was the third cable car system in the world at that time. These cable cars were nicknamed 'bondinhos' because they resembled the street cars of Rio de Janeiro. The cable cars at that time took four and half minutes from the ticket booth Praia Vermelha to Morro da Urca and six minutes from Morro da Urca to Sugar Loaf. Each cable car could only take 22 passengers.
The current cable car system was designed by Officine Meccaniche Agudio Spa from Milan, Italy and installed in 1972. These bubble-shaped with transparent plexiglass cars give passengers a 360 degrees view and increased passenger capacity from 115 to 1360 per hour. It now takes half the time of what it used to to travel from one point to the other.
Here is a video showing a cable car going from Sugar Loaf to Morro da Urca. I was in another cable car going from Morro da Urca to Sugar Loaf: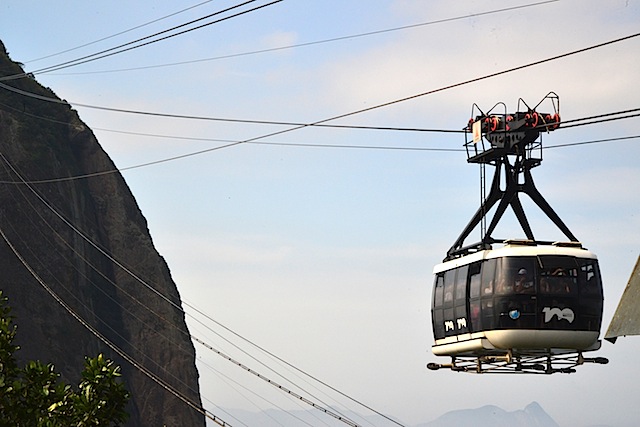 Price per adult R$53m children 6-12 R$26, students with ID, seniors 60 and above and special needs guests pay 50%. The park also organized rock climbing.
Note: Remember to keep your tickets handy for the return train ride at Concorvado and also for going in and out of the cable cars at Morro da Urca and Sugar Loaf.
I love these two sights of Rio de Janeiro. I'm so glad to have had the opportunity to check them off my travel bucket list. Have you been to Sugar Loaf and Corcovado?