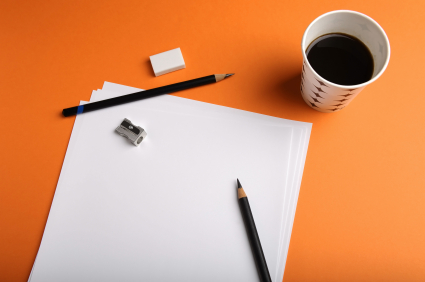 Today I'm writing to you from my home office overlooking native Floridian trees and pond water rippling with swimming fish and alligators hanging out on the grassy area by the pond. Once in a while, squirrels come knocking on my window. An occasional bird flies over the pond and feeds on bird feeders my neighbor puts out every morning before sunrise like clock work.

She is the retiree who once owned a landscape company and I'm the barefoot writer living upstairs writing directly above her kitchen table. In case you didn't know, I generally work without shoes. In fact I think better without shoes or socks. My feet are so free and my thoughts and creativity flows without being restricted by shoes.

One thing great about being an online copywriter is the ability to work anywhere…sometimes my children and I pack our bags and head out to Barnes and Noble or the local library. Armed with our laptops, smartphones and dressed in T-shirts, shorts and flip-flops… off we go…. almost barefoot, I would say with the flip-flops that hang on our feet while sitting on the couch in Barnes and Noble.

The weather here does not permit us to stay outdoors as often as we like. It has been brutally hot and humid most days and the thunderstorm comes most afternoons this summer.

You might be wondering why I'm writing about barefoot writer's life…for two reasons.

I was on Google Analytics this morning and I read my data and barefoot writer was one of the search words. I can't believe it! The only time I had barefoot on my whole website is on my Work With Claudia page.

Just to test this out, I'm going to watch this page and see if it is going to be on the first page of Google with keyword "barefoot writer." This is one fun part of writing and owning your own website as a writer. We get to write just about anything if there are readers who want to read this.

Anyone who has ever owned a website knows SEO is important. Though I don't consider myself an SEO copywriter, but I work hard in ensuring my writing is SEO friendly. Out of curiosity I look up a longtail keyword for a client. First page and top position in Google.

Is that really important to be on the first page of Google? I think there are many more factors that determine the success of your online business.

The second reason for this article is to introduce to you to other barefoot writers and an online magazine called The Barefoot Writer. This is an online magazine that highlights folks who no longer hold a traditional job with bosses and commute. They make their own schedule and some make far more money than their previous jobs…upwards of half a million dollars as copywriters. Obviously it takes a lot of skills and hard work to get there.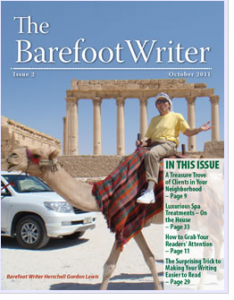 Here is a link to purchase one-year subscription of the magazine including 7 bonuses for $49. Yes, less than 50 bucks per year. Below are the bonuses.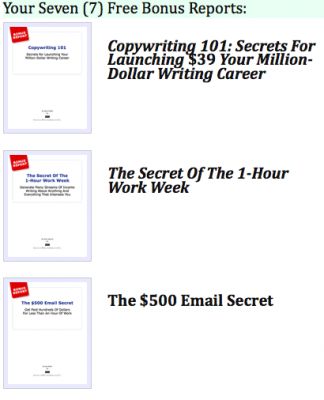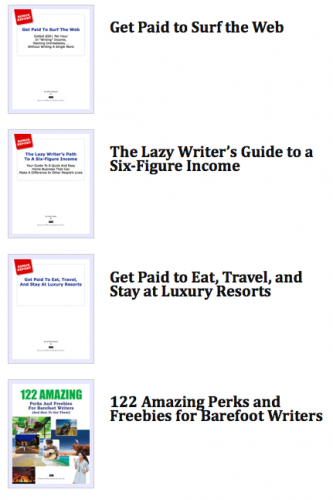 These 7 bonuses are included with your subscription for one year with AWAI. Get yours today.

Photos taken from AWAI website.