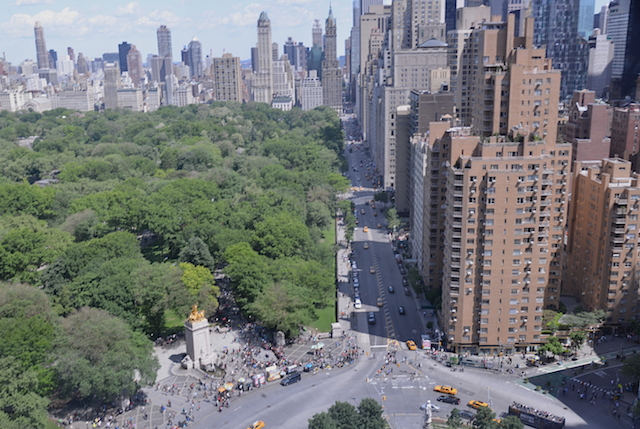 If you haven't been to New York City, it's about time you come over.
Here's why:
New York City has the best pizza in the world!
Unlike major cities outside the US, there are plenty of public restrooms in NYC.
56.5 million domestic and international visitors chose to visit NYC in 2014. Will you this year?
You have a choice of over 24,000 restaurants and you won't have to travel far for authentic Chinese, Korean, Spanish, Lebanese, Brazilian, Italian, Greek, Irish or Indian food. You don't have to go to China for authentic buns or to Lebanon for the best hummus.
NYC's bagels.
There's always something to do in the "City that never sleeps!"
It's a city filled with entertainment and events galore! You have plenty of choices for theater events, music and dance events, Broadway shows, cultural events, sports events and free tickets to TV show tapings.
New York City is rich in both culture and history.
It's the financial capital of the world (debatable).
It's the largest city in the US and the most diverse.
It's a global transportation hub, served by three international airports and you can easily find airfare deals to the city if you are flexible.
Getting around NYC is easy – you have the options of taking the subway, bus, cab, Uber, bicycle, ferry or walking if you are in Manhattan.
You'll know that the world is BIG and there are all types of people in the world. You are uniquely YOU and there is no one like YOU!
You'll rethink Thomas Jefferson's statement, "All men are created equal!"
And there's so much more!
New York City is a city like no other. In case you are wondering where to go and what to do, where to eat and what to expect, below is a list curated for you. More will be added each month. For live updates, follow me on Instagram or Periscope.
Neighborhoods and Places to Stay

Everybody Needs to Stay in a Houseboat in NYC
Guide to Living Like a Local in Sunnyside New York
Museums, Galleries and Landmarks

American Natural History Museum
Grand Central Terminal, New York City's Crown Jewel
The Museum of Modern Art (MOMA) NYC
New York City Museum of Chinese in America
Alexander Hamilton U.S. Custom House in New York City (National Museum of American Indian)
Stephen A. Schwarzman Building: The New York Public Library
One of a Kind Architecture: Guggenheim Museum
A Journey Through Photos of the Cloisters Museum and Gardens
The Bible Stories According to Antonio Canova's The Seven Last Works
Streets and Parks
Washington Square Park New York City
Walking on the Brooklyn Bridge
What Locals Do in Brooklyn Botanical Garden
NYC Packing List
Walking Tours, Cruises and Guided Tours

Financial District Walking Tour with The Big Onion Tours
Statue of Liberty on the ZEPHRY
The Best Views of New York City with Circle Line
Culture and Shows

Guide to Getting the Best Seats and Price for Mamma Mia on Broadway
Guide to Getting the Best Seats and price for Wicked on Broadway
The Ultimate Carnegie Hall Experience: Steven Curtis Chapman
Beatles in America: 50 Years Ago
Why Children's Books Matter Exhibit in New York Public Library
This Land is Your Land in Madison Square Park


Food and Drink

A Taste of Authentic Ramen Noodles in New York City
The First Dim Sum Tea Parlor in Chinatown
A Prix Fixe Lunch at Boulud Sud NYC
Must Try Macarons in NYC: Ladurée SoHo
New York City's Best Pastrami Sandwich: Katz's Deli
Malaysian Food in Flushing NYC
Fortunately 500 Lunch at The Garden Four Seasons New York
Afternoon Tea in NYC: The Lobby Lounge Mandarin Oriental
Join Us At Our Table- Le Pain Quotidien NYC
Dim Sum Experience in Chinatown NYC