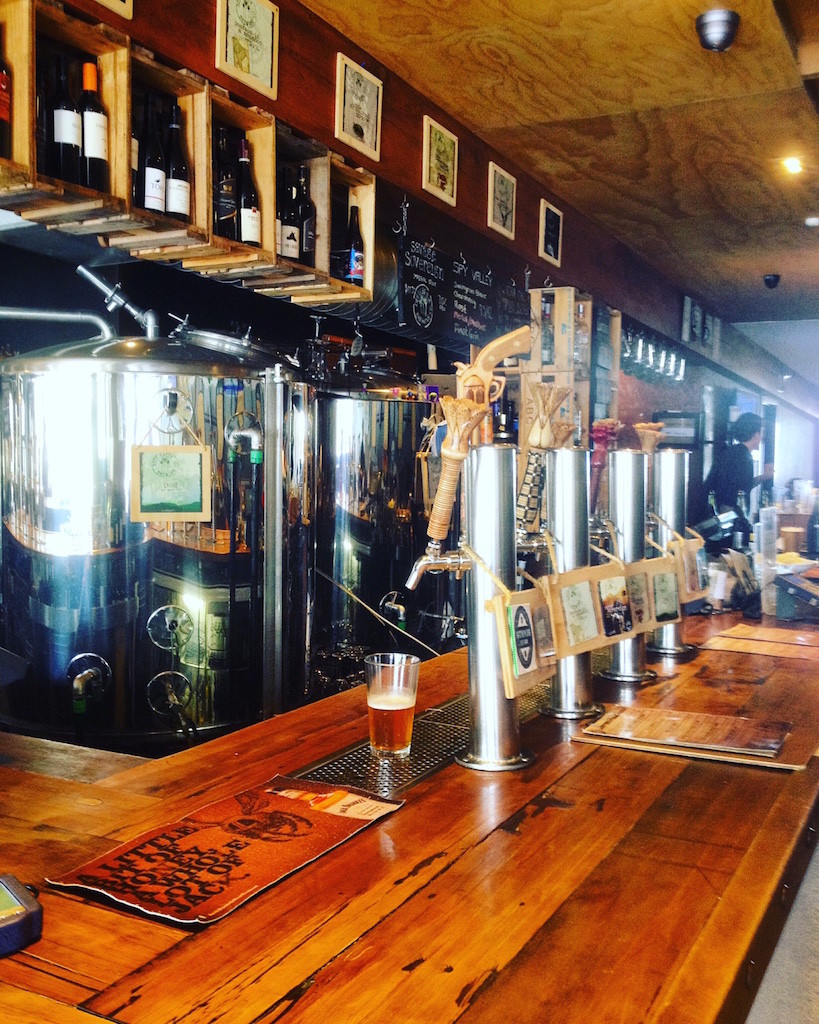 Usually, when Mark recommends beer or wine, I pay attention. And when his wife, Karen described the menu, and that she had been to the same restaurant over 10 times in the last year, I began to drool. When they agreed that the beer and food were the driving factors in them visiting the restaurant over and over again, without hesitation I said, "I'm in, let's go!"
During my recent trip to Auckland, New Zealand's largest city, I had the opportunity to spend time with many old friends including Karen and her husband Mark.
On the sixth day, after the kids left for Queenstown to travel with their cousins from Jakarta, Mark and Karen came with their 10 year old daughter to pick my husband and I up to spend a day with them. Our first stop was Deep Creek Brews and Eats in Browns Bay for lunch.
As the car approached Browns Bay, I turned and looked over at the beach with a playground, and a family looking right before looking left (they drive on the 'wrong' side of the road in New Zealand) as they leisurely crossed the street to where Mark was about to park his car. I heard myself saying, "Hey, this is the New Zealand I love, which I left behind in 1991 after three and a half years!"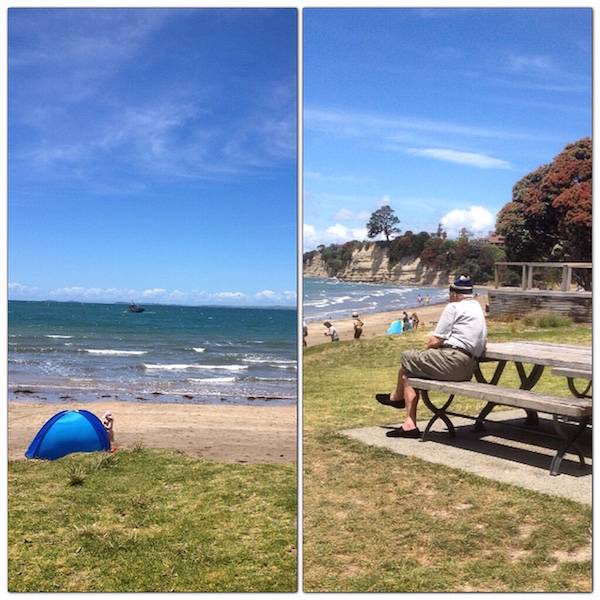 Back then, there was no craft beer sold in restaurants and I don't remember having eaten any barbecue ribs at all. These days Auckland is filled with culinary hot spots and craft beer businesses on the rise. One such spot is Deep Creek Brewing Co. also known as Deep Creek Brews and Eats. This beer and barbecue joint is located in Browns Bay, a laid-back town in the North Shore of Auckland.
Browns Bay is 25 minutes from the city center without traffic, 30 minutes from Henderson and 35 minutes from Helensville. It is a beach side community with lots of cafés, specialty shops and restaurants.
Deep Creek Brewing Co. has two entrances, one facing the beachfront and the other facing the town center. It can be classified as a beachfront restaurant since it overlooks the beach and the Hauraki Gulf. It is the type of place where you'll find yourself sitting for hours with glasses of beer, telling stories of yester years.
What is unusual about this place is the shiny tanks behind the bar. Deep Creek Brews and Eats brews their beer onsite and every ounce of beer is on display for guests to see. When you order your beer, you get it straight from the shiny tanks to your chilled glass. The beer came with fancy names like "The Leprechaun's Belle", "Pontoon in a Monsoon", "Undercurrent Pilsner", "Moose Knuckle", "Lotus" and more. Each pint costed NZ$9 (about $5.75).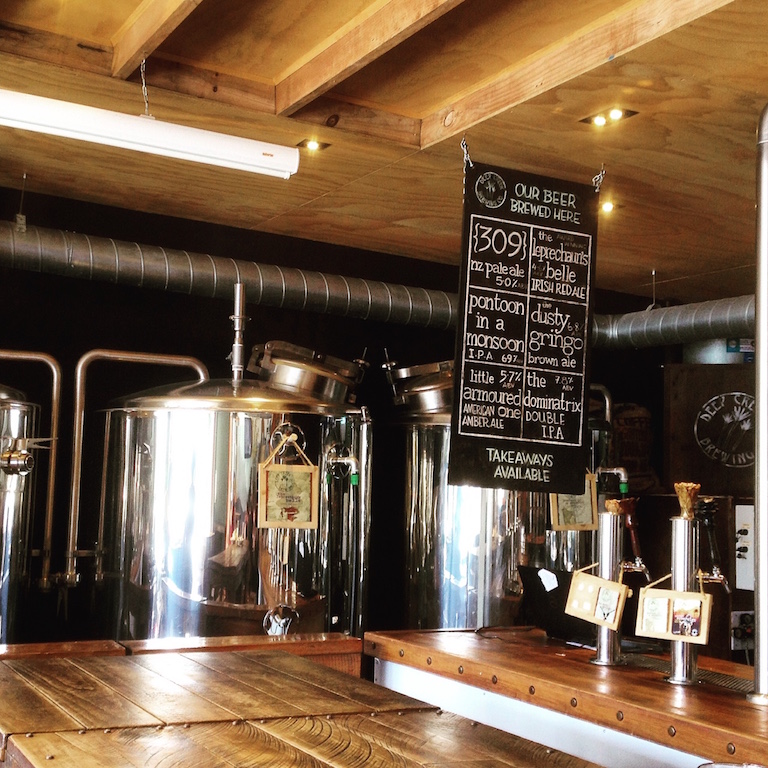 Deep Creek Brewing Co. could be the rising star of New Zealand's craft beer industry. According to Stuff.co.nz, craft beer business has grown over 40 percent in the last year. There are 111 craft breweries in New Zealand and about 40 sell their beer to offshore markets.
On the menu were the popular Mash Paddles, tasting platters for two. These are platters with assortments of meats beautifully presented on a wooden paddle. For NZ$35.50 (about $23) my husband and I had pork ribs with Jack Daniels BBQ sauce, chicken, skirt steak, bread and greens, sriracha aioli and tartar sauce.
To me, food always tastes better when it is presented in a unique way. Instead of the usual white plate, Deep Creek Brew and Eats serves platters on wooden paddles. It suited the ambience of the restaurant – open spaces with outdoor and indoor dining areas fitted with wooden benches and long wooden tables.
Over the course of my one month stay in Auckland, we had many dining options but we chose to dine at Deep Creek Brews and Eats twice.
Helpful information:
1. Deep Creek Brewing Co. website.
2. How to get there by bus.