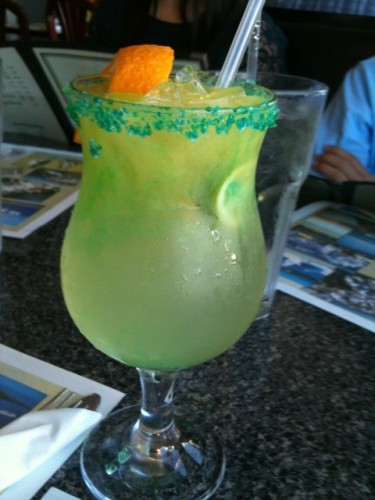 One of our greatest joys as a family is to share meals together. Whether it is a simple meal at home or dining at a restaurant. 
We were in the mood for Greek food today. There are not too many Greek restaurants near our home. To get the most authentic, we seek out restaurants in Tarpon Springs, Florida.
They say if you want to eat like the locals, get away from the Main Street. We wandered off to Athens Street in Tarpon Springs and stumbled on a family style restaurant called Costas. It is proudly described as a Greek restaurant serving the locals (Greek immigrants) since 1977.
Lamb is our favorite meat in a Greek restaurant. Three out of four of us had lamb as our entrees. Here is the Lamb Shank cooked in tomato sauce and served with spaghetti.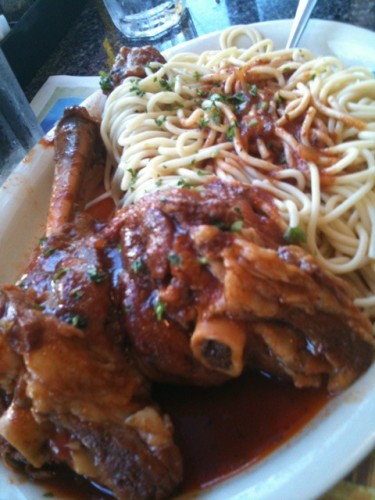 Another lamb entrée, lamb slow-cooked with homemade gravy and oven potatoes.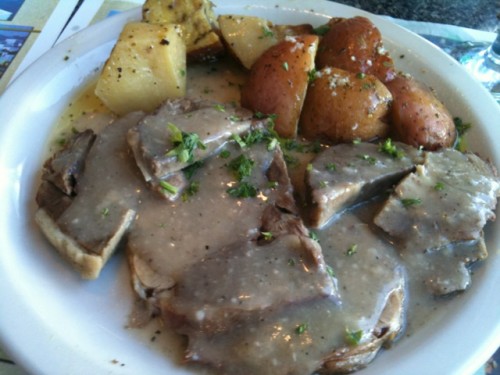 And the street food, the portable meal, whatever it's called, usually served during lunch…Gyro sandwich filled with processed lamb meat.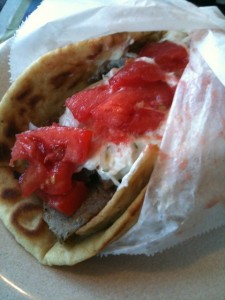 So the question of the day was lamb. Do Greeks make better lamb than everybody else? Is lamb the only preferred meat for Greeks? 
Or is lamb part of a vegetarian diet like "My Big Fat Greek Wedding", the movie where Aunt Voula asked: What do you mean he don't eat no meat? Oh, that's ok. I make lamb.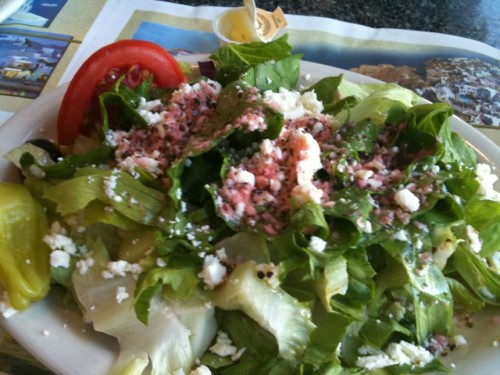 If you were to look at the map of Greece, you'll realize they are surrounded by water. Obviously seafood is in their cuisine. Costas' fried calamari is not like those served in most restaurants. These have less batter and bigger squid. You could actually taste the squid instead of the batter.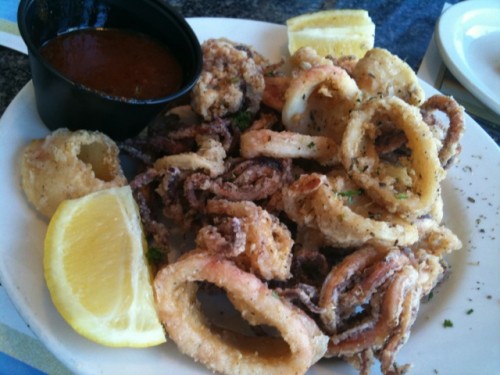 The most interesting and delicious entrée of the night was charbroiled octopus with olive oil, garlic sauce and feta cheese. Lamb is not the only meat Greeks eat, that's for sure.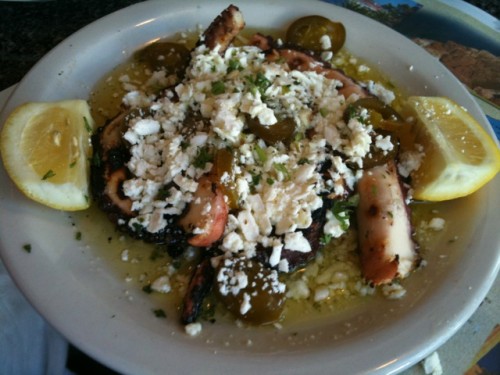 About Costas Restaurant and Tarpon Springs:
Tarpon Springs is a Greek neighborhood, largely due to the Sponge Industry that started in the late 1800s. The over 100 businesses are concentrated along Dodecanese Blvd. and its surrounding small streets. For home-style, authentic Greek food, bakery, olive oil, olive soaps and Greek wine, most Western Floridians head out to Tarpon Springs Dodecanese Blvd.
Just like any neighborhood with a dying trade (here, the Sponge industry) changes are happening in Dodecanese Blvd. I'm seeing less products from Greece this time and the place is less crowded even on a Saturday.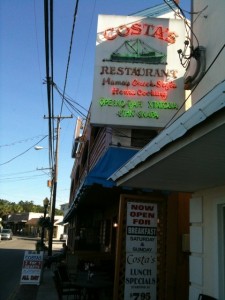 Costas Restaurant is not a fancy restaurant. It is affordable and the dinner portions are huge. Imagine 2 lamb shanks, spaghetti and a plate of Greek Salad for $12.95. Located at 521 Athens Street, Tarpon Springs Florida, off Dodecanese Blvd. Costas was voted one of the top 100 Greek restaurants by The National Herald.
By the way, skip the margarita. 
Do Greeks eat lamb more than any other meats? What's your favorite Greek food? Please let us know. Comment below.