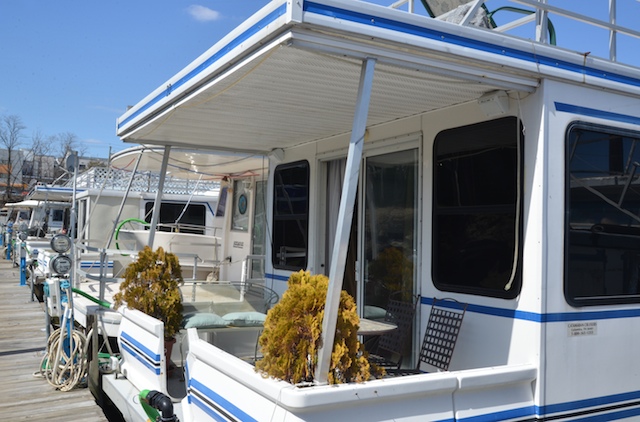 They say there's no place like home and that "home is where the heart is". For us, home for the last 12 months included short-term rental apartments, hotels, hostels, bed and breakfast places and friends' homes. In the last two weeks our "home" was unconventional and close to nature. Home was a houseboat in Gerritsen Beach Brooklyn.
I found Sean's houseboat listed on AirBnB's website eight months ago while we were in South America. It was one of those days when some listings randomly appeared on my iPhone's AirBnB app that caught my attention. Instantly I added the houseboat on my "wishlist" among 50 other listings and it was forgotten.
After five weeks in Manhattan, we were ready for a change. Finding a suitable apartment was not an easy task. I must have gone through over 15 apartments and eliminating the list when suddenly the houseboat listing popped up on my wishlist. We needed a short two week stay before renting the next apartment for three months.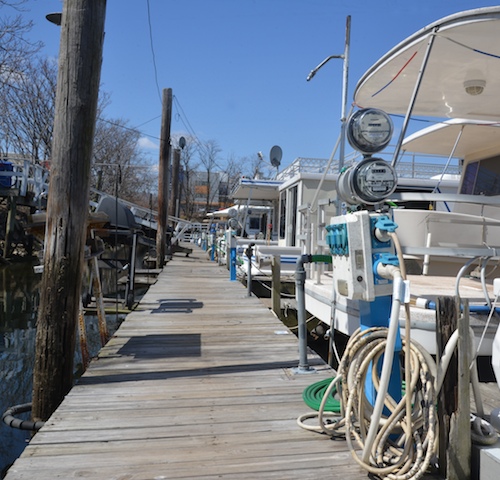 The questions at our dinner table were- would we feel comfortable staying in a houseboat? Who will our neighbors be? Will they be a noisy bunch or party animals? The "why not add another type of accommodation to our list" was the deciding factor. I'm glad we added this houseboat to our list of experiences and "home away from home."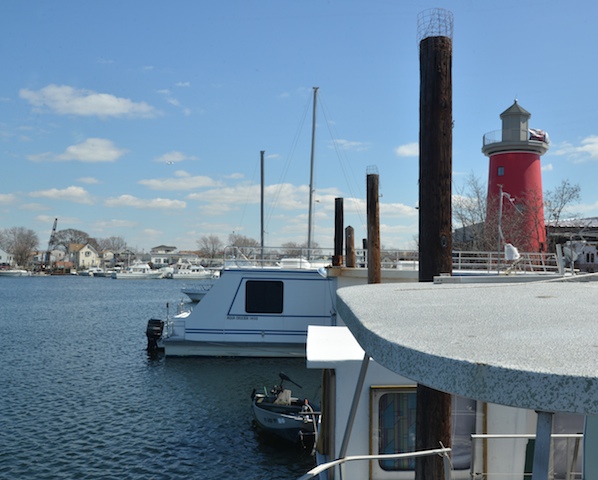 During the first two days I was feeling a little seasick. The water was relatively calm. My imagination went wild, like, what if the houseboat drifted away from where it was parked and sailed away to the ocean? Would we have WiFi to call for help?
Those were just silly imaginations. My husband said the houseboat is securely anchored and tied to a pole. Sean came the next day with clean towels and sheets. He assured me that it would not happen.
Sean's houseboat is clean, cozy, warm, and functional - just like a home! He has everything we needed including clean sheets and towels every four days. A clean bathroom with separate shower and new toilet. The living room and kitchen combo has a stovetop with two burners, a full size refrigerator, a bookcase, a dining table with four chairs and a sofa convertible. We had a room with a full size bed that opens to a balcony.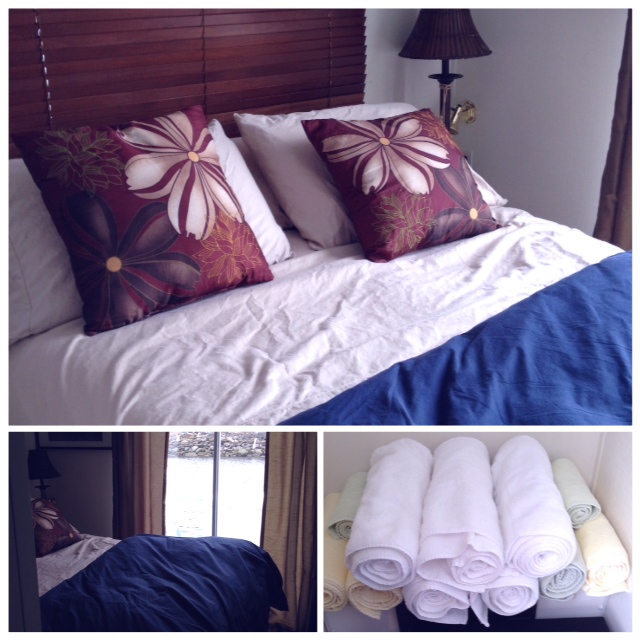 The balcony leads to the rooftop with lounge chairs and a table. The front entrance has a small round table and two chairs and a bench. There is a gas barbecue grill on the boardwalk. The room has an electric heater, mirror, closet and dresser. The best thing is the houseboat is airy when we open the sliding glass doors.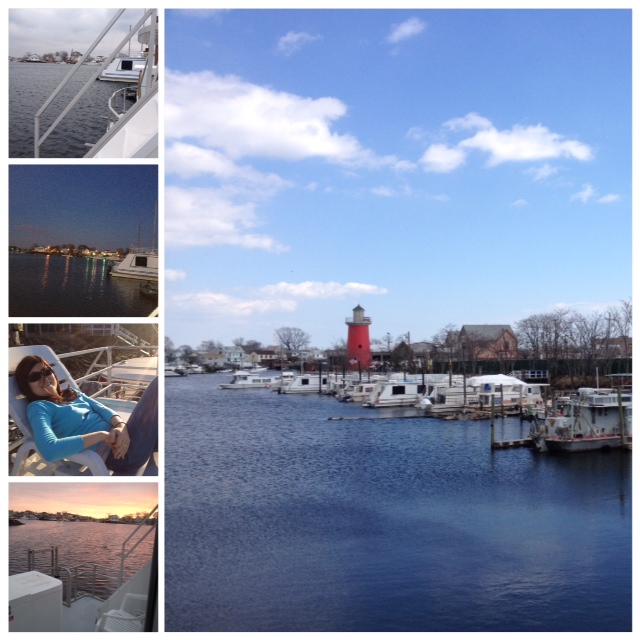 Morning sun shines through the windows when we had our breakfast of oatmeal, toasts and fruits. Sunset and sunrise can be viewed from the rooftop and the deck near our room.
Despite the early spring weather, we were able to sit on the lounge chairs one day to enjoy the warm sun at 63 degrees. After nine nights on the houseboat the weather changed. There was a high wind warning for New York. We felt the choppy waters for two nights. By then we were used to the movement and was not bothered at all by strong winds and choppy waters. It's interesting to find out how adaptable we are and how we get used to the movement on the houseboat.
A walk down to the left after the main gate of the houseboat community are two restaurants and one ice cream place. Jordan's Lobster Dock has been serving seafood in New York City since 1938. This is a no frill place that serves delicious lobster bisque, fried calamari, oysters and Little Neck clams. It is not a cheap place to eat. Our one and half pound lobster was $29.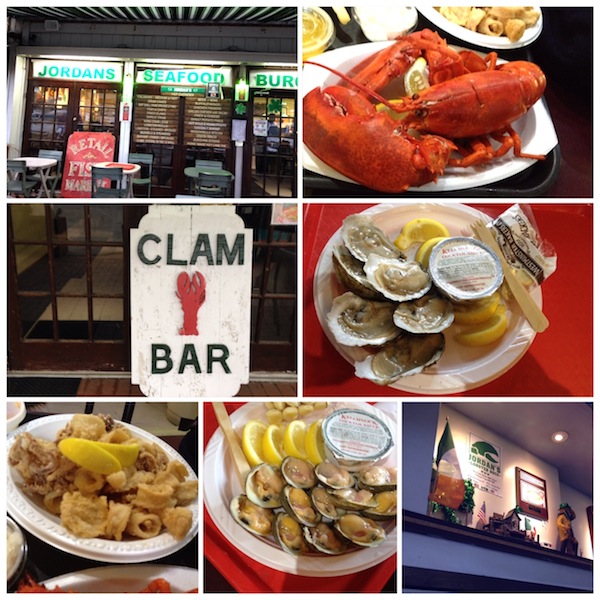 About a mile walk from the houseboat is Cherry Hill Deli, a gourmet food and deli located in the original Lundy's Restaurant in Sheepshead Bay. Lundy's was America's largest restaurant in the 50s and was closed in the 70s. Cherry Hill Deli carries a variety of gourmet cheese, cold cuts and a large selection of Russian groceries, desserts and breads.
The rain is pouring here at the houseboat as I sit here writing...

This is our last night here. Our stay has been pleasant. The Internet here was better than the apartment we stayed for five weeks in Manhattan. This houseboat would go down in history for our family as one of the interesting places we have stayed in.
Our neighbors were helpful, quiet and friendly. Two ducks swam by the boat every morning at the front of the houseboat. The birds came looking for food in the birdhouses in front of the houseboat. I saw a white swan passing by my 'backyard' while combing my hair in my room. This is a safe gated community with ample parking in front of the main gate. If you are bored, the movie theatre is just across the street.
New York City may be all about crowded streets and high rise buildings but there are still places where nature is preserved and pockets of living spaces that are reasonably priced like the houseboats of Brooklyn.
To find out more about Sean's houseboat, check it out on AirBnB. For more information about accommodation in New York City, look out for my next eBook on Amazon.