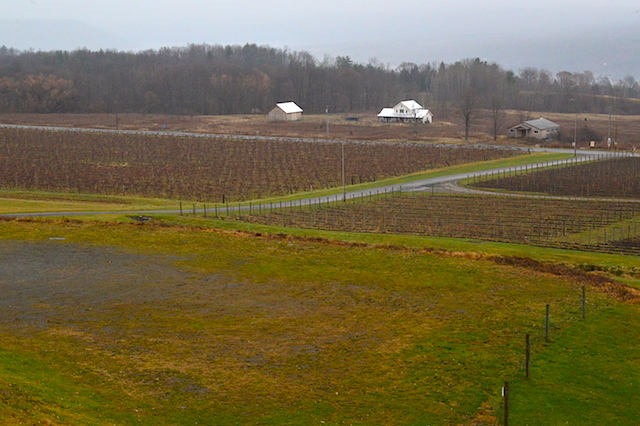 The sky is grey, the temperature freezing, the wine trail may not have the Mediterranean energy but the view of the lake and farm from the tasting rooms infuses idyllic rural country charm.
Narrow roads on Route 54 along the lake lead to outstanding wineries. Set atop the hills are the Keuka Lake wineries- churning out award winning Rieslings year after year.
For $12 I went to seven tasting rooms and tasted 35 different vintages on two separate days, met some incredible people including winemakers, workers and owners. Visiting Keuka Lake Wine Trail at the Finger Lakes is one of my most favorite things to do so far in Central New York.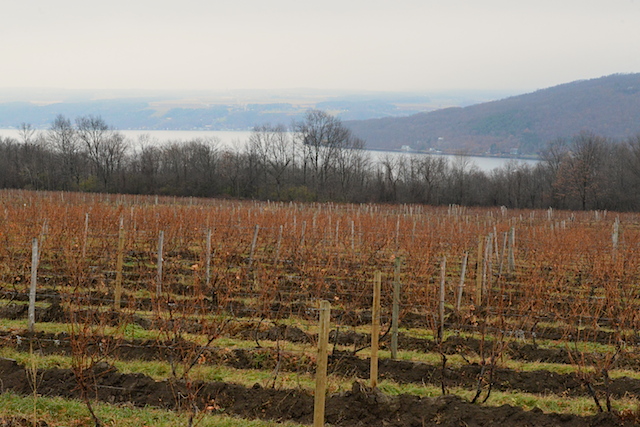 If I had to live in this region again I would choose the villages at Keuka Lake - for the views of the lake, availability of high quality wine, unique culture, the farms and the 'best' rieslings in the United States!
What is Riesling?
Many times I was caught saying rice-ling and it is wrong. It should be pronounced as reece-ling. This white grape originates from Germany. A type of grape suitable for colder climate and is an early ripening grape. Riesling takes on the different microclimates in which it is grown without losing its distinctiveness like other grapes.
The weather and the effects of the microclimates in the Finger Lakes region allow Reisling to thrive. The Finger Lakes region makes dry, semi-dry and sweet riesling. It is aromatic with flavors of flowers, minerals, honey, fruits and may be aged. Reisling is best served at 60 degrees temperature.
Could this region be the prime wine destination of America?
Keuka Spring Vineyards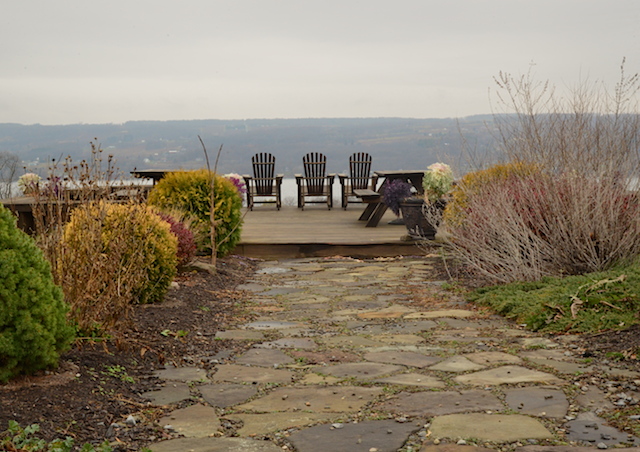 The perfect first stop at the Keuka Lake Wine Trail. Keuka Spring has recently received the prestigious Governor's Cup award from New York Governor Andrew Cuomo for their 2012 Riesling.
I was impressed with the wine tasting room. The tall wooden front door led us to a warm place with views of the lake and properly thought out displays of the wines, awards and other merchandise. The focus here is wine.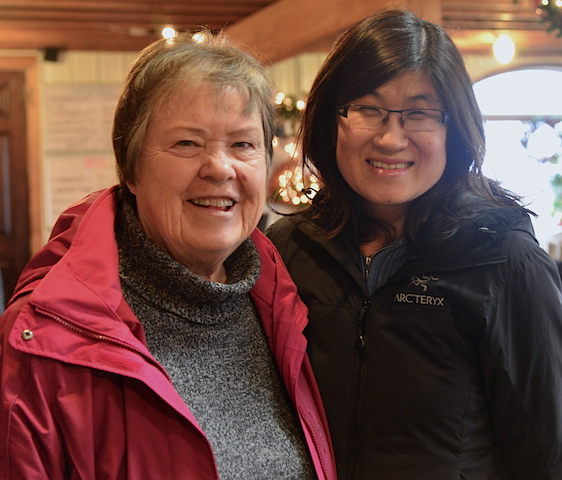 We met Judy the friendly co-owner who then introduced her winemaker. Interestingly August Deimel, the young winemaker has the look of an Italian artist we met in Venice Italy. Take a look at the resemblance.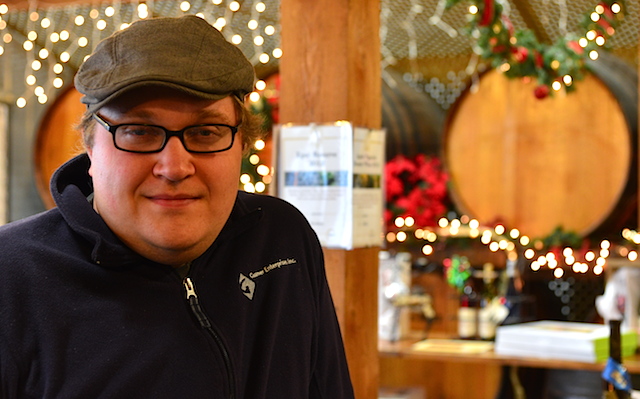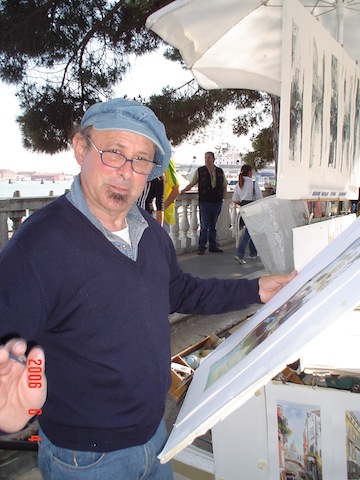 When asked to describe his day-to-day work to my teens, he explained enthusiastically what a winemaker does in the winery during the winter months. Vintage is the season when the winemaker's focus is totally on making wine. Bottling happens from spring to summer.
Mr. Deimel is a graduate from Cornell University and started working at Keuka Springs Vineyards in 2011. He represents the new generation of winemakers to watch in the Finger Lakes region.
Keuka Spring's Gewurztraminer 2011 with lychee, light rose and a touch of cinnamon and clove was refreshing among the five I tasted. We bought a semi-dry Riesling to pair with our turkey.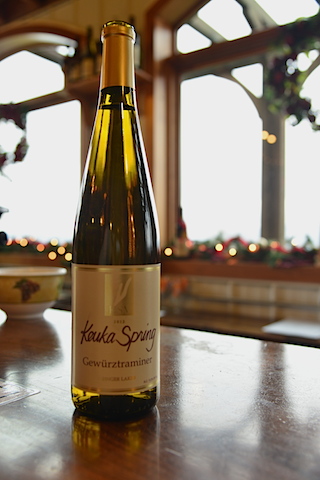 Location: Keuka Spring Vineyards
McGregor Vineyard
McGregor's wine tasting room has benches and tables fit for a picnic. And the only seated tasting room in the Keuka Wine Trail. The fireplace in the corner of the room kept us warm. They also serve their wine with portions of cheese from the Finger Lakes and crackers.
The winery started producing Chardonnay, Riesling, Gewürztraminer and Pinot Noir in 1980. The one of a kind 2009 Black Russian Red with an intense blend of Saperavi and Sereksiya Charni grapes are among the best at McGregor. The Black Russian Red has the aroma of blackberries, plums, raspberry, strawberry, cranberry and sweet oak.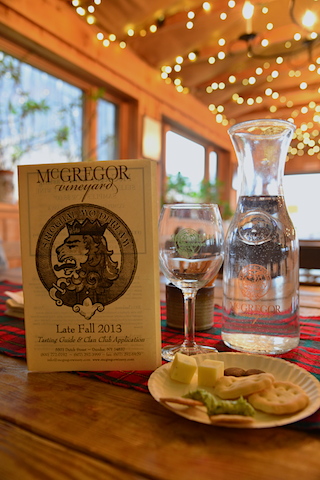 Location: McGregor Vineyard
Ravines Wine Cellars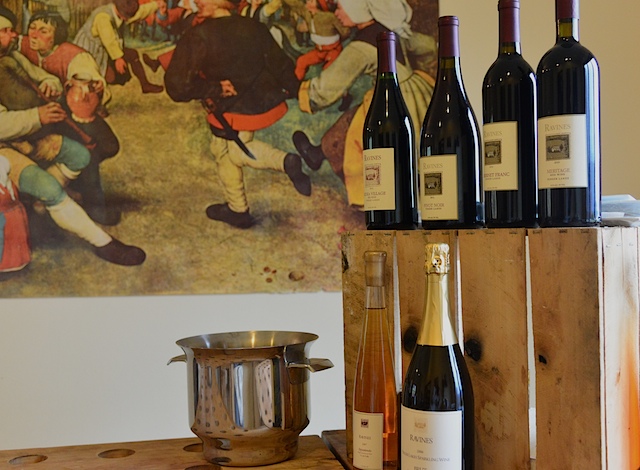 Ravines has two wine tasting locations. I went to the Hammondsport Keuka Lake's location. The room has more of a minimalist approach with a sculpted head of Bacchus, the Roman god of wine on the wall. It is definitely a beautiful place decorated in a Provençal style with views of the lake.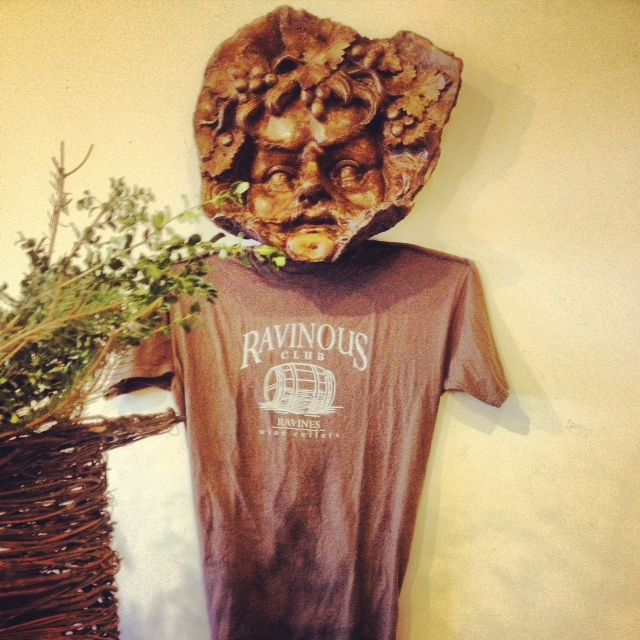 Mr. Morten Hallgren is from the Provence region of South of France and he came from a family of winemakers at Domaine de Castel Roubine.
Dry reisling is popular in Ravines. Their 2012 dry reisling was described as fine aromatics, distinct minerality, a vivacious acidity and dry finish. The sunny 2012 vintage yields an aroma of white flowers, quince and pear complemented by aromas of stones washed by the rain. This is one of my favorite reisling so far. It costs only $16.95.
The Meritage 2010 is a Bordeaux-style blend of Cabernet Sauvignon, Cabernet Franc and Merlot was barrel-aged with flavors of blackberry, currants, French oak and pepper. Cost $24.95.
For special celebrations Ravines has the traditional French Champagne, Methode Champagnoise called Brut 2006. Cost $39.95.
Location: Ravines Wine Cellars
Domaine Leseurre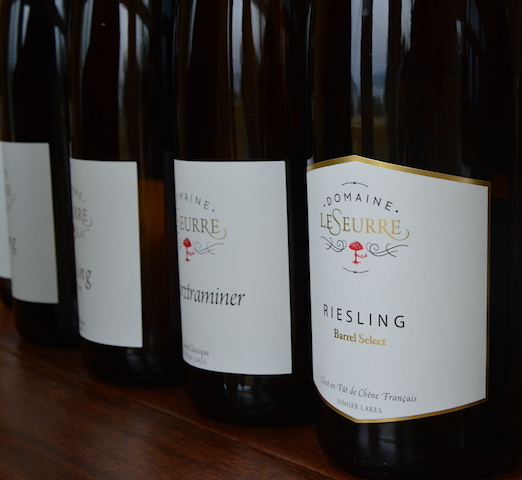 Celine and Sebastien Leseurre opened their doors after the busy wine tasting season. Imagine the couple, new to the country, purchasing a piece of property, clearing 800 trees and having a vision of building their own vineyard overlooking Keuka Lake. It takes tremendous amount of courage and determination to be where they are today.
Sebastien is a sixth generation winemaker from Champagne France. His wife Celine, a trained sommelier is from the Pyrenees Mountains in Southern France.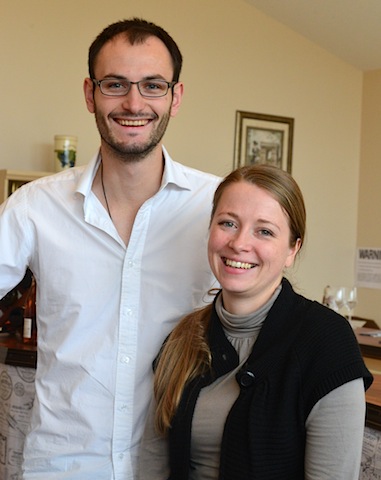 The tasting room still smelled like fresh paint when we visited. They are definitely going to be the shining stars representing winemakers in the Finger Lakes region.
Their very limited collection of 2012 sweet Reserve Riesling Barrel No. 3 is worth trying. Only 47 cases were produced in 375 ml bottle. Each bottle is $24.99.
Location: Domaine Leseurre
Note: This winery is not included in the Keuka Wine Trail passport.
Heron Hill Winery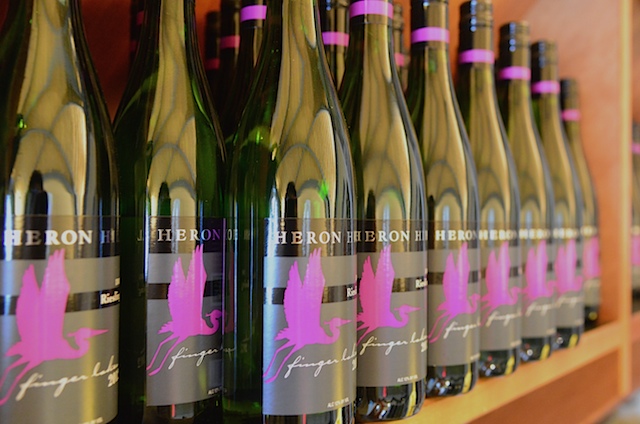 In recent years the winery has increased production from just 5,000 cases to 20,000 case production with 50,000 visitors each year. Heron Hill's tasting room has vaulted ceiling and views of the lake and vineyard.
The Ingle Vineyard Pinot Noir 2010 has a subtle aroma of fresh ripe cherries with a hint of cedar and dried fruit flavors of fig and prune. I think the Reserve Blaufrankisch 2011 is unique. It is made from the Frankish grapes from Germany and parts of Hungary. It has chocolate and plum flavors. Cost $39.99.
Location: Heron Hill
Hunt Country Vineyards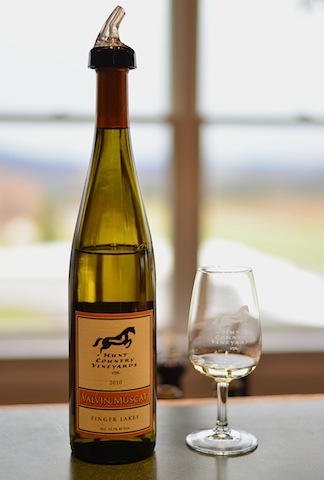 This 170 acre farmland and winery has been with the same family for six generations. Hunt Country Vineyards is the only winery in Finger Lakes that received wine orders for the Vidal Blanc Ice Wine from The White House and raved by NBC's Today Show. They are the pioneer producer of ice wine in the United States.
Hunt's Alchemy dry red wine is my favorite. At only $14.99 Alchemy is a combination of Cabernet Franc, Lemberger, Merlot and Cabernet Sauvignon. For white wine, I like Valvin Muscat 2010. They say it is a rare 2010 vintage. Valvin Muscat is aromatic with floral notes and is light.
Hunt wine tasting room is the only one in Keuka Wine Trail that did not have a long list of reisling. There were only two on the standard wine tasting list – the dry reisling 2012 and semi-dry reisling 2012.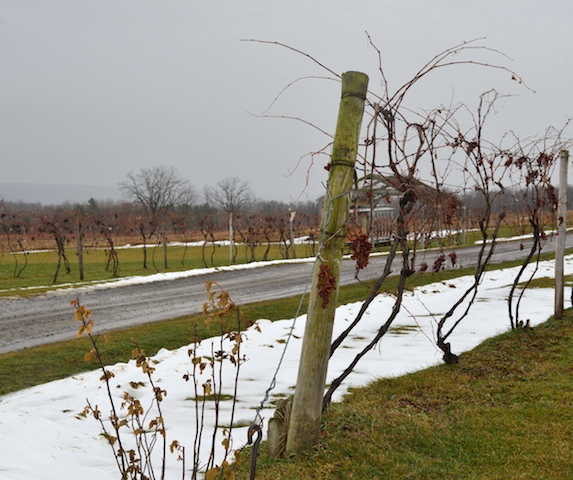 I learned something new at Hunt Country Vineyards. RS means residual sugar. A fortified wine like cream sherry has 14% RS and the Alchemy dry red has 0.5% RS. Hunt makes wines that suit my palette.
Dr. Frank's Vinifera Wine Cellars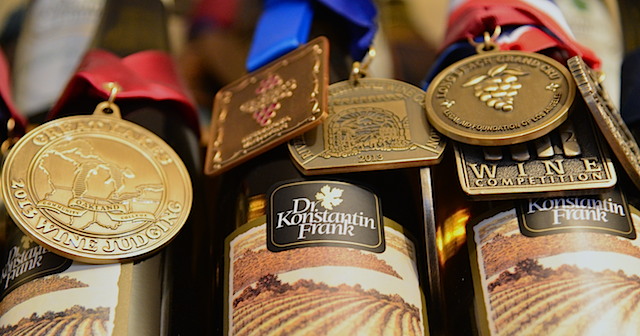 Dr. Konstantin Frank was one of the pioneers of winemaking in the Finger Lakes. He came as a refugee from Ukraine and planted the first Riesling vines in the region. According to Wine and Spirits August 2012 edition, he quickly established this region as a viable place for vinifera whites.
Dr. Frank's Vinifera Wine Cellars has the most awards in Finger Lakes. His legacy continues with his grandsons Eric Volz and Frederick Frank. No doubt the people who work at this winery are enthusiastic, friendly and knowledgeable.
At Dr. Frank's we purchased Celebre Chateau Frank Sparkling Reisling Wine for New Year celebration. Each bottle costs $20.99. I was tempted to buy the 6 liters red wine to keep for special occasion or as a collection. Alas, I am traveling and do not own a basement or a cellar.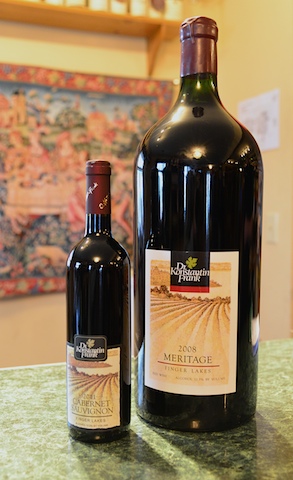 I took two days exploring and sipping my way through seven wineries at Keuka Lake, the first was the week before Thanksgiving and the second was on the first day of winter. All the vineyards were either barren or with dried up branches in the cold.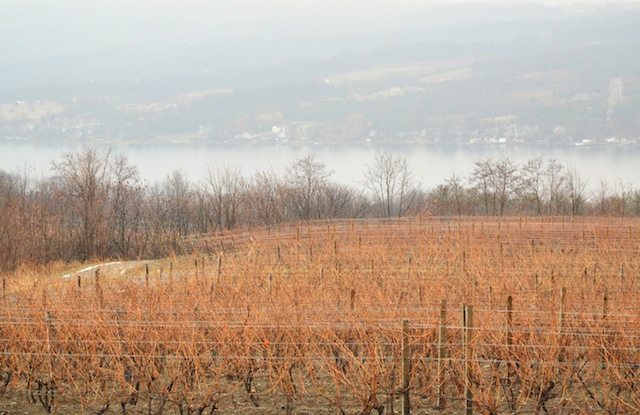 Finger Lakes New York is the second largest wine producing region in the United States. It is also very affordable to take a wine tasting tour in the region. Keuka Lake wineries have introduced me to the world of reisling. I purchased at total of 12 wines in my two days tour. The price per bottle ranges from $14.99 to $25.99, definitely not the cheapest.
Note: Visitors can purchase a Keuka Wine Trail passport for $12 plus tax. Find out more from Keuka Wine Trail's website.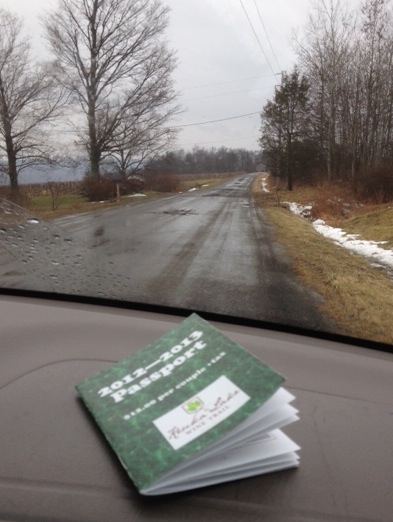 Warning: Don't drink and drive. New York State legal drinking age is 21.