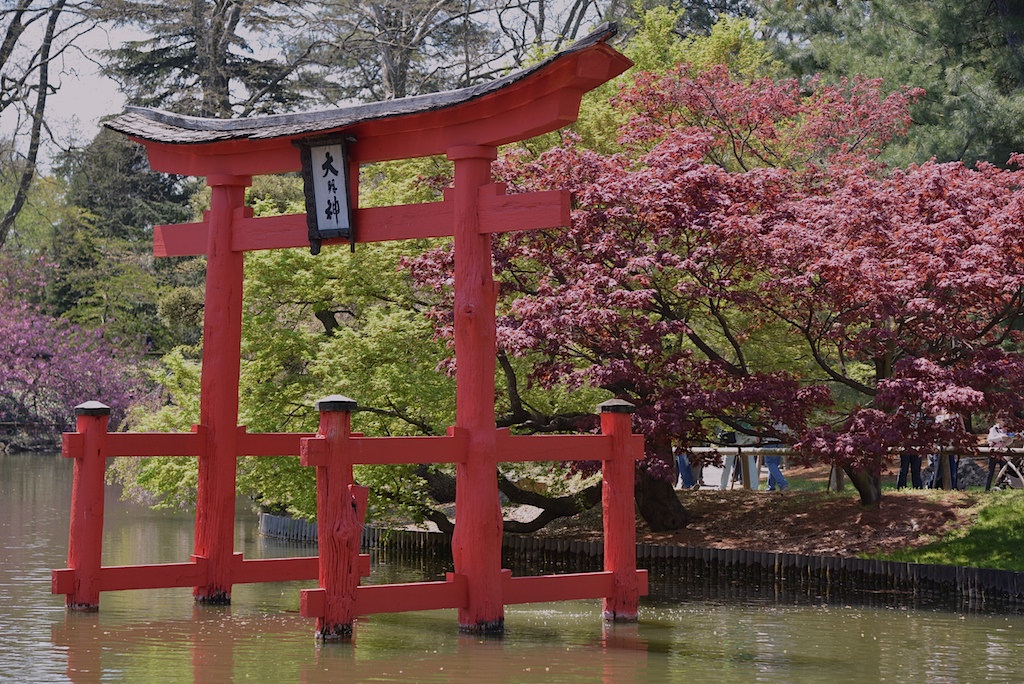 "I have my tripod and camera in my backpack and ready to take some photos!", my husband declared while we walked to the subway stop. We were on our way to Brooklyn Botanical Garden (BBG) – to catch the cherry blossoms' beauty.
Cherry blossoms have a short blooming period usually for one to two weeks (it is about five at the BBG). Part of the pleasures of staying in New York City for six months is the proximity to places of interest and special events. I knew if we didn't make it this weekend we would never make it to this year's full bloom.
Getting to the garden is easy with New York City's subway line. We took the Q train from 57th Street to Prospect Park train station in Brooklyn. It took about a 10-minute walk from the station to the garden. On this warm spring day with sunny sky – the line was forming as we walked towards Brooklyn Botanical Garden.
Oddly, it was free this Saturday. Well, I can't question free! The usual price per adult is $10.
The Cherry Walk's colors were just spectacular. Thousands of visitors were posing in front of these beautiful blooms. Some hugging the trees, others standing shyly near the full bloom…and some like me were busy with our iPhones…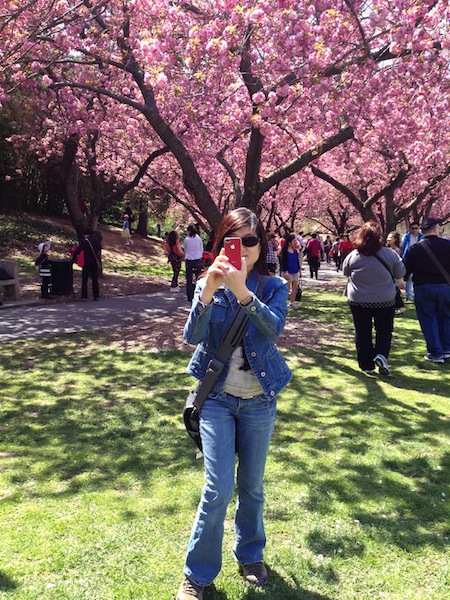 Here are some of the photos captured with an iPhone and my husband's Nikon DSLR camera….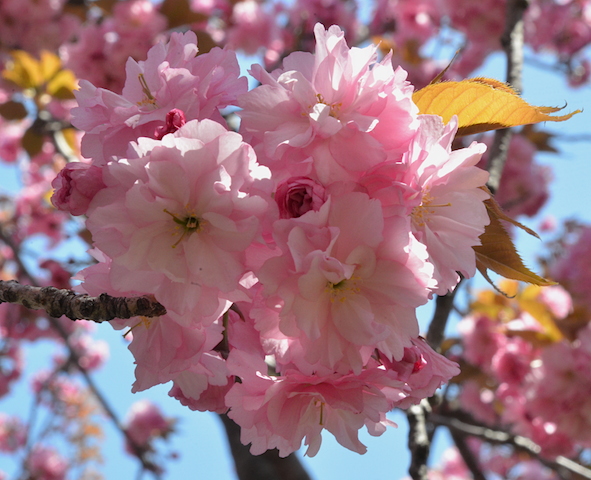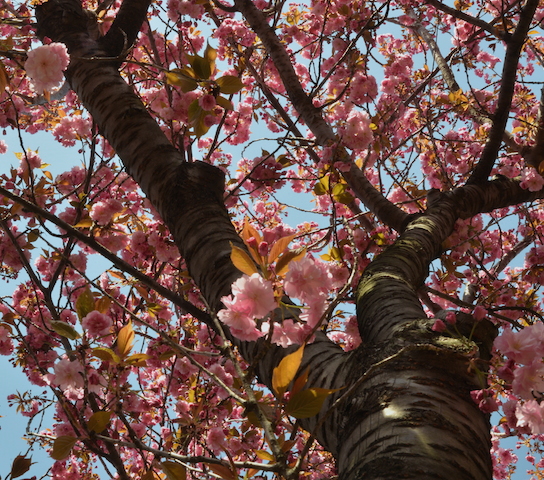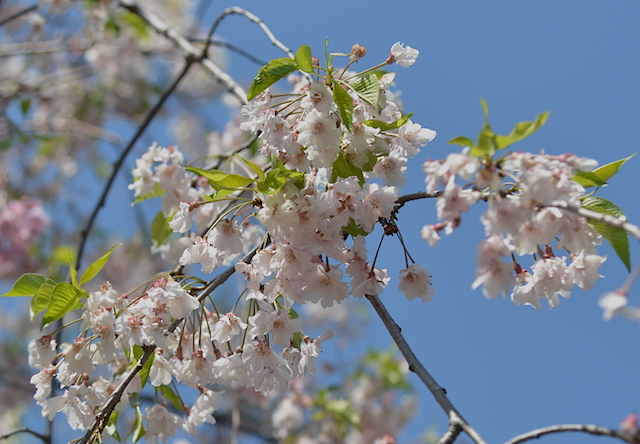 There are over 40 species of cherry blossoms at BBG's Cherry Walk and Cherry Esplanade. BBG is one of the world's best cherry blossom-viewing sites outside of Japan. I've not been to Japan or Washington DC's, so I've nothing to compare. It was quite a scene to behold.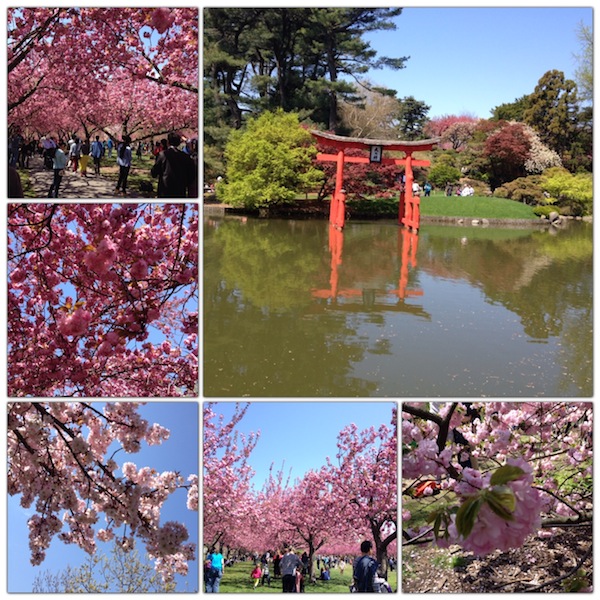 The Rose Garden located next to the Cherry Walk has a collection of hybrid tea and climbers. The roses were not in blooming season at this time.
One place not to be missed is the Overlook and Ginkgo Allee. Benches are located for tired feet and for those who want a panoramic view of Cherry Esplanade, Rose Garden and the new Visitor Center's green roof with plants.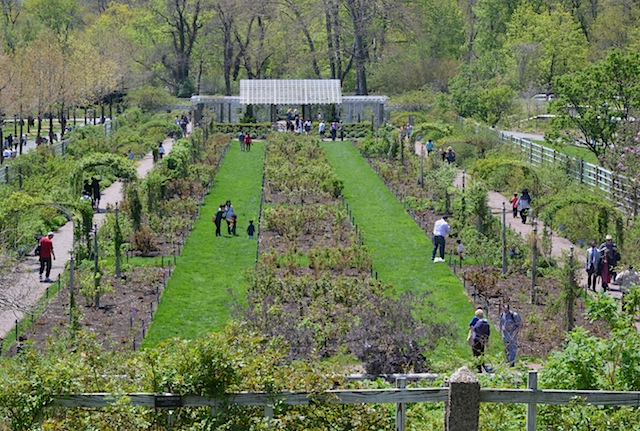 The most beautiful area besides the Cherry Walk and Cherry Esplanade is the Japanese Hill and Pond Garden. In true Japanese-style, this garden has a pond filled with koi fish, Japanese maple, cherry blossom trees, waterfall, an island and artificial hills that blend in with the rocks, wooden bridges, stone lanterns, viewing pavilion, torri (gateway) and a Shinto shrine.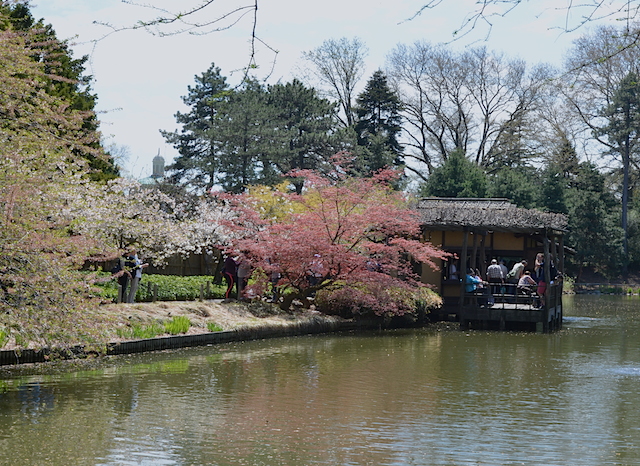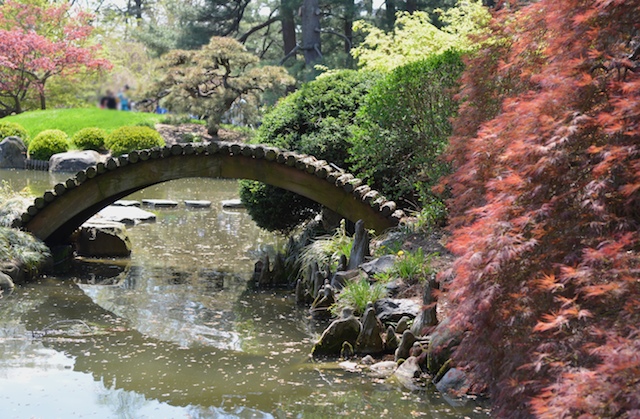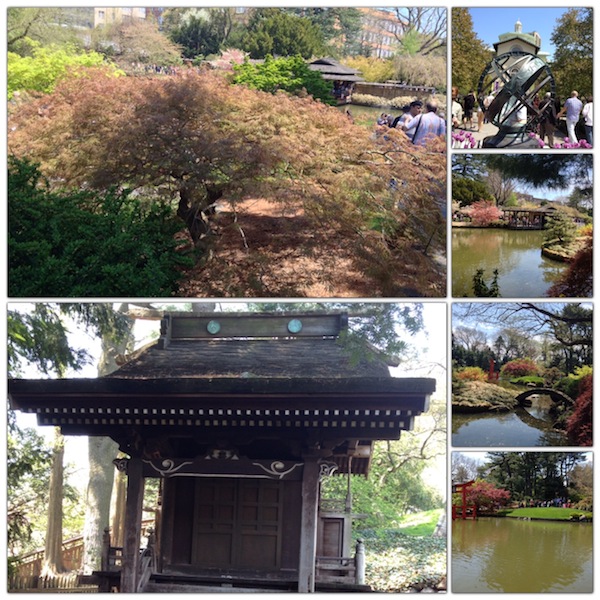 At the BBG's Bonsai Museum I saw a 62 year old sequoia sempervirus bonsai tree. According to BBG their bonsai collection is one of the finest in the world and the largest on public display outside Japan.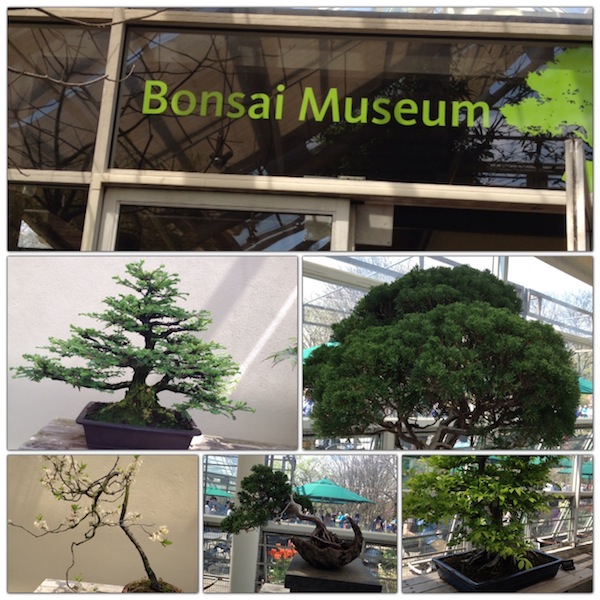 The Steinhardt Conservatory Gallery has a display of plants in all climates including desert and tropical rainforest. The Garden Shop with locally made souvenirs and reasonably priced high quality souvenirs and bonsai plants was a great place to pick up Mother's Day gift or for a gardening enthusiast. To me the Phil Gautreau Wood Design hand-turned wood bowls and cheese boards were the highlights of the shop.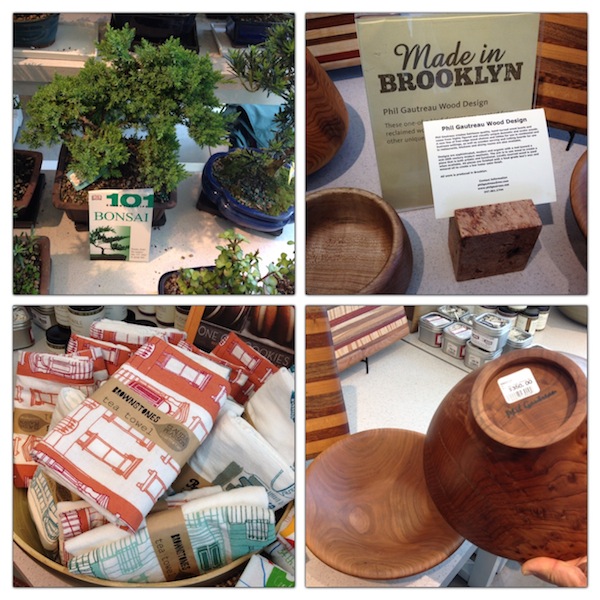 After all the walking and wowing it was time to load up on carbs. The best place to do that is at De Hot Pot on Washington Avenue and Leffert Avenue. De Hot Pot serves Trinidad Caribbean food of roti, goat, beef or chicken curry and doubles.
We didn't know what to order so we asked the lady in front of us. When all fails – ask the local for help. So we ordered everything she ordered and then some more. She had doubles with everything sauce and a chicken roti wrap with everything sauce.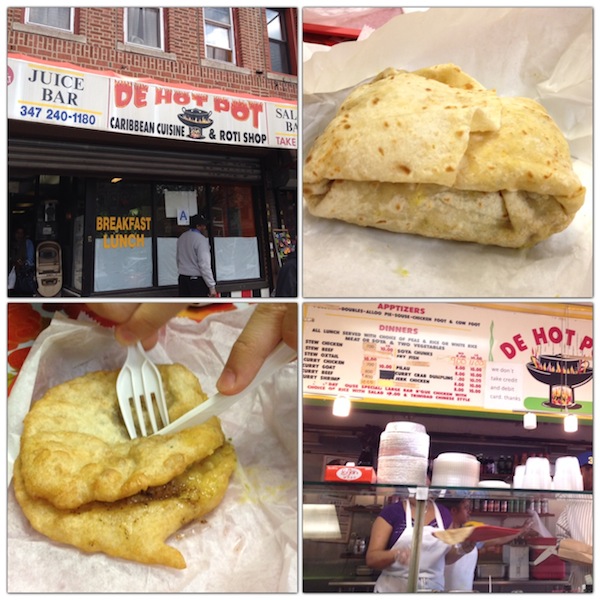 Doubles is a fried dough sandwich with channa (chickpea and everything sauces) and potatoes in the middle.
The chicken wrap has the same channa and curry potatoes and curry chicken. Goat wrap has the same sauces, curry potatoes and curry goat.
The restaurant is primarily a place for take out orders. The line was long while we were there sitting at one of the four tables. Lunch for four was $16. I highly recommend De Hot Pot if you like to savor different ethnic food in New York City. One caution: The everything sauce is hot and spicy.