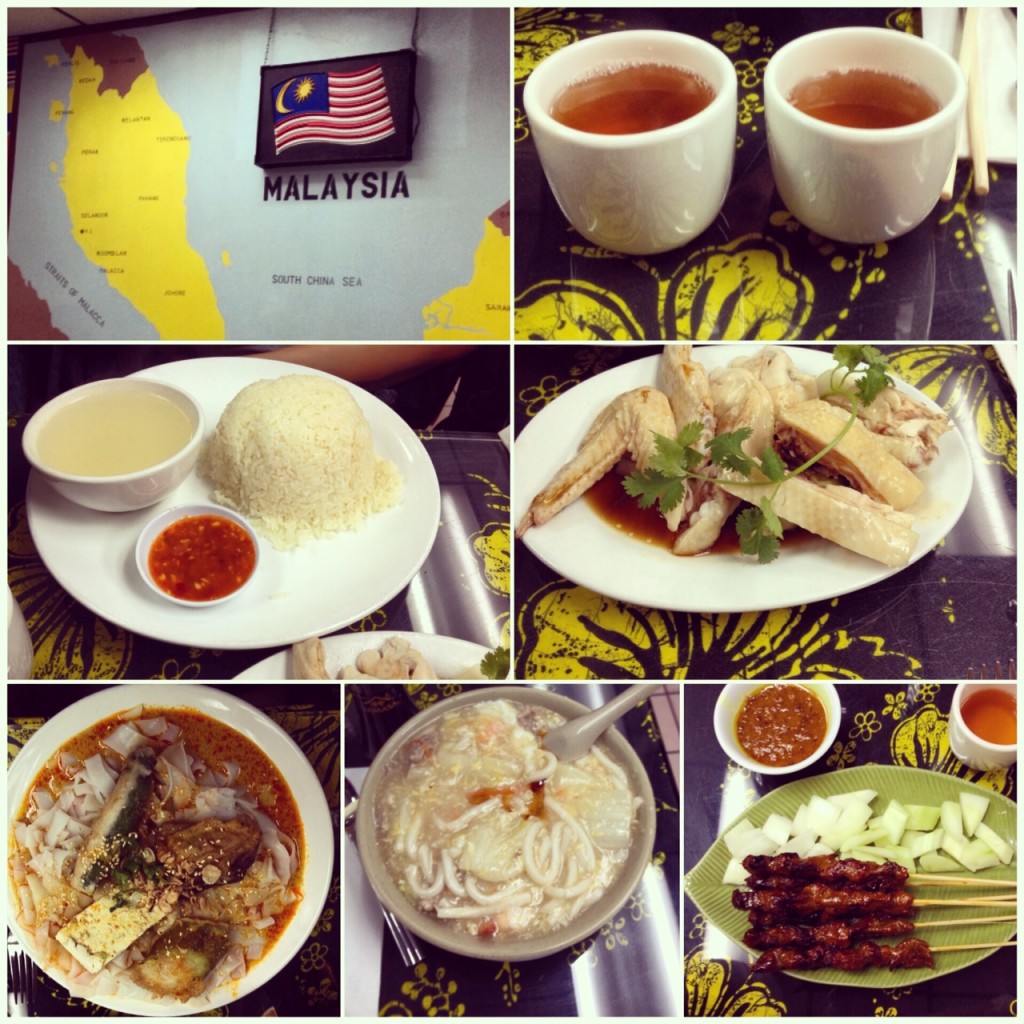 A question came up while we read through the menu, "Why do they have Singapore Fried Meehoon, Indonesian dishes and Thai curry in a Malaysian restaurant?" You can't draw a fine line when it comes to certain food in Malaysia, Singapore or Indonesia. For one, satay could be Malaysian, Singaporean or Indonesian. Where did it originate?
Then, there is the Hainanese chicken rice and curry chicken. Is it Malaysian or Singaporean? To answer this question we need to take a brief look at our history books on South East Asia.
Did you know that Malaysia and Singapore were once the 'happy family' called Malaya before Singapore's independence in 1965? Actually if you dig deeper, Singapore's official language is Malay or Bahasa Malaysia. Basically every dish you find in Singapore is in Malaysia or the other way around.
To digress further, Bahasa Malaysia is similar to Bahasa Indonesia, the country with 247 million people. In Indonesia, Mee goreng (fried noodles) or nasi goreng (fried rice) and satay are popular dishes. These three dishes are written the same way as the Malay language.
Anyhow, we went to eat. Not to argue about who owns the recipe or who made the best satay or Hainanese chicken rice.
Originally named The Malaysian Queen, Malay Restaurant in Flushing has been my go to place for Malaysian food whenever I visited Flushing. My first visit was 23 years ago and the last was 12 years ago. It felt strange to be back after over a decade away. The manager and servers have grown a few grey hairs just like my husband and I.
Opened since 1989, Malay Restaurant still retains the same décor with one wall painted with a map of East and West Malaysia including flags of Malaysia, Singapore, Thailand and Indonesia – four of the five original ASEAN countries in South East Asia.
One common dish found in the streets and restaurants in Malaysia, Singapore, Thailand and Indonesia is satay. Satay is a skewered barbecue chicken or beef serve with spicy peanut sauce, cucumber and onions. The chicken and beef are marinated in lemongrass, sugar, turmeric powder, coriander powder and other secret sauces.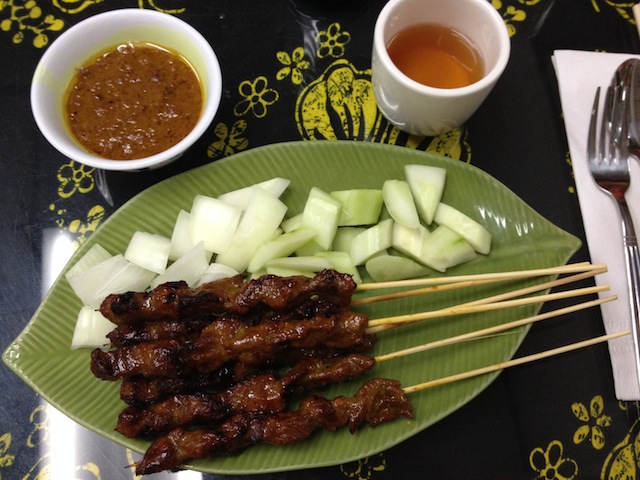 Food always brings back memories of a place, a person, an incident or an experience. In fact food tells so much about the culture of a country. In 1825 Jean Anthelme Brillat-Savarin a world renowned gastronome said, "Tell me what you eat, and I'll tell you who you are." Looking at the grilled skewer meat I thought about the last few meals we had with my father when we visited before he passed away. He loved satay.
Malaysian food consists of three distinct flavors and methods of cooking from the three main people groups. They are the Malay, Chinese and Indian. Some of these foods are a fusion of two or three of these groups.
Malay Restaurant Flushing is a small family-style restaurant with 12 tables. I noticed the classic Malaysian dishes were in the new menu. One Malaysian classic dish is the Hainanese Chicken Rice. The pale looking chicken is poached to the right temperature and texture and glazed with soy sauce. Rice is cooked with chicken fat and chicken stock. Hainanese Chicken Rice comes with rice, a bowl of soup, chili and rice with chicken and a few pieces of sliced cucumber on the side.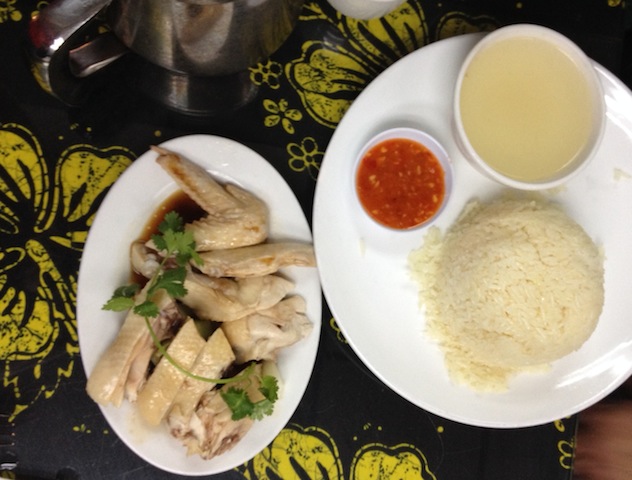 Another typical dish is cheong fun or steamed rice rolls. There are many versions of this dish. Some serve it sweet with sesame paste and sesame seeds. Flushing's Malay Restaurant serves theirs in curry and stuffed tofu, bitter melon and eggplant. I was a little surprised when the dish came in a plate instead of a bowl. Because I envisioned my rice rolls soaked in a bowl of spicy curry broth.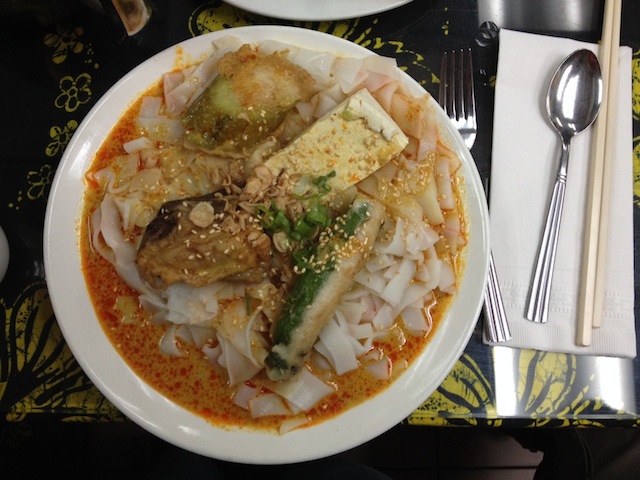 Hot tea is a good drink to have when eating Malaysian food. My mom says it establishes the yin and the yang of eating.
Malay Restaurant has been in the same location since my first visit in 1990. After eating the Hainanese rice and cheong fun, I concluded that the portion and quality of both dishes are not the same as the 90s and early 2000s. They must have changed the cook. The old man who did the satay at the entrance is gone. His replacement did a great job with the authentic satay.
What food shaped you? Please comment below.
Location: 13517 40th Street, Flushing, NY 11354.