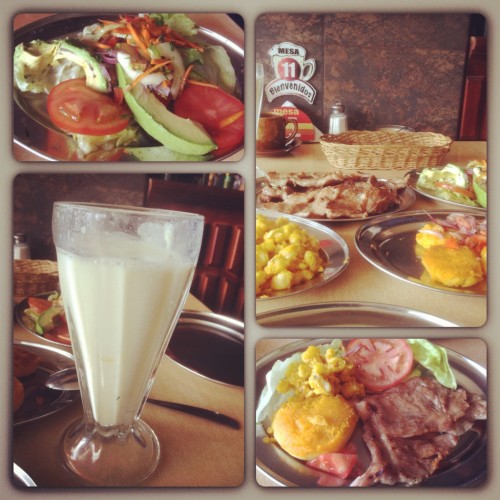 Huge portions with chicken that falls off the bone or thinly sliced barbecue meat serve with rice, potatoes, and mote are what you might get in a typical restaurant in Cuenca. Instead of a basket filled with bread, you will get mote.
Mote, also known as hominy, is a cooked white corn. This type of grain grows in the highlands of Ecuador. It is white and larger than the usual kernels of corn we get in American supermarkets.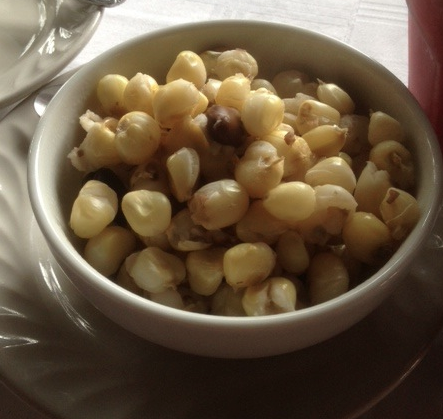 Mote pillo is a little different from mote. It is hominy stir-fried with eggs, onion, and garlic.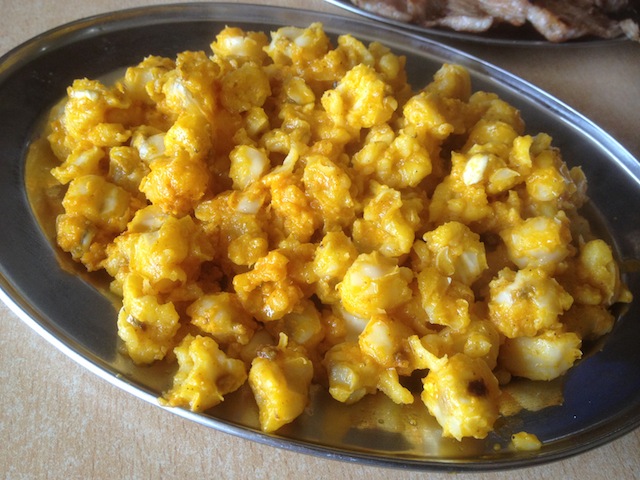 On our first day in Banos de Cuenca, our Airbnb's host brought us to his favorite restaurant - El Rincon del Sabor. It is located about a five-minute walk from to the popular Piedra de Agua Hot Springs and Spa. For $6.50 we had a big plate of mote pillo, barbecue pork (carne asada), mashed potatoes, salad and a few slices of avocado. A dish more than enough for two people.
Note: Ecuador uses the US dollars.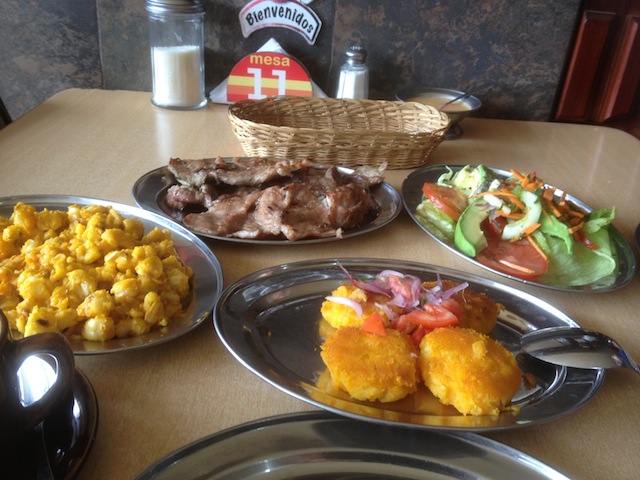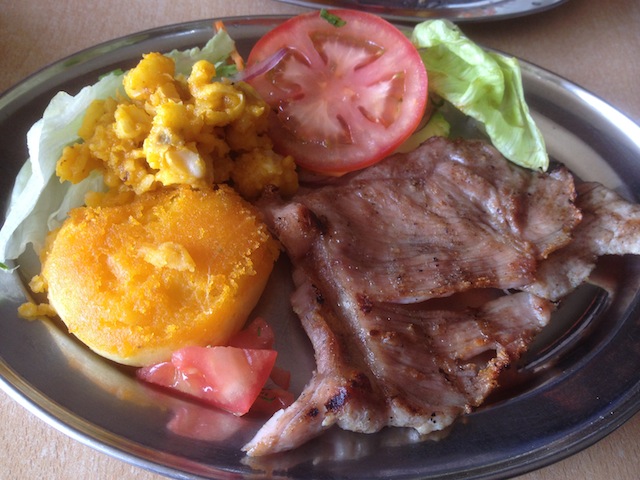 We had lunch twice at El Rincon del Sabor. In both occasions, we ordered the carne asada (barbecue pork). The second visit we were a little more adventurous. We asked for morocho. Morocho is a typical Ecuadorian drink made of milk, corn, cinnamon, and sugar, just like a milkshake.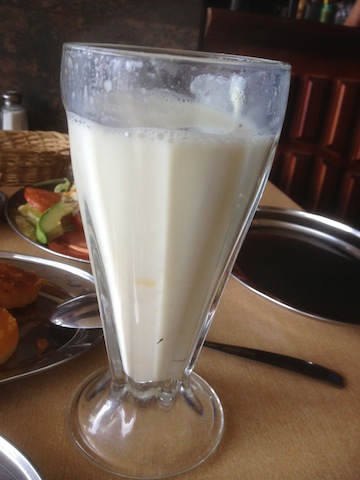 My son liked seco de pollo, a stewed chicken with rice dish. Seco de pollo is also widely served in Lima, Arequipa and Cusco in Peru.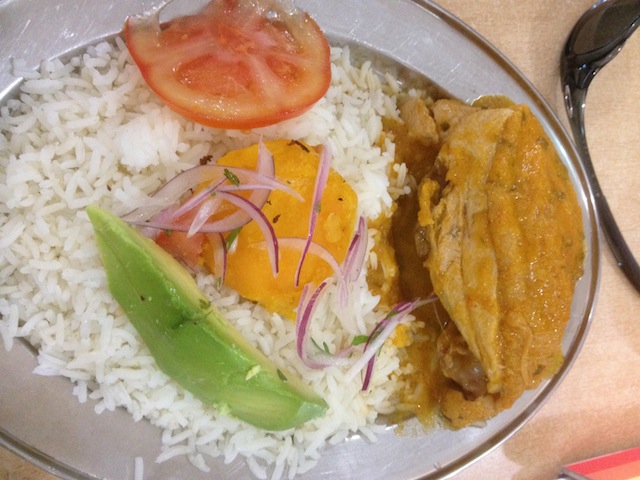 I learned about tinto during my first visit to El Rincon del Sabor in Banos de Cuenca. When I asked for coffee, the server didn't use the word 'cafe' instead he said 'tinto.' Tinto means ink. So coffee is basically tinto in El Rinocn del Sabor. Some locals said tinto is inferior coffee and is usually cheaper than cafe. It tasted like watered down coffee and had no aroma of coffee.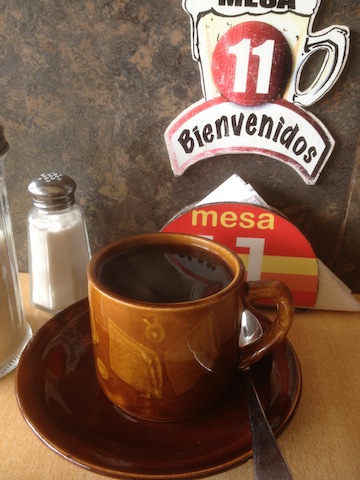 Another typical Cuencana restaurant is El Tequila in Cuenca. Our friend Santiago from Cuenca said for the last 33 years this restaurant have been serving the same food. It was here that I discovered choclo con queso (white corn on cob with cheese), habas (boiled fava beans) and Ecuadorian white cheese that tasted and looked like tofu. Of course we had mote pillo with our favorite carne asada (barbecued meat) and seco de pollo.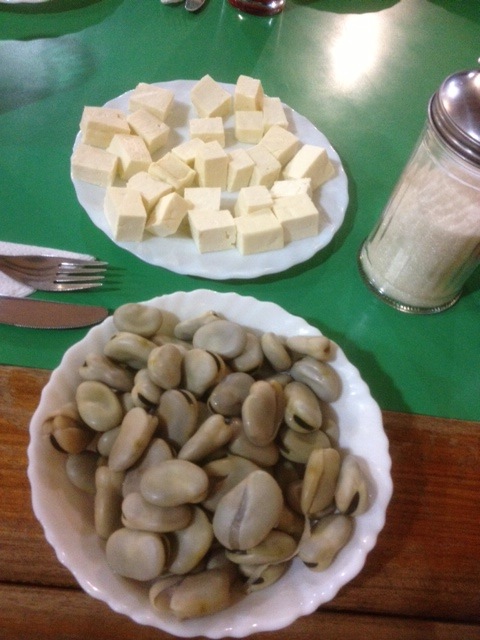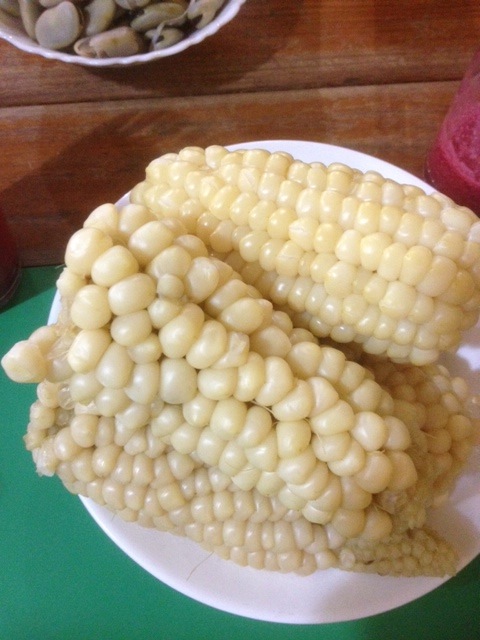 Ecuadorian restaurants serve a variety of fresh juices. One of our favorite juices is mora. Mora juice is dark red, tart and slightly sweet in flavor. It is made from Ecuadorian local blackberries.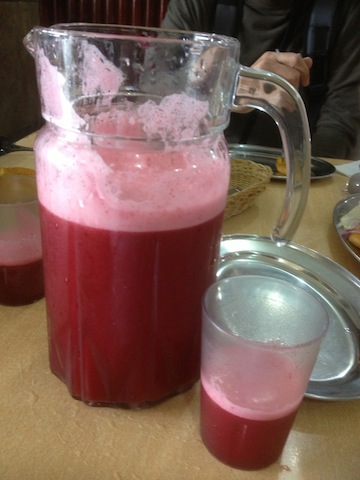 If you like hotdogs, you would love salchipapas. Salchipapas are fried hotdogs with french fries eaten with ketchup and mayo. You can find salchipapas in restaurants, cafes and food markets in Ecuador.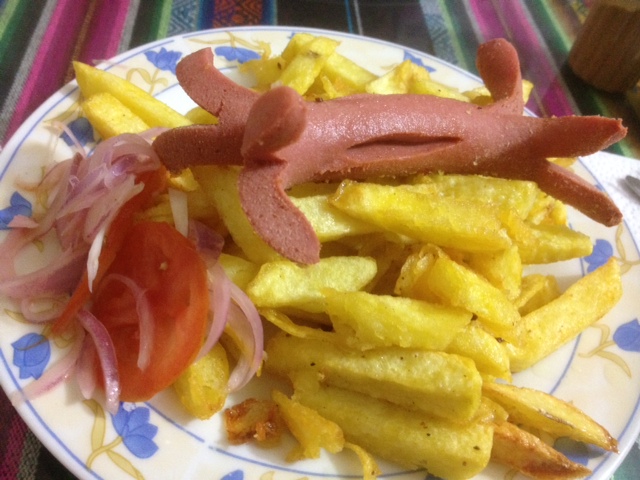 Unlike the Brazilian, Argentinian and Uruguayan churrasco, when you order Ecuadorian churrasco you get a big plate of rice, french fries, steak, pieces of pickled vegetables and beans topped with a fried egg. Some restaurants add a piece of plantain as well.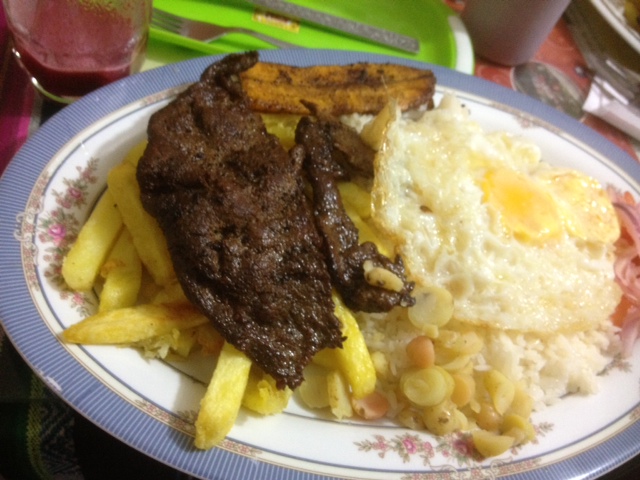 You can't leave Ecuador or South America without trying their empanadas. Cuenca's empanadas are different from the Chilean, Uruguayan and Argentinian. Theirs are puffed up empanadas with thin dough dusted with sugar. Inside the empanadas you will find a little melted cheese. Each of these cost 30 cents in Banos de Cuenca.
There are a variety of food for all types of budget in Cuenca. What's your favorite local food in Cuenca?
Restaurants:
El Tequila, Gran Colombia 20-59 y León XIII, Cuenca
El Rincon del Sabor, Avenida Ricardo Duran (near Piedra de Agua Hot Springs and Spa