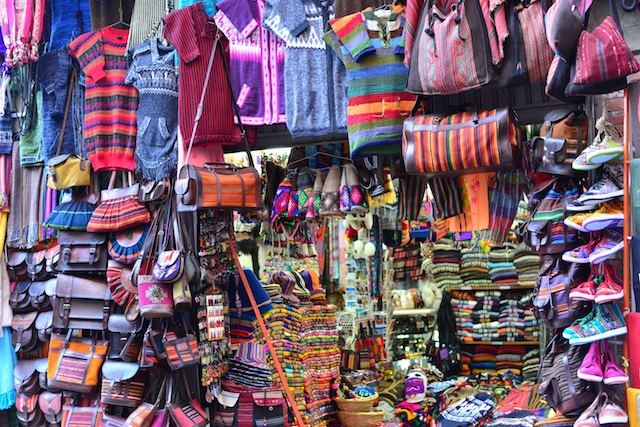 "I don't think travelers come here to unwind." Not only will you feel shortness of breath in La Paz because of high altitude, the city's steep roads are a challenge even if you are super fit. La Paz is the highest capital in the world sitting at 3636 meters (12,000 feet) at a steep canyon on the altiplano.
La Paz is one of the most fascinating cities in South America and here are 10 things I like about La Paz Bolivia:
Ten: It is the cheapest city in South America
Our cheapest dinner was at Jackie Chan Chinese restaurant for four including water and beer was US$5. Dinner at a touristy restaurant called Sol y Luna with three entrees, one pisco sour, two fruit juice and one bottled water for four was US$34.
Teatime with two salteñas, one empanada and one apple pie was US$5 at El Montanes Café on Calle Saganaga (across the street from the popular Café del Mundo). The teahouse serves the best salteñas in Bolivia.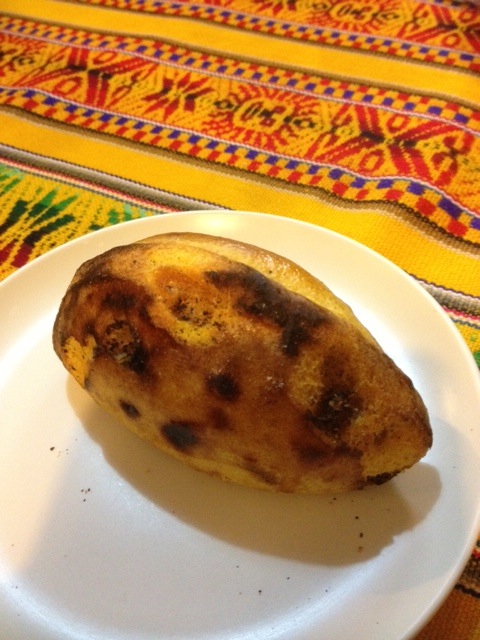 Six bottles of one and a half liters bottles of mineral water were US$2.
Nine: Plaza San Francisco
Locals and tourists congregated at the plaza during the day and night. Colonial buildings, street markets, vendors, shops and the church and monastery of San Francisco surround Plaza San Francisco.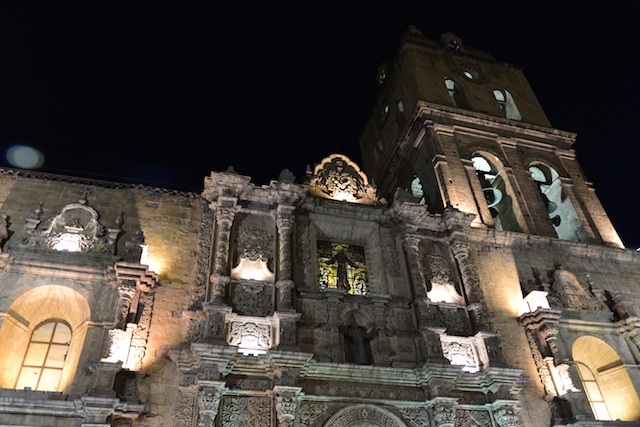 The church was built in 1549 and depicted the mix of Spaniard and indigenous influences. This mestizo-baroque façade has a blend of Catholic images and indigenous symbols like birds, snakes, dragons and faces. The Plaza San Francisco is a great place to have a feel of La Paz- where you can spot cholas in Bowler hats and traditional skirts, men and women selling all types of souvenirs and food, musicians, tourists and vehicles like old buses.
Eight: Old buses
Mini or regular buses in La Paz are mostly old and tattered with beautiful colors and drawings. Though these buses are not fuel efficient vehicles and are bad for our lungs, they do give La Paz a different feel from other South American countries.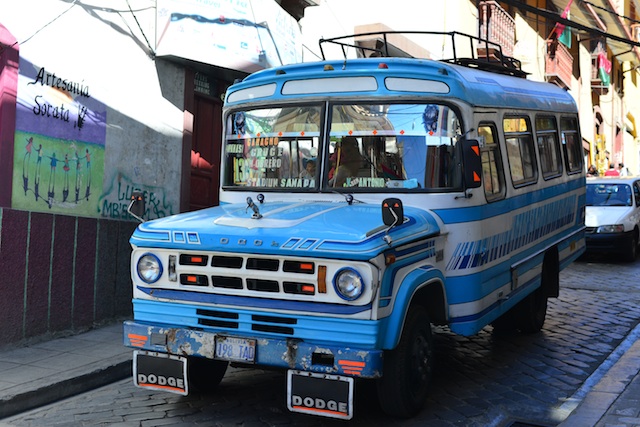 These mini buses are found even on the steep and popular tourists streets like Calle Saganaga.
Seven: Steep cobblestone streets
You will have a good workout walking up and down the steep cobblestone streets of La Paz. The high altitude took my breath away every time I walked up Calle Saganaga. I must have walked on that street at least 15 times in my four days stay in La Paz.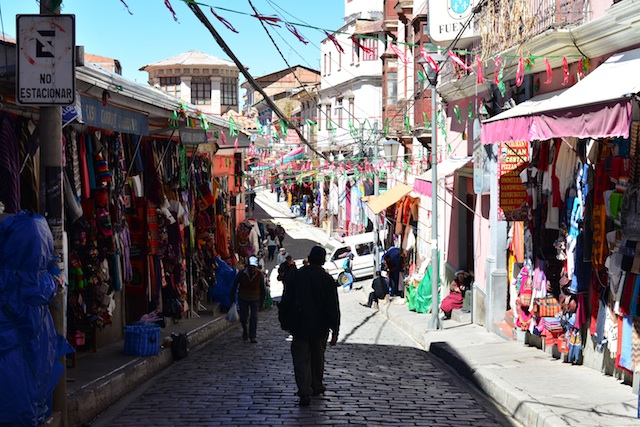 These cobblestone streets are filled with local vendors selling food, drinks and souvenirs, street markets and the famous Witches Market.
Six: Witches Market
The colorful Witches Market is filled with scents, potions and lotions, alpaca sweaters, leg warmers, hats, souvenirs, restaurants and llama fetuses. It is a must-see in La Paz because of the various types of items sold that are unique to Bolivia's culture and traditions.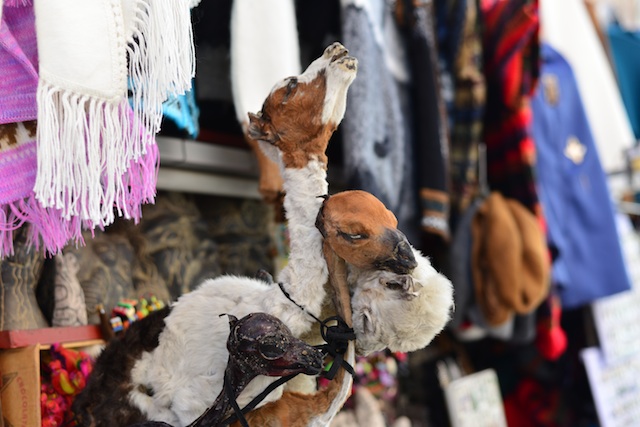 If you are looking for alpaca-made clothing and accessories, the Witches Market offers variety and great prices. After 10 days in Bolivia, most of these souvenir shops with alpaca-made things began to look the same but if you take a careful look, the Witches Market offers a great variety compared to shops and street markets in Potosi and Uyuni.
Five: Moon Valley
Moon Valley is like a sponge, when it rains it becomes dangerous to walk around the area. It was like walking through huge egg cartons. The Moon Valley offers different trails and you can spend 30 minutes or one hour walking on the trails through rock formations that resembles the 'moon' (I haven't been to the moon, thus the quotation marks).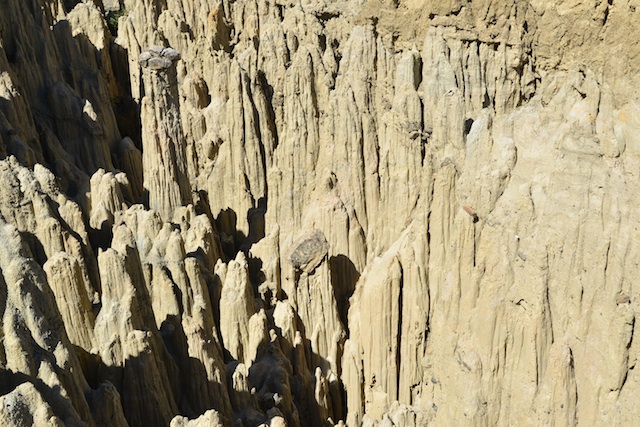 The Moon Valley is only less than 10 km from the city of La Paz but it is warmer and drier. The valley is quiet and offers an excellent acoustic sound and if you stay silent for a few minutes you could actually hear your own breathing.
Four: Plaza Murillo
This is where the Bolivian government buildings, Presidential Palace, Cathedral and locals gather with pigeons and vendors in the square. One interesting thing I observed was a little girl barely three years old walking straight to a ice-cream vendor to purchase an ice-cream cone.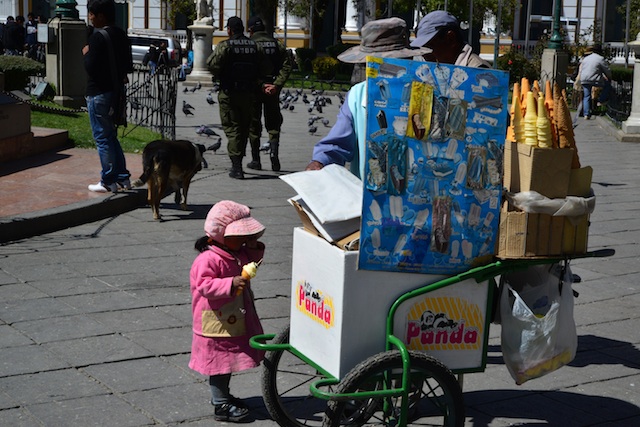 The Presidential Palace has gunshot holes and is also known as the Burnt Palace because of the many uprising and protests in the area.
Three: The view
La Paz sits in a canyon with an altitude of 3636 meters at the Plaza Murillo, the center of the city. Traveling into the city on an overland truck from Potosi, I will never forget the view of La Paz and the snow-capped Mt. Illamani. These are photos we took from one of the lookout points.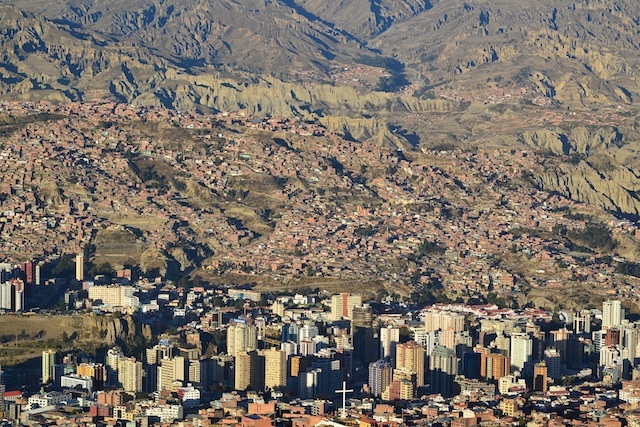 Another lookout point is at Mirador Killi Killi at 3685 meters above sea level. From here you can see the city's skyline including the stadium.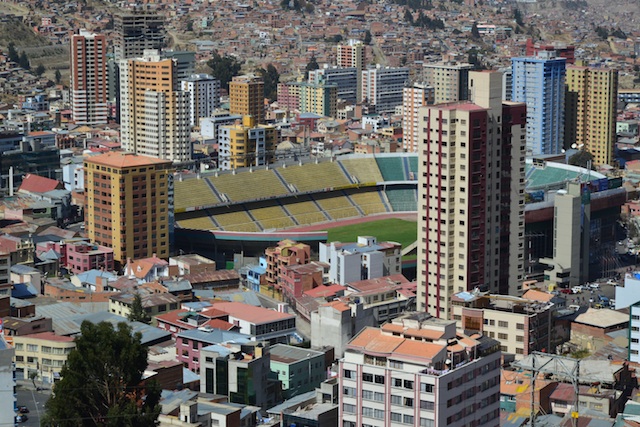 Two: Eating llama meat
Yes, I did eat llama meat and alpaca meat in Bolivia. The best llama meat dish was at Luna's Restaurant on Calle Saganaga. Traveling to me is about trying new food and experiencing the culture and traditions of the country I visit. I had a hard time making myself eat llama meat but I am glad I tried it.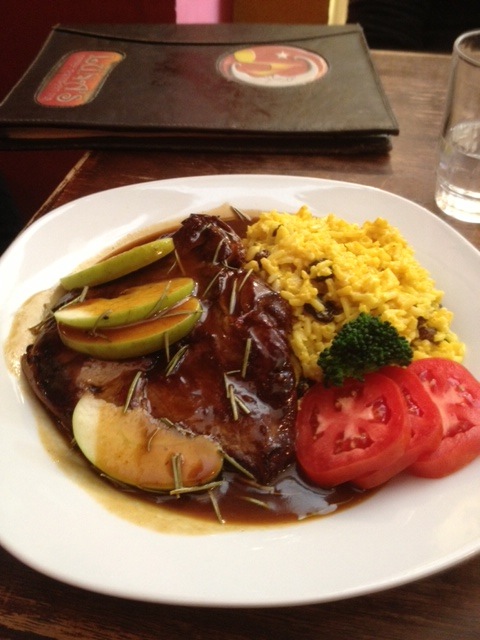 One: Bowler hats and traditional clothing
The most fascinating part of my visit to La Paz was walking and trying to make a conversation with the cholas and cholitas with bowler hats and traditional clothing. Read more about it here.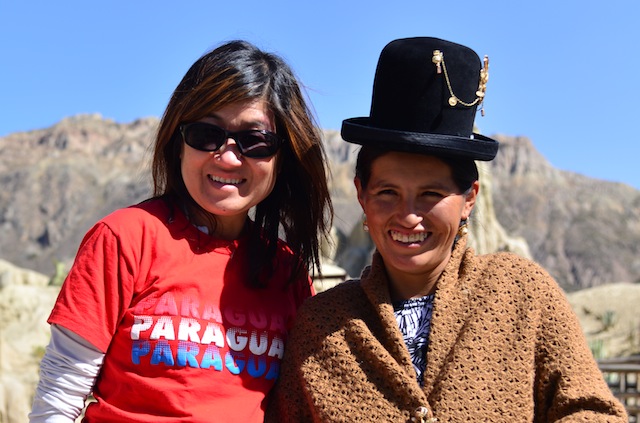 I discovered La Paz Bolivia is the cheapest city in South America. Your dollar will go a long way in the city. It is fairly safe to travel but never walk or take a taxi on your own during the night. We were told to be careful with our belongings.
Have you been to La Paz Bolivia? It is definitely worth a visit if you like to visit a country steep in culture and traditions with a hint of westernization like great accommodations and food.