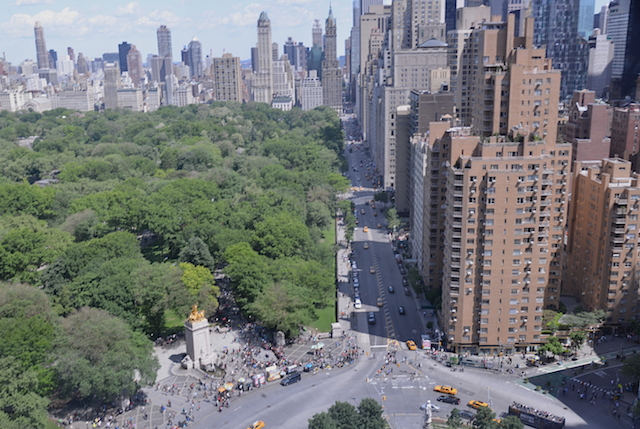 Is afternoon tea at the Mandarin Oriental the place to splurge? Yes, $48 per person for a few dainty pieces of sweet and savory goodies and a pot of tea- and a perfect view of Central Park, Columbus Circle and the Manhattan skyline.
Our afternoon tea experience at the Mandarin Oriental was our first in New York City. It was worth every penny that we spent. Why? Look at this panoramic view and the openness of the lounge…
Last year, in South America we had so many afternoon teas in Uruguay and Argentina. It was the meal in between lunch and the late Argentinian and Uruguayan dinner. Each of these tea experiences range from $5 to $20 depending on where we had the tea and what came with the tea.
In Singapore and Malaysia, high tea was the best meal to catch up with friends and family. The high teas were served buffet style with at least 50 local and international foods to choose from. Well, this tea experience at the Mandarin Oriental was different from the rest we had experienced.
Prior to going to our afternoon tea, the Mandarin Oriental sent me a menu with a selection of teas and daily menu. Reservation had to be made in advance. Our intention was to be there for our daughter's birthday celebration. It was fully booked on her birthday so we proceeded with the reservation for a late celebration at the Mandarin Oriental.
First, our journey began in the East where we got to choose artisanal teas from Japan, India, Sri Lanka and China. The teas were categorized in low caffeine or high caffeine with names like Mandarin Oolong, Lychee Green, Imperial Herbal and more.
Each of us had our own pot of tea complete with a teacup, spoon and tea bag holder.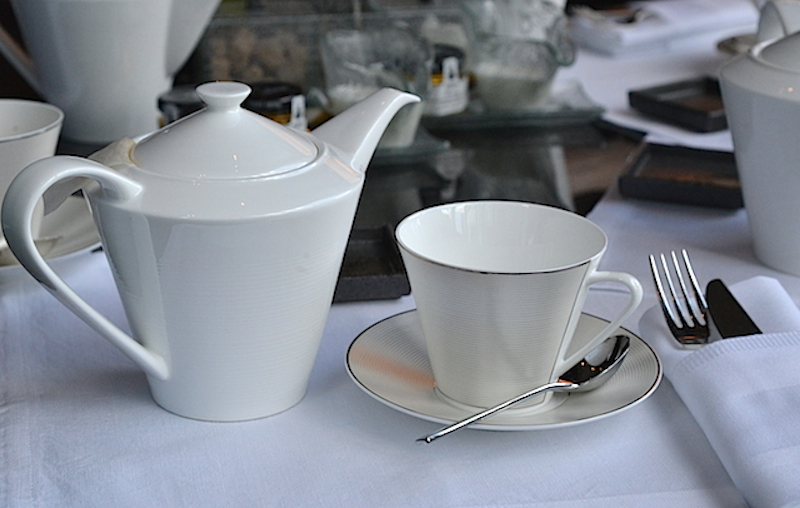 Next came the first course of goodies. The menu said we would journey to England the land renowned for their afternoon tea. To follow the tradition of tea, our first goodies were two freshly baked ginger scones per serving with shared English Devonshire Cream, orange marmalade and a seasonal jam made by their own pastry chefs.
After the scones came the savory dish of tea sandwiches inspired by New Yorkers. The Mandarin Oriental calls it the reinvention of the classic tea sandwiches to reflect New York's deli and eclectic styles. Look at these creative creations…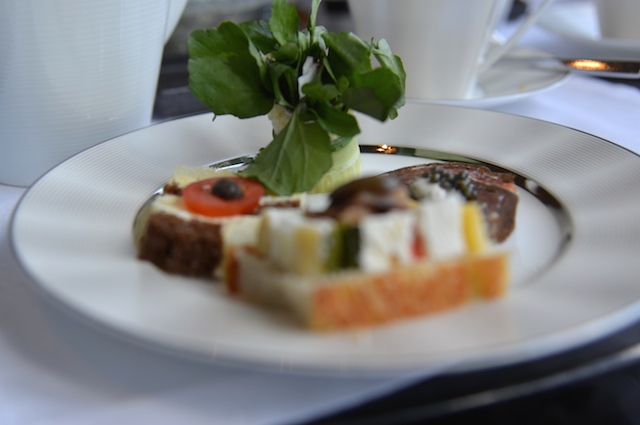 By this round I was totally satisfied even if there were no more goodies being served. Looking at the view from our seats by the window, I can understand why Mandarin Oriental is one of the more established afternoon tea spots in New York City.
The infamous New York yellow cabs looked like tiny toy cars from the 35th floor. Just looking at them circling around the Columbus Circle was enough to entertain. We saw a man dancing and entertaining to a crowd at the Maine Monument in Central Park. On the right was a red CNN sign with the temperature of the day showing at 80 degrees.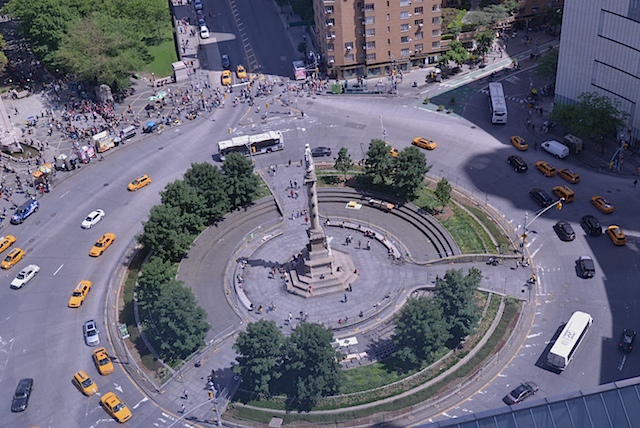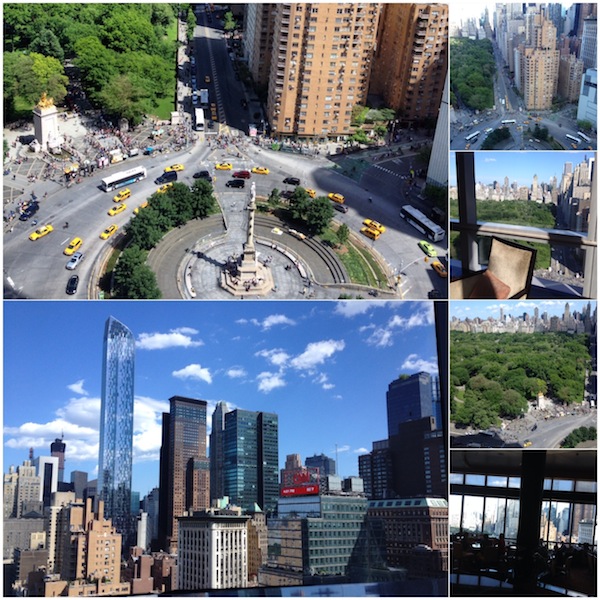 The attentive staff cleared our table and brought in a set of clean white plates and cutlery. To our surprise came the birthday cake…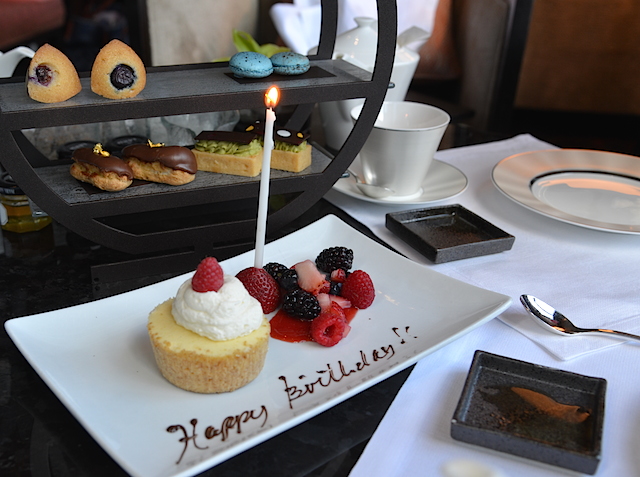 Our last goodies for the day were Asian inspired tea pastries like coconut green tea tartlettes, chai-chocolate macarons that look like the color of robin's egg, mango raspberry tart, éclair chocolate marquise and almond blueberry financier egg custard.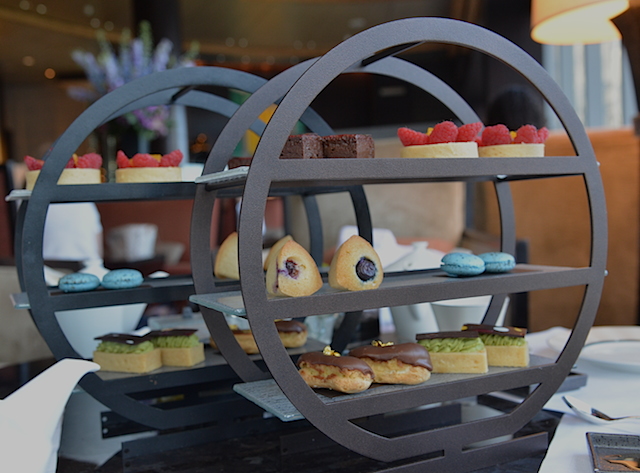 We journeyed around the world drinking tea from Asia, scones from Europe, sandwiches from America and back to Asia with the Asian-inspired desserts.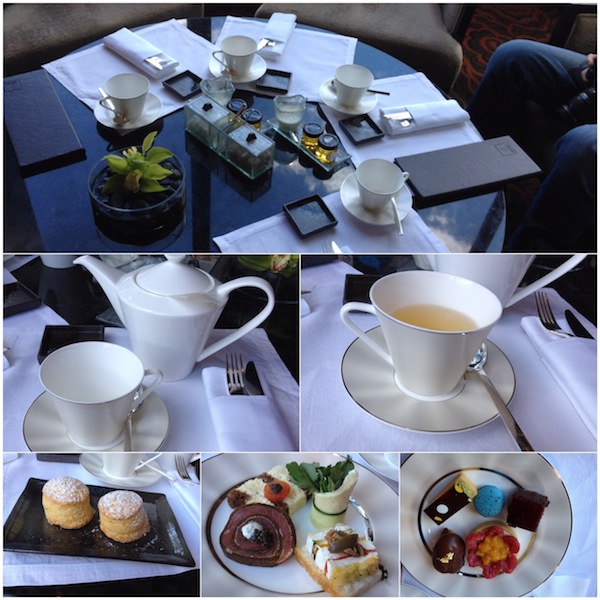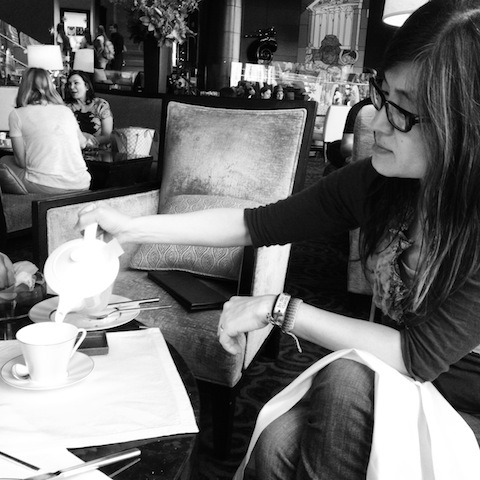 This could be the first of many afternoon teas in New York City. Have you been to an afternoon tea? Do you think afternoon tea is just for women or men will enjoy too?
Information:
Afternoon tea at The Lobby Lounge, Mandarin Oriental NYC
AfternoonTea.co.uk/blog is a fascinating website about afternoon tea. Check it out.