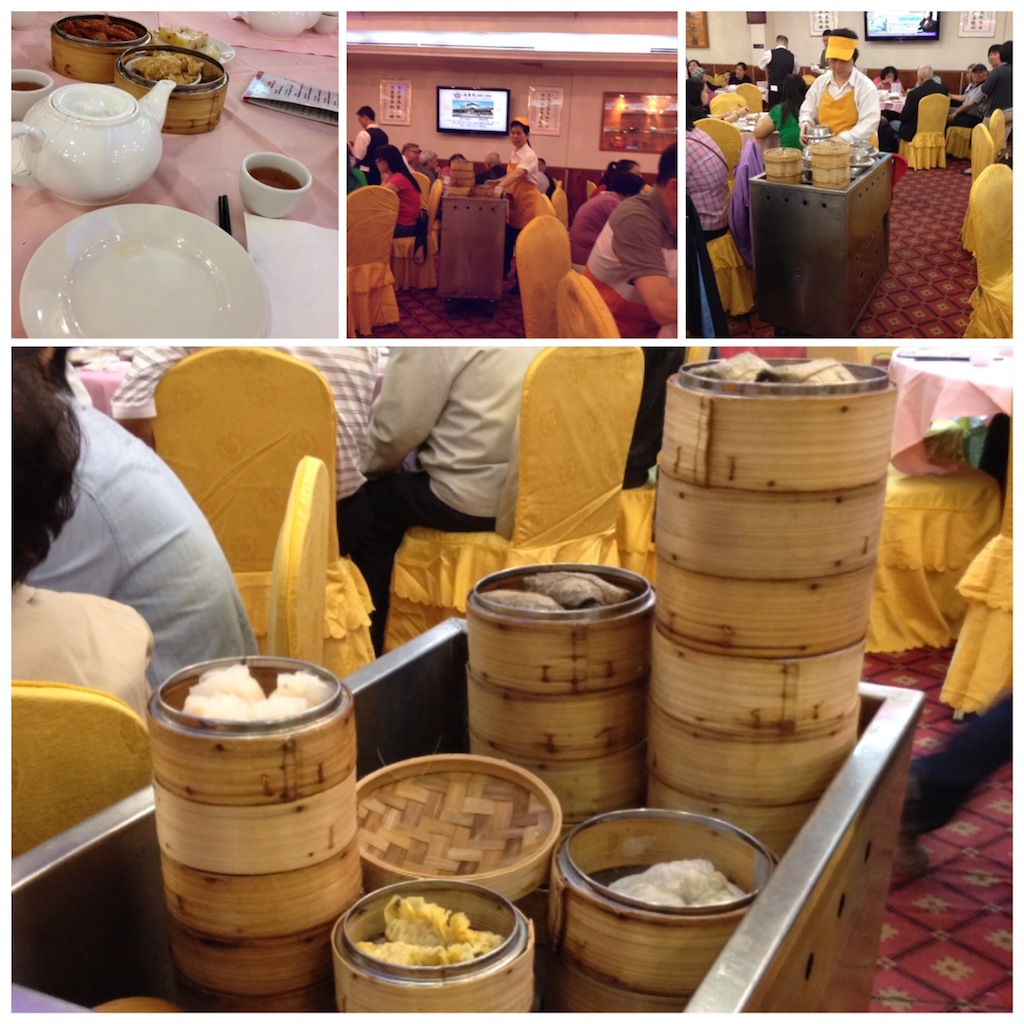 Ask the locals for recommendations
Nothing beats a recommendation from a local! My friends came for a four-day visit and one of the things to do was a visit to Chinatown. It was Kay's first time to NYC and she was on a mission to purchase Wisconsin ginseng for her elderly parents in Malaysia. While going in and out of the stores I asked a friendly lady at C.H.T. Inc, a Chinese herbal shop for a great place to yam cha (drink tea for Cantonese). She said "Tong Lai" on Mott Street.
I attempted to bring my visitors to Nom Wah Restaurant, the only place I knew in Chinatown for dim sum. The problem was- I couldn't find the restaurant while zig-zagging in the small streets of Chinatown.
Kay reads Chinese characters. I have a limited ability to do so. Mott Street was just around the corner from the Chinese herbal shop in Hester Street. We headed to the right just like the lady said and I began to look for the restaurant.
Tong Lai is actually Royal Seafood Restaurant. I would not have known if Kay was not with us. Royal Seafood Restaurant was a pleasant surprise- serving authentic dim sum for a fraction of the price in regular dim sum places in New York City.
I paid $22.75 for a pot of tea with four refills and 10 plates/baskets of dim sum for the four of us – my two friends, my son and I. With a tip of $5 our bill was only $27.75.
Sitting arrangements at Royal Seafood Restaurant
The dining room was packed with local Chinese and the head waiter used a microphone to direct "human traffic" to empty tables. All the tables were lined with pink tablecloths and chairs covered with yellow fabric.
We were escorted to a table with eight chairs and four were occupied. We were sharing a table with strangers. Three separate groups of diners were already on our table – a man eating alone, a woman eating alone and a couple eating together. Then there was the four of us.
The tea
Hot tea is essential when having dim sum. In fact the Cantonese people do not say "lets go for dim sum" instead they say "yum cha" which means drinking tea. Dim sum means 'touch the heart' and the dishes are served pan-fried, baked, steamed and deep-fried. Mostly served in bite-size on small plates or bowl and small bamboo steamers.
A pot of tea is shared among friends and family. Most restaurants give free refills for the tea. Once the teapot is empty, tilt the lid and the server will refill the teapot with hot water.
It is polite to pour hot tea for your guests.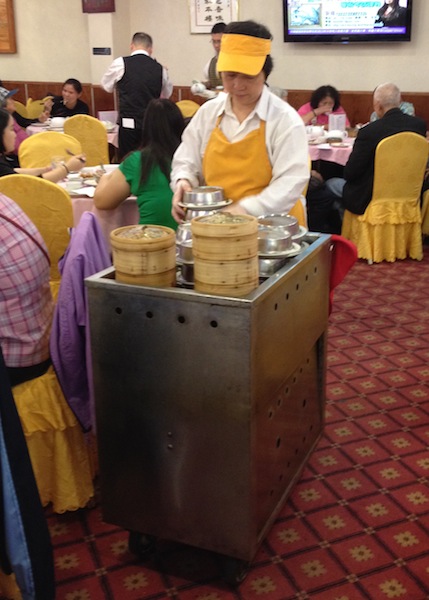 The bite-sized food
Royal Seafood Restaurant is one of the few places with pushcart ladies serving dim sum in New York City. These days in most dim sum places ordering is done through checking the boxes on a sheet of paper.
Salted egg custard buns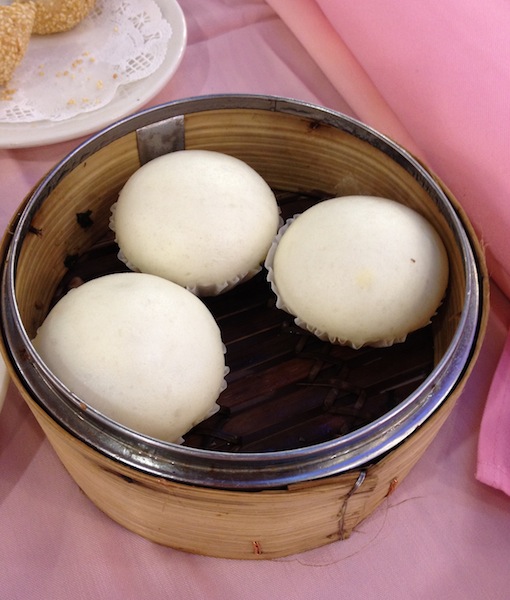 Kay introduced me to the "in thing" for dim sum - the lau sar pau (salted egg custard buns) also known as buns with oozing egg yolk in the middle. To me these buns tasted like the yolk of the traditional egg custards and the dough of the classic roast pork buns (char siu pau).
You have to be really careful when you bite into these buns. Nowadays only the best dim sum restaurants serve lau sar pau. Kay said lau sar pau can be used to determine the quality of a dim sum restaurant. The texture of the yolk is the litmus test.
Roast pork buns (cha siu pau) and steamed shrimp dumpling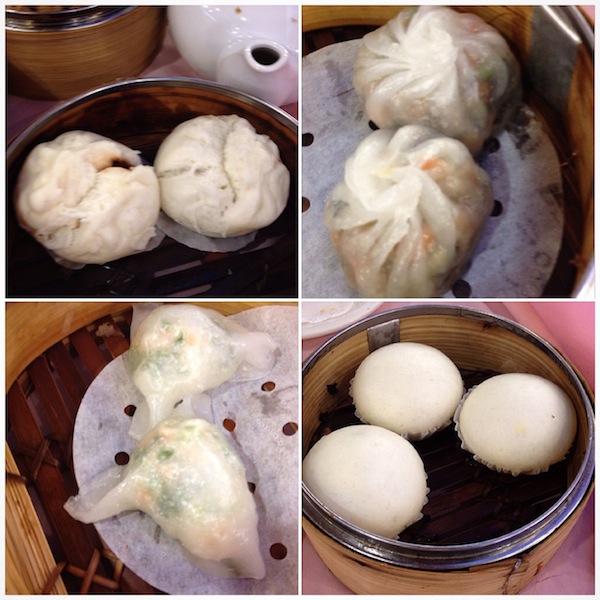 Roast pork buns are small and soft steamed buns filled with sweet slow roasted pork. The shrimp dumpling is a combination of shrimp and pork wrapped in a thin translucent dough. This thin translucent dough is also used for steamed chives dumplings.
Braised chicken feet, stuffed bean curds and turnip cake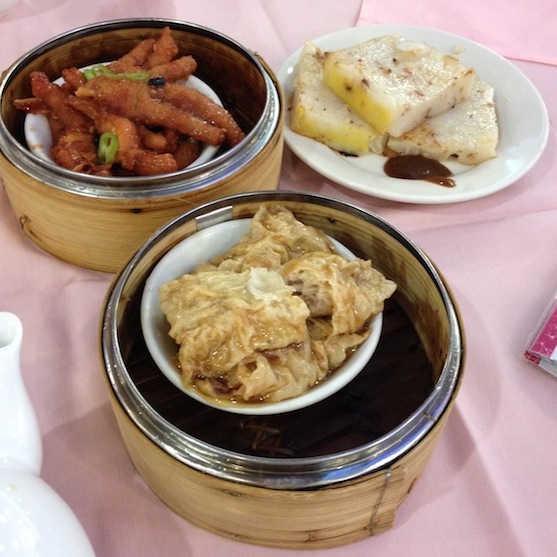 To me the best way to judge a dim sum place is through the texture and flavor of the braised chicken feet. Most of my friends including my children will not touch this dish. It is definitely a dish that requires courage and practice if it is not in your culture to eat chicken feet.
These chicken feet are deep-fried, washed in cold water and braised for hours before being served. Royal Seafood Restaurant's braised chicken feet are not the best.
Stuffed bean curds are shiitake mushroom, ground pork, bamboo shoots and black fungus wrapped in soft bean curd sheets.
Turnip cake is made of daikon radish, shrimp and Chinese pork sausage. They are steamed before pan-fried and usually served with a sweet sauce on the side.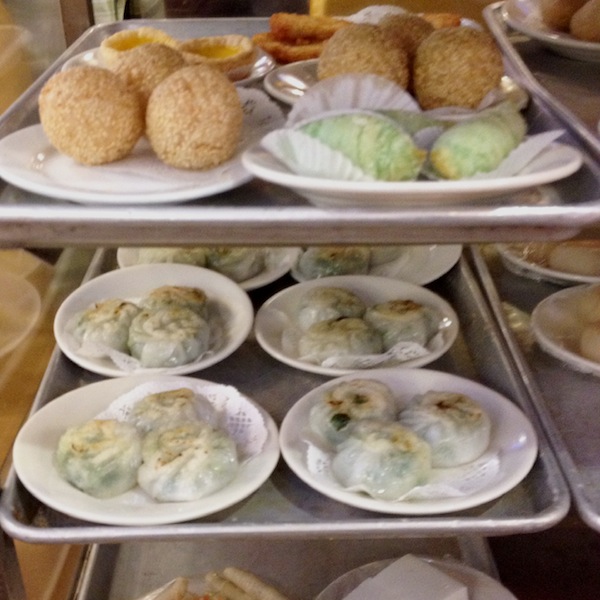 My recommendation
I would recommend Royal Seafood Restaurant if you like authentic dim sum and don't mind sharing a table with strangers and eating in a noisy place. This place will make you feel like you are in Asia. Most of the pushcart ladies do not speak English.
Location: 103-105 Mott Street, New York, NY 10013