If you visit Bali and you stay in a jam-packed hotel, sunbathe in an over-crowded beach and hear the constant sounds of cars horning, you didn't experience the real Bali - the tropical paradise of Asia. Worse yet, in some places like Kuta, you may have to sit in traffic for hours to get from Point A to Point B.
No doubt, Kuta has been popular for decades but this well-worn part of Bali will leave you wanting out if you are one who seeks a quiet paradise or an authentic piece of Balinese culture. Unless you are like my Singaporean friend and his family who prefer to be close to shopping, food courts and amusement parks like WaterBom Bali you would want to stay in Kuta. They stayed at the Hard Rock Hotel and loved it.
Where you stay will depend on your budget, interests, the number of people traveling and duration of your visit. You may want to read and get familiarized with the beaches and attractions available.
When I arrived in Bali, I had already stayed in AirBnB apartments for 245 nights with my husband and two teens. These experiences were so positive that when it came time to look for a villa, AirBnB was the preferred booking site.
Before I chose the AirBnB villa in Ubud, here were five things I took into consideration:
Price points of each accommodation
The number of people allowed in each villa/room/suite/apartment
Places of interest near the accommodation
Facilities/services available at the accommodation
Reviews of the accommodation
I've also looked at several luxurious resorts. If price weren't the issue, I would have chosen the Four Seasons Sayan in Ubud. A 2-bedroom villa at the Four Seasons for the four of us in December would cost $1,500 per night. It would be $10,500 for 7 nights not including taxes and meals. Even if I was offered a rock bottom price of $500 per night, we would pay $3,500 for 7 nights. And that's not including meals and taxes. So, the Four Seasons was out of the picture.
My second choice for a Four Seasons property in Bali was the Four Seasons Jimbaran Bay with ocean views and a spa. It cost almost the same as its sister hotel in Ubud. I visited and dined in both properties and would recommend both properties if you have the money to spare.
Four Seasons Sayan is located in Ubud - close to rice terraces, tropical forests and the Ubud cultural center.
The oceanfront property of Four Seasons Jimbaran Bay is a traditional Balinese village and is great for those who like to be right on the beach. It has an infinity pool, pool terrace café and a few restaurants. My dining experience was at the Sundara Restaurant.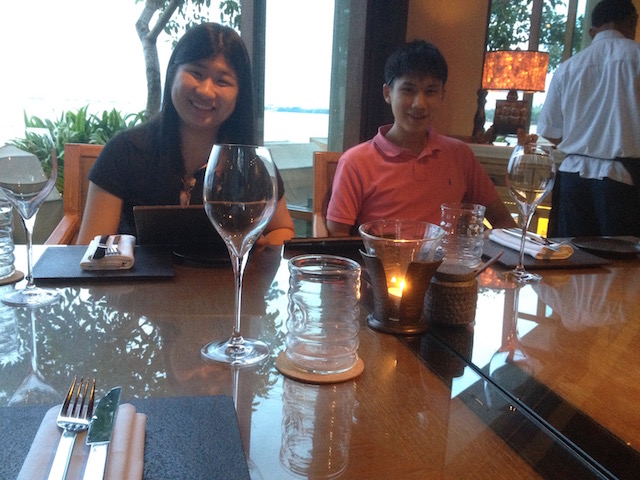 The hotel was ideally situated, but we faced one setback on the evening of our visit. We left Ubud at 5 pm and did not get to the resort until 7 pm because we were stuck in traffic for about one and a half hours in Kuta and Seminyak. That might be a problem for those staying at the resort and trying to get to other parts of the island during peak hours.
Staying in resorts like the Four Seasons can be pricey for families traveling with two children or more, and pricier when the kids are over 12 years old. Almost all resorts do not accommodate three or more people in a standard room. A family like ours would need to find a family suite or pay for two rooms.
The only way to cut on cost, have enough rooms for the four of us and to experience the authentic Balinese lifestyle was to be close to a village in Ubud. AirBnB was my go to place to fulfill all my travel needs.
My sister's family of four (with younger children) preferred the Sanur Beach Villas which is, close to shops, restaurants and calm beaches. This area is less crowded compared to Kuta. Find out more on Booking.com.
If you have been using AirBnB, you know you have plenty of options as well. What do you do and how do you choose the accommodation that is right for you?
I used the five things mentioned above and communicated with the host before confirming my reservation.
There were five AirBnB that I shortlisted:
Bamboo cottage in rural Sudaji, Northern Bali. The price was right, the host was prompt in her replies but I was not sure about the location. There were just a few reviews at that time. Now this property has 49 positive reviews.
A 2-bedroom villa in Kuta/Seminyak area. The host was prompt with her replies, however I made a decision not to choose this villa because I can feel the bad vibe through the photos and I didn't want to be close to Kuta.
A beach front villa located in Tejakula, Northern Bali, a great location to get away from everything. The biggest problem was the property did not have Wi-Fi.
Ocean front villa in Candidasa. This villa would be my choice if we were not working online. It didn't have Wi-Fi.
Elegance and charm villa in Ubud. (We chose this villa in Ubud).
We stayed at a 2-bedroom and 2-bath villa with a pool, garden and pond.
This is the review I wrote for the host (a French lady) on AirBnB.com:
We came to experience authentic Bali's lifestyle, culture and to be close to a village in Ubud. We had all that and more...
Dominique's villa offers that natural green living we were looking for. Which means there is no air conditioning and but there were lots of opportunity to enjoy the outdoor living spaces. We love spending time at the swimming pool and looking at the fish in the pond.
The villa has all the modern conveniences like constant hot water, clean sheets and clean towels. This villa even came with house cleaning service, mineral water and home-cooked breakfast.
Our family has stayed in AirBnb apartments/villas for over 150 nights (actually 245 nights) and this is the only one that provided breakfast.
If you are looking to get away from it all, pay a cheaper price for your accommodation than the hotels and want to be in Ubud, the cultural center of Bali- look no further. Of course it was hot and humid in the villa. After all this is Bali- the tropical paradise of Asia.
Dominique's team at the villa was very helpful. They are locals who showed us places that we would have never got to go to if we didn't stay in Ubud. We learned so much about the Balinese culture and lifestyle during our 7 nights stay.
Thanks to Dominique and her team- Wayan, Nyoman and Como.
The only thing missing in this villa is air-conditioning. I couldn't have asked for a better place to stay. It cost $754 including daily breakfast and all AirBnB fees.
If you would like to try AirBnB, here is a $25 coupon from me. Try it out.
I have not had a negative experience in my 252 nights with AirBnB in South America, New York City, Iceland and Bali. Like everything else, there are always going to be a few bad apples. Choose wisely.
Disclaimer: Some links are affiliate links meaning I will get paid a little if you decide to use it. Thanks!