Somewhere away from all the souvenir and duty free shops, in the middle of town was Josefina's blue and white house. For USD7 the cab driver took us to her front door. It was about six blocks from the waterfront where the cruise ship docked.
We discovered Cocina con Alma through Fodor's Mexico Guidebook where they recommend readers to check out cozumelmycozumel. The cooking class is USD69 per person with a trip to the local fresh market, hands on cooking class and a meal with Josefina...sharing the food we made together.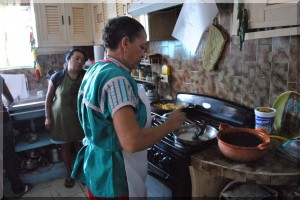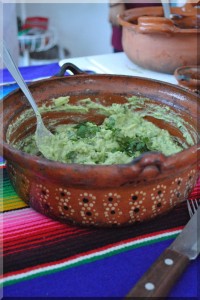 We met up with five other travelers for the class and made a vegetarian meal that consisted of guacamole, refried beans, empanada, tortilla, queso fresco, nopales, Mayan pumpkin, red and green salsa and the all important Mexican drink called Margarita.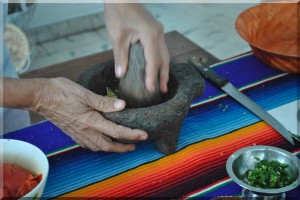 According to Josefina, Somalia and other parts of Africa will not have famine if they plant nopales, the edible cactus. Nopales thrives in arid land and is full of calcium, vitamins and minerals. Josefina has the ability to teach and explain the different food and method of preparation clearly to all of us. She is an experienced teacher who taught French for over 30 years and has lived in Paris and learned the art of cooking.

Our three hours with her was invaluable. We get to go with her to the fresh market (outside tourists area) learn Mexican culture, spend time with her three Mayan helpers, have her secret recipes to authentic Mexican dishes and enjoy a glass of Margarita.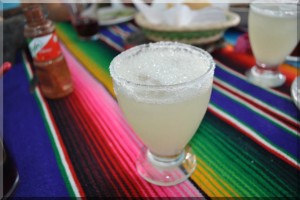 Cozumel is not about the water and sun alone...as we walked along the streets in the heart of the island, we saw an elementary school where a teacher was teaching English. Cozumel authorities knew the importance of English because of tourism. Just one day, there were five cruise ships sailing into Cozumel, that is about 15,000 tourists in a day.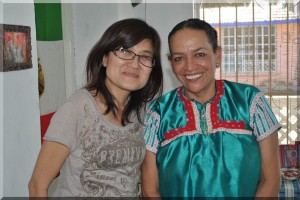 We will be sharing a video on our trip to the fresh market and tortilla making shop with Josefina next week...hasta luego!
Got feedback? Please leave your comment below. We love to hear from you.