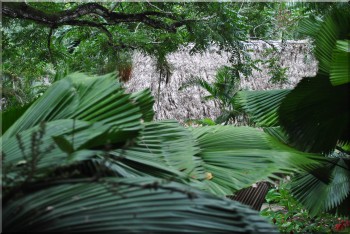 The sign on the right said The Lodge at Chaa Creek and Joe made the left turn and instantly we were on  dirt road. Back to nature...love it! Travelers come from all over the world to escape from the hustle and bustle, unwind and explore living creatures like birds, wildlife and butterflies and smell the hundreds of species of plants in their natural environment.
Right in front of us was a covered area with seats and a place where visitors can unload their luggage from the vehicle. While sitting we looked up and saw an old bell.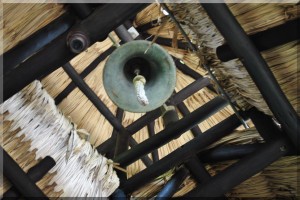 Scanning around the area we sense luxury and attention to details...you don't have to rough it out in this lush green natural jungle environment.
As we walked on the pathway to the Reservation Counter, Ben appeared with a big smile. Greeted with an iced cold lime juice and a towel soaked in peppermint for each of us…the welcome was heart warming at The Lodge.

Peppermint….how refreshing…we use peppermint essential oil at our home.
He was going to give us a whirlwind tour of The Lodge after lunch. We had less than two hours….pointing to us the new infinity pool. As we moved along quickly, this quiet 365 acre private reserve is an open-air restaurant under a big palapa.
What is a palapa?
It is a thatched roof, non enclosed structure, like a tiki hut made out of bay palm leaves.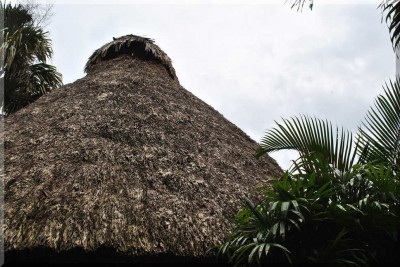 The restaurant was absolutely stunning…it was like dining in a tree house. At one area of the restaurant you could practically touch the leaves on top of a tree.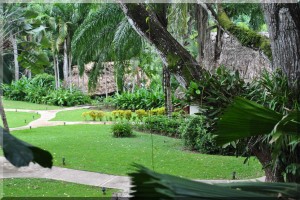 It had beautiful earthy decorations like ginger, dragon fruits, bananas, drums and lamps…very eco-friendly indeed.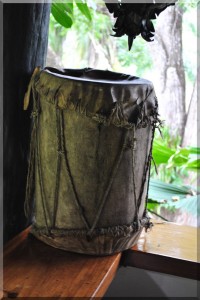 There was an indoor and outdoor sense of freshness and laid-back feeling in this place. A gentle breeze flew by on this humid hot afternoon. With just ceiling fans, it was enough to cool us down. We thought it was really homely with Ben's dog, Foxy, coming to say hello to us as well.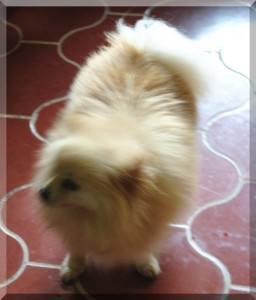 No visit to a country is complete without trying the local cuisine. Food tells us about the culture and the heritage of its people. Belize being multi-cultural with Caribbean, Mayan, Creole, British, Mestizos, Chinese and Lebanese influence sure brought lots color and mixture into their cuisine.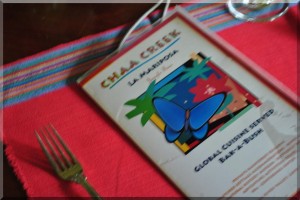 Browsing through the menu it was hard for us to just point to one particular dish that we wanted to try. With just one meal in Belize, we had to choose carefully. Not going to the path of French fries and burgers for this meal, we decided on two orders of Belizean pork chop,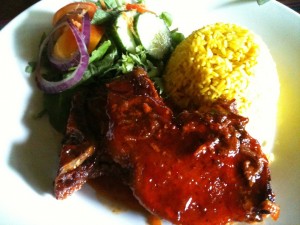 one order of jerk chicken and one order of veggie burger (the odd one from one of us who loves burgers).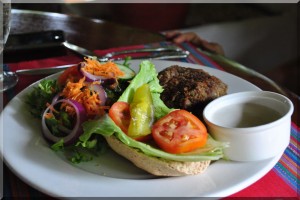 Let me tell you, the Belizean pork chop and with its unique salad dressing was the best flavored pork chop we had ever tasted….possibly the next experiment in our kitchen (see the recipe here). It carried a taste of its Caribbean roots and its colonial heritage.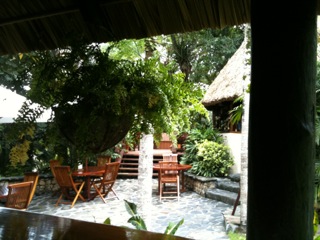 Time was our scarce commodity in Belize, so the Belikin beer or the signature cocktails from the bar (also under a big palapa) next to the restaurant was out of our agenda.
Until next time….
Got feedback for Travel Writing Pro? Tell us your thoughts. Please comment below.