It's an hour flight from Jakarta to Yogyakarta. Yogyakarta, also known as Yogyakarta is the gateway to Borobudur, the famous 8th and 9th-century Buddhist temple in Central Java.
The flight was only $34.96 per person including baggage fee and all taxes. The Air Asia all-in price was a pleasant surprise. Here is a screenshot that shows the same price that I paid for our air tickets:
Airfares between Jakarta and Yogyakarta are quite constant throughout the week unless there is a major holiday in Indonesia. The baggage allowance is 15kg (about 33 lbs.) to qualify as complimentary for all Indonesian domestic flights.
Lion Air, Batik Air, Citilink, Sriwijaya Air and Garuda Indonesia are some of the airlines that fly between Jakarta and Yogyakarta. Lion Air has the same airfare as Air Asia. The most expensive is Garuda Indonesia at around $75 per ticket each way.
All passengers have to walk up the airstair to board the Air Asia flight in Jakarta airport. On arrival at Yogyakarta Adisucipto International Airport (JOG) you will need to take the airstair as well. There are no boarding tunnels in both airports for Air Asia.
Trains from Jakarta to Yogyakarta
Trains are available daily from Jakarta Gambir station to Yogyakarta in four different classes, and the prices range from 260,000 Rupiah (about $19) to 430,000 Rupiah (about $32). The earliest train leaves Jakarta Gambir at 8 am and arrives in Yogyakarta at 3:35 pm, that's a seven hour and 35 minute long ride. Take a look at the screenshot of the train fares for the first train leaving Jakarta at 8 am taken from Kereta Api Indonesia.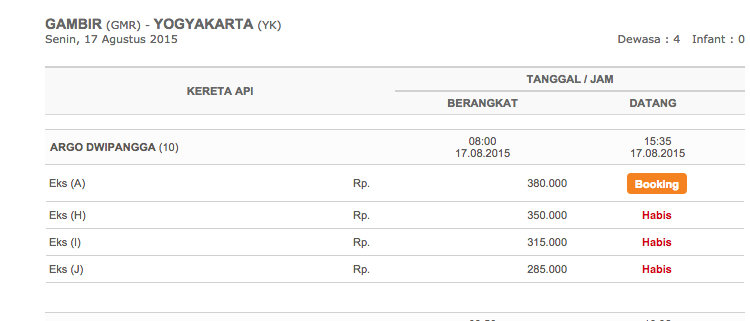 Note: The website is only in Bahasa Indonesia. Habis means not available, berankat (depart), datang (arrive), dewasa (adult) and kereta api (train).
I highly recommend a visit to Yogyakarta if you are already in Jakarta. Find out why in the next posts.