Would you book a hotel solely by reading reviews from past clients? And will you question the quality of the hotel because of the low price?
The reviews and price were the tipping points for me when I was looking for a place to stay in Yogyakarta. December was the raining season in Yogyakarta, meaning there would be fewer tourists. Typically room rates drop during low season.
I paid $210 in total for two rooms with breakfast for three nights at Rumah Mertua in Yogyakarta. One standard room with a shared porch and one superior room with a private porch. When doing the math, I calculated that it had cost $15 per person per night which included an air-conditioned basic room with a private bathroom, full breakfast and all taxes - a price hard to beat.
Rumah in Bahasa Indonesia means house and mertua refers to the in-laws. Rumah Mertua is the in-laws house. This 11-room boutique hotel has an iron gate in front of the wooden house, an in-house restaurant, outdoor swimming pool, garden and Javanese décor.
One unique feature of this cozy house is the walkway crossing a little indoor stream from the front portion of the house to the restaurant and beyond.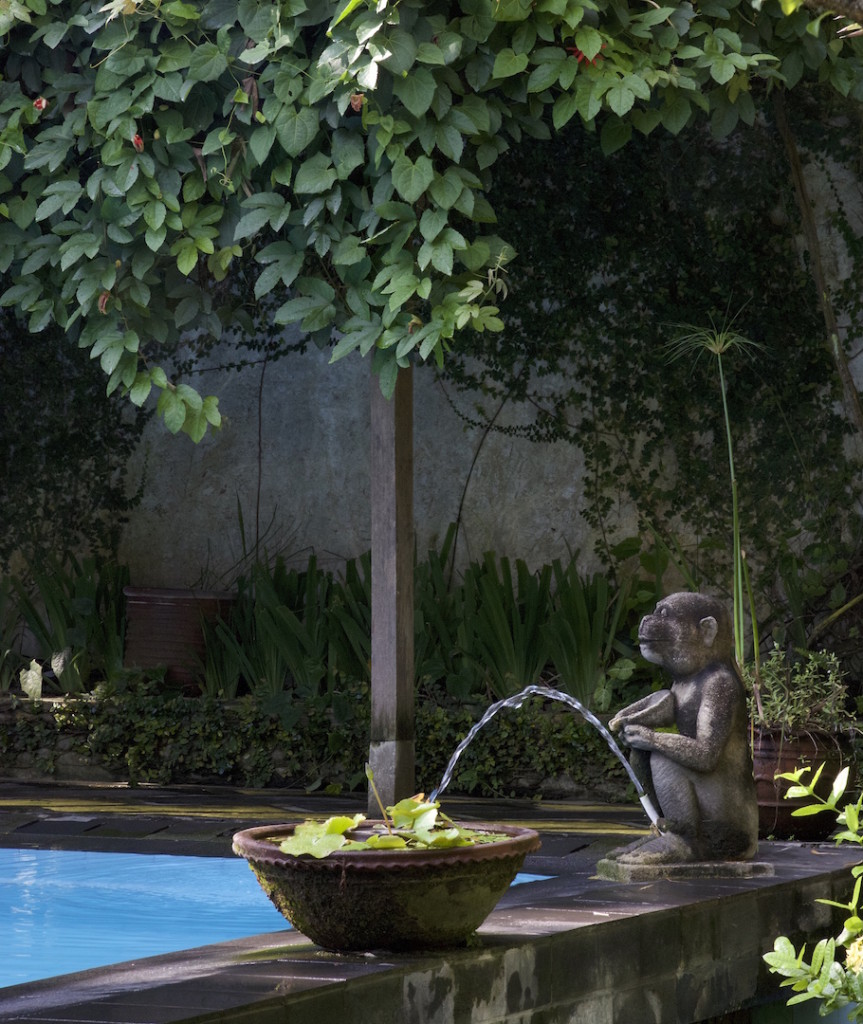 All areas of the property were not air-conditioned except the rooms. The rain stopped us from utilizing the outdoor pool. The in-house restaurants served delicious breakfast and dinner. We loved the food so much that we stayed for dinner for the three nights we were there.
For example on the first night we had Indonesian Rijsttafel, an introduction to East Javanese cuisine. Rijsttafel is a Dutch word for rice table. Here on our table were 12 different local dishes – keropok, fish, chicken and beef sate (skewered meat), acar (pickled veggie), spiced beef, fried vegetables, fried coconut, peanuts, tempeh (Indonesian tofu), tofu, mixed veggies, noodles and a big bowl of rice.
This meal for four was $26.50.
The next dinner consisted of pineapple rice, stir-fried local vegetables, nasi goreng (Indonesian fried rice), chicken dish and white rice. Price $22.90.
The third dinner was $22.45. We had the same fried noodles in addition to two local dishes shown below:
Sit down complimentary breakfast was available in our room package but we only I had it once. On the breakfast table were mee goreng (fried noodles), a variety of Indonesian kue (local cakes) made of glutinous rice and flour dough. Coffee and tea were unlimited.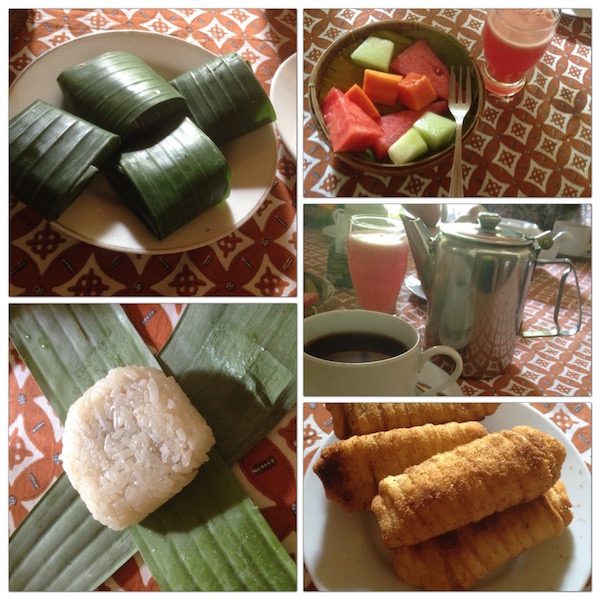 On days when we couldn't have sit-down breakfast, we ordered simple toast and butter with jam to go.
For transportation, we reserved round trip airport transfers in advance. The hotel organized our private Yogyakarta city tour and full day Borobudur tour. The only setback about this hotel is its location. You can't explore the city unless you have a vehicle or hire a private driver from the hotel.
I would recommend Rumah Mertua if you like:
Staying in an authentic West Java-style hotel
Eating delicious Indonesian food
Saving money
Receiving friendly service and top notch hospitality
Drinking complimentary coffee or tea all-day
Swimming in an outdoor pool surrounded by tropical plants and fruit trees
I reserved the room with booking.com and you can too here. After making a reservation, Rumah Mertua contacted me directly to reconfirm and to have my credit card number on file.
To find out more about Yogyakarta and Borobudur come back for few posts.