When in St. Petersburg, the Imperial City, treat yourself like a king or queen. Stay in a palace – a 19th-century palace converted into a hotel, The Four Seasons Hotel Lion Palace St. Petersburg Russia.
This luxurious hotel was once the home of Princess Lobanova-Rostovskaya, the wife of Prince Alexey Lobanov-Rostovsky. He was a diplomat, writer, art collector and a close friend of Tsar Alexander I. The palace was gifted to his wife in 1817 with the intention of housing luxury apartments in the city. It was designed by French architect Auguste de Montferrand, the same architect that built St. Isaac Cathedral.
The Four Seasons Hotel Lion Palace St. Petersburg is at a prime location. It is located next to St. Isaac Cathedral, across the street from Aleksandrosvky Garden,  a 3-minute walk from The State Hermitage and Dvortsovaya Square, less than a 10-minute walk from the Neva River, a 10-minute walk from Nevsky Prospekt and a 15-minute walk from The Mariinsky Theatre.
On arrival at the St Petersburg Pulkovo International Airport, Ivan from the Four Seasons met us at the arrival hall. I was glad I arranged for the hotel pick-up service because it was a hassle-free nine-mile transfer from airport to the hotel. I highly recommend you do the same if you don't speak Russian.
At the entrance of the hotel were two white marble lions – symbolizing protection, nobility, and strength. These lions appeared in Pushkin's 1833 poem called The Bronze Horseman. They were the works of an Italian sculptor and were meant to emulate those from the 16th-century Villa Medici in Rome. We entered a majestic building with white and gold ceiling and beautifully restored carpets and walls. The palace was used as the headquarters for the Ministry of Defense from 1827-1917 and as a hostel, school and architectural bureau during the Soviet Era.
At the reception, we were greeted by staff who spoke flawless English. Immediately after identifying ourselves, we were escorted to our rooms on the third floor. The third floor looked like a maze and we were told many guests found it hard to find their rooms on their first days. We were lost several times in that maze. Our assigned rooms had views of St. Isaac Cathedral.
All paperwork for check in was done on a tablet in our rooms. By 8 am, we were checked in and were ready to catch up on our sleep. Prior to going to St. Petersburg we were in Reykjavik and took a four-hour red-eye flight from Reykjavik to St. Petersburg.
Some of the features of the rooms (we had a premium room and a deluxe room for the four of us) were:
View of St. Isaac Cathedral
Prime location
Superior service
Quiet even with tour buses surrounding the cathedral
In-room fast Wi-Fi
Complimentary water ( at least 4 bottles in each room daily)
An Illy espresso machine and Illy coffee with two exclusive Kiki Smith espresso cups
Complimentary tea and special snacks delivered to the rooms at 4 pm
Embedded flat screen TV in the mirror in the bathroom
Marble bathroom with a soaking tub and separate glass enclosed rain shower
L'Occitane bath amenities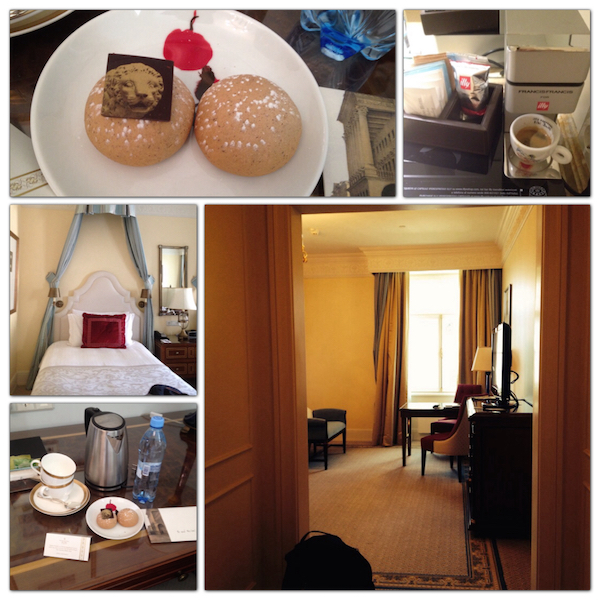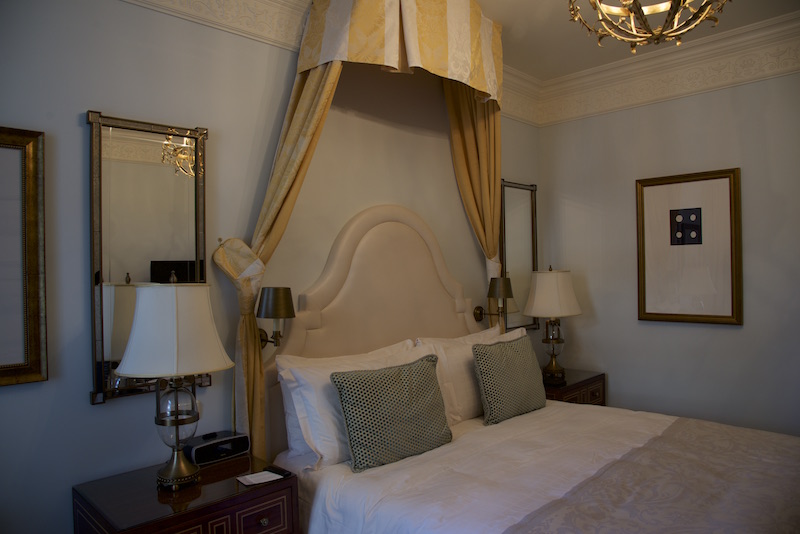 The standout architectural aspects of The Four Seasons Hotel Lion Palace St. Petersburg are the hotel's grand staircase, the corridors, moldings and ceiling in the lobby and reception area. Our favorite place was The Tea Lounge in the inner courtyard with a newly created glass roof.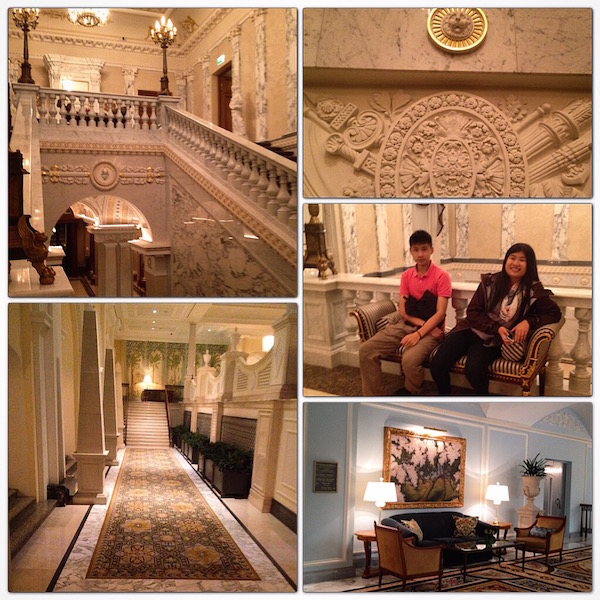 We had our afternoon tea and breakfast at The Tea Lounge. The Tea Lounge had natural light, greeneries and was fitted with green and yellow upholstered chairs and benches. We loved the professional and knowledgeable service provided by Ekaterina during our tea time.
The afternoon tea came with champagne for two adults and individual teapots for the four of us. We were introduced to the Russian blini or pancakes, assorted tea sandwiches, baked scones and miniature pastries.
Breakfast at the Four Seasons Hotel Lion Palace was the most expensive breakfast we have ever had in a hotel. It cost about $65 per person (not including tips and taxes). It was a hearty breakfast buffet. The ruble to USD conversion rate at that time was at $1 to 38 rubles.
We did not have lunch or dinner at the hotel.
To relax, I recommend soaking in the indoor triangular vitality pool located on the Spa's top level of the four-level spa facility. This enclosed pool has a glass atrium roof and lounging chairs. Occasionally the attendant came by and asked if we would like a glass of a cold fruit infused drink or hot tea. This adult-only (16 years and above) pool has a waterfall at one edge and the pool is fitted with moon stones and a hydrotherapy circuit. We were the only ones at the pool and had full control of the power of the jets in the pool.
Side notes if you don't dress like one that stays at luxurious hotels:
A doorman at the property looked confused when he saw four travelers with backpacks and running shoes going into the luxurious hotel. I guess he must have expected suits for the men, or at least, sports jackets for my husband and my then 16-year-old son.  And he probably expected big rolling suitcases for my daughter and I, but instead we traveled light and went only with backpacks. We were on our way to Siberia on the Trans-Siberian train from Moscow to Irkutsk and then onto the Trans-Mongolian train from Irkutsk to Beijing. There was no way any of us would be carrying bulky suitcases and wearing fancy clothes.
Note: For reservations check out my booking.com affiliate link. We do not receive compensation for writing this article. We received a discounted rate for our rooms (not the meals or transportation) at The Four Seasons Hotel Lion Palace St. Petersburg Russia.
Have you been to St. Petersburg Russia? Which was your favorite hotel?