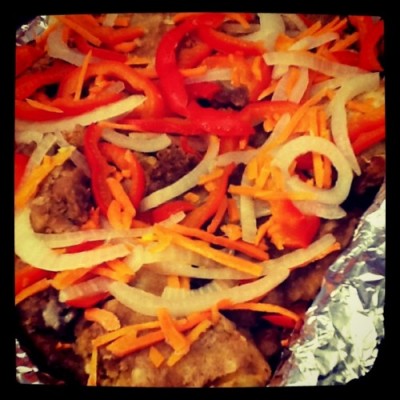 As I walked into Ms. Holly's house, I felt a particular connection. It was like walking into my parents' home. The aroma of spices filled the air instantly and there were photo frames, memorabilia from her hometown Negril in Jamaica, artificial fruits and flowers on walls, tables and shelves and the certain island feeling of warmness in every corner of her home.
After the initial hugs and greetings, we were ushered in to the back porch where Mr. George, Ms. Holly's husband, was chatting away with a group of men. We felt as if transported to another country. It's been a while since I felt so homey and hospitable in a gathering place. We hardly knew Ms. Holly and George. We were invited as a family to a Jamaican lunch, along with friends and first generation immigrants from St. Maarten and the Philippines. Some were accompanied by their American born spouses.
Each of us have our own mother tongue but speak a common language…English, with all sorts of accent…none sounds particularly American except the children.
Not knowing what to expect except jerk chicken and curry chicken, Ms. Holly began to talk about all the food she had prepared. Somehow, there were still some American snacks around an immigrant's home. There were the usual potato chips, dips and fruit and vegetable platters on one table. The kitchen island was filled with food warmers, cutleries and plates.
With her permission, I took some photos using an iPad as she brought out the prepared food from the oven. Here is the jerk chicken, curry chicken, rice and beans boiled with freshly grated coconut, beef ribs, cabbage cakes, plantains and much more that I had no time to take as she invited us to feast.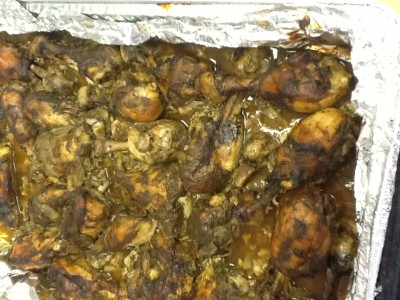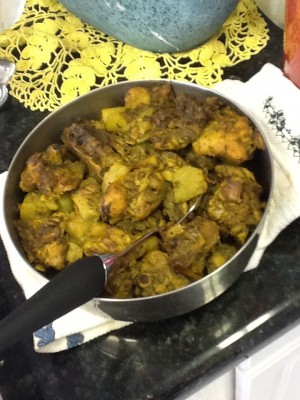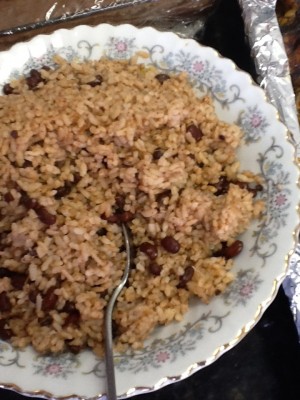 I'm an immigrant just like Ms. Holly, though she is a little older and from the island of Jamaica. Somehow, there seems to be some similarity when first generation immigrants get together.
One of the top similarities - we serve food in abundance to our guests. We want them to feel welcomed with our best authentic home cooked food. Usually the amount cooked would be five times more than needed.
Second, we make sure our guests have a doggy bag of food to bring home. They can eat them again the next day or bring lunch to work.
Third, we will ask our guests to have refills. "Man, eat more, there is more here!", "Would you like to try this too?". We will serve and be attentive to our guests' needs.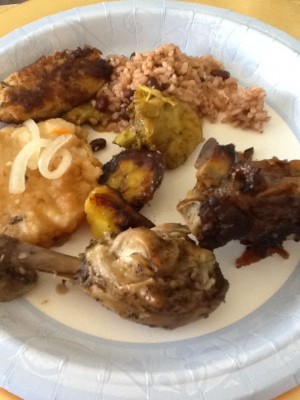 Fourth, we talk about our places of origin, our travels. In this case Ms. Holly talked about Jamaica and the different fresh fruits and vegetables.
Last but not least, we will bring out all the photographs of our children, grandchildren and friends. We will brag about their great academic achievements and athletic and extra curricular activities.
It is just like 'home'…home in this case for Ms. Holly is Jamaica.
America is a beautiful country. People groups from all over the world immigrated to this prosperous country. Despite the gloomy economic report, people are still coming. 
Other than Native Americans, all of us are products of immigrants. I'm a first generation immigrant. In the last 21 years, I've lost a lot of my original culture and habits and have formed a new habit…the American way of life. 
Indeed it was good. I believe immigrants should embrace the culture of the country they call home. Yes, we still celebrate our heritage and ethnic cultural food and great teachings of our parents. For the most part, we are Americans.
As we said goodbye and conveyed our gratitude for a wonderful meal, Ms. Holly asked, "anyone need more food to bring home?" Here came my husband with his hand up and quickly walked to the table and grabbed a huge plate of food for his lunch for work.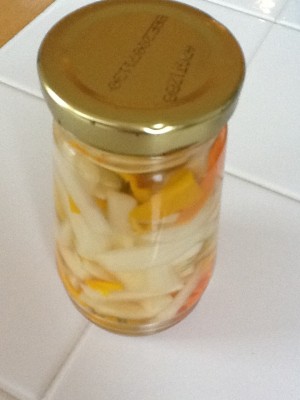 Mr. George, being his best buddy now (there is probably a 25 years age gap between the both of them) tucked into his arm some little special Jamaican pickles as a gift for home. As my husband walked away, Ms. Holly asked, "What is that in your arms?"
Finally she realized Mr. George had been laboring in the kitchen, making a jar of pickles for his new found friend, my husband. The Jamaican hospitality was felt in this home.
If you have never been to Jamaica or the islands, surely there is a neighbor, coworker or friend out there who has Jamaican heritage. You might be able to get a taste of Jamaica without needing to fly there.
Understanding and embracing other cultures is important for our existence in this melting pot called the United States of America. We are each unique and called to serve and respect one another. How about your experience? Please leave your comment below.