The word macet may not mean anything to you and me but for an expat or an Indonesian living in Jakarta, that word is tied to frustration, stress, inconvenience, hopelessness…or get me out of here!
During my three-week stay in Jakarta, I did not walk on the sidewalks of Jakarta or take the public transportation. It was the only destination in my entire journey around the world where I was driven by a driver from place to place in a private 4x4. Not because I wanted to, but I had to. It saved me a lot of time when I was getting from place to place in Jakarta.
Every intersection in the street was filled with motorbikes, cars, buses, minivans and bajaj (three-wheeler taxis). At times, nothing seems to move except for the motorbikes and the occasional bajaj.  Bajaj seemed to be the fun and fastest way to travel, but they aren't available throughout the city.
Ojek or motorcycle taxis are also in demand in Jakarta since motorcycles have a better chance of getting around gridlocked streets.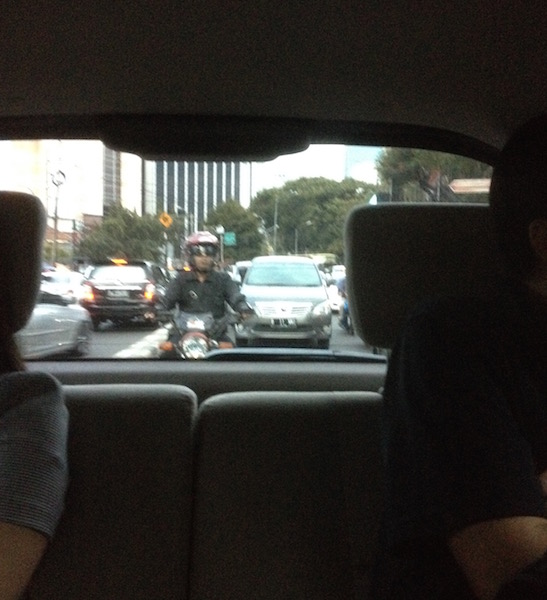 Packed non-air-conditioning commuter buses were stuck for hours with commuters looking tired and uncomfortable in 90 degree heat and humidity.
Most of the time I sat in traffic in the air-conditioned vehicle and just watched the vehicles and people in the minibuses. In my observations, many parts of Jakarta's road systems are in need of repair and expansion, drivers who were in a rush and did not obey traffic rules made it difficult for everyone. The city was filled with millions of motorcycles, which can be hazardous as they zigzagged through the lanes and between cars.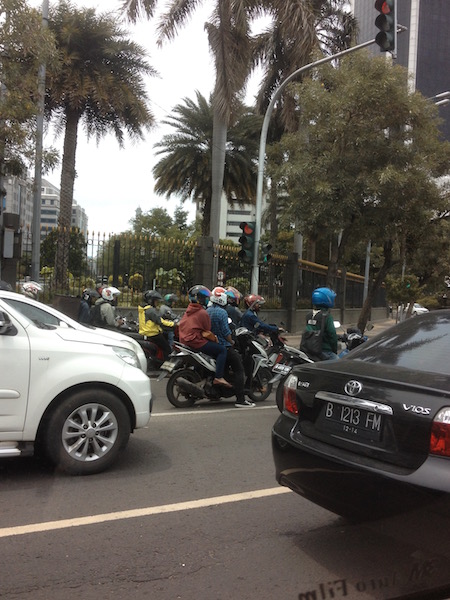 Every trip can be a nightmare if not planned. It took over two hours just to get from South Jakarta to Monas (National Monument) in Central Jakarta.
Expats and over 10 million residents struggle each day to get to work, home, school and shops. My sister's family plan their daily activities around the traffic jams. They had to plot out the time and also have alternative plans for the kids to go to school, my brother-in-law to get to work and other activities. Their daily activities are based on when and how the traffic is going to fair for the day.
It wasn't a surprise to me because my sister had given me fair warnings. At the same time, Jakarta Post reported that the city ranked as having the worst traffic in the world. The city also ranked the highest number of stops and starts – referring to the vehicles' average stops and starts made per kilometer within each city.
Have you been to Jakarta?