You may not think you are a shopaholic, but when you're in Bandung, it's hard not to get caught up in the appeal of the city. Tourists from all over Indonesia and from neighboring countries, especially from Singapore and Malaysia flock to Bandung for only one thing – shopping.
Bandung, known as Paris of Java by the Dutch, has around 70% of Indonesia's textile industry. The industry creates an abundance of factory outlets carrying affordable designer goods; factory rejects and surplus merchandise. Sisa expot is the word used by locals for surplus or export leftovers. So the stores, selling affordable designer products, are the top attraction to the city.
Don't be surprised to find bargains with name brands like Burberry, Zara, Marc Jacobs, Nike, Armani, Gap, BCBG, Old Navy, Scotch & Soda, Kate Spade, Calvin Klein, Lora Febian, Benetton, Roxy, and Reebok.
Factory outlets began in Bandung in mid-2004 and according to Jakarta Post "Grade A are the best quality overruns and Grade B are in good quality but are factory rejects products."
I was told to be aware of the fakes among the genuine. How do you know if you are not familiar with the real? I don't think most of the shoppers care or see the difference. I am not brand conscious and could care less if I wear a Burberry or a Gap or a no-brand shirt. But I do care if a company copies the genuine and sells the fakes as real products.
That aside, I spent a total of $80 in Bandung. I was able to discard some of my travel clothes and replace them with a few good looking pieces for our journey to Bali and New Zealand after Java. Inside my shopping bags were two no-brand summer dresses, one no-brand yoga pants, one Lora Febian cardigan, one Kate Spade cardigan, one Indonesian batik print sleeveless T-shirt, one tights with a Japanese label and one Made in Cambodia Merona (one of the brands carried by Target) swim cover-up dress.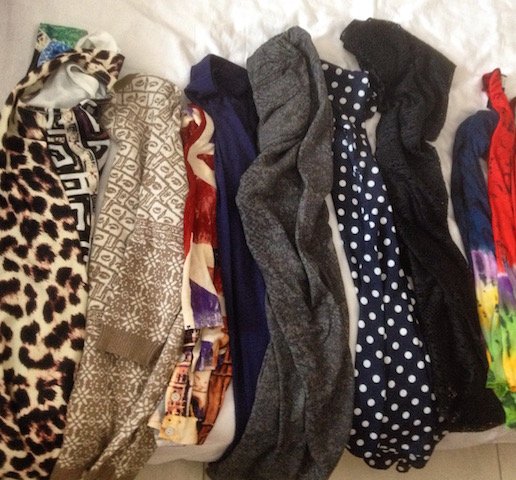 You will find a few pieces of garments labeled Made in Cambodia, Made in Vietnam and Made in China in the outlets.
Food souvenir shopping is vast in Bandung too. Get to one of the Oleh Oleh shops – local snack shops or a bakery factory outlet like Kartika Sari. In Kartika Sari, we bought cheesecake and snacks made of local cheese. Try lapis legit (thin layer cakes), almond cookies, bagelen keju (a type of cheese cookies) and brownies.
Bandung offers more than just shopping outlets along Jalan Riau, Jalan Setiabudi, and Jalan Dago. This West Java capital city has the old colonial buildings, angklung (a traditional bamboo musical instrument) performances, tea and strawberry plantations, Sundanese cuisine, and natural wonders like the Mount Tangkuban Parahu and Kawah Putih's crater.
Getting to Bandung from Jakarta:
The drive was around three and a half hours each way. We took the trip with a private driver. The duration would depend on the traffic condition for the day. My sister, who is an expat in Indonesia recommends a day trip on weekdays. Try to avoid weekends and Indonesian public holidays.
Some of the outlets we visited:
Rumah Mode
Rumah Mode was my favorite because of several reasons:
1.You have several cafes and restaurants for dining at the location. Authentic and delicious food and high-quality espresso at Java Bean Coffee and Resto.
2.Clean toilets.
3.Pleasant shopping environment.
4.Variety.
5.Great price.
6.Beautiful buildings, park-like area with green plants and fountain.
7.Benches to sit and rest.
Location: Jalan Setiabudi 41 Bandung.
The Secret
The Secret is smaller than Rumah Mode; it had the best selection of dresses and batik.
Location: Jalan Riau 47, Bandung
Oasis
Oasis carried a large selection of T-shirts during my visit, especially men and kids T-shirts. We didn't buy anything here.
Location: Jalan Riau 51, Bandung.
Summit
Summit had almost similar clothing like the rest of the outlet stores. We didn't purchase anything here.
Location: Jalan Riau 61, Bandung.
Heritage
Heritage was another of my favorites because of the selections, and it is adjacent to a Mall with local brands and friendly and professional-looking sales associates. Heritage had good Wi-Fi and a few restaurants.
Location: Jalan Riau 63, Bandung.
Bali Heaven Outlet
Unfortunately, Bali Heaven Outlet and Café Bali were under renovation during our visit. The only part of the outlet was opened, and we were able to find yoga pants there.
Location: Jalan Pasirkaliki 1985-189, Bandung.
Sundanese Food and Culture in Bandung
While having dinner at Warung Cepot Restaurant at Jalan Pasirkaliki 96, the locals pointed and explained about the few decorative pieces at the restaurant.
Angklung – musical instruments in various sizes made of bamboo tubes attached to bamboo frames. It is a Sundanese (West Java) instrument designated by UNESCO as an Intangible Cultural Heritage of Humanity in 2010.
Indonesia.travel described it as two to four bamboo tubes suspended within a bamboo frame, bound with rattan cords. It was a  religious and ritual instrument to invite the goddess of rice or prosperity to come down to earth and give fertility to the crops.
Congklak also known as Mancala in other parts of the world is a traditional Indonesian game.
Wayang Golek or wooden puppets are the theatrical play of the Sundanese in West Java. According to Indonesia.travel, these wooden puppets are connected to rods and the Gamelan orchestra, singing, and epic storytelling usually accompanies a performance.
On the table were sate kambing ebu (lamb), sate ayam (chicken on skewers), oseng kangkung (vegetables), ayam bobolokot kecap (soy sauce chicken) and rice.
I recommend the authentic Sundanese food at Warung Cepot for its range of dishes, authenticity, and price. The restaurant offers free side dishes like keripik (thin crackers), kerupuk banjur, soup, and sayur asem (salted vegetables). Note that the restaurant is outdated and dark and major updates are needed to make the place look a little pleasant.
Join a Bandung shopping tour. Click on the photo below for additional info: