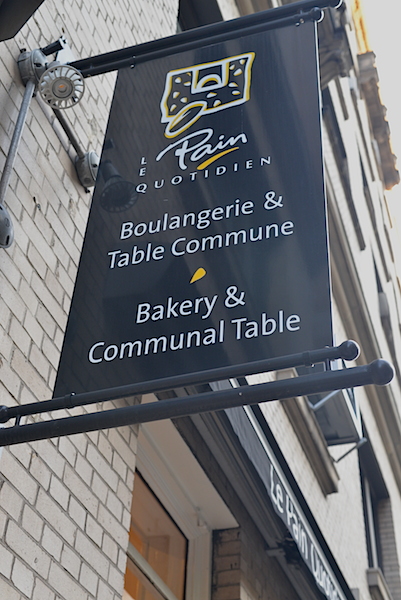 New York City easily ranks as one of the world's top culinary destinations. From street food and ethnic food to famed Michelin star restaurants to health nut joints, diners or foodies alike can take delight in the variety of food every single day.
Whether you are a tourist or a local, a transient or expat-whatever you dream of eating, there is sure something for you in NYC. Even if you feel a little homesick and desire warmth and a welcoming place to regroup after a long day of sightseeing or shopping- it is relatively easy to find one that suits your needs.
If you crave for a cup of warm coffee and your companion prefers tea or wine in a neighborhood restaurant, you will find Le Pain Quotidien in 83rd Street Upper East Side New York a place to let your guard down.
In the middle of the dining room is a long and narrow communal table with low hanging lamps with dim lights shining on the candles, olive oil, salt and pepper shakers. One can't help but feel welcomed instantly at the long communal table with strangers around the table. Every Le Pain Quotidien in the world has a communal table made with the likeness of their first communal table on Rue Dansaert in Brussels. The first was made of salvaged wood from the floors of old Belgian trains.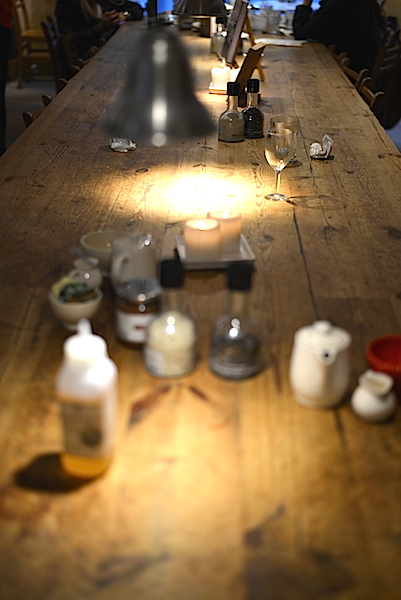 The smell of fresh brewed coffee and freshly baked bread and pastries filled the air. One older man sat at the head of the table eating his sandwich with a glass of wine. In the middle of the table was a young man with his newspaper spread across the table, a bowl of soup and a plate of salad. It was like a family and friends gathering place.
We were a party of six sitting across each other and not bothered with the three strangers at the same table. About 15 diners were seated on small tables around the room – all engrossed in their own world –either in reading or engaging in conversation with their companions.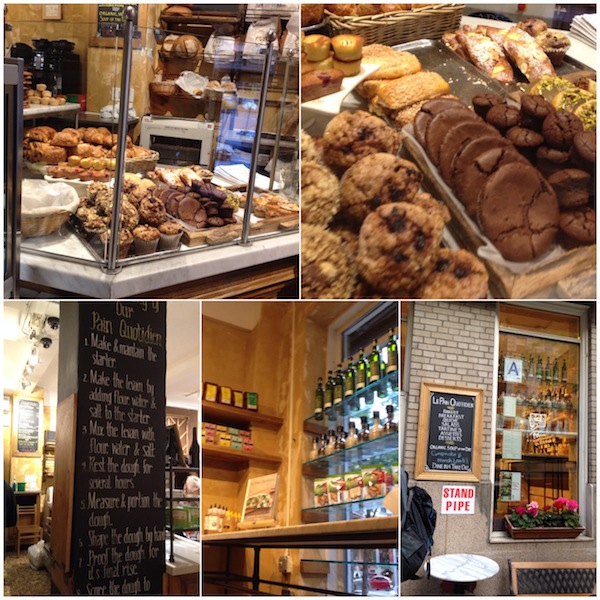 One wall near the cashier had a chalkboard with bread recipes, with words like "make the levain", "mix the levain"—what is levain? Came to find out it is a type of natural yeast culture use in Le Pain Quotidien. Levain slowly matures and brings out the tangy flavor of the hearth-style breads, unique to Le Pain Quotidien.
Breads are freshly baked everyday in the store with whole wheat flour, starter, and water, salt and time as their 'main ingredients.' The starter in Le Pain Quotidien bakeries is almost 50 years old. Each bread requires eight hours of patience and skill to bake.
Read more about levain here.
For the health conscious, Le Pain Quotidien serves organic wine with less sulfite like the Naked Earth Languedoc Chardonnay. A glass costs $9.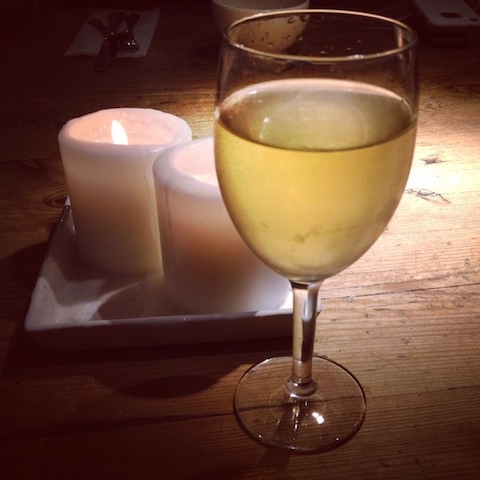 Coffee and tea are served in individual pots with cups that look like bowls. They look like Japanese soup bowls. Most are whites but occasionally you may get a red cup.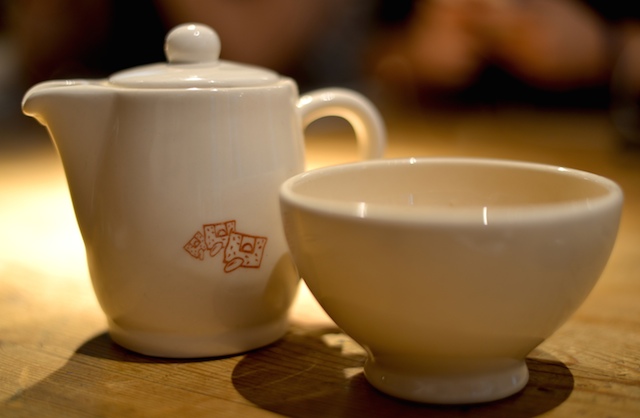 When asked why Le Pain Quotidien uses these unique cups or bowls, our server directed us to the website:
As a young boy, the founder Alain Coumont used to visit his grandmother every Wednesday and was always greeted with a small bowl of steaming hot chocolate. He cupped his around the bowl and felt the warm. He carried this sweet memory to the tables of Le Pain Quotidien. Read more.
On our table was the soup of the day, quiche and tartines. Tartines are Belgian open-faced sandwiches served on Le Pain Quotidien's organic wheat levain bread. Here is the smoked salmon with avocado, scallions and dill tartines and prosciutto, pear, fig, cheese, organic honey and arugula tartines.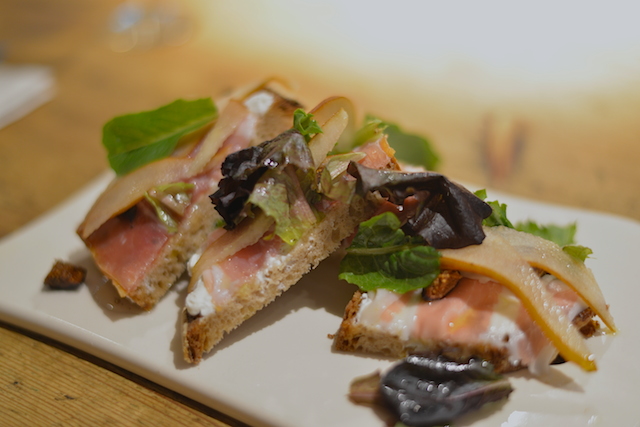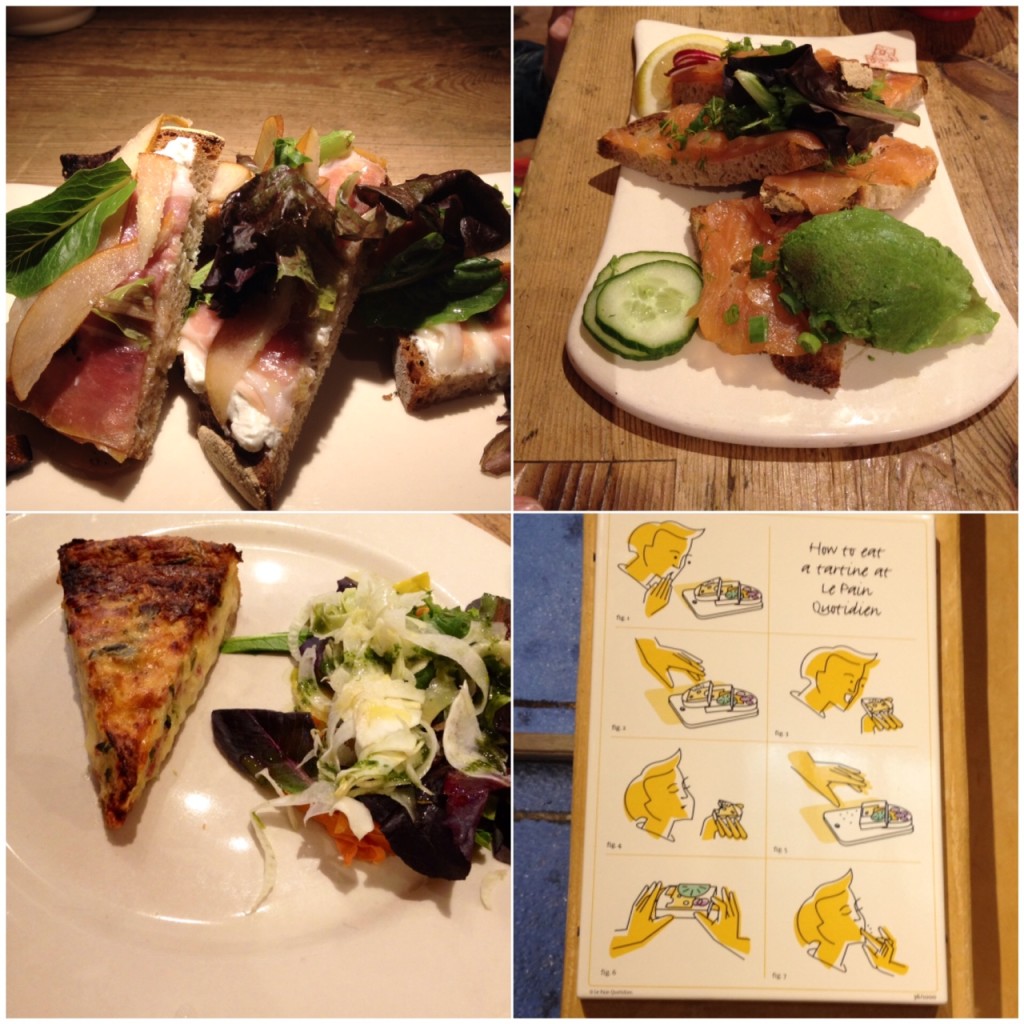 Le Pain Quotedien means "the daily bread"- breaking and eating bread is a way of life for most people. Somewhere else, their "daily bread" could be rice or noodles like in Asia, taro in the South Pacific, yams in West Africa, tortillas in Mexico, seafood in northern Alaska and manioc in the deep jungles of South America.