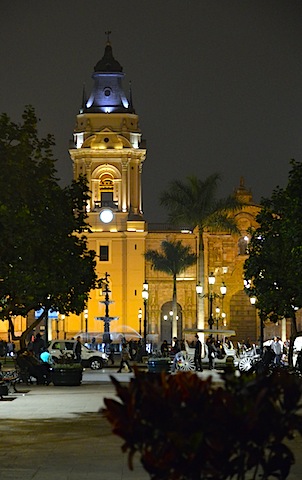 It was a late Tuesday afternoon in the historic part of Lima when the big yellow truck stopped in front of the Kamana Hotel. We arrived at our last destination after 45 days on the road from Rio de Janeiro, winding through Brazil, Paraguay, Argentina, Bolivia, and almost the entire country of Peru.
Lima had so much to offer. I was in no hurry to visit the touristy sites. The plan was to take our time to walk around the historic center during our 36-hour stay before taking the cab to an AirBnB apartment in Miraflores. Then, on the second day, as we dragged ourselves out of the hotel beds, it became apparent that we had travel fatigue. We needed to get away. We left one day earlier and took a 28-hour bus from Lima to Guayaquil.
In the short time, four days to be precise, we saw, ate and did a few things in Lima and Miraflores, an exclusive residential district south of Lima.
1. Steamed buns and fried crullers
Our stay started well because we found out we wouldn't go hungry. Just across the street (Jiron Camana) from Kamana Hotel was a simple Chinese restaurant selling steamed buns (bao, in Chinese) and fried crullers (you tiao). Each steamed bun with vegetables and meat inside cost two soles (about 70 cents). In 36 hours we went four times to get the steamed buns.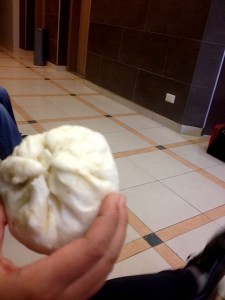 2. Ceviche in Tanta Restaurant
Our arrival in Lima meant it was time to say goodbye to the tour leader and driver who had been with us for 46 days. Dinner was at 7 p.m. at Tanta Restaurant on Pasaje Nicolás de Rivera 142, behind the city hall. Tanta Restaurants belong to Peruvian celebrity chef Gaston Acurio. There are several Tanta Restaurants throughout Lima.
At Tanta Restaurant I ordered a tri-color ceviche platter - a large plate of thinly sliced fish marinated in lime juice, salt, and aji (pepper). When in Lima, you must try ceviche, a dish influenced by Peruvian Japanese. There are over 16,000 cevicherias (places that serve ceviche) in Lima. You can find hole-in-the-wall and high-end cevicherias all claiming to have the best.
Tanta Restaurant was a recommendation by the tour leader and driver. They have been there umpteen times, and we trusted their judgment. It was a pleasant restaurant that served Peruvian and Italian dishes.
3. Chinatown
Early the next morning my husband and I walked to Chinatown. It took about half an hour to walk from Kamana Hotel to Chinatown. At 8:45 a.m. none of the shops and restaurants were open. Chinese people have a strong presence in Peru. In fact Peru's lomo saltado, the unofficial national dish is influenced by Chinese cooking style.
If you've been to Lima and other parts of Peru, you would have seen 'chifa' signs. These are Peruvian-style Chinese restaurants. I walked a few blocks in Chinatown and left for Mercado Central.
4. Mercado Central
Located just in front of Chinatown's gate is Mercado Central, Lima's largest market. I would recommend a stop there if you like to see how the locals shop and sell, and to find out what they eat every day. I saw rows upon rows of fresh fruit and vegetables. Fresh meat and whole chicken hung on stainless steel hooks. Don't be surprised to see whole pigs and guinea pigs.
Besides raw meat, there were spices, herbs, canned food, cooked food, and much more. Even the stray dogs came out to play in the market while the locals shopped.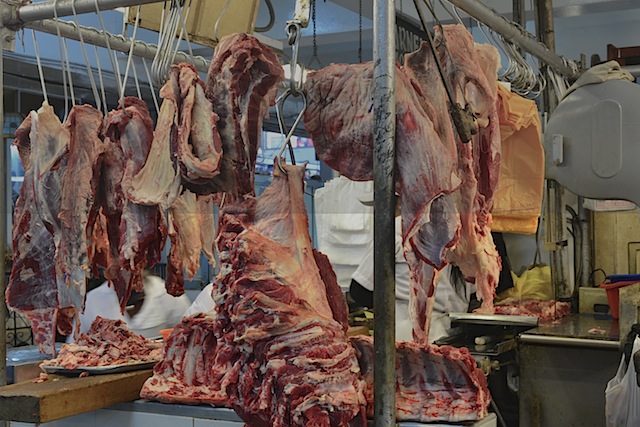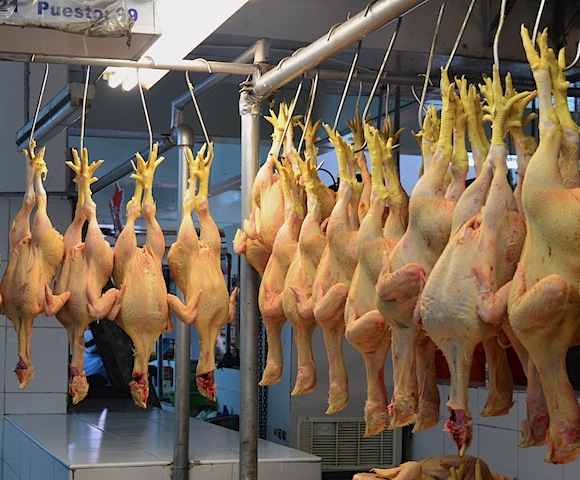 Note: We were told to be extra careful with our belongings in this part of the city.
5. Sopa Rachi and breakfast with locals
It was breakfast time after the short visit to Mercado Central. The plan was to eat in Chinatown, but it didn't come to fruition. All restaurants in Chinatown were still closed. Across from Mercado Central, we noticed a group of men and women dressed for work slurping bowls of soupy rice with a plate of fried crullers on the side.
Not knowing what it was, we asked one of the women. She said, "sopa rachi," so we ordered one. Sopa rachi is plain rice porridge topped with beef tripe, mung bean sprouts, and scallion. On the side is a plate of mini fried crullers, known as yuquitas fritas in Spanish. Each bowl was seven soles (about $3).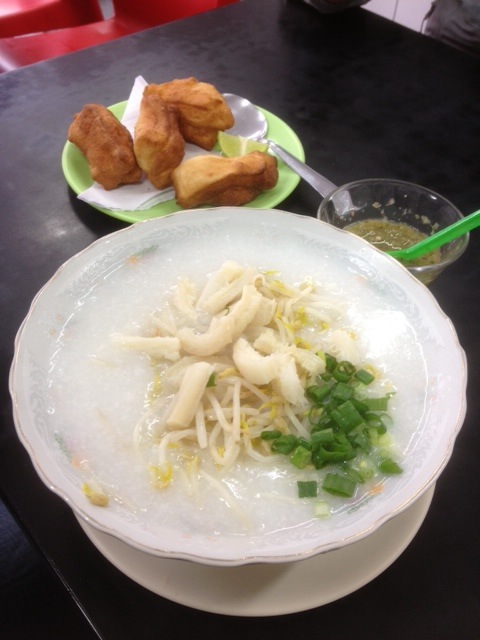 6. Changing of the guard and the Presidential Palace
After breakfast, we walked back to the hotel by way of Jiron Huancavelica, one of the busy streets in the historic center of Lima. It was pleasant to walk at our pace and view some of the restored wooden balconies in Lima. The day before, the tour leader suggested stopping in front of the Presidential Palace by 11:30 a.m.
The changing of the guard takes place every day at noon in the courtyard of the palace. We witnessed the 30-minute ceremony. Spectators were warned not to stay too close to the palace's fence. A few armed guards were there to ensure no one broke the rules.

7. Plaza de Armas
Also known as Plaza Mayor, Lima's main square is located in front of the Presidential Palace. Just like most main squares in South American countries, you'll find a cathedral, city hall and shops in the vicinity of the plaza. There are benches, lampposts, palm trees and flowers in the square. In the middle is the statue of the founder of Lima, Francisco Pizzaro on horseback.
There is also Palacio Arzobispal (The Archbishop's Building) next to the cathedral, a colonial building with Moorish-style balconies.
8. Gastronomy Museum of Peru
The only museum we went to was the Gastronomy Museum, just a block from Plaza de Armas. Located in Casa de Correos y Telegrafos, the old Post Office building, the museum chronicles the history of food and cooking in Peru using life-size figures, history of Peruvian food, and cooking utensils and furniture to illustrate the different methods of cooking from various regions of Peru.
The entrance fee was three soles per person. You can read more about it here.
9. Wooden balconies
Lima has about 100 wooden closed balconies. There were two men responsible for preserving these national treasures. Bruno Roselli, an art professor, did it in the 50s and 60s, and Alberto Andrade, mayor of Lima in the late 90s started a campaign to save the balconies. The mayor called it "Adopt a Balcony" campaign and got businesses and donors to help save and restore them.
Closed balconies were made during colonial times so that women of nobility could spend time privately in the balconies without being seen by the public. I was mesmerized by the complicated geometric designs. Here are a few we captured with our lenses.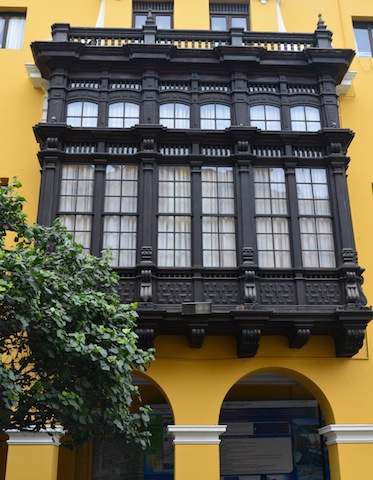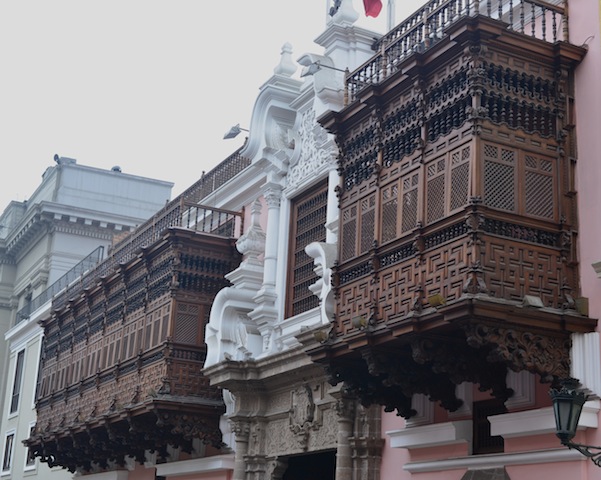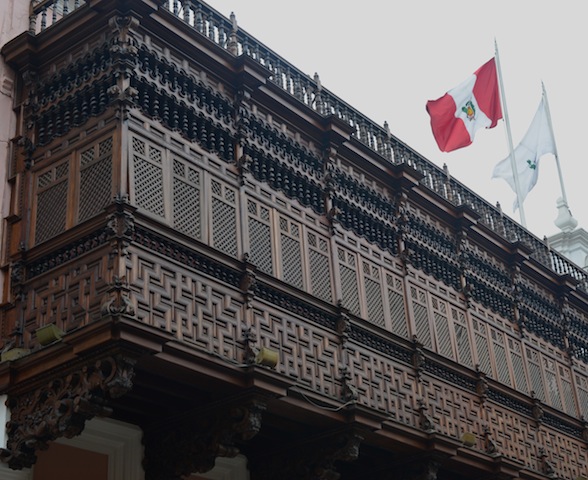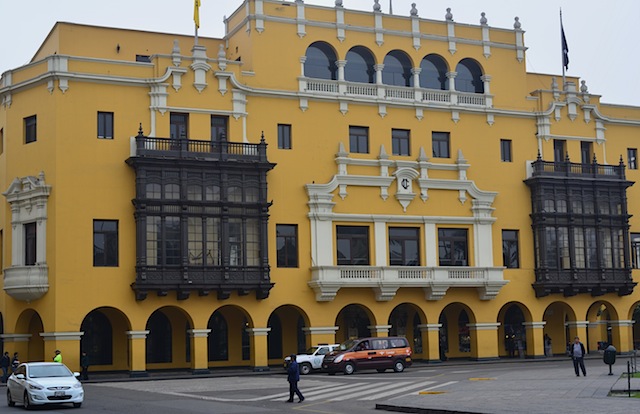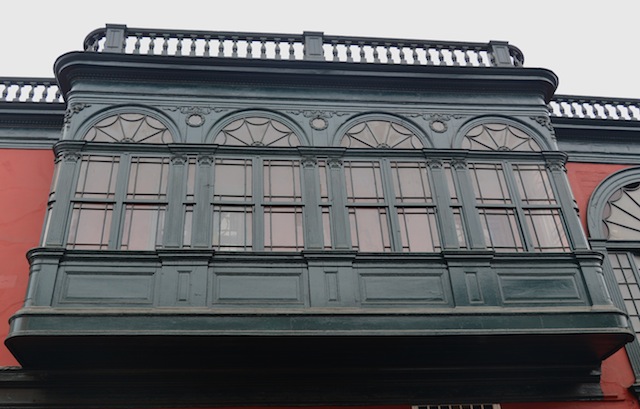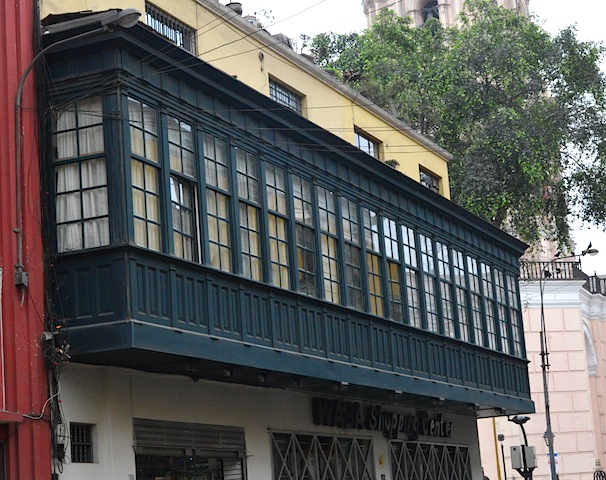 10. Miraflores neighborhood
The seaside district of Miraflores is the relaxed and upscale part of Lima. A popular place to hang out is the Larcomar Mall, overlooking the Pacific Ocean. Larcomar is an open air mall and has a fantastic view of the ocean. Tourists and locals have plenty of dining and shopping options here. We like the coffee shops with free Wi-Fi at Larcomar Mall.
The mall is clean and well maintained.
Where we stayed:
One night at the Kamana Hotel in the historic center. You can book it at Booking.com.
Three nights at an AirBnB apartment in Miraflores. You can take a look at the listing here. Also get up to $20 credit from AirBnB through this link.
I share more about Peru in my eBook. Get it at Amazon.com and let me know your thoughts on the eBook: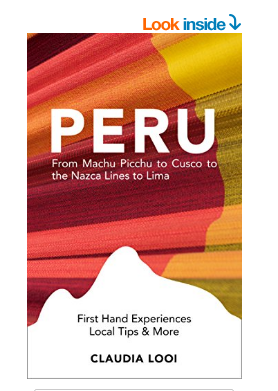 Updated article. The original was published on September 26, 2013.