This is an actual itinerary that I put together for a friend, her husband and her two teenage daughters visiting from Ecuador. Our plan was to start at 10 a.m. and end at 9 p.m. on a Saturday.
They had five days to experience NYC and had a 3-day New York Pass that they purchased online. This pass allowed them to have free entry to over 80 New York tourist attractions including the Empire State Building, 911 Memorial and Museum, The American Museum of Natural History, Top of the Rock, Statue of Liberty and Ellis Island Immigration Museum, and more. One of the benefits they were excited about was the Fast Track (cut the long line) entry privileges.
We used the New York City subway for transportation. You can download the subway map here.
At 10 a.m. we met at their hotel at the Marriott Marquis in Broadway. It took us 5 minutes to walk from the Marriott Marquis to the 49th Street station to board either N or Q downtown trains to Canal Street in Chinatown.
These are their list of things to do while in Chinatown:
Shop for souvenirs
Visit unique shops and markets
Walk along Mulberry Street to Little Italy
Walk to Mott Street for dim sum at Royal Seafood
Dim Sum lunch at Royal Seafood
Location: 103-105 Mott Street, New York, NY 10013
Royal Seafood Restaurant, also known as Tong Lai to the Cantonese-speaking community in NYC, serves authentic Hong Kong-style dim sum. Fresh dim sum dishes in carts pushed by ladies in yellow aprons and hats move from table to table.
We ate with two separate groups of people (strangers) at the same table - a couple and a single man.

Walk to Trinity Church
It took us half an hour to walk via Centre Street from Royal Seafood Restaurant on Mott Street to Trinity Church at 75 Broadway in Lower Manhattan. One of the top attractions at the Trinity Church is the churchyard where Alexander Hamilton is buried.
Alexander Hamilton was one of the Founding Fathers of America who died a tragic death at the age of 47 in the hands of his rival Aaron Burr. Alexander was born in Nevis, a British West Indies island in the Caribbean to a French mother and a Scottish father. He came to New York when he was 16 and studied at Columbia University. Alexander Hamilton was the first U.S. Secretary of the Treasury. You can find his image on your $10 bill.
Walk to Wall Street
From Trinity Church, we walked down to Wall Street. The church is located on Broadway and Wall Street, so it was an easy walk down to 23 Wall Street ( formerly owned by JP Morgan), Federal Hall National Memorial, 40 Wall Street (The Trump Building), and the New York Stock Exchange Building.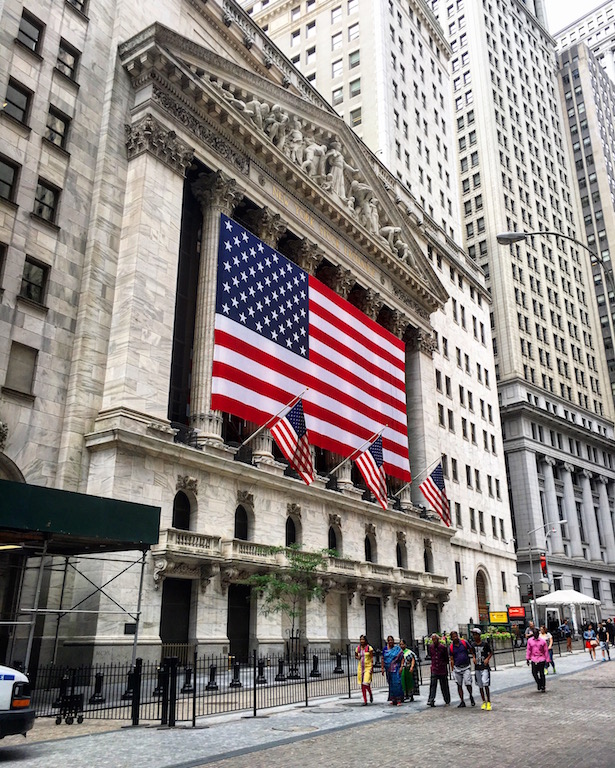 For more information, read Financial District Walking Tour.
Wall Street is a good place to get hot dogs from one of the New York City hot dog stands.
Walk to the Charging Bull statue
From the New York Stock Exchange Building, we walked to the National Museum of the American Indian and Bowling Green Park. The sidewalk on Broadway has engravings commemorating the ticket-tape parades held on Broadway since the late 1800s.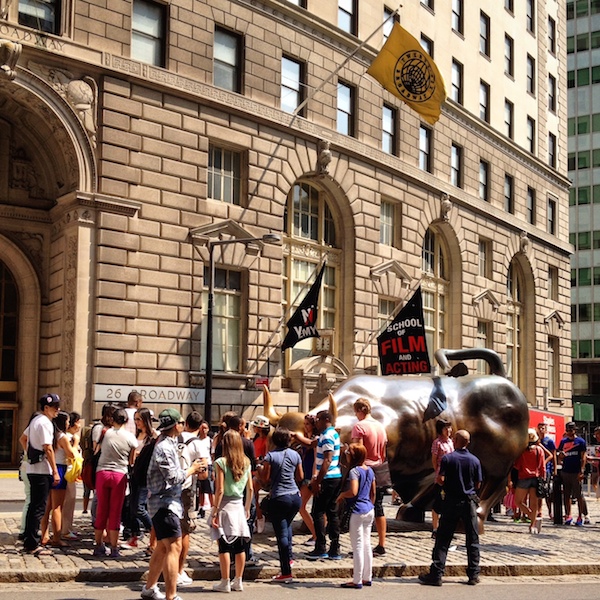 The charging bull weighs over 7,000 pounds and is 11 feet tall. There is always a crowd gathering around the bull.
Walk to Bowling Green Park and the National Museum of the American Indian
Bowling Green Park is NYC's oldest public park with the city's oldest fence. It is located across the street from the old Custom House (Alexander Hamilton Custom House). The museum is open daily (except Christmas day) from 10 a.m. to 5 p.m. and to 8 p.m. on Thursdays. Admission is free.
Note: The free 45 minute to an hour guided building tour is highly recommended.
Free ferry to Staten Island to view Statue of Liberty
It was 4 p.m. on a Saturday when we arrived at the ferry terminal at 4 Whitehall Street. The ferry departs every half hour. It takes about 25 minutes from Whitehall to Staten Island St. George Terminal. At St. George Terminal we took the ferry back to Whitehall Street.
Download the Staten Island ferry schedule before you leave.
Subway to 86 Street station and to Metropolitan Museum of Art
We walked seven minutes from Whitehall Street ferry terminal to Bowling Green station to take the 4 or 5 uptown trains to 86 street. It was an easy walk from 86 Street station to The Metropolitan Museum of Art. The museum closes at 9 p.m. on Friday and Saturday. You won't be able to make it there if you are visiting on other days since it closes at 5:30 p.m.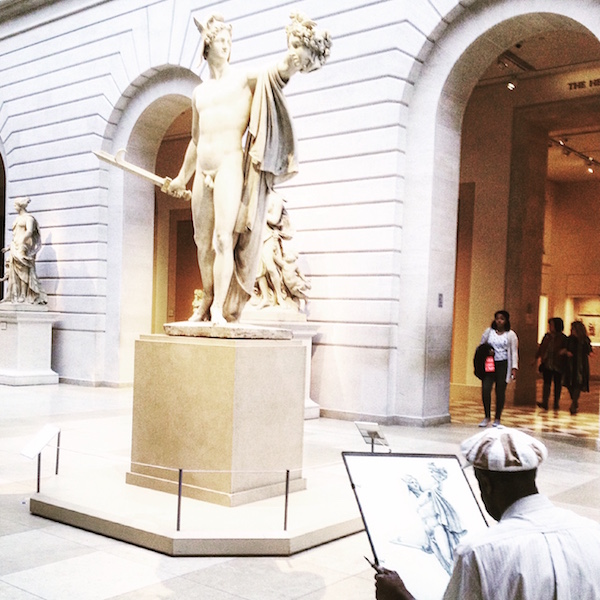 My friends' NYC Pass had tickets to the MET. For audio guides, I got them to download an app on their smartphones, saving them the $6 member's rental fee for each audio guide. They had less than two hours to visit the MET. At the MET we checked out the Roof Garden. The Roof Garden Bar is open until 8:30 p.m. on Fridays and Saturdays (other days until 4:30 p.m.) from mid-April to the end of October each year. It was a great location to relax and grab a drink while viewing the surrounding area from the rooftop.
After the MET we hailed a taxi for them to get to Marriott Marquis.
Are you visiting NYC soon? Is this info helpful? If you want to save time and money in NYC, I suggest getting the New York Pass.