We stayed in a duplex on the fifth floor of Barra Bali condominiums at Barra de Tijuca. On the first floor was the living room, balcony, half bath and a fully equipped kitchen. A spiral staircase led to the two rooms and two full bathrooms upstairs. This apartment was equipped with a washing machine which to us was an added luxury. However it is uncommon to have a dryer in an apartment.
The gym was well equipped inside this building. If you are under sixteen, you need a medical clearance. Interestingly our apartment had a 24 hour security within another security at the entrance of the compound. The 24 hour security checkpoint was strict and they monitored all cars and guests.
There is a pool with concession bar. Sauna is available. Barra Bali is within walking distance to Barra Beach. It took us about 25 minutes. Many of the residents work in downtown Rio. Free roundtrip bus service is provided for residents to downtown Rio. We were told this service is included in the maintenance fees.
Barra de Tijuca is less crowded compared to downtown Rio.
Barra World Shopping and Park and Mundial Supermercado are about 10 minutes walk from Barra Bali. Barra World Shopping has replicas of London Tower Bridge, Paris Eiffel Tower, Leaning Tower of Pisa, Japanese Entrance Gate and Egyptian Sphinx. These iconic landmarks were visible from our kitchen windows. There really wasn't anything interesting about the shopping place at all. Mundial Supermercado however has a huge selection of fresh meat, fish, fruits and vegetables, cheeses, breads and other grocery items. Mundial is a must visit supermarket in Barra de Tijuca if you are looking for fresh fruits at great prices. They accept only debit cards and cash.
Barra Bali condominiums in Barra de Tijuca is about 32 km from Rio de Janeiro's city center. We paid $125 per night for the fully furnished apartment including free WiFi through a local Brazilian company. Traffic jam is common throughout the day. A trip to the city would take about one to two hours depending on traffic of the day. An early start is essential if you want to get to Christ the Redeemer and Sugar Loaf Mountain.
A trip to one of Rio's shantytowns or favelas is not for the faint hearted but it will bring you to the other side of Rio. It takes you away from the glitter and comfort- to the daily reality of the Cariocas (the locals) in this cidade maravilhosa (Marvelous City).
20 percent of Rio's population lives in over 950 favelas mostly in the hills surrounding Rio. These favelas are still not accessible to the outside world except a few that work with the tourism board. Crime rates and drug problems have afflicted these neighborhoods. To tour a favela was unheard of until recently where tourists could visit the favelas of Vila Canos and Rocinha with a certified tour guide.
The favelas look colorful from a distance but once inside you will feel and see poverty amongst development, dirty roads, houses stacked on top of one another and hundreds of wires circling around one electrical pole. The people are curious yet friendly. It is not recommended to visit a favela without a knowledgeable tour guide. Bravely we went with our tour guide from Sao Paulo and saw a few "interesting" sights (not photographed).
Rio will never be complete without a visit to Copacabana beach. One must visit even on a rainy gloomy day. Grab a beer or a caipirinha, a popular drink in Brazil.
Hang gliding is a very popular activity in Rio de Janeiro. It usually starts from the Sao Conrado neighborhood in the hills and ends at Guanabara Bay. Participants have to be 18 and over. The average price was $120 per person accompanied by a licensed pilot.
Confederations Cup final was on June 30,2013 in Rio. Brazil crushed Spain 3-0. Fred scored twice and Neymar scored once. Ramos missed a penalty in the second half. We did not hang out in the local joint, but watched the game on TV. Protestors were visible and Rio didn't seem safe at that time. It was an exciting game. It was exhilarating to hear roars and fireworks from our apartment whenever Brazil scored. Brazilians know how to take the excitement of the game to the next level.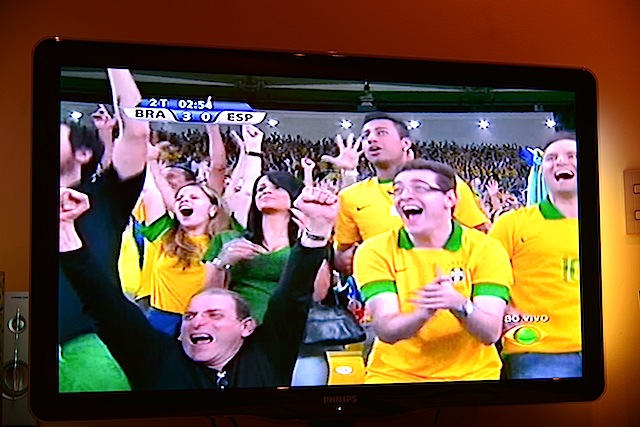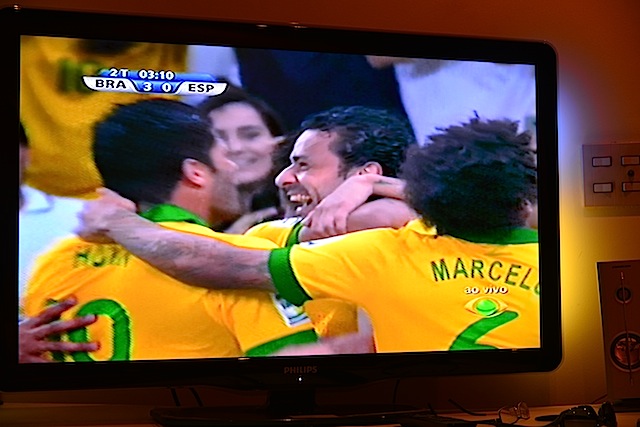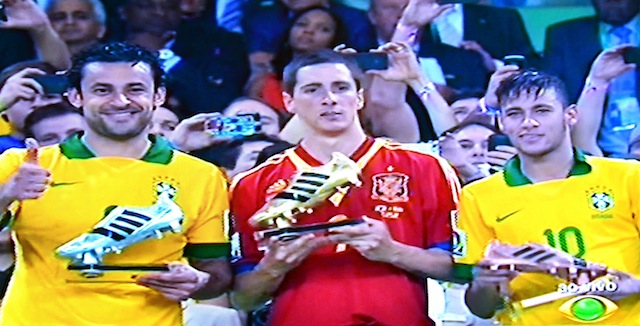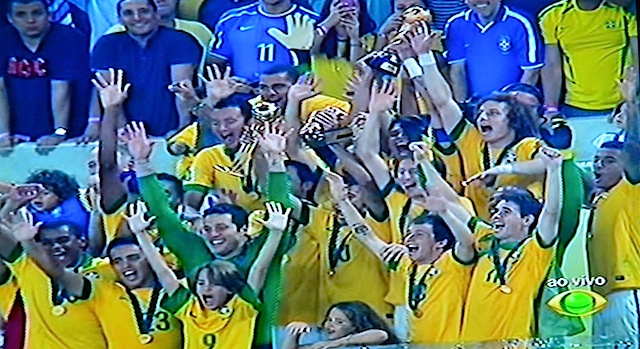 Rio cannot be duplicated. It is dangerous, exciting, unsightly and beautiful - all in one place. We spent two week in this city also known as cidade maravilhosa - The Marvelous City.