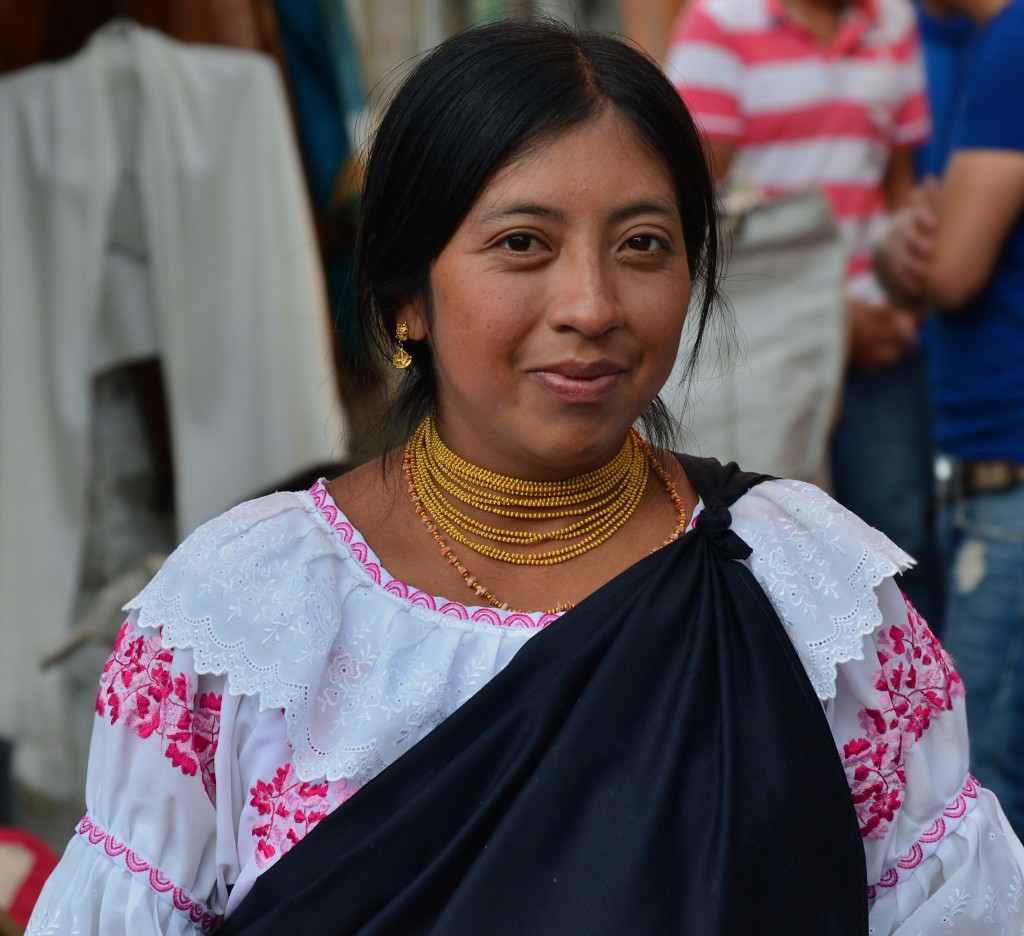 Quito is a mere four-hour flight from Miami. There are at least three daily flights from Miami to Quito, the capital city of Ecuador. Perched at 9,000 feet above sea level and located on the equator line, Quito is not hot and humid. Some nights you may need to snuggle by a fireplace.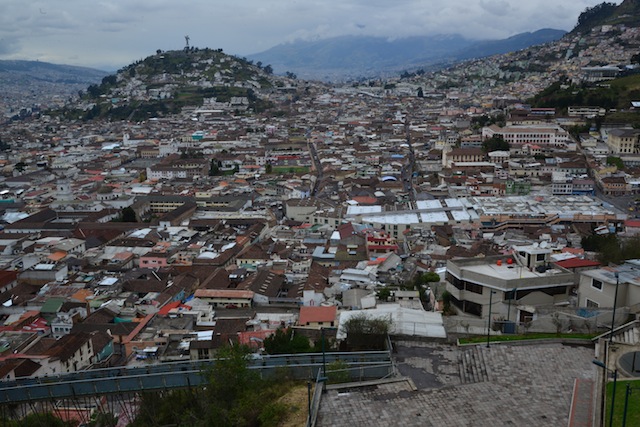 Quito boasts snow-capped mountains and rich colonial architecture, but the beauty and diversity of its culture were a feast to my self-declared cultural connoisseur's eyes. When I walked on the narrow cobblestoned streets, through parks, plazas, colonial buildings, churches and neighborhoods, I understood why it was the first city designated by UNESCO as a World Cultural Heritage Site in 1978.
The phrase seeing is believing really applied when I saw the richness and depth of Quito's indigenous and colonial cultures. I saw women clad in traditional dresses among well-clothed businesswomen and jeans-wearing girls.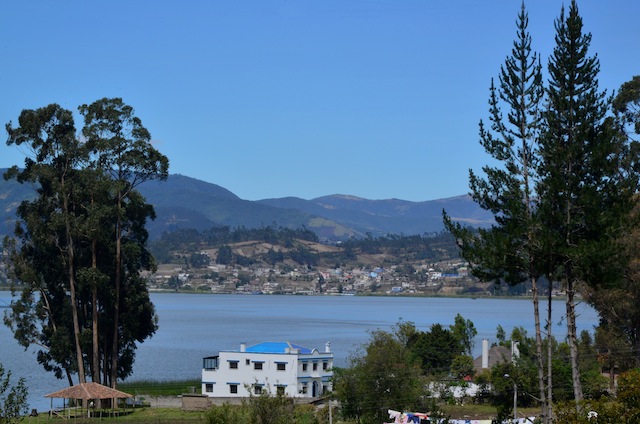 To dig deeper into the culture and history, I hired a private driver to take me to the lakeside village of San Pablo for a two-night retreat at Hacienda Cusin. Hacienda Cusin is a restored 17th century estate in the Ecuadorian sierra near Otavalo, the biggest indigenous market town in South America. It took only two hours to get there from Quito.
The prominent Luna family purchased the estate at an auction in 1602 from Philip III, King of Spain. Hacienda Cusin's current owner is Englishman, Nicholas Millhouse.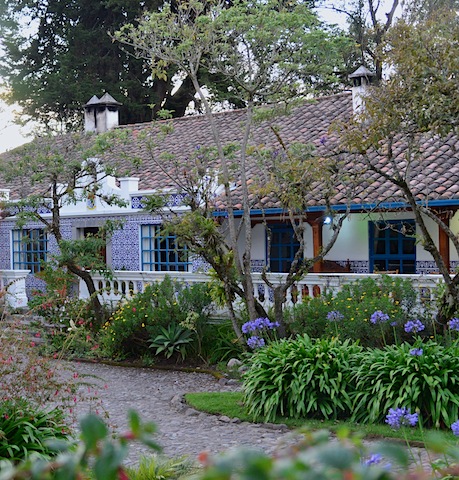 European antiques, Andean crafts and centuries-old artwork and tapestries from across Europe enhanced every guest room, garden cottage, suite, and salon. Cobblestone walkways from the seven-acre garden and dwellings lead guests to the grandest room of all - the main dining room. Inside was a grand entrance room with a log-burning fireplace. There were several small rooms connected to the grand entrance room, including a warmly candlelit museum-like dining room.
My meals were served by a local Quechua waiting staff adorned in Quechua traditional clothes. I couldn't help but feel like I was in 17th century colonial Ecuador - only my three-course meal was accompanied by Argentinian wine.
The crisp mountain air, the quietness and the crackling sound from the log-burning fireplace in my room beckoned me to relax and enjoy the moment.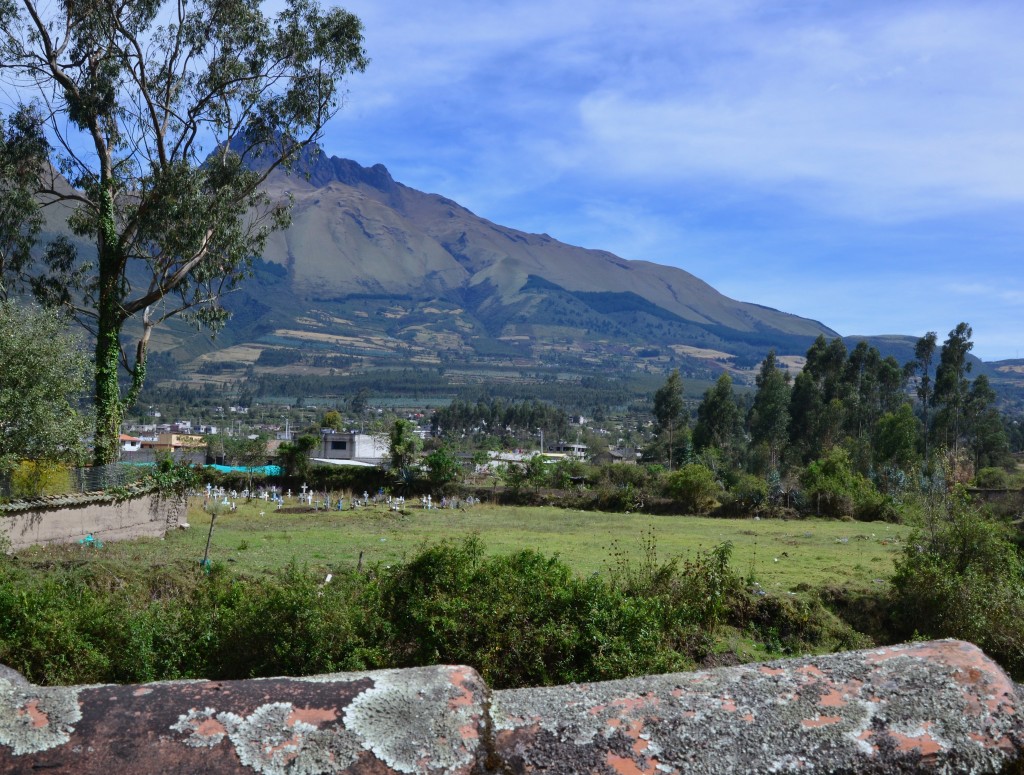 On the second day, I got a cab for $6 from Hacienda Cusin to Otavalo. Though infiltrated by deal-hungry tourists, Otavalo still stays true to its past. The merchants are mainly native Quechua women dressed in embroidered white blouses and long black skirts. They spoke in Quechua and Spanish, and little English. This makes it more intriguing if you like experiencing the local culture, speaking Spanish and mingling with locals.
It was ironic to see these ladies in traditional dresses using mobile devices in the midst of thousands of artisanal merchandise. Some of the younger ladies had babies tied to their backs with colorful traditional cloths or with kids sleeping underneath tables packed with merchandise.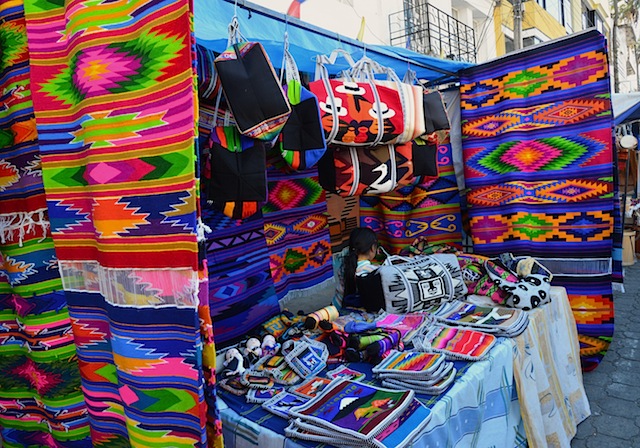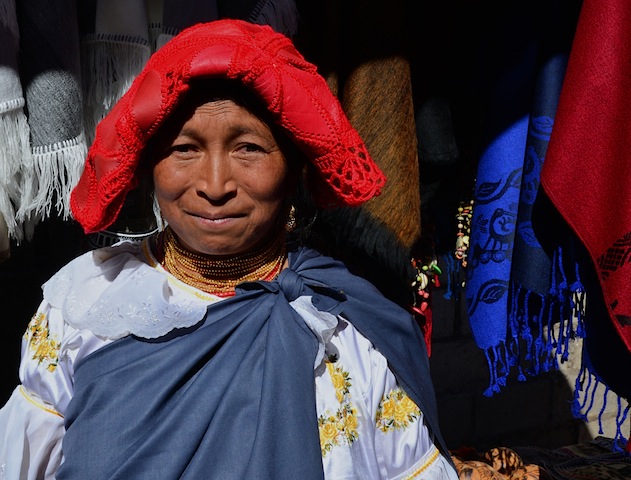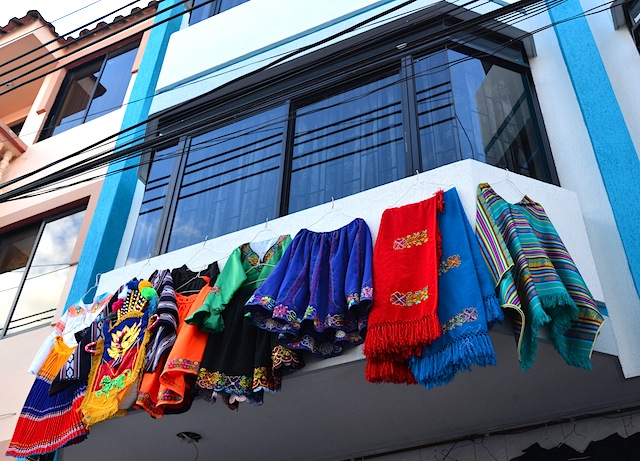 The biggest market day is Saturday. Early risers will get to see the animal market where live animals are traded at about 6 am. Most tourists take a day trip from Quito to Otavalo. To indulge in Ecuador's Andean culture and to enjoy the calmness of the historical Hacienda Cusin, I suggest a three-day-two-night stay in Hacienda Cusin or any of the haciendas just outside Quito.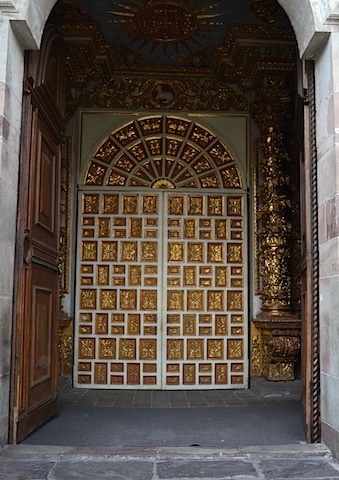 Back in Quito, I took three days to explore colonial Quito-Quito Old Town. Top on the list was Quito's Iglesia de la Compania, a church built from 1605 to 1765. Every inch of the sanctuary was decorated with gold leaf designs. The best thing to do inside is to sit on the pew and let every inch of the gold decorated room mesmerize you. No photography is allowed inside.
A few steps away are the Presidential Palace, the Independence Plaza, and Cathedral. And Plaza San Francisco and the San Francisco Church are just a block away from Iglesia de la Compania.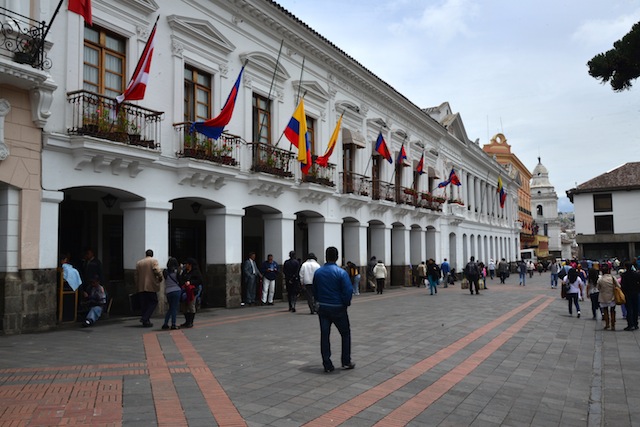 For a bird's eye view of Quito's colorful neighborhoods, I went to the hill and village of San Juan. At the top of the hill were the two towers of neo-gothic Basilica and El Panecillo, the hill with a 148-foot statue of the winged virgin and serpent. I had a glimpse of the snow-capped volcanoes surrounding the city depending on the movement of the clouds.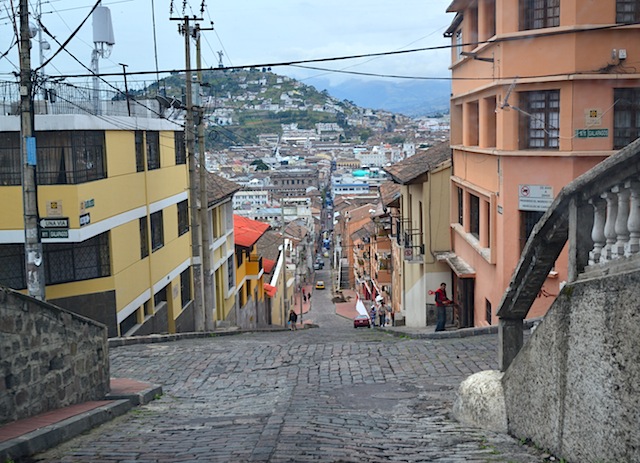 The winged virgin towers over everything else as she watches Quito from the hill, inviting visitors to go to Quito again sometime soon. Will you be there?
Trip Planner
Getting There:
American Airlines and LAN Ecuador fly nonstop three times a day from Miami to Quito. The flight is about 4 hours. One flight is a code share flight operated by LAN Ecuador. Round trip airfare starts at $448 including tax during low season. LAN and American Airlines run regular online deals to Quito, and the current low price is $448 round trip.
Information:
Ecuador Official Tourism Website
This is Ecuador
Quito Tourism
Misc. Others:
1. No visa or reciprocity fee is required to visit Ecuador.
2. Ecuador uses the US Dollar. Most hotels accept Visa and MasterCard. Not all restaurants and stores accept credit cards. Remember to bring cash for shopping. Bring small $1, $5, $10 bills when shopping in Otavalo Market.
3. No shots are required when visiting Otavalo and the villages around Otavalo and Quito. If you are traveling to the Amazon, please check with your medical professional about your needs.
4. Eating street food and drinking water from the tap is not recommended.
Personal Transportation and Tours
For English speaking drivers and English speaking tour guides
Contact: Luis Antonio Reascos Reyes
Cell phone 00 593 992504754 or 00 593 997804540
Email : siul1@ hotmail.com
Personal service pick up and drop off from Quito International Airport to your hotel in Quito is about $50 each way. A day trip in Quito is about $80 including transport and guide (not including tickets to churches and museums). Tours to Otavalo Market and the villages near Otavalo are available upon request.
Where to stay:
Hacienda Cusin
A 400-year-old hacienda located 2 hours from Quito city center, 70 minutes from the airport and 15 minutes from Otavalo Market.
Reservations, Airport & Quito transfers, email hacienda@cusin.com.ec or go to Booking.com to reserve your room.
Tel (593) 6 291 8013
Single room starts at $100, double room starts at $120 per night.
One way transfer from the airport is $70 for 1-2 guests, $90 for 3-5 guests.
JW Quito Marriott
A luxury hotel in the heart of Quito with spacious rooms, world class restaurants, heated pool, gym, spa and only 3 miles from Quito Old Town and two hours from Otavalo Market. Standard room rate starts at $189 to $309 per night.
Phone: 593 2 2972000
Toll-free: 593 800 010723
Hotel Plaza Grande
A luxurious boutique hotel in the heart of Quito Old Town. Hotel Plaza Grande is located at the Independence Plaza and in front of the Presidential Palace. It is an all-suite hotel with 15 suites offering different views of the city.
Rate starts at $225 at Booking.com.
La Casa Amarilla
Selva Alegre Oe5-70 between Carvajal Str.
& Antonio de San Miguel y Solier Str
Phone: 593 2 222 5620
Mobile: 593 99501 9486
Email: info@lacasamarilla.com
A friendly B&B where friendly hostess Jenny will treat you like a family member. This yellow house is located in a residential area about 5-10 minutes walk to the bus station and taxi.
Room rate starts at $45 with breakfast at Booking.com.
Where to Eat:
At Hacienda Cusin I dined in their dining room that served fresh vegetables, fruits and herbs from their gardens. Dinner menu was different every night. A set menu of soup or salad, an entrée, a drink and a dessert starts at $24.
El Ventanal
El Ventanal is located in the historic neighborhood of San Juan. Diners come here for its magnificent view of Quito especially during the night. It's open for lunch and dinner. Dinner entrées $22.50 to $34.00.
Achiote Restaurant
Known for its authentic Ecuadorian dishes Achiote provides live music on Saturday and Sunday from 7-9 pm. This small, warm and friendly restaurant has 15 tables. Reservation is highly recommended and servers speak very good English. A seafood entrée starts at $13 and beef starts at $11.40.
Special Events:
Ecuadorians celebrate Carnival just before Lent. The dates change every year but the celebration is the same. Party, water-throwing, dress up, music and food are some of the things not to be missed if you are visiting Ecuador during the celebration.