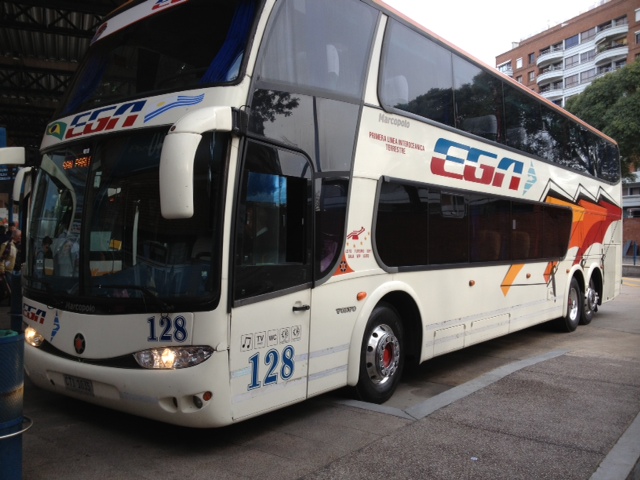 We've met travelers who didn't know it was possible to take a bus from Uruguay to Brazil. Most thought they needed to go through Argentina to get to Uruguay through Colonia and Buenos Aires.
You have options when it comes to transportation from Uruguay to Brazil and vice versa. The most popular route by bus would be from the east coast to the town of Chuy. That was the route we took from Montevideo to Florianopolis.
EGA bus leaves Montevideo Uruguay only on Sundays at 4 p.m. to Florianopolis and on to Sao Paulo. The journey was about 18 hours, and we arrived in Florianopolis at 10 a.m. the next day.
Passengers have two seating options. Either the quieter first class seats on the first floor with three rows of two seats and three single seats - a total of nine seats. Or you can pay a little less by getting seats on the upper level.  The upper level has twenty.
You get meals and snacks on board. We had Uruguayan style potato sticks with coffee right after departure, dinner at about 8 p.m. before border crossing and breakfast (cookies, alfajores and coffee). In between snack time and dinner we were offered either martini or whiskey on the rocks.
We've done bus travel in South America before going this trip. I prefer the meals served by Andesmar bus from Bariloche to Mendoza.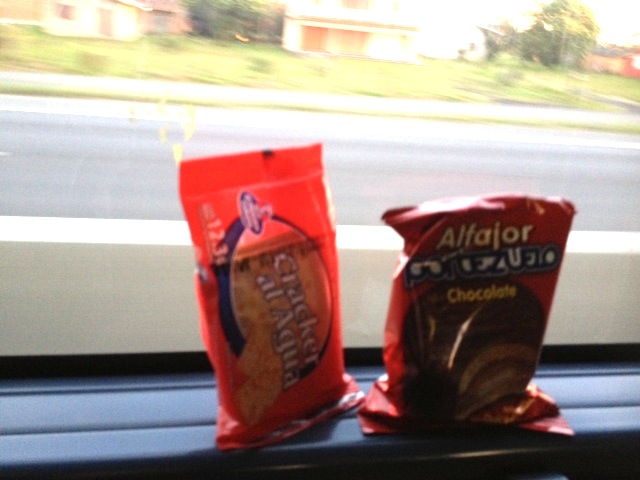 The border crossing was easy. When you check in at the bus terminal in Montevideo, the attendant prepares all necessary documents and keeps your passports. We didn't have to step out and go through immigration procedures. EGA bus company did everything.
Here are a few things you need to know about bus transportation from Montevideo to Florianopolis Brazil or beyond:
1. Two fares, first class or economy. We paid 3564 Uruguayan pesos (US$188) per person for the first class including 17 pesos foreign tax. Fare difference was minimal between first class and economy.
2. Bus leaves from Tres Cruces bus terminal in Montevideo.
3. You need a Brazilian visa if you are an American (please check with the Brazilian consulate if you are a citizen of other countries).
4. You can purchase tickets with your credit card.
5. Check in is one hour before departure at EGA ticket counter in Tres Cruces.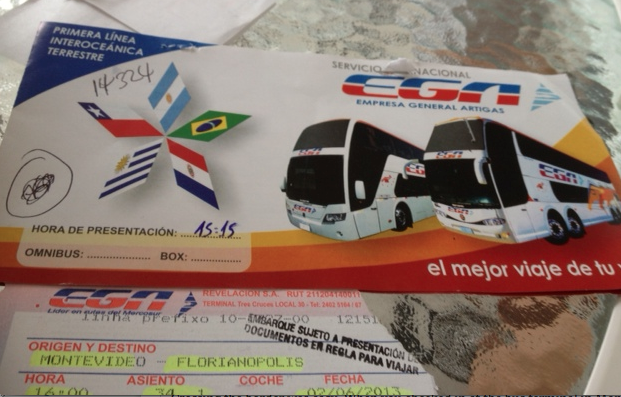 It was a great experience traveling by bus from Uruguay to Brazil. Airfare from Montevideo to Florianopolis could cost you more than US$500 per person. Of course, there are some airfare deals from time to time.
Useful resources:
Florianopolis: The Undiscovered Destination of Brazil
Hope you find this information helpful. Let us know below. Check out for more travel tips and information on our website.