Imagine gazing upon millions of stars when the sky is pitch black and quiet. That was how it felt as we cruised slowly for 45 minutes on a boat that sat around 12 people inside the Waitomo Glowworm Caves.
The glowworm grotto was a magical place. Thousands of glowworms lit the cave with lights of green, white and blue. Some days you may not see many glowworms in the caves. That day, we were in luck as the glowworms presented themselves during our tour. The guide stood and held on to a rope along the river to pull the boat forward. As we sat in silence, the guide spoke and pointed to different highlights in the caves including the Cathedral Cave and the Banquet Chamber.
The Maoris knew of the existence of Waitomo Caves. Caves were used as sacred places, burial grounds and shelters. Waitomo means water hole in Maori.
In 1887, Englishman Fred Mace and Maori Chief Tane Tinorau explored the caves and by 1889, Maori Chief Tane Tinorau welcomed his first guests to Waitomo. By 1906, the local authorities took over and Waitomo Caves and it became one of the most popular tourist destinations in North Island New Zealand.
The Waitomo area is linked to the Waitomo River. It consists of several limestone caves and grottoes. Besides the Waitomo Glowworm Caves, guests can visit the Ruakuri Cave and Aranui Cave.
For the adventurous there are black water rafting options like Black Abyss, Black Odyssey and Black Labyrinth. My son went for the Black Labyrinth with our friend Kevin and his daughter Mikaela. The Black Labyrinth is the original black water rafting tour in Waitomo Caves.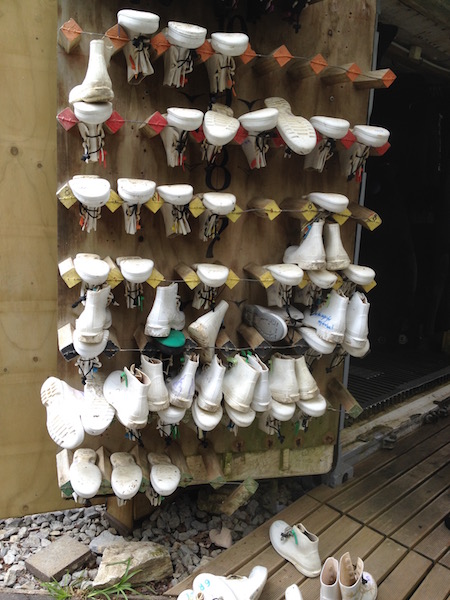 The black water rafting took over three hours. Before the tour, the adventurous tourists were taken to the fitting area to select their wet suits, boots and headgear. The tour cost NZ$135 per person. The minimum age is 12 years old. Advanced reservation was required to join the black water rafting tour. The participants were treated to a hot bowl of soup with bread after the black water rafting.
Apart from the underground activities, Waitomo has walking trails that offer views of the farmlands, hills and sheep grazing in the pasture.
When you are done exploring, visit the Waitomo Glowworm Caves Restaurant and Cafe, an open-air restaurant located under the canopy of the Visitors Center.
Useful information on Waitomo Caves:
History, geology and glowworms
Note: I received a free ticket to tour the Waitomo Caves but opinions are my own.