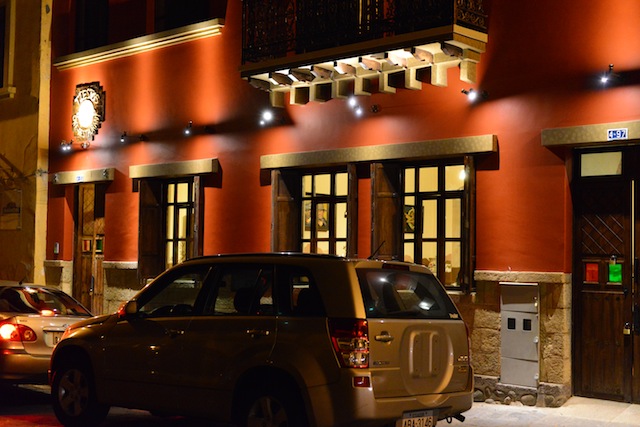 Juan Carlos Solano, owner and chef of Tiestos Café Restaurant went around every table in the restaurant greeting his guests and giving recommendations. I said, "Sandra from Guayaquil sent me here. She said you have the best food in town!" Juan Carlos obviously did not remember who Sandra was. He meets hundreds of patrons per day. He is friendly and truly has a passion for the food and restaurant he created.
He wrote in the menu:
"Tiestos…nace con identidad, nace para romper esquemas, Tiestos la passion por la buena mesa para usted"
(Pots, born with identity, born to break the mold, pots passion for good food for you)
Each of the ceramic plates in the restaurant are handmade. Ceramic plates and mugs are used as decorations. Every art deco in the restaurant represents a part of Cuenca and the Andes of Ecuador. Even the waiter and waitresses are adorned with the famous Panama hats.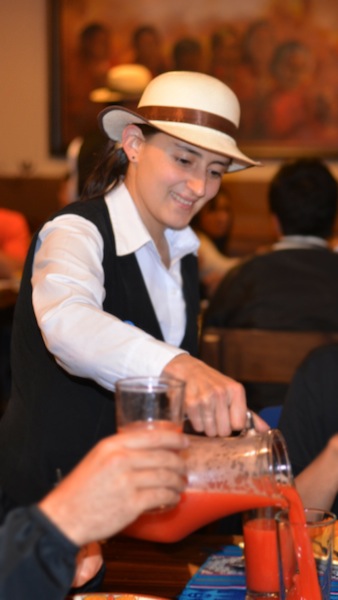 The chef came around to our table and recommended Lomo fino en salsa de queso azul (steak in blue cheese sauce) for $69.20 and langostinos al Tiesto (Tiesto's shrimps) for $67.20. These dishes are made for friends and family to share, usually for four people.
Imagine having four servings of steak and another four servings of shrimps. We made a decision just to have the langostinos al Tiesto, which are huge shrimps made with butter.
The ceramic plates on our table were of different colors and design. Each beautifully made just for Tiestos. We asked if we could purchase those on the shelf. The waiter said they are just for decoration.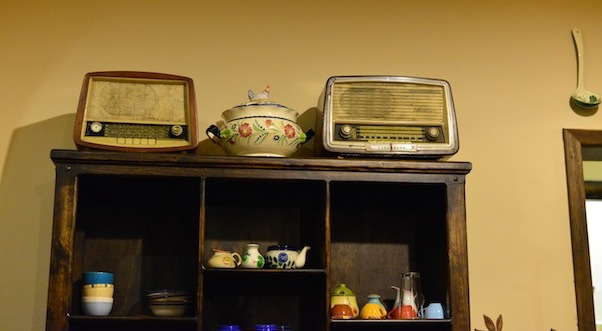 First we were served with a basket of bread and various types of dips and sauces. Each of these special treats were placed in a small ceramic bowl. I would have eaten just these dips and sauces with peppers, eggplants, pickled onions, peaches and more.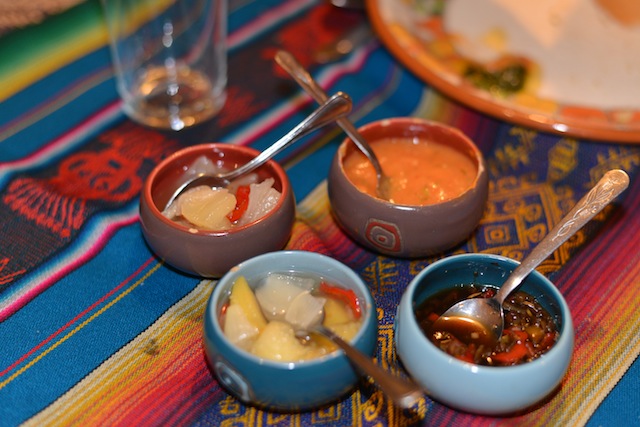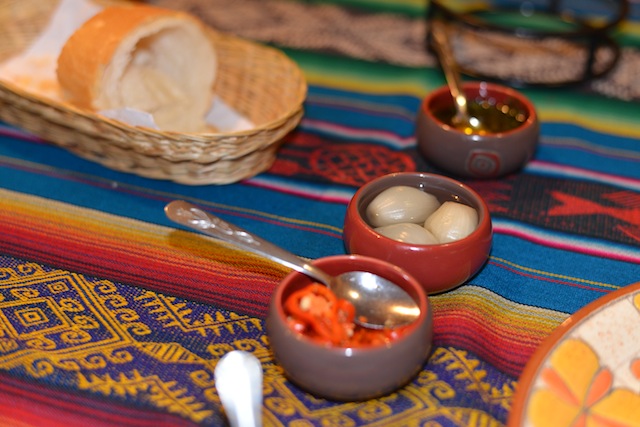 The langostinos al Tiesto's shrimps must have been the biggest I've ever eaten in a restaurant. After the first bite of the shrimp, I realized why Tiestos came so highly recommended by Sandra from Guayaquil. This is the type of dish that will be kept in your memory for many years to come.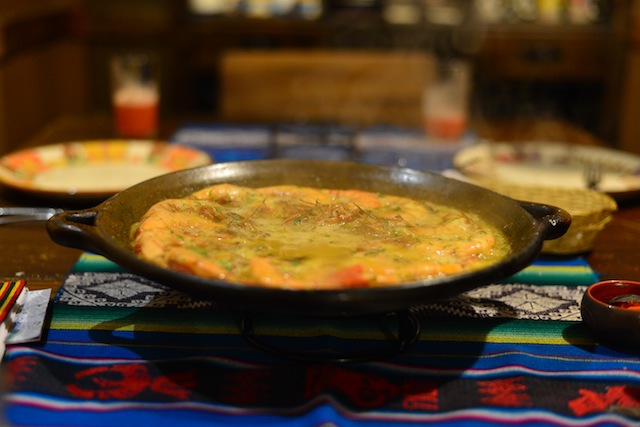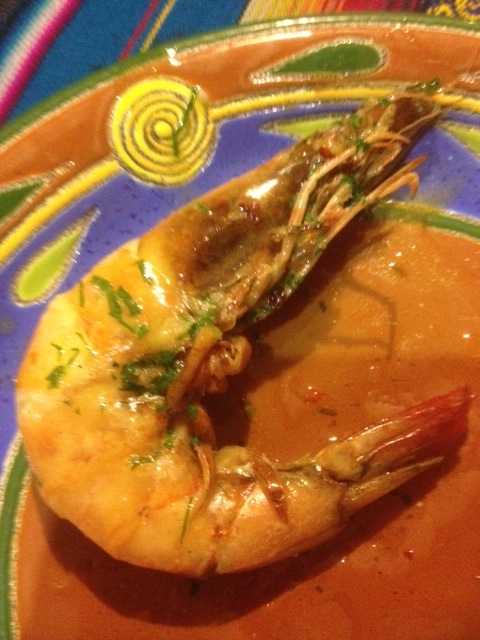 Each serving of dessert is $4.50. We had torta de nuez y praline (walnut cake with chocolate praline) and tentacion de chocolate con helado de maracuya (chocolate cake with passion fruit ice cream). Cappuccino is $2.50 and Americano coffee is $1.80. A two-liter jar of freshly squeezed juice is $8.50.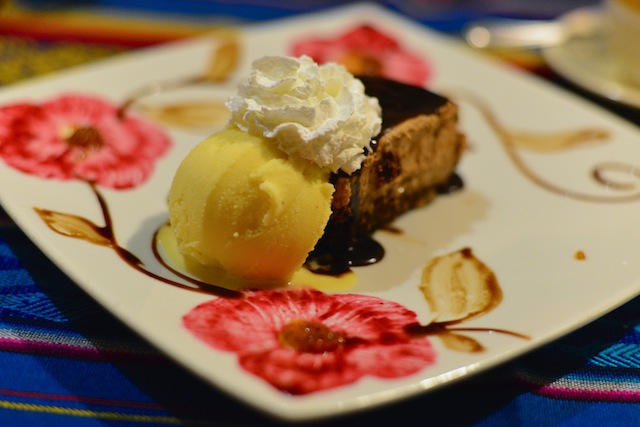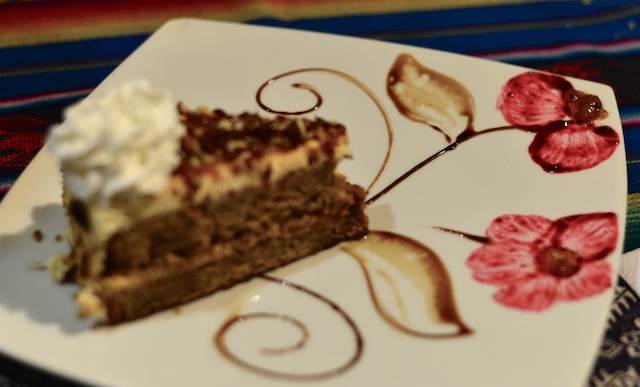 I've been to many restaurants in South America. Tiestos is one of the best. It somehow reminded me of Afrigonia Restaurant in Puerto Natales Chile.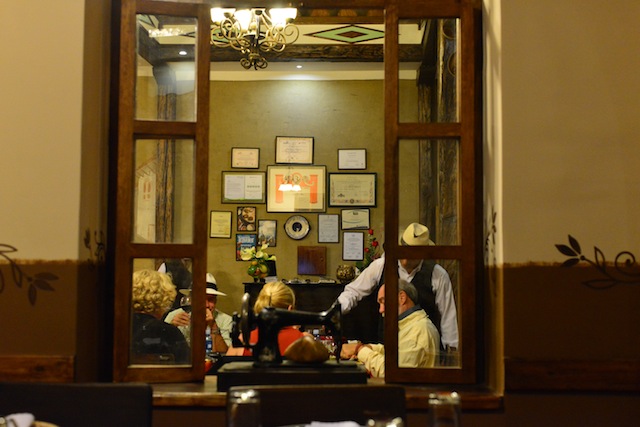 Location: Address:  Juan Jaramillo 7-34 y Borrero (Website: www.tiestosrestaurante.com)
Phone: 07 - 2835310
Note: It took our cab driver a long time before finding this restaurant. The locals are not familiar with Tiestos unless they are earning way above the average income here in Cuenca. Our dinner was about $100, which is an average of $20-25 per person.