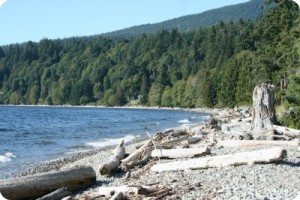 Top 10 Must-Do Things To Do on the Sunshine Coast, British Columbia
by Victoria Gazeley
I consider myself pretty lucky. I get to live in an area of the world that people the world over come for peace and relaxation.
Where do I live? The beautiful Sunshine Coast of British Columbia, Canada - home to celebrities and regular folk alike, and a thriving arts community. It's laid back charm is a mecca for those escaping the city and the limelight. You never know who you'll run into here!
The Coast is actually part of the mainland, but is only accessible by ferry and by air (float plane, helicopter and private aircraft). It's a mere 40 minutes from Vancouver, and is made up of a number of communities strung along the most northerly spans of Highway 101 - Langdale, Gibsons, Roberts Creek, Davis Bay, Sechelt, Halfmoon Bay, Secret Cove, Madeira Park and Pender Harbour, and Egmont. At the extreme north end of the Coast are the communities of Powell River and Lund, which are a bit too far north to cover in this article.
I spent most of my childhood here (from ages 5 to 17), and came back in 2008 to raise my son surrounded by nature and the influence of the ocean. In the three years since we arrived, we've had the opportunity to take in attractions and activities that didn't even exist way back when. So when Claudia Looi asked me to write this article, and as I began to think of places I'd recommend to visitors to our gorgeous little corner of the world, there were a few that definitely stood out. Here they are - our top 10 must-do things to do and see on the Sunshine Coast of British Columbia.
10. Climb Soames Hill
If you're up for an intense workout and a breathtaking view, you'll want to hike Soames Hill (or Knob Hill, as it was known when I was growing up). It's only a 5 minute drive from the ferry terminal, and well worth the sweat. It's a mini-version of the famous (or infamous) Grouse Grind in North Vancouver and the view at the top will have you sitting and taking it all in. Pack a hearty snack - and lots of water - and enjoy the best view on the Sunshine Coast for as long as you need to catch your breath...
9. Lunch at Smitty's Oyster House
Nestled on the water next to the local marina is Smitty's Oyster House. Residing in what used to be a marine machine shop when I was growing up, Smitty's brings big city sophistication to our former blue-collar little town. And what a sophistication it is! Their specialty is raw oysters, which I never really appreciated until our first visit to Smitty's shortly after we arrived here in the fall of 2008. Here you can sample offerings from the various oyster farms up and down the BC coast - from the tiny Kusshis to the giants from Fanny Bay. All you need is a dash of fresh grated horseradish and Smitty's assortment of hot sauces and you're ready for a memorable taste experience.
Not into raw shellfish? They've got a fabulous cooked menu as well, featuring fish tacos and halibut fritters that will have your mouth watering before they hit the table. Food is prepared in an open kitchen, so you can see everything being assembled right there in front of you. Dine inside in the cozy, two-level open room or outside along the seawall at the 27-foot spruce harvest table - either way, Smitty's is an authentic Sunshine Coast dining experience. Don't miss it! And afterwards, take some time to wander around the village - there are some lovely shops to peruse...
8. Stroll the Pier at Roberts Creek
The pier at Roberts Creek extends far out into the ocean and provides a gorgeous vantage point to watch the sun set on a summer (or winter) evening. A number of benches line the promenade, where you can sit down with your latte from the Gumboot Cafe just up the road and catch up on the adventures of the day with your travel companions, or just soak up the sounds of the surf and seagulls. Roberts Creek is an artists' mecca, full of galleries and studios, and is well worth a couple of hours on your agenda to just explore at a leisurely pace.
7. Fly a Kite at Davis Bay Beach
Sandy beaches are a bit of a rarity on the Sunshine Coast, so when you find one, it's bound to be busy. But off-season, Davis Bay, between Gibsons and Sechelt, is a perfect spot to enjoy a coffee and watch the kite sailors test their skills just off the beach. It's also the perfect place to launch a kite, as the wind is fairly constant and promises a successful kite launch at most times of the year. Grab your favorite beverage at Pier 17 and wander the seawall back to the sandy part of the beach to take in the show. A perfect way to spend an early evening.
6. See a Sturgeon at Target Marine Hatchery
Overfishing has led to the collapse of fisheries that once supplied most of the world's caviar. On British Columbia's Sunshine Coast, you'll find Target Marine, the producer of Northern Divine caviar and the only producer of white sturgeon in Canada. Target Marine began rearing their first generation of white sturgeon in 2000 in a land-based fish farm system that is now supplying a growing market with a healthy, eco-friendly product that is helping ease the mounting pressure off of wild sturgeon stocks. It's an amazing tour - if you've never seen these creatures up close, they are magnificent. And you can buy the caviar right at the farm! Here's the contact information.
5. Spend a Romantic Night with Your Sweetie in a Luxury Tent at Rockwater Resort
Imagine waking to the sound of the surf and the breeze right outside your door - and the walls. That's what you'll experience when you stay in a Tenthouse Suite at Rockwater Secret Cove Resort in Secret Cove, not too far past Sechelt. Deluxe furnishings, fine linens, king-size beds, hydro-therapy tubs, rain forest shower, propane fireplace, shoji screens and radiant floor heating - and a view you won't believe. It's adults only for these suites, but the resort has a number of other family-friendly accommodations, including beach-side cabins and poolside rooms. The resort also has a lovely spa, and at certain times of the year, you can take your massage at the waterfront, or in a tenthouse suite. Not bad... not bad at all.
4. Sauna in a Cave at The Spa at Painted Boat Resort
I've been lucky enough to visit The Spa at Painted Boat on a couple of occasions, and both times I experienced top-notch service and a spa ambiance that's unmatched elsewhere on the Coast (and we've got some lovely spas). Along with a full menu of spa services using organic skin care lines, there's also a sauna cave, outdoor glacial rain shower, multi-jet hot pool with massaging waterfall, and warm salt water flotation pool. And when you're all done and feeling like putty, you can relax further by the warmth of an outdoor fire pit. You'll have to have someone carry you out, it's that relaxing. Definitely an ultimate West Coast spa experience. I'll be heading back soon for an afternoon of pampering...
3. Gawk in Awe at the Kayakers at Skookumchuk Rapids
When my son was quite young we packed him up in the Ergo carrier and made the trek in to Skookumchuk Rapids Provincial Park to watch the whitewater kayakers surfing the tidal surge. With a 3-metre tide change, 200 billion gallons of water flow through the Skookumchuck, which connects Sechelt Inlet to Jervis Inlet. To view the most spectacular rapids, you'll want to time your visit to arrive at the viewpoint right when the surge is at its strongest. It's a bit of a walk (about an hour from the parking lot), but the grade is gentle and the surroundings absolutely beautiful. It's a west coast rainforest adventure that you won't soon forget. At certain times of year, the tides are massive, and those are the days the kayakers descent en masse to test their mettle. Visiting the park on those days means it won't be a nice, quiet hike, but the spectacle is well worth it.
2. Watch the Waves on Bonniebrook Beach
A hidden gem, Bonniebrook Beach is tucked away along an esplanade far from the main travel routes. The only crowds you'll find here are the locals out walking their dogs. And at the very end of Ocean Beach Esplanade (which is lined with heritage cottages alongside million-dollar-plus homes, you'll find a rare-for-this-part-of-the-world sandy beach to tuck into for an afternoon of waves and sun - and a good book. If you like waves and sunshine, you'll love Bonniebrook. There are no washrooms here - plan accordingly.
1. Settle in for Dinner at Chasters
The Sunshine Coast is home to a number of first class restaurants, but for sheer ambiance, location and a wine cellar to rival those of renowned big city restaurants, Chasters at Bonniebrook Lodge is a must-visit for any adult trip to the Sunshine Coast. Located in a rural residential area away from main roads and traffic noise, right on Bonniebrook beach, you won't find a more exquisite dining experience on the Coast (at least in our opinion). You can even make an evening of it and book a room or suite in the lodge - choose one of seven luxury suites to snuggle into - just as visitors have done for almost 100 years. Renovated most recently in 2008, the 4-star lodge and dining room are a class act and a beautiful place to spend an overnight visit.
The Wrap-up
Visiting all of these places would be an incredible weekend! But there's so much more to keep you busy and expand your horizons:
For an exhaustive list of things to do on the Sunshine Coast, visit bigpacific.com.
And if you ever find yourself in this part of the world, do look us up! You'll find us at modernhomesteading.ca.
Guest Writer:
_____________________
Victoria Gazeley lives in a restored heritage homestead cabin on a 6 acre rural property less than an hour by ferry from Vancouver, British Columbia. In her work life, she is the owner of a thriving website design firm, helping small businesses build successful, easy to manage websites that get results. When she's not working with clients or tending to her new chickens, you can find her out exploring and traveling with her family and friends, researching and planning her future non-profit organization/foundation, and trying to have more fun! After more than 20 years of city living in apartments and townhouses, she's finally found her place in the woods - and she can't imagine it any other way.  She's offering a free audio workshop: Could You Survive 3 Weeks Without Going to the Grocery Store?