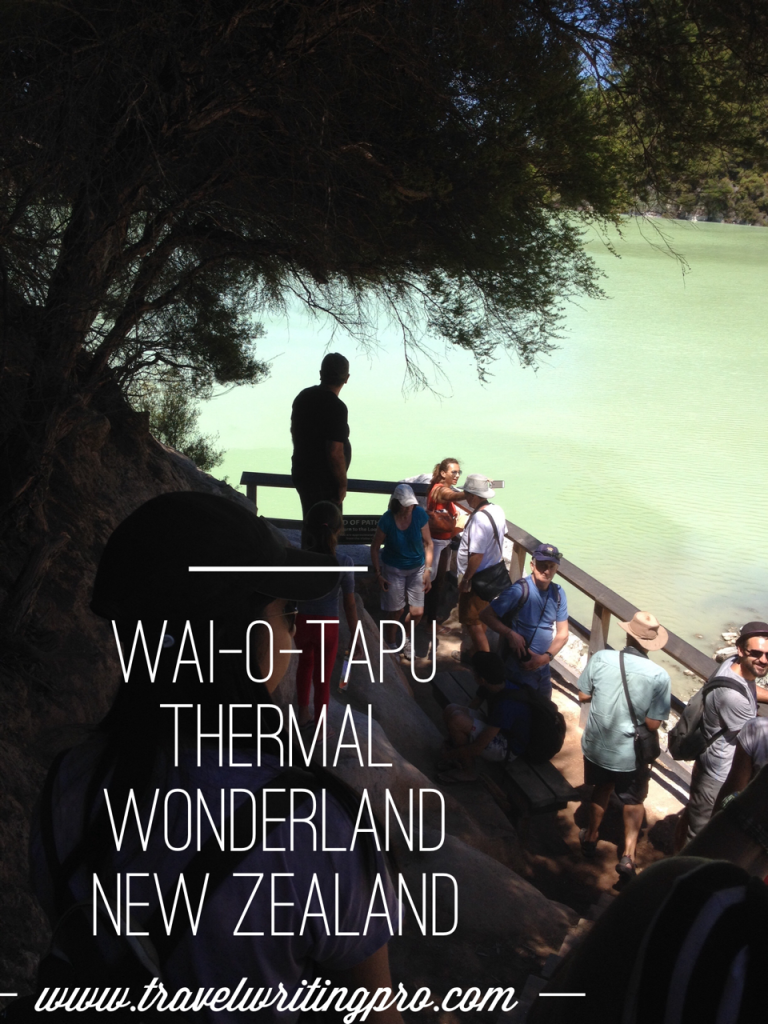 I sat on a bench in the second row close to Lady Knox Geyser for I didn't want to miss a thing. It was 9:45 a.m. and eruption was scheduled to happen at 10:15 a.m. I had no knowledge of Wai-O-Tapu prior to visiting, which is a good thing, sometimes.
As I sat and stared at the greyish triangular shaped cone that exuded a little steam upwards, I should confess, it began to bother me. How could a geyser erupt everyday at 10:15 a.m.? It just didn't make sense. I had been to Iceland's Geysir geothermal area. The geysers in Iceland erupted but not at at the same time everyday.
Crowd began to form by 10 a.m. and all the seats were fully occupied. About 10:12 a.m. a ranger appeared and stood next to Lady Knox. He started talking then put some powder into the geyser. Within seconds, water started shooting towards the sky. I realized Lady Knox Geyser was just a show.
Lady Knox put on a good show, that is if you had never seen a geyser erupt. Lady Knox Geyser is not the main draw in Wai-O-Tapu. The fact is, she is a bad introduction to a place named by TripAdvisor as "One of the Most Surreal Places in the World!"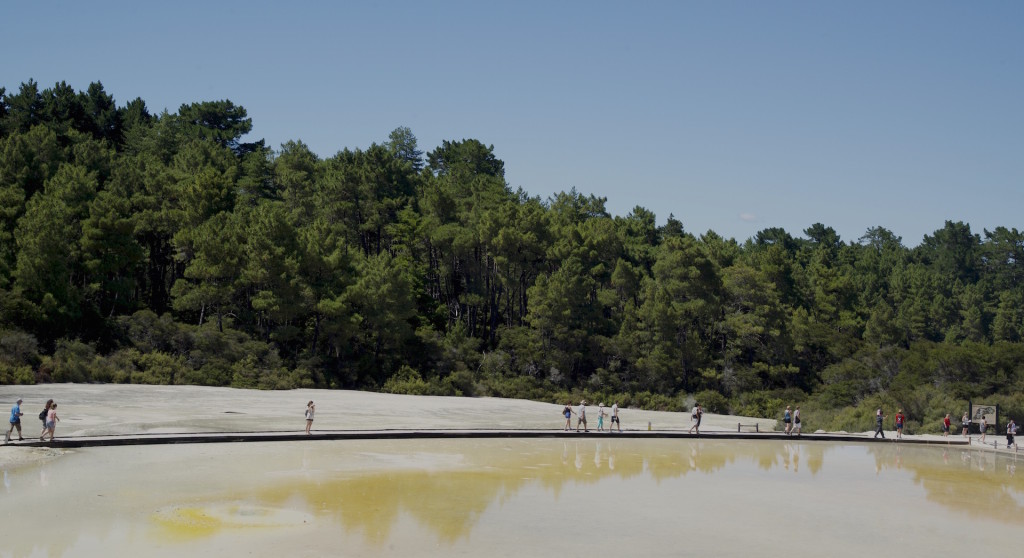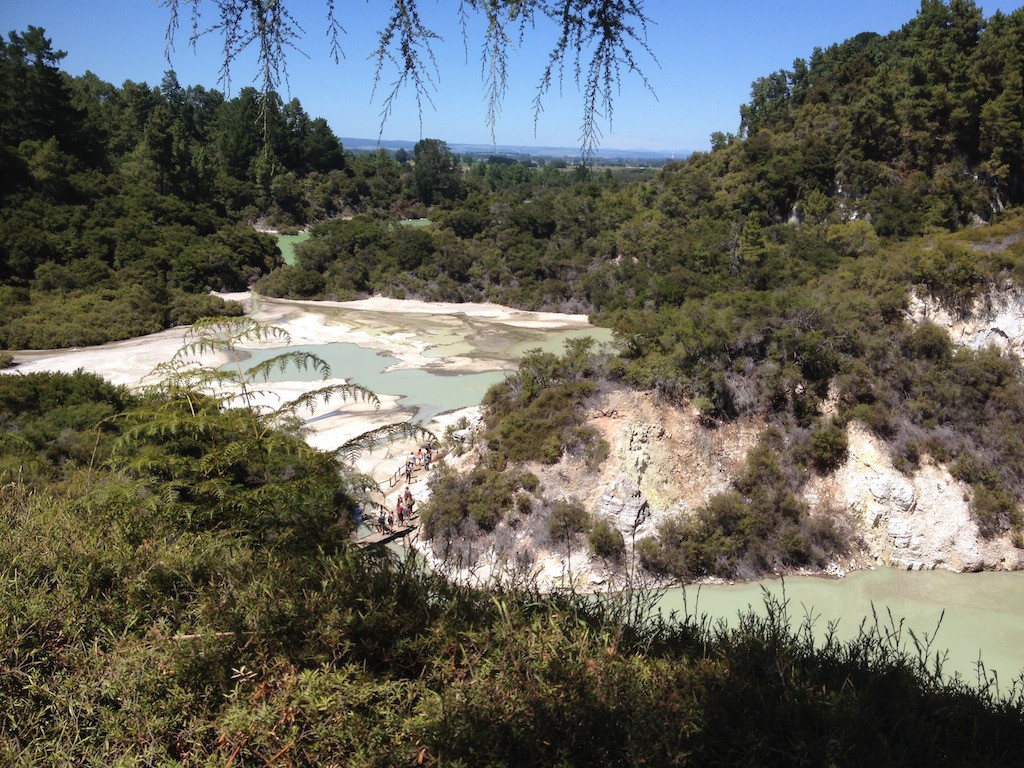 Wai-O-Tapu, Sacred Waters in Maori, is a thermal wonderland in New Zealand. Besides the carved walkways, boardwalks, wooden bridges and platforms, Wai-O-Tapu showcases natural boiling and cold mud pools, collapsed craters, steaming fumaroles, waterfalls, geysers and sulfur mounds created by volcanic activities.
Throughout the seven square mile (18 square km.) area are pools with a wide range of colors – natural colors formed by the different mineral elements. The main colors were green (colloidal sulfur/ferrous salts), orange (antimony), purple (manganese oxide), white (silica), yellow-primrose (sulfur), red-brown (iron oxide) and black (sulfur and carbon).
Wai-O-Tapu's Champagne Pool is the largest pool and occupies a 700-year-old explosion crater formed by a hydrothermal eruption. Its surface temperature is 74 degrees Celsius and you can see bubbles formed by carbon dioxide. Next to the Champagne Pool is the Artist's Palette.
Artist's Palette was formed when earthquakes tilted part of the Champagne Pool, "causing mineral laden water to flow over the sinter encrusted flat". Wind directions and water levels were some of the factors that helped distribute the waters and minerals, giving the Artist's Palette the different shades of color. You'll see blue water, cloudy yellow water, green water, orange water, yellowish green water and grey water in the Artist's Palette.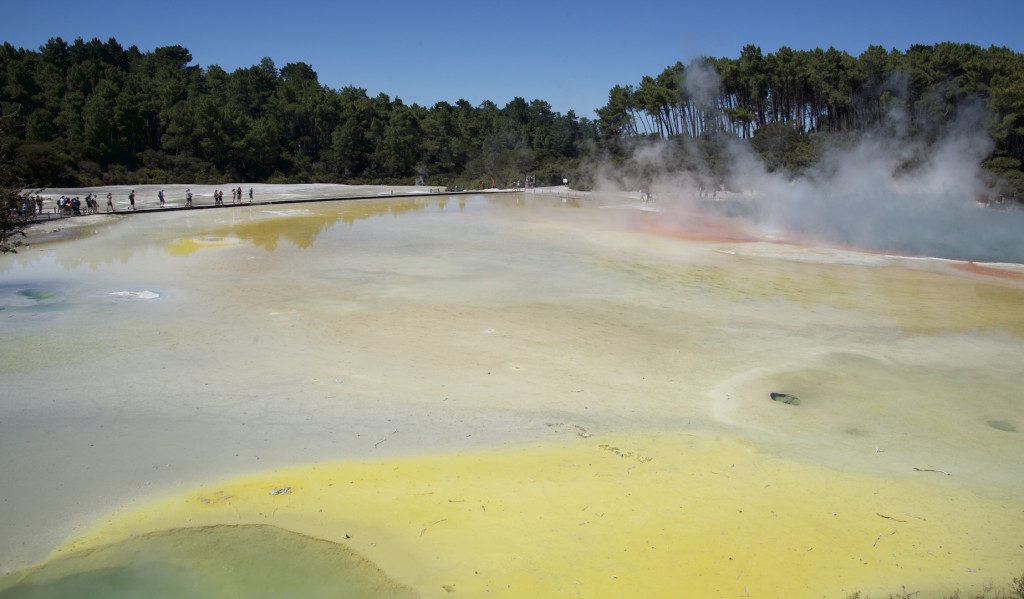 Devil's Bath appeared green on my husband's DSLR camera and was yellow on my iPhone at the same time but different angles (not modified). The change in color from green to yellow is due to the amount of reflected light and cloud cover.
Wai-O-Tapu is a parade of art. A visit there left me asking this question: Who is the artist?
Other beautiful spots:
When visiting Rotorua or the Hobbiton Movie Set, take some time to visit Wai-O-Tapu. This active thermal wonderland may disappear if the earth decides to move and change the art and color of the area.
Location:
201 Waiotapu Loop Rd, RD3, Rotorua Central, Rotorua, 3073, New Zealand.
20 minutes from Rotorua.