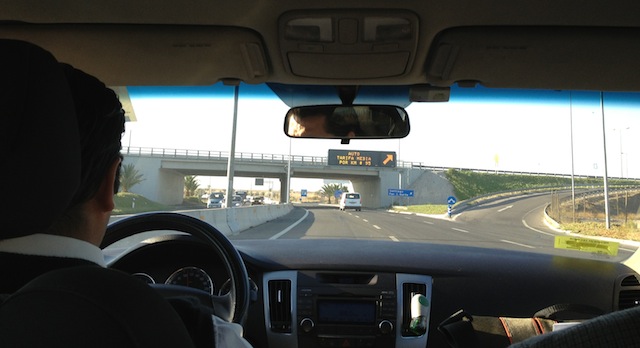 The evening rush hour was beginning to form when we arrived in the suburb of Santiago Chile after five nights in Valparaiso. Liliana our tour guide had invited us to spend the evening with her parents before catching our midnight flight from Santiago to Punta Arenas. We were not exactly friends. In fact we were only with her for three days touring Valparaiso and Casablanca Valley. She said it wouldn't be comfortable staying at the airport for six hours.
As I traveled from country to country in South America - the strangers I met along the way, some have become life-long friends and others have touched me because of what they said or did. Here are eight outstanding people I met in South America:
1. A couple in their 80s in Santiago Chile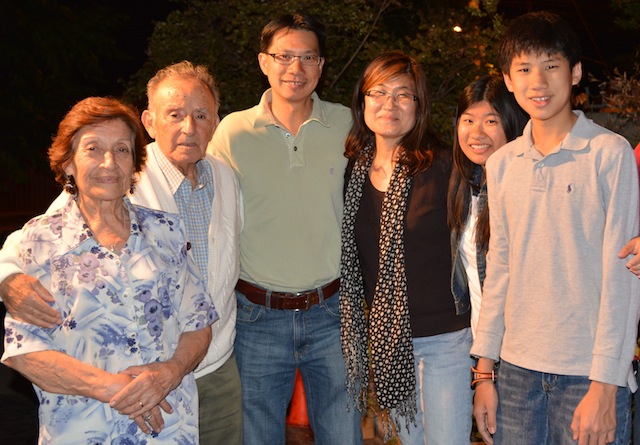 Liliana's mom warmed my heart. She and her husband looked frail when we met. Both in their 80s. She began to work in the kitchen upon our arrival, preparing tea and cookies. They have lived in the same three-bedroom one bath home for over 30 years. Despite their weak knees, each day they climbed the steep stairs to the one bathroom and toilet upstairs.
There was a time in our brief meeting when I saw her smile. She was delighted to have guests from overseas. We felt welcomed and it was as if we knew them for years. She served and shared a simple dinner of cheese, bread and tea at 9 p.m. before we left for the airport.
She is outstanding because of her devotion to her husband of over 50 years – taking care of her frail husband with warm meals every single day. I bet she had done that since the day they were married. Her devotion to her husband and his work is admirable.
2. The owner and chef of Afrigonia, Kamal Nawaz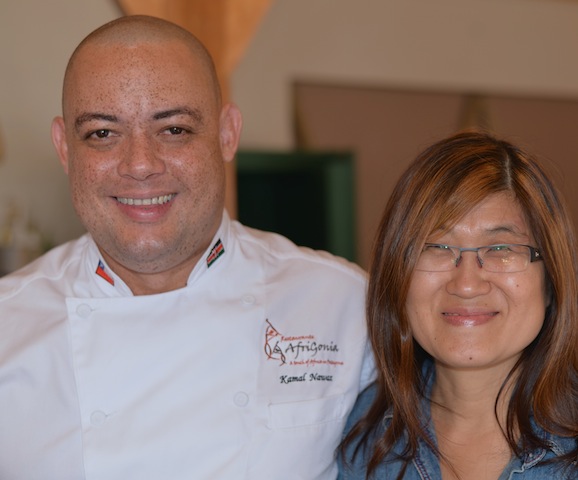 I spent half an hour interviewing Kamal, the owner and chef of Afrigonia. Chef Kamal is an industrious, ambitious and humble man. He shows passion in his 'creations' – the food he serves from his kitchen.
Kamal was born in Zambia and moved to Kenya when he was a teen. His wife is Chilean. Like many stories of immigrants he worked hard in the beginning when he arrived in Chile. First in Santiago then in Puerto Natales before starting his own business. His wife Nathalie did a great job decorating the restaurant with local and African materials.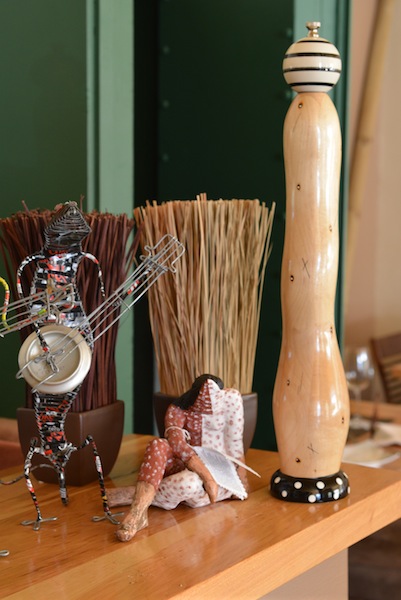 Afrigonia is his clever way of coining the words Africa and Patagonia. He uses local ingredients of lamb and seafood and his African spices and flavors to create memorable meals each day for his guests from all over the world. It takes an amount of creativity, knowledge and heart to cook up a meal that many will talk about. Afrigonia continual rave reviews on TripAdvisor's worldwide platforms have gotten him awards from Spain and mentions from Lonely Planet and Frommers.
Kamal is outstanding because of his passion for food and how he creates a niche for himself in the remote corner of the world. Though not a trained chef, the menu and the dishes served shows perfection and professionalism in the art of cooking.
3. Mendoza Tour Guide and Driver Cristobal Ortiz Maldonado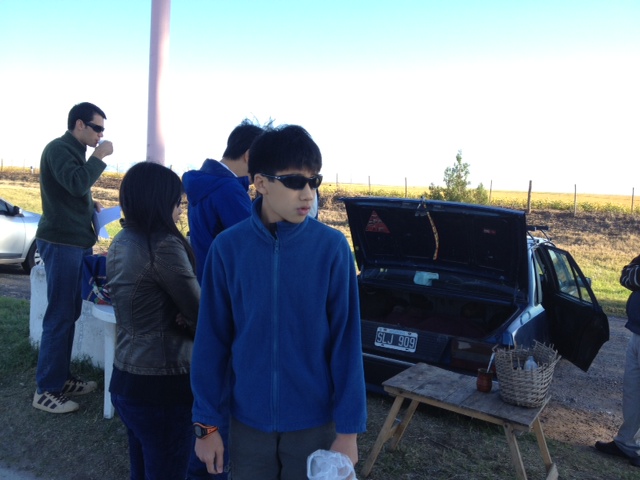 My teens call him 'super-human'. Cristobal was our private driver and tour guide for the Mendoza wine tasting tour. After casually asking him if he knew of anyone who would want to take us on a road trip from Mendoza to Montevideo, he said he would like to have the opportunity to take us.
We hired Cristobal for the 20-hour non-stop road trip of about 950 miles from Argentina's Andes mountains area to the beaches of Montevideo in the Atlantic coast. Not once during our long trip did he complain or was negative. He was obviously really tired but was alert and drove us safely from door to door.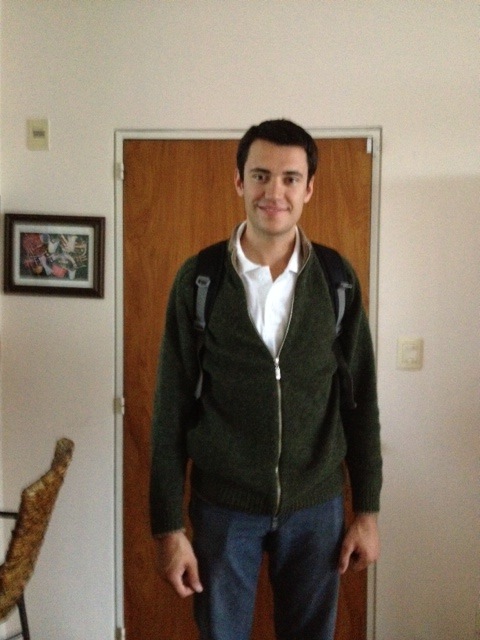 Cristobal has recently become a father and started his own travel business in Mendoza. You can find him at Wine Tour Mendoza.
He is outstanding because he is courteous, is positive and has a can-do attitude. The economy in Argentina was not favorable for young people like him when we met. He was willing to do whatever it took to make extra money for his family.
4. Florencia from Academia Uruguay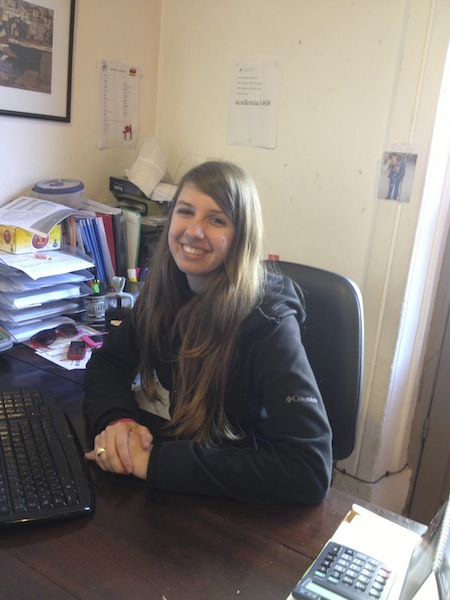 The Uruguayans are very helpful people. We found strangers coming to ask and offered to help us look for the Paraguayan Embassy one morning while we were walking up and down the same road searching for the office.
However Florencia from Academia Uruguay had gone the extra-mile. She was my go to person for information- about Brazilian, Paraguayan and Bolivian visas. Florencia was responsible for helping us get all the answers needed for all the necessary visas required for our visits to those three countries.
Through Florencia, we were able to apply for Brazilian and Paraguayan visas and found out we needed photos and cash at the Bolivian border to apply for a Bolivian visa. She gave us the right source and place for yellow fever shots in Montevideo.
Florencia is an outstanding young lady from Uruguay because of her willingness to help, her happy and positive attitude towards work and the students at the Spanish school in Montevideo. Without her I may have had great difficulty in getting all the information for my ongoing travels after Uruguay.
5. Marcio Misso of GoTripTV in Florianopolis Brazil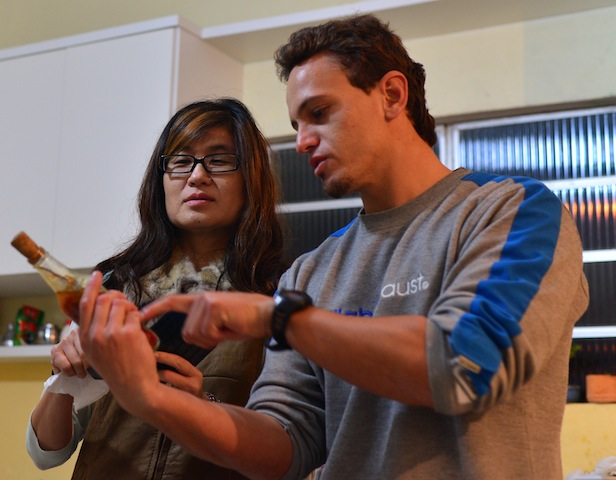 Our trip to Florianopolis was unplanned and we left Montevideo Uruguay without much information except a confirmed two week accommodation at an Airbnb apartment without any reviews.
We were already into our fourth month of traveling on our arrival in Florianopolis. My teens and husband were able to get by speaking in Spanish but not Portuguese. When it came time to tour the area, we couldn't find any listings online or help from the doorman or the Airbnb host – none spoke English. I figured the only place to find an English speaking person on the phone would be at an international hotel chain. I called Sofitel Hotel in Florianopolis and was elated to speak in English to the front desk person.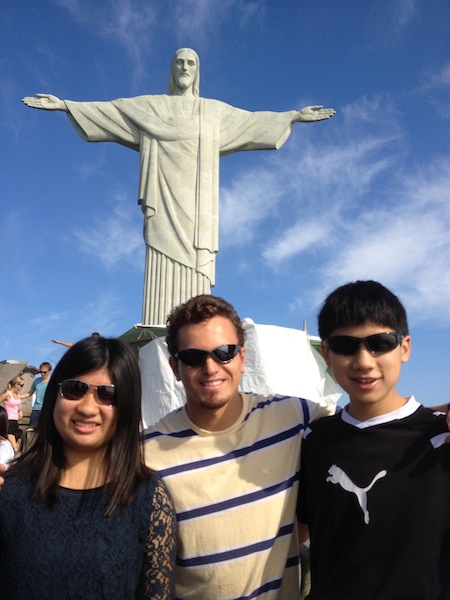 Through her we met Marcio Misso, the co-owner of GoTripTV. We hired Marcio for our tours in Florianopolis, road trip from Florianopolis to Sao Paulo, tours of Sao Paulo, road trip from Sao Paulo to Rio de Janeiro and tours in Rio.
He was with us for a total of three weeks. By the end of our tour in Rio, Marcio was like a family member. We'd been to his home for barbecue and he and his business partner Windsor came to our apartment in Florianopolis for dinner as well.
Marcio is outstanding because he is trustworthy, hard working and would do whatever it took to win our business. Most of all he served us well. You can find him at GoTripTV.com
6. Maarten and Marsha, Tucan Travel's South America overland team
Many instances on our 46 days overland trip from Rio de Janeiro to Paraty, Curitiba, Iguazu Falls, Asuncion, Trinidad (Paraguay), Salta, Tupiza, Uyuni, Potosi, La Paz, Puno, Cusco, Colca Canyon, Arequipa, Nazca, Puerto Inca, Pisco and Lima, I thought about the dangers on the road.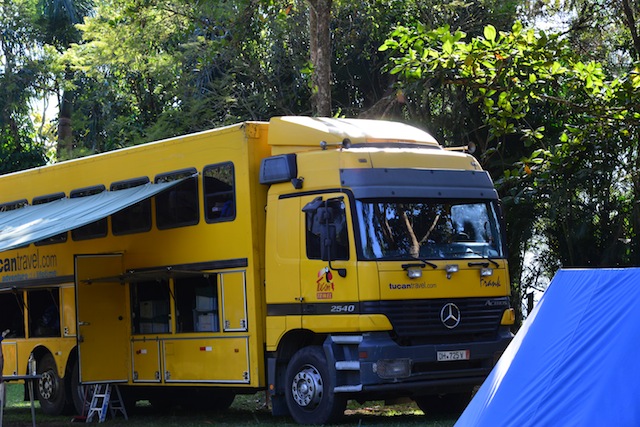 From the Atlantic to the Pacific coast, I saw narrow roads, rugged terrains, steep roads, curved roads, waterlogged roads and all types of dangerous looking roads including road blocks by protestors in Bolivia. I was grateful for the safe journey we experienced throughout because of our amazing driver, Maarten and his partner Marsha. Marsha was the person sitting next to him, navigating and planning the routes while we had fun in the truck.
It takes a lot of knowledge, skills and courage to drive an overland truck for 46 days with 'some complaining' guests on board.
I chose Maarten and Marsha, both from Holland because of their outstanding efforts of ensuring safety and comfort for their guests. You can find them on Twitter at @VidaVagabunda.
7. The Happiest Man in South America
Our homestay in Amantani Island, Lake Titicaca Peru was in Saturnino's home. Saturnino is the happiest man I've met in my eight months travel. A father of five children including our "host mother" Gladys, Saturnino is a farmer in the island and he also runs a small store with his daughter Gladys serving hot chocolate and coffee to tourists like us.
The Colquecachi community in Amantani Island lives without electricity or running water. They have not heard of internet and do not own a computer. But Saturnino has a cellphone.
Saturnino is always smiling and I really would like to be like him - always ready with a smile, night or day, tired or weary. He made me feel welcomed in his home for a night.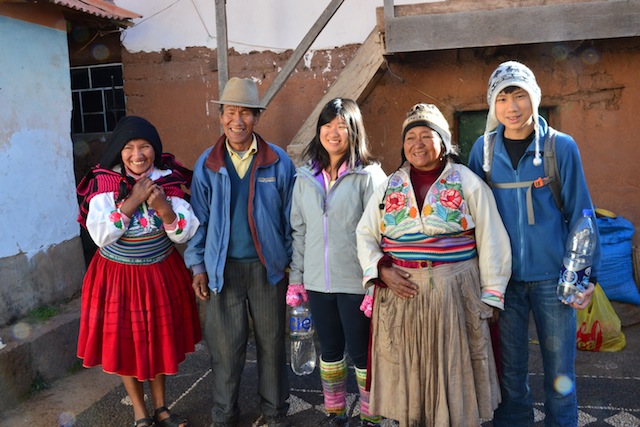 8. Blanca of Cuenca Ecuador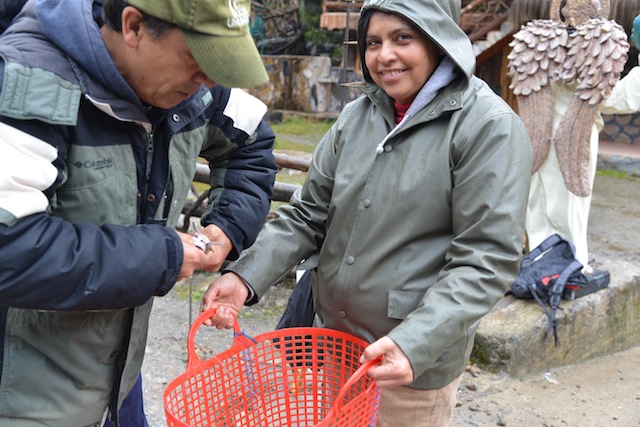 Ecuador was the other country that we spent the most time in after Uruguay. The Ecuadorians are hospitable, friendly and helpful people. I especially like the people in Cuenca. Blanca is one of the few we met in Cuenca during our two months stay in the city.
We stayed in a three bedroom home managed by Blanca and her family. She was my teens' Spanish teacher in Cuenca and showed us the real Ecuador during our stay in the country. Through Blanca we went to a non-touristic place outside of Gualaceo, ate in restaurants only locals dine in, and learned about certain Ecuadorian culture, food and traditions.
Our visit to Ecuador was enriched because of people like Blanca and her family. Blanca helped us save money by showing us where to shop locally for food, arranged for the locals to be our guides and drivers and invited us to her home for an Ecuadorian tea experience.
I think Blanca is an outstanding person because of her genuine love for people, her devotion to her work and her friendliness.
There are more than eight outstanding people that I have met in South America. Travel is one way to learn about the locals' struggles, dreams and successes.
Thanks for dropping by. If you like this post, please share. Thank you.